You can never have too many chicken soup recipes, especially during the colder months.
Whether you make it in an instant pot, slow cooker, crockpot, or stock pot, there's nothing quite as comforting as a bowl of hot soup.
This low carb chicken Mexican soup recipe has all the goods of your typical Mexican chicken soup, sans black beans. But don't worry — you won't even notice they're gone.
This keto-friendly, low-carb soup offers up a hefty dose of health benefits. With each spoonful you'll be boosting your immunity, getting loads of antioxidants, and invigorating your skin.
And forget the boneless, skinless chicken breasts — we're going all in with a whole chicken, bones and all.
This recipe is:
Zesty
Comforting
Tasty
Filling
Main ingredients:
Optional ingredients:
Three Health of Benefits of Keto Mexican Chicken Soup
#1: Boosts Immunity
When you're feeling sick, there's nothing quite like a bowl of keto soup to ease your immune system.
The abundant supply of collagen found in free-range chicken does wonders for your health and immunity. This collagen boosts your immune defenses, specifically in the intestines where dendritic cells are generating. These dendritic cells are crucial in strengthening your immunity [*][*].
Garlic has been shown to provide a strong defense against common colds and illnesses. When you crush a garlic clove it releases an enzyme called allicin. Allicin acts as a natural defense mechanism for garlic, and this natural enzyme provides a valuable defense to your body as well. Multiple studies have shown how garlic can have a significant boost to your immunity[*][*].
Onions are another excellent natural source for fuel. They deliver a myriad of benefits and contain critical nutrients such as vitamin C and zinc. Both of these nutrients play an important role in keeping your immune system running smoothly [*][*].
Oregano is a powerful herb that provides a unique flavor and also delivers vital defense against diseases. Research has revealed how oregano oil can defend against viral infections and provide substantial support to your body[*].
#2: Rich in Antioxidants
Antioxidants are essential players in the support of your bodies defense system. Although the occurrence of reactive oxygen species is a natural process, having enough antioxidant to combat their effects is vital.
Garlic packs substantial antioxidant properties. Studies have shown that the antioxidants found in garlic can help prevent cognitive diseases such as Alzheimer's and Dementia[*].
Limes have loads of antioxidants which fight against cell damage, helping to keep your health at optimal levels [*].
Oregano is incredibly rich in antioxidants. It will naturally infuse your body with antioxidants such as carvacrol and thymol which can reduce oxidative stress and cell damage [*][*][*].
Tomatoes are excellent for your overall health, and one of the main reasons is the abundant natural source of antioxidants. They contain lycopene, vitamin C, and other antioxidants that support your body's ability to reduce oxidative damage and prevent disease and cancers [*][*][*].
#3: Invigorates Your Skin
Free-range organic chicken is an excellent source of collagen, which delivers elasticity and strength to your skin. It has even been shown to provide anti-aging results helping you to maintain your youthful glow[*].
Being naturally rich in beta-carotene, Carrots provide valuable support for your skin. Beta-carotene has been shown to protect from skin damage, assist in wound healing, and overall infuse the skin with vibrancy and vitality [*].
Among the various vital nutrients packed within the tomato, some specifically benefit your skin. Vitamin C, lycopene, and lutein are excellent for your skin health and deliver strength, elasticity, vibrancy, and protection from harmful UV rays [*][*][*][*][*].
 Keto Mexican Chicken Soup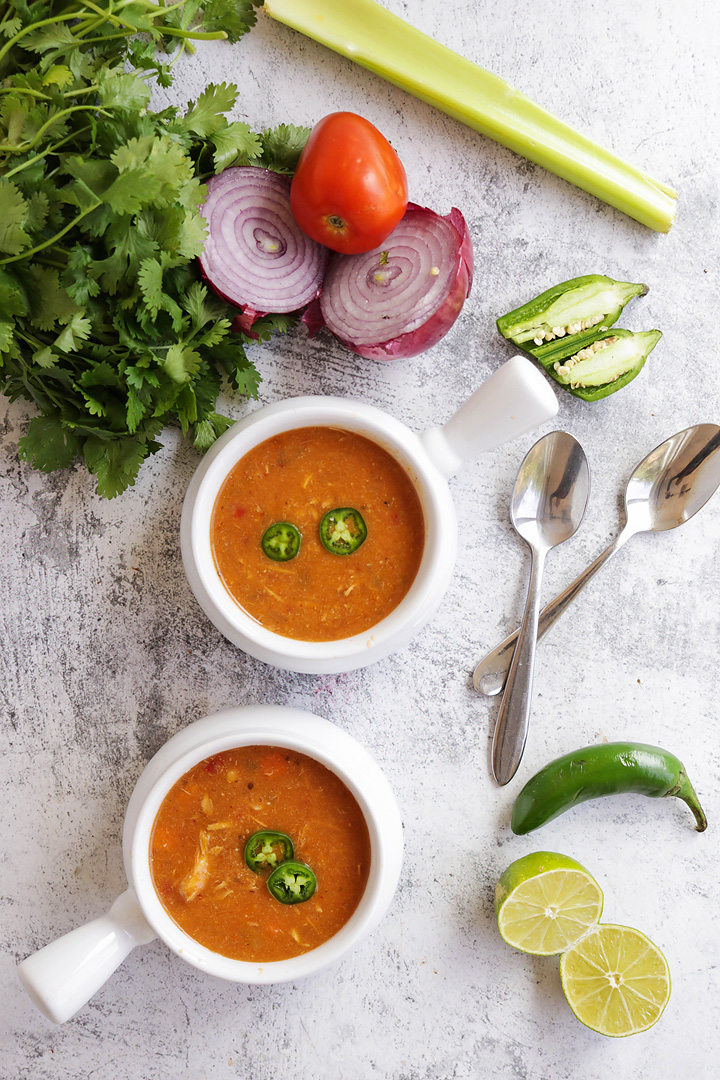 Are you ready to make some comforting and delicious keto Mexican soup?
First, grab a large stock pot out of your pantry and place it on your stovetop. Add your water, chicken, vegetables, and all of your seasonings. Bring the contents of the pot to a boil. Once it begins to boil, reduce the heat and simmer for 1-1½ hours until the chicken has reached an internal temperature of 165 degrees Fahrenheit, is fork tender, and is falling off the bone.
Once the chicken is ready, turn off the heat and very carefully remove the chicken from the pot using tongs or a slotted spoon. Place the chicken in a large bowl and begin to pull the meat away from the bone, discarding the bones after. You can shred the chicken if you wish or leave it chunky, depending on your preference. Whatever you choose, set the chicken aside once you're finished.
Head back over to the stove where your stock pot is and add the lime zest and lime juice to the vegetable stock. Take out your immersion blender and carefully blend until the soup is smooth, which will take a few minutes. Now is an excellent time to take a little taste and see if you need to adjust your seasonings at all.
Once the soup is to your liking, add in tomatoes, return chicken to the pot, and stir everything until well-combined, simmering on low heat for 15-20 minutes.
Serve it garnished with fresh cilantro, avocado, fresh minced bell pepper, and extra lime juice. If you're feeling extra fancy, add a dollop of sour cream on top.
Print
Zesty Keto Mexican Chicken Soup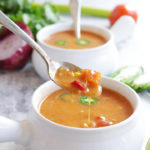 Whether you're trying to warm up on a cold evening or having a dinner party, this Zesty Keto Mexican Chicken Soup is not only good for the soul but oh so tasty!
Author:
Prep Time:

30 minutes

Total Time:

1.5 hours

Yield:

5

-

6

cups

1

x
Scale
Ingredients
1

large whole chicken (6-7 pounds) (or

6

–

7

pounds of chicken breasts)

8 cups

water (or

4 cups

water and 4 cups chicken broth or chicken stock)

2

medium chopped carrots

2

medium chopped celery

1

medium chopped onion

1

medium chopped red bell pepper (optional*)

2 tablespoons

chopped garlic

1 tablespoon

paprika

1 tablespoon

garlic powder

1/4 teaspoon

chipotle chili powder (optional*)

2 teaspoons

onion powder

2 1/2 teaspoons

salt

1 teaspoon

pepper

1 teaspoon

oregano

1/3 cup

fresh lime juice

2 teaspoons

lime zest
One

15

-ounce can diced tomatoes (no salt added)
Instructions
In a large stock pot, add water, whole chicken (or chicken breasts), vegetables, and all seasonings. Bring contents to a boil, reduce heat, and simmer for 1-1½  hours until chicken is tender and falling off of the bone. 

Turn off heat and carefully remove chicken from pot. Place chicken in a large bowl and begin to pull the meat off of the bone. Set chicken meat aside and discard bones.

Add lime zest and lime juice to the stock/vegetable mixture. Using an immersion blender, carefully mix until very smooth. Re-adjust seasoning to taste. Stir in diced tomatoes.

Return chicken meat to pot, stir, and simmer under low heat for 15-20 minutes. Garnish with fresh cilantro, avocado, and extra lime juice.
Nutrition
Serving Size:

1 cup

Calories:

91

Fat:

6g

Carbohydrates:

8g (6g net)

Fiber:

2g

Protein:

14g
Keywords: Keto Mexican Chicken Soup