There are hundreds of keto pancake recipes out there. But only a few mimic the fluffy, cakey texture of traditional pancakes.
This American classic is the perfect low-carb breakfast for lazy weekend mornings or even a weekday treat or dessert. And while traditional pancakes may leave you in a blood sugar coma, these keto-friendly, sugar-free pancakes will keep you satisfied for hours, and they taste just like the real thing.
If you love pancakes, it's time to get your whisk, crack a few eggs, and make this recipe immediately. These pancakes are simply delish, and they fit perfectly into your keto meal plan.
The main ingredients in this low-carb pancake recipe are:
How to Make Regular Pancakes Keto-Friendly
On a keto diet, you'll need to eliminate traditional pancakes for two reasons:
One, they contain high-glycemic flours. And two, they're usually topped with high-sugar syrups and other treats.
While regular white flour certainly creates a fluffy pancake, a single cup will cost you over 94 grams of carbohydrates[*].
And if you're looking to top that glutenous stack with a bit of maple syrup and whipped cream? Well, you're looking at another 20 grams added to your carb count[*][*].
Here's how you'll cut the carbohydrates down considerably: Swap out white flour for almond and coconut flour, then choose a low-carb topping.
Steps to Make the Best Low-Carb Pancakes
These almond and coconut flour pancakes make for an incredibly easy recipe.
To begin, gather your dry ingredients, mixing coconut flour, almond flour, baking powder, and monk fruit together in a large bowl.
Add in your wet ingredients, eggs and milk, and stir until all ingredients are smooth and blended. Coat a large non-stick skillet with butter or coconut oil, and place over medium heat.
Slowly pour pancake batter onto the hot skillet and cook for 3-5 minutes. Once small air bubbles appear on the top of your pancakes, flip them over. When both sides are cooked through, they're ready to serve.
Tips and Tricks for This Keto Pancake Recipe
Here's why you'll love these keto pancakes: Their texture is similar to that of "real pancakes."
While other paleo or keto recipes can have an eggy taste or be too dry or too soggy, this batter results in the same yummy texture you expect from a pancake. And yet, if you look at the nutrition facts, you'll see they contain only 2 grams of net carbs per serving.
To make these pancakes the best ones you've tried (keto or not), try these tips and recipe variations.
Recipe Variations: Put a Personal Twist on Your Low-Carb Pancakes
Looking to put your own unique spin on this recipe? Here are a few ideas to make this recipe your own:
Top 'em the way you like: These pancakes are best served with Perfect Keto Nut Butter, almond butter, or a few fresh berries and keto whipped cream. You can also try sugar-free syrup, melted butter, or keto cream cheese frosting. Peanut butter is delicious, but be aware: there are a few reasons you might want to swap it for other nut butters.
Give them a protein boost: For a punch of protein, try adding a scoop of whey protein powder.
Try different flavors: Add a few drops of vanilla extract, stir in some chocolate chips, or add fresh blueberries to your pancake batter.
Transform them into waffles: You can easily use this exact same recipe to make waffles, just pour into a waffle iron instead of a pancake griddle.
Add an extra dose of healthy fats: Add a few tablespoons of melted cream cheese to make cream cheese pancakes, or mix half an avocado into the batter for an extra creamy texture.
Make them more savory: To make a more savory pancake, you can leave out the low-carb sweetener altogether, eliminating the monk fruit and stevia.
Low-Carb Pancake FAQs
If it's your first time making keto pancakes, you may have a few questions. Follow these tips to make sure your pancake-making process is a success. Check out our SuperFat Keto Pacake Mix.
Can you substitute almond meal for almond flour? Yes, but know that the overall texture of your pancake batter will not be as smooth.
Can these pancakes be made dairy-free? Yes. To make them dairy-free, use coconut milk or almond milk in place of dairy milk or heavy cream, and coconut oil in place of butter.
How many pancakes does this recipe make? This recipe makes a dozen pancakes, roughly three inches in diameter.
Can you use egg whites instead of whole eggs in this recipe? For the best pancakes, it's not recommended to use egg whites, as it will reduce the overall fat content of the recipe and negatively impact the texture.
Can this batter be used to make other keto breakfast foods? You can use this recipe to make waffles, but you cannot use it for other foods, such as muffins or crepes.
3 Health Benefits of These Keto Pancakes
You may not be used to pancakes being good for you, but this recipe packs a healthy punch. Here are a few sneaky ways these pancakes bring in extra health benefits to your diet.
#1: Almond Flour and Monk Fruit Can Balance Blood Sugar Levels
Using almond flour in place of regular flour in this recipe lowers the carb content, which is great news for your blood sugar levels. But there are two ingredients in particular — almonds and monk fruit — that are especially good at keeping blood sugar levels in check.
Almonds are a great source of magnesium, a mineral that can help with blood sugar and insulin control[*]. In fact, one study showed that type 2 diabetics experienced an improvement in insulin sensitivity and glucose control when supplementing with magnesium[*].
Monk fruit ranks zero on the glycemic index, so it will not spike your blood glucose levels. This sweet sugar replacement not only lowers the sugar content of your pancakes, but it may also enhance your body's insulin secretion — shuttling more glucose out of your blood and into your cells for energy[*].
#2: Almond Flour May Help Reduce Cravings
These easy keto pancakes are loaded with protein, packing in 5 grams per pancake. Protein is well-known to be the most satiating macronutrient, so shifting the ratio of carbs to protein in this recipe means you get to feel full longer[*].
Protein isn't the only reason these pancakes might curb your appetite. Almonds, one of the core ingredients in this recipe, have been shown to reduce hunger pangs. Research shows that snacking on almonds decreased the desire to eat, making them a desirable, healthy snack option[*].
Since almonds are the sole ingredient in almond flour (which, in turn, is the main ingredient in these pancakes), this recipe might reduce cravings for hours afterward.
#3: Eggs May Reduce Your Risk of Heart Disease
For the longest time, eggs received a bad rap from health communities. This was mainly contributed to their cholesterol content, which was thought to cause heart disease.
However, new research shows no correlation between egg consumption and heart disease or stroke[*]. In fact, in studies conducted on people with type 2 diabetes, consuming a high-protein, low-carb diet that includes eggs helped improved blood lipid and blood sugar levels — both biomarkers of heart disease[*][*].
If you eat pastured eggs or omega-3 eggs (from hens fed fish oil or flax supplements), your risk of heart disease may decrease even further[*].
Enjoy Keto Pancakes for a Low-Carb Brunch
Delicious low-carb recipes like this one make following a keto diet easy and stress-free. If you're looking to throw a mouth-watering weekend brunch, you don't need to limit yourself to serving meat and eggs. You can serve a full-blown pancake bar, complete with low-carb syrups sweetened with stevia, fresh berries, and even keto whipped cream.
Next time those pancake cravings hit, you don't have to ditch your low-carb diet for regular pancakes. For more great low-carb brunch ideas, be sure to view the Perfect Keto recipe library.
Print
Keto Pancakes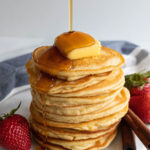 Sugar-free, gluten-free, and low-carb — these are best keto pancakes for a low-carb or keto diet. Made with almond flour and coconut flour and topped with sugar-free syrup.
Author:
Prep Time:

5 minutes

Cook Time:

10 minutes

Total Time:

15 minutes

Yield:

10

pancakes

1

x
Instructions
Whisk all ingredients in a large bowl. Let sit for 5 minutes.

Preheat a large nonstick skillet or pan under low-medium heat and coat with butter or nonstick spray.

Pour ¼ cup portion of pancake batter onto pan and cook for 2-3 minutes on each side until golden brown.

Serve with sugar-free maple syrup, butter, or coconut butter.
Nutrition
Serving Size:

1 pancake

Calories:

96

Fat:

8g

Carbohydrates:

3g (2g net)

Fiber:

1g

Protein:

5g
Keywords: keto pancake recipe