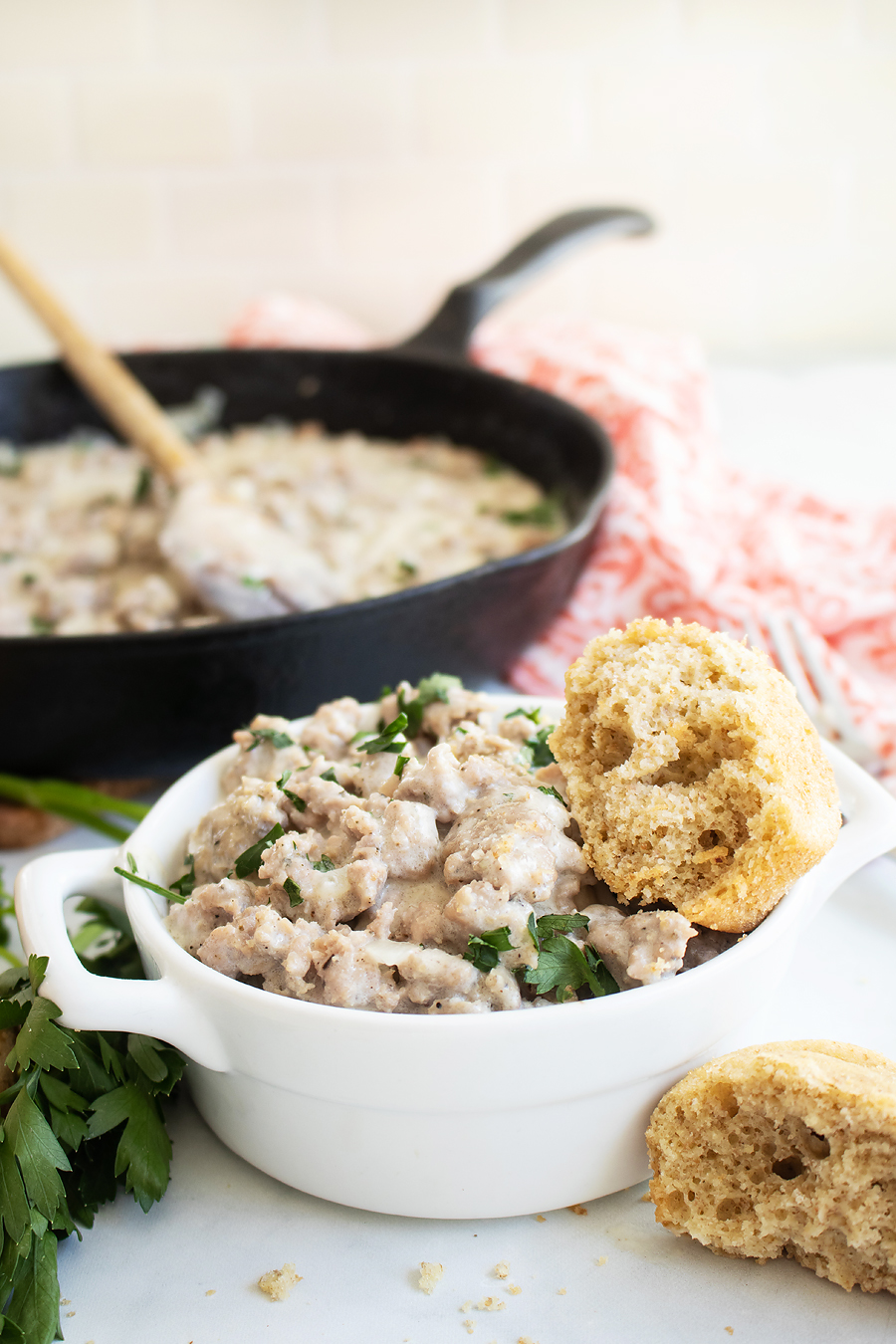 Finding keto-friendly comfort food is crucial for a long-term keto dieter. Maybe you're from the south and find yourself missing good old biscuits and gravy, or maybe you're just a fan of rich and delicious food — either way, this recipe is bound to hit the spot.
Taking a peek at the nutritional information, you'll see that each serving of this keto sausage gravy comes in at only two net carbs, with 9 grams of protein and 34 grams of fat.
You can enjoy it as a meal on it's own, or paired with your favorite low-carb savory baked goods.
This sausage gravy recipe is:
Warm
Comforting
Delicious
Flavorful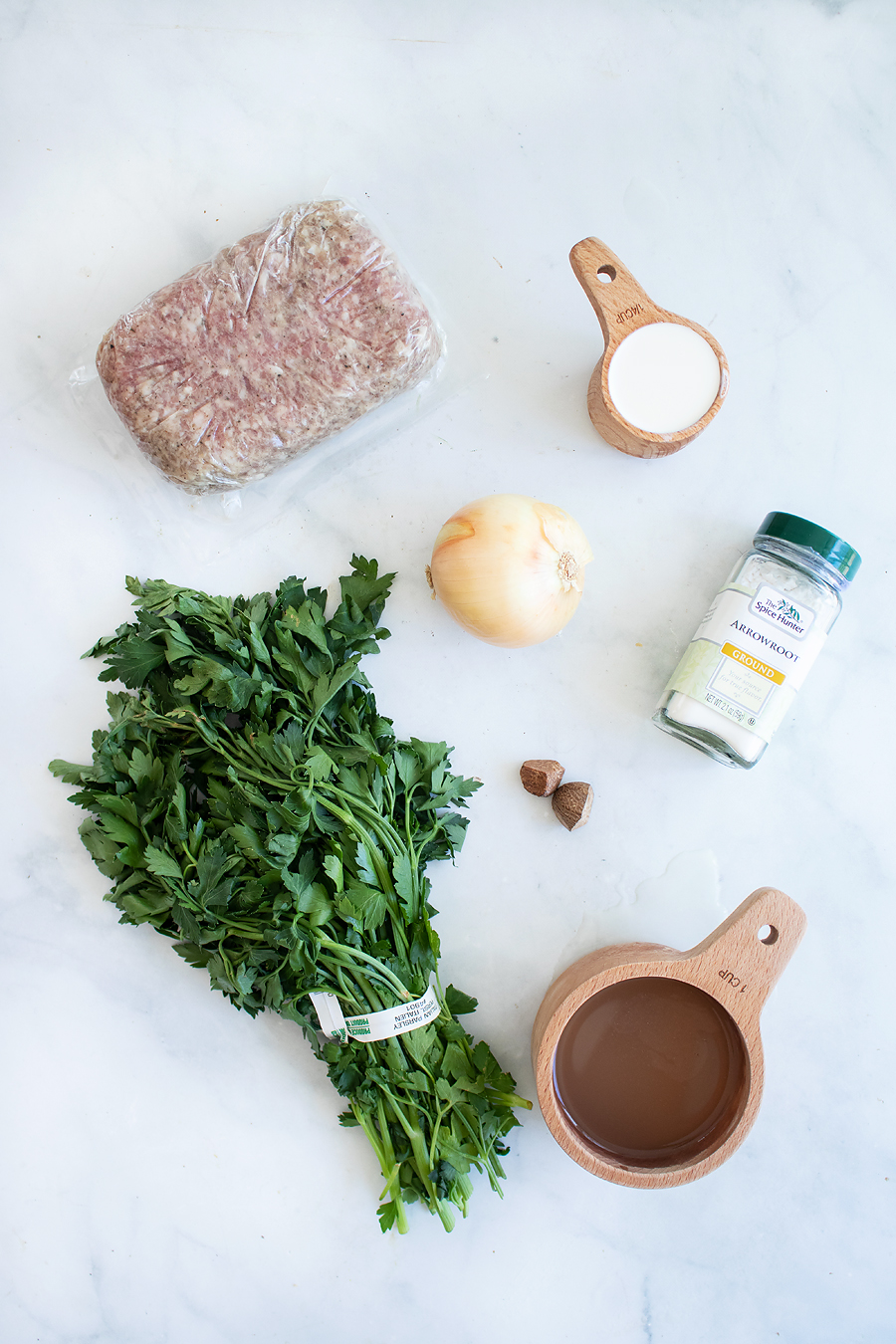 The main ingredients in this keto gravy are:
Breakfast sausage
Heavy cream
Optional additional ingredients: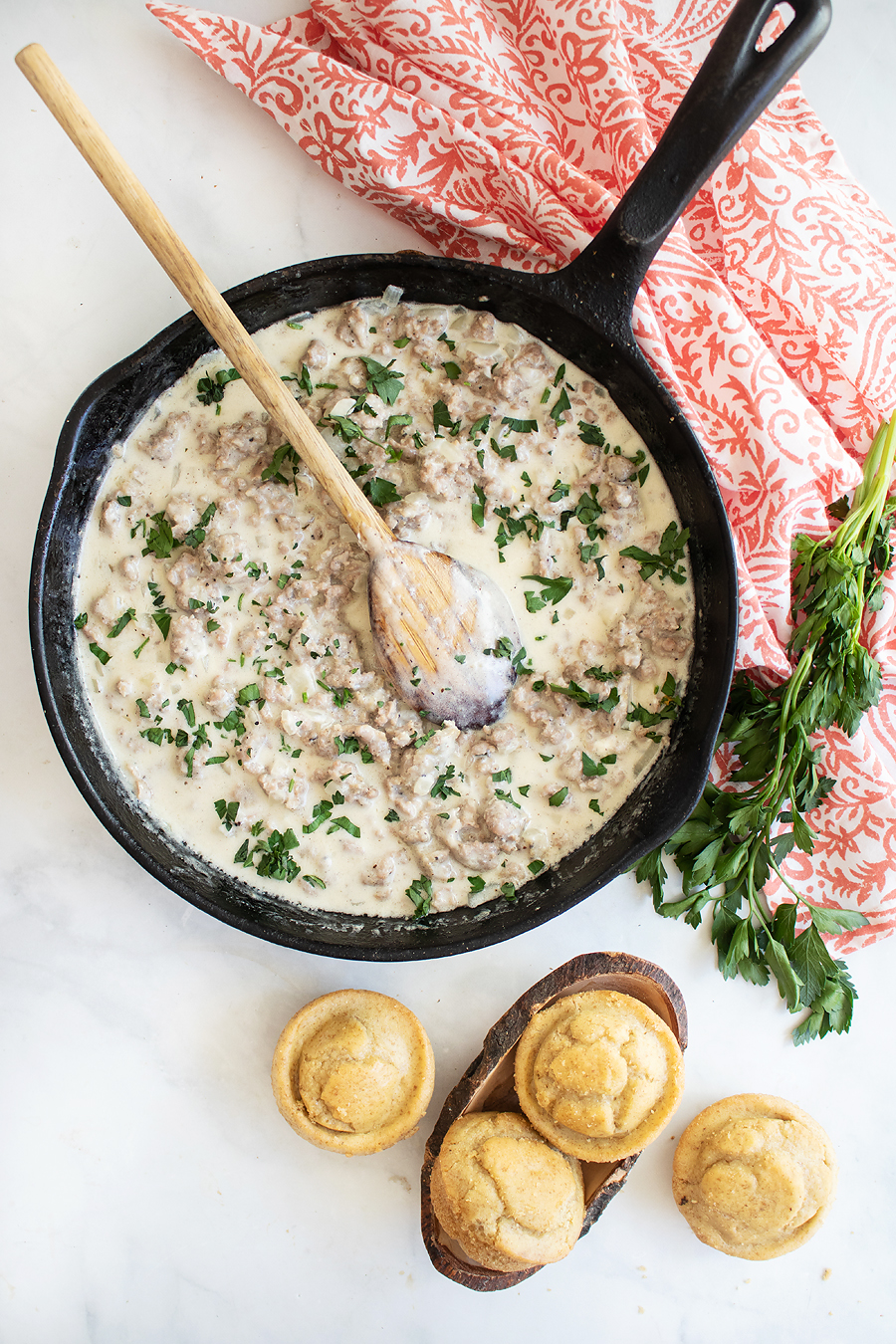 Health Benefits of Keto Sausage Gravy
Low-Carb and High-Fat
Many gravy recipes come with sneaky sources of hidden carbs. With this ketogenic sausage gravy, however, you're only getting two grams of carbs per serving. What's more, there's an abundance of healthy fats packed into each serving — 34 grams in fact, making this recipe as satisfying as it is delicious.
Gluten-Free
Another hidden ingredient you'll often find in gravy recipes is all-purpose flour for thickening. This recipe skips the flour (and the gluten) altogether and opts instead for arrowroot powder. Arrowroot not only acts as an excellent thickener, but it is also a resistant starch that adds fiber[*].
Keto Sausage Gravy
How Do You Serve Keto Sausage Gravy?
This keto sausage gravy can be served as a meal all on its own. However, there are many ways to enjoy this recipe, including:
Serve with low-carb biscuits for keto biscuits and gravy
Mixed into some scrambled eggs for a keto breakfast option
As a topping to keto waffles or chaffles
Pour on top of cauliflower rice
How Do You Thicken Keto Sausage Gravy?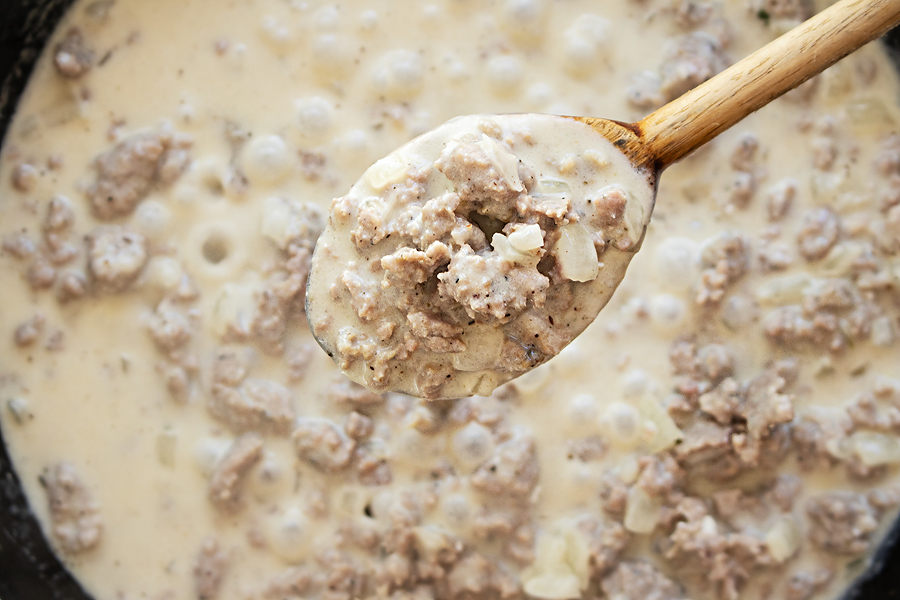 Traditionally, gravy is thickened with ingredients like milk and flour. In this keto version, however, you'll be skipping the flour and opting for alternative thickening ingredients. This recipe calls for arrowroot, but you can also try using xanthan gum or almond flour if you have some on hand.
Alternatively, if you don't want to add either arrowroot or xanthan gum, you can simply reduce the gravy over heat. Fair warning — this method will take a bit more time.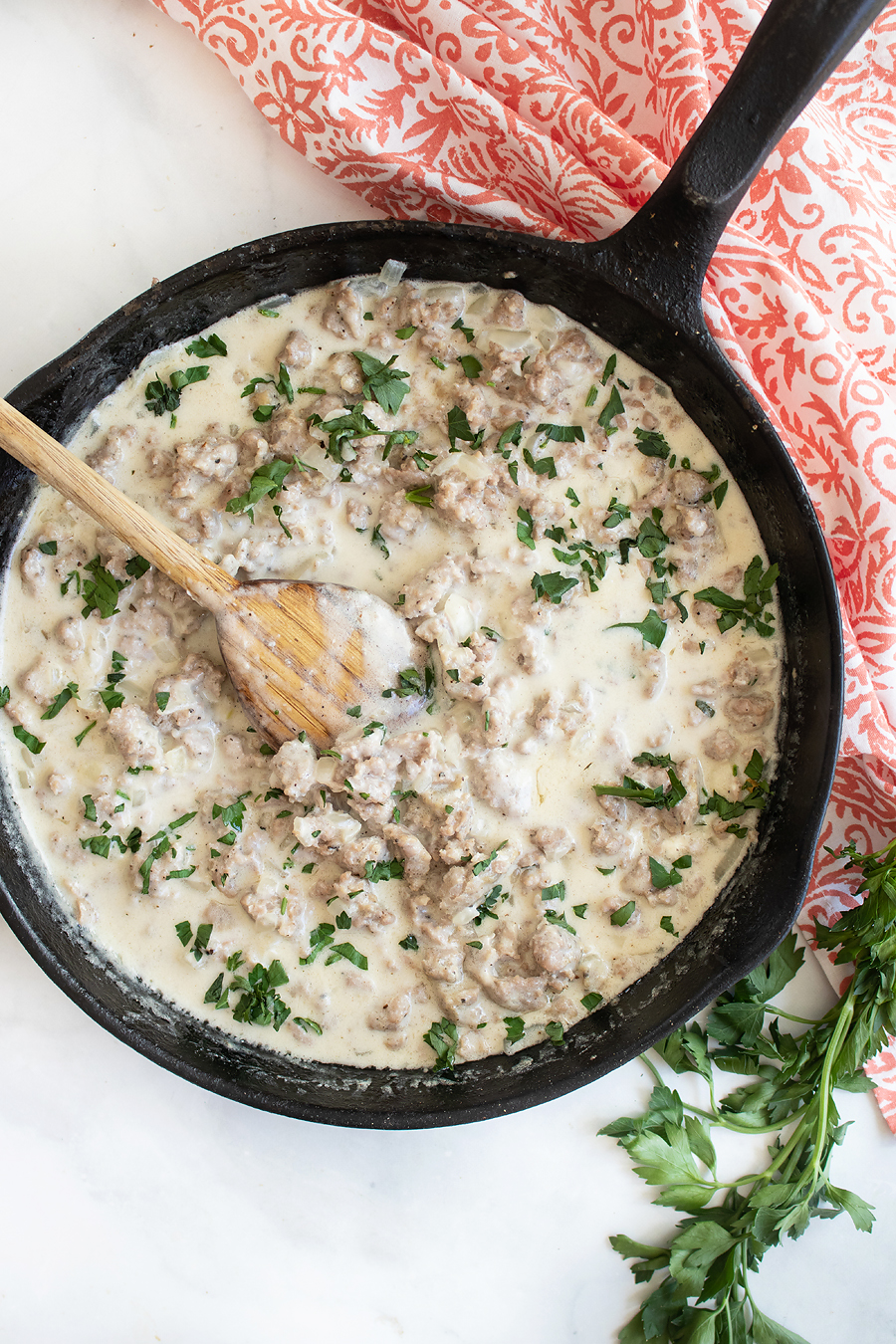 How To Prepare Low-Carb Sausage Gravy
Begin by heating your butter in a large skillet over medium heat. Add the sausage and cook until its browned on all sides.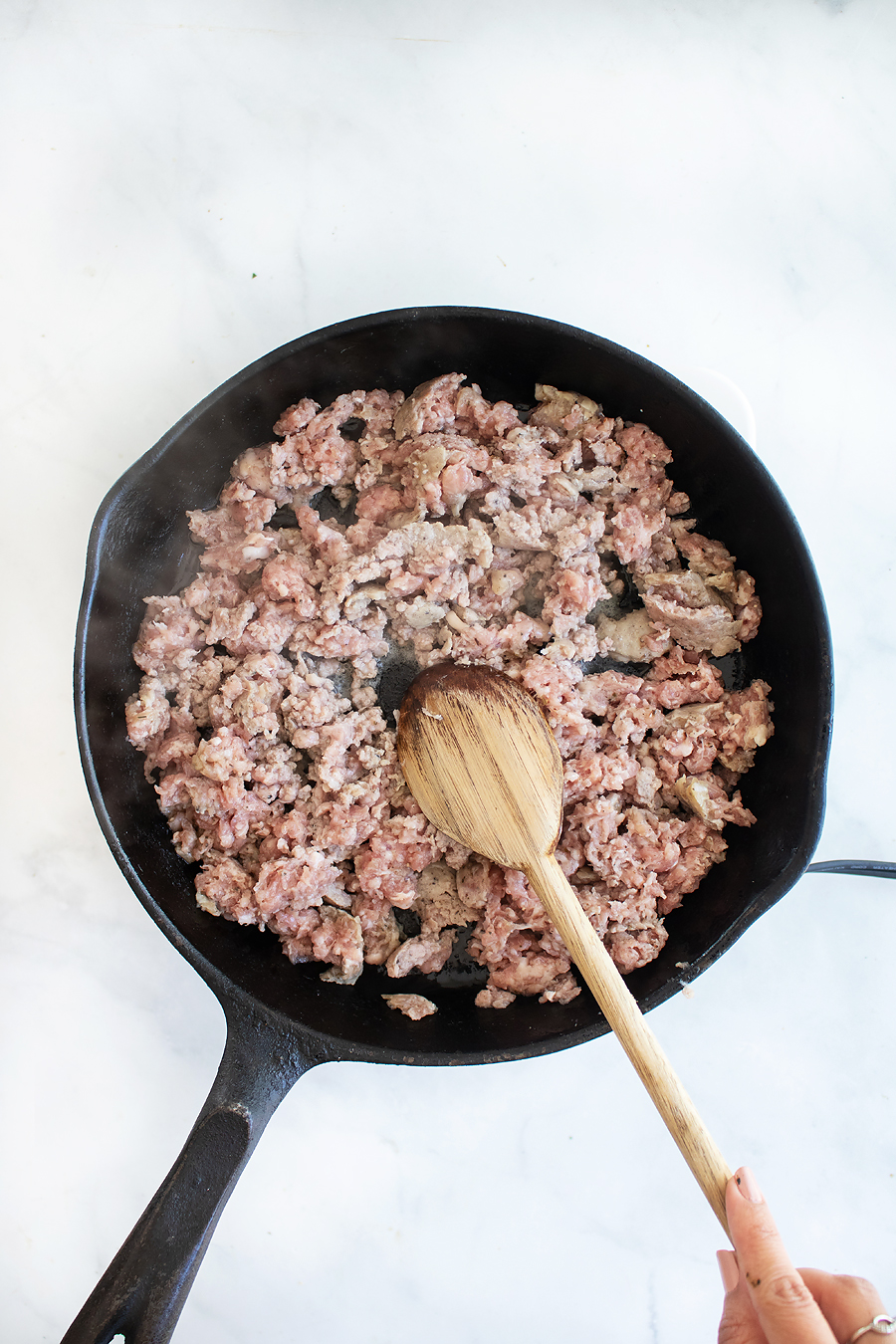 Next, add in your chopped onion and cook for two to three minutes until it's fragrant.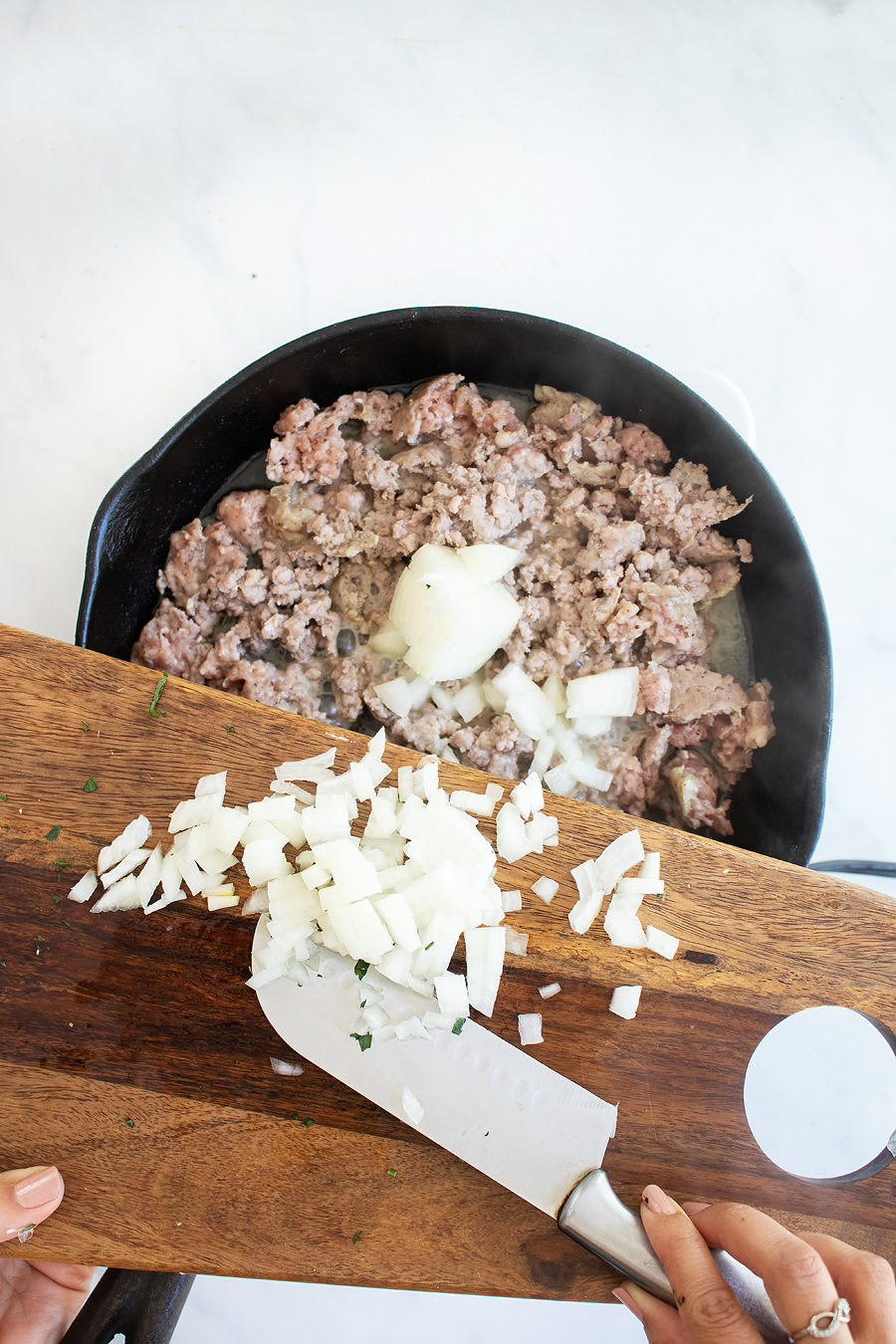 Then Stir in the broth, heavy cream, cream cheese, arrowroot powder, garlic powder, nutmeg, salt, and pepper.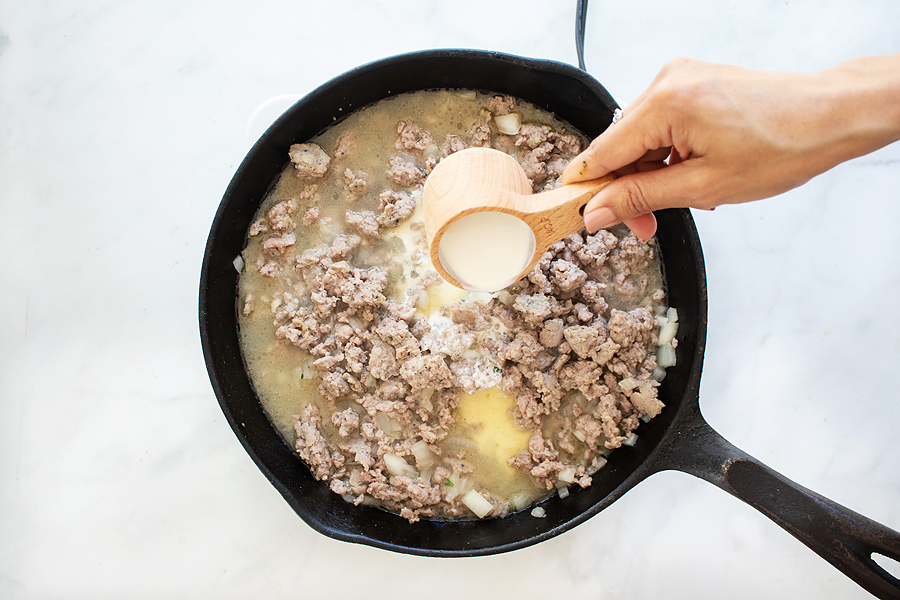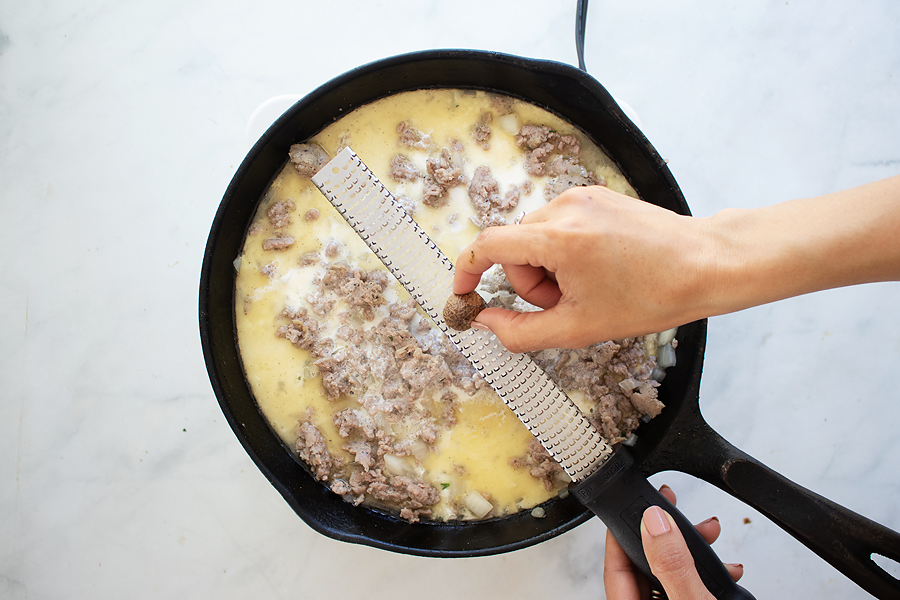 Let it simmer for about five to six minutes, stirring occasionally.
Finally, reduce heat to medium-low and cook for an additional 5 minutes until sauce is thickened.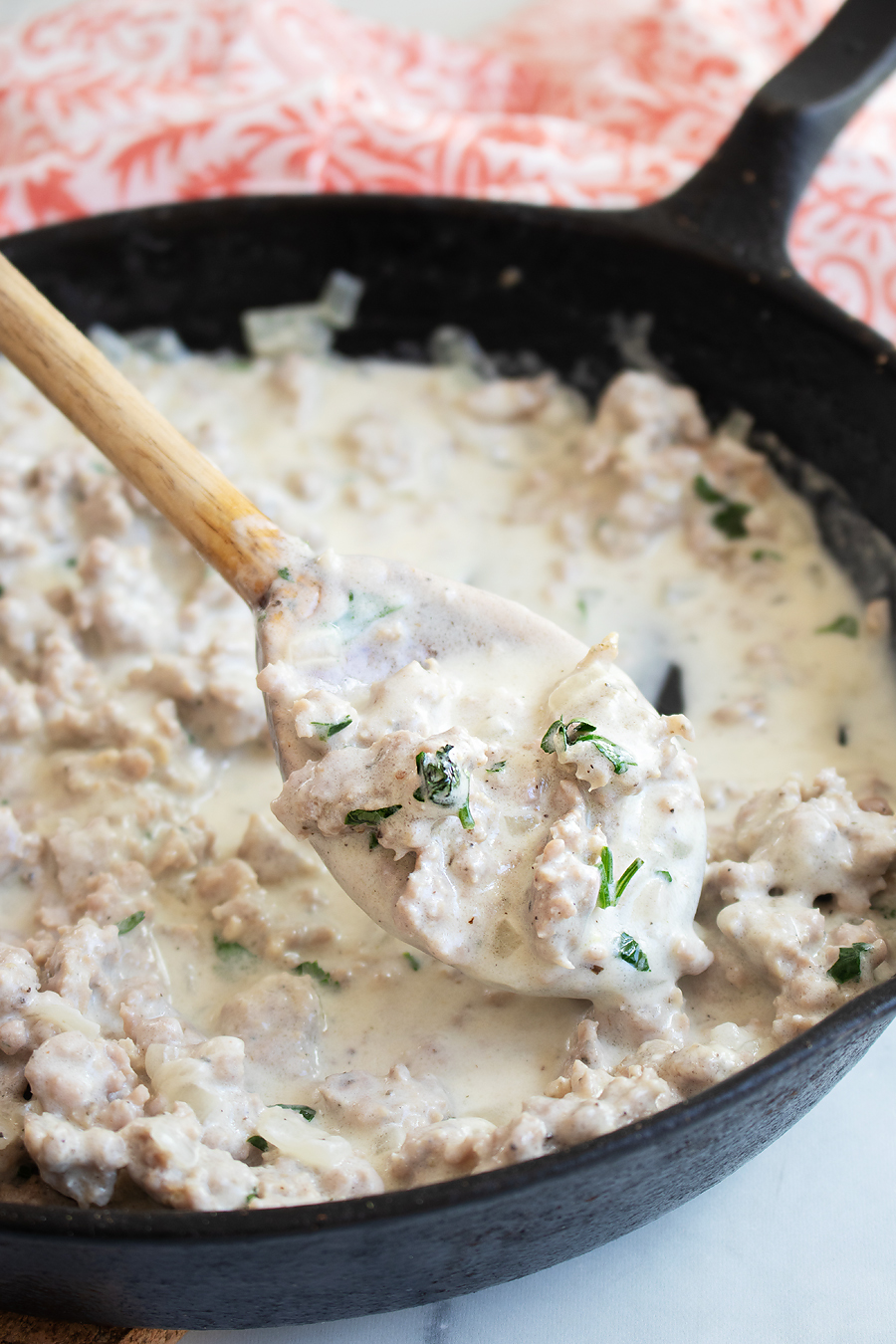 Serve with biscuits using this low-carb biscuit recipe, or a dollop of sour cream.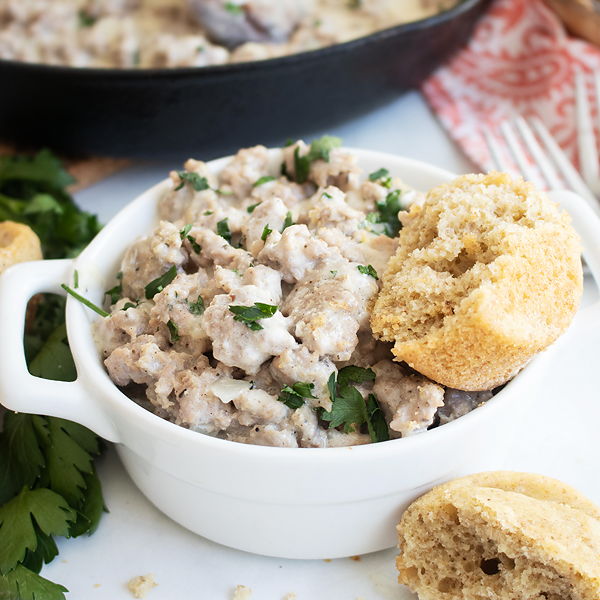 Print
Keto Sausage Gravy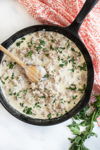 Keto sausage gravy is the ultimate comfort food to enjoy with low-carb biscuits, eggs, or muffins. It's gluten-free and has only two net carbs per serving.
Author:
Prep Time:

5 minutes

Total Time:

20 minutes

Yield:

2 cups

1

x
Instructions
Heat butter in a saucepan over medium-high heat.

Add the sausage and cook until browned.

Add the onion and cook for 2-3 minutes until fragrant.

Stir in broth, heavy cream, cream cheese, arrowroot powder, garlic powder, nutmeg, salt and pepper.

Simmer for 5-6 minutes, stirring constantly.

Reduce heat to medium-low and cook for an additional 5 minutes until sauce is thickened.

Serve with

Fluffy Low Carb Keto Biscuits

 
Nutrition
Serving Size:

1 cup

Calories:

418

Fat:

34g

Carbohydrates:

2g (Net: 2g)

Fiber:

0g

Protein:

9g