A trip to Costco used to be all about filling up on samples and buying pantry staples in bulk. Peanut butter, olive oil, toilet paper — the standard Costco shopping list hasn't traditionally been very keto-friendly.
However, with changing consumer demands, Costco has stepped up to the plate and now provides a variety of unique options. Many of which are low-carb, high-fat, and delicious.
So get your pen and paper ready, it's time to make your keto-approved Costco shopping list.
Meat and Seafood
If you're a fan of cooking your own meals and trying a variety of meat and fish options, Costco will not disappoint.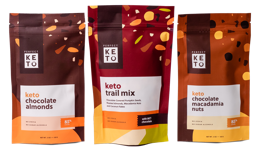 Keto Chocolate Snacks
Sweet. Salty. Decadent. Finally, you can indulge in healthy chocolate snacks with no artificial sugars.
Buy Now
With nearly every type of protein and cut available, you'll be busy for weeks (if not months) trying new recipes. Strolling through the butchery section at Costco you'll find:
Produce
If you like stocking up on fresh fruit and vegetables, Costco will give you portions to feed an army.
If you're a party of one or you just prefer buying in bulk, you can freeze many of the below produce options for future use.
Heat & Serve Meals
Costco has a fantastic selection of meals ready to go. These can be found in the refrigerated or the frozen section. If you don't have time to cook from scratch every day (who does?), stocking up on some heat and serve meals is a fantastic idea.
Snacks
You may have noticed that Costco is often an early adopter of new and exciting healthy snack foods. In fact, they have an entire department dedicated to bringing in healthier brands to share with their bulk-loving customers.
Lucky for you, many of these healthy snacks work perfectly with the ketogenic diet.
Condiments, Oils, and Sauces
This is a big one. Many people get tripped up when buying condiments and sauces for their keto meal plan because most of the time, these items are packed with added sugar.
Many of the options below not only limit carbs, but most are sugar-free as well.  
Canned and Jar Foods
Grain Alternatives
Ten years ago if someone was following a keto diet, it would be "goodbye" to pasta and rice, end of story.
Now, with the popularity of the diet inciting creativity in chefs and novices alike, there are plenty of low-carb grain alternatives, so you never have to feel deprived.
Frozen
Next time you're headed to Costco make sure there's plenty of space in your freezer. Nothing could be easier than buying a bulk bag of stir-fry veggies or ready-to-heat beef patties.
The frozen section is an excellent place to stop if you like to stock up on quick meals that will last a while.
Other
The Takeaway: Buy in Bulk
If you don't already have a Costco membership, it may be time to look into it. While many grocery stores are beginning to pick up more low-carb options, Costco is a leader when it comes to health trends. Especially when it comes to bulk buys.
Pro tip — If you're the type to get easily overwhelmed with too many options, be sure to compile your shopping list ahead of time.