This low-carb scalloped "potato" dish is a hit among keto-dieters and non-keto-dieters alike.
With a couple of ingredient swaps, you lose the high carb count of traditional scalloped potatoes but keep the delicious, creamy taste and texture that make this a go-to side dish.
By adding in turnips and pork rinds, you turn this classic American dish into a keto recipe you'll have on the weekly rotation.
Turnips are a fantastic alternative to potatoes with lower net carbs, and a comparable mouth-feel, while pork rinds give you the crunch you crave while also making this dish gluten-free.
You can get creative with your cheeses as well by trying gruyere cheese, cheddar cheese, and cream cheese as substitutes or additions.
So pull out your large baking dish and let's get going on some keto-friendly comfort food.
These ketogenic scalloped potatoes are:
Rich
Creamy
Delicious
Savory
The main ingredients are:
Optional additional ingredients:
3 Health Benefits of Scalloped Potatoes
#1: Rich In Dietary Fiber
Scalloped potatoes are usually made with, well…potatoes. By switching out your potatoes with turnips, you're boosting the fiber content of this recipe, which can lead to a whole host of health benefits.
While the carbohydrate content of potatoes is about 10% fiber, for turnips that number jumps to 25%. Eating real, whole foods, in general, can help increase your satiety, but add in substantial fiber content, and you're sure to be satiated for hours[*][*].
What is it about fiber that makes you feel so full? Soluble fiber, in particular, prolongs the absorption phase of digestion. This gives your body more time to generate satiety hormones and increases the amount of time they spend signaling your brain that you're full[*].
#2: Boosts Immunity
Onions are a fantastic immune boosting food. In animal trials, researchers examining the immune activity of green onion found that upon consumption, compounds in green onion can activate immune responses.
These compounds not only increase the secretion of specific immune-enhancing chemicals, but they also upregulate an important immune activity called phagocytosis. Phagocytosis is a process by which your immune cells ingest and clear your body of unwanted bacteria[*]
So don't be shy with your green onions in this recipe, they're much more than a decorative finish.
#3: Anti-inflammatory
This version of scalloped "potatoes" omits the potatoes altogether, which can be inflammatory for some people.
While this alone is terrific news if you're sensitive to nightshades, these scalloped potatoes also contain butyric acid — another winner when it comes to reducing inflammation.
Butyric acid, or butyrate, is a short chain fatty acid found in butter. It affects your gut health by feeding your intestinal cells and providing an energy source for their growth[*].
Butyrate lowers inflammation in your body and may be particularly helpful for those suffering from inflammatory diseases in their digestive tract like Crohn's disease[*].
Scalloped Potatoes
These scalloped potatoes make the perfect creamy and rich side dish.
Ready in just 45 minutes, you can prepare this recipe for a low-carb potluck, a Christmas dinner, or make it part of your weekly meal plan as a go-to side.
Print
Scalloped Potatoes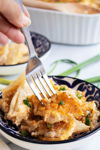 Keto scalloped "potatoes" are the perfect grain-free, gluten-free comfort food side dish when following a keto diet. With total fat of 21 grams and only 4 net carbs, you won't believe they're not potatoes!
Author:
Prep Time:

20 minutes

Cook Time:

25 minutes

Total Time:

45 minutes

Yield:

8

servings

1

x
Instructions
Preheat oven to 350°F and coat a 13×9 baking dish with nonstick spray or butter. Set aside.

Melt ¼ cup butter in a medium size pan set over medium heat. Stir in coconut flour.  Cook for 2-3 minutes until it begins to brown slightly. Reduce heat to low and pour in the milk and heavy cream. Simmer for 5-6 minutes until mixture thickens slightly. Stir in cheese, green onions, salt, and pepper. Mix until smooth.

Add sliced radishes to your baking dish and in pour cheese mixture. Toss to coat.

Prepare topping by adding pork rinds to a large food processor. Blend on high until you have a fine powder. Carefully remove the blade. Add butter and parmesan cheese to pork rind dust. Stir well. Sprinkle mixture over turnips.

Cover and bake for 25 minutes.

Remove cover and bake for an additional 20 minutes.
Nutrition
Serving Size:

approximately ¼ cup

Calories:

255

Fat:

21g

Carbohydrates:

8g (4g net)

Fiber:

4g

Protein:

9g
Keywords: keto scalloped potatoes