Granola is a popular breakfast food in most American homes. It's commonly made of rolled oats, dried fruit, honey, and various nuts. It can be eaten straight out of the bag or combined with milk for a filling meal.
If you're on the keto diet (or still thinking of following it), you might be thinking if it's possible to eat granola. This article answers the question, "Is granola keto?" and presents a list of granola brands that support a low-carb eating plan.
Can You Eat Granola on the Keto Diet?
Traditional granola, which combines grains, honey, and other ingredients that quickly raise its carbohydrate content — is not keto-friendly. But while traditional granola should be avoided on keto, fortunately, there are granola options made specifically for keto dieters like yourself.
In that case, what granola is keto-friendly?
Keto granola varieties usually use nuts (such as macadamia and almonds), dark chocolate chips, coconut flakes, and seeds to replace grains, among other low-carb ingredients.
To sweeten keto granola, brands use sugar substitutes like stevia, monk fruit, allulose, and sugar alcohols since they do not raise blood sugar levels. In addition, they help control your calorie intake (* , *, *, *).
A helpful tip when looking for keto granola:
Check the specific ingredients listed on the pack. This is because some varieties may contain small amounts of non-keto ingredients (honey, for example) while still being "keto-friendly" because they stay within your carb limit per serving.
If you're on strict keto, avoid these varieties. But, if you're simply counting carbs (regardless of the ingredients) as long as it fits your daily limit, then these should be fine.
Store-Bought Granola Products That Are Keto-Friendly
Here are granola six healthy granola options that will help keep you in ketosis and contain no (or only minimal) added sugar.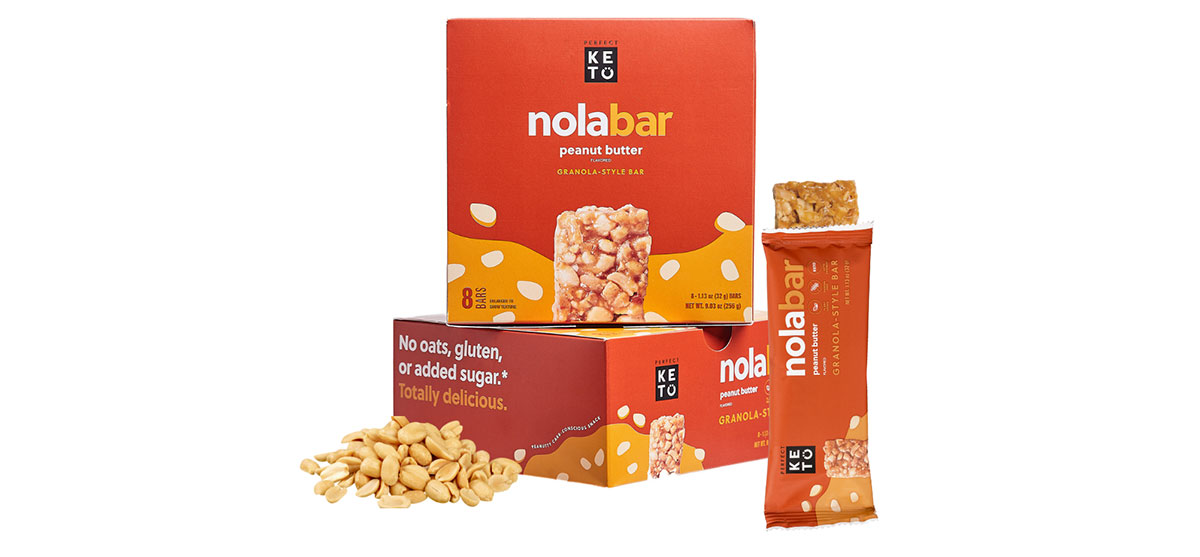 1. Perfect Keto Nola Bars
These Nola bars are made with real and high-quality ingredients such as almonds, macadamias, and pecans. They also include medium-chain triglycerides or MCTs for a ketone and energy boost. Regardless of the flavor you choose — maple pecan, coconut chocolate chip, or peanut butter — one bar has only 1-3 grams of net carbs.
What makes our Nola bars better than other granola products is that they're free from added sugars and vegetable oils. You can enjoy them before a workout, as a healthy snack, or guilt-free dessert when you're craving sweet foods.
Price (8 bars): $22.99 at Perfect Keto, $22.99 on Amazon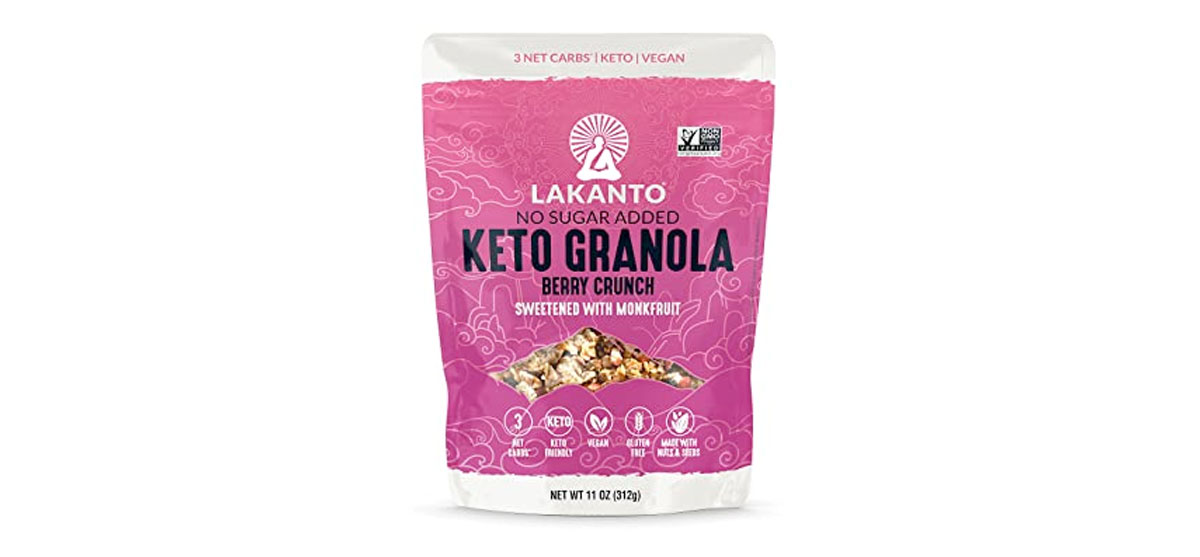 2. Lakanto Berry Crunch Keto Granola
Is there a keto-friendly granola made with berries? You might want to try Lakanto's version that includes blueberries and strawberries. Research shows that berries contain natural antioxidants like vitamins C and E, which protect your cells from damage and reduce your risk of disease (* , *).
A ⅓ cup (or 30-gram serving) contains only 3g net carbs, 3g protein, and 14g fat coming from the almonds, chia seeds, and coconut oil. One way to eat this granola is to add almond milk — which is also perfect for individuals looking for dairy-free alternatives. Lakanto also offers other flavors, including cinnamon almond crunch and chocolate crunch.
Price (1 bag): $12.99 at Lakanto, $11.49 on Amazon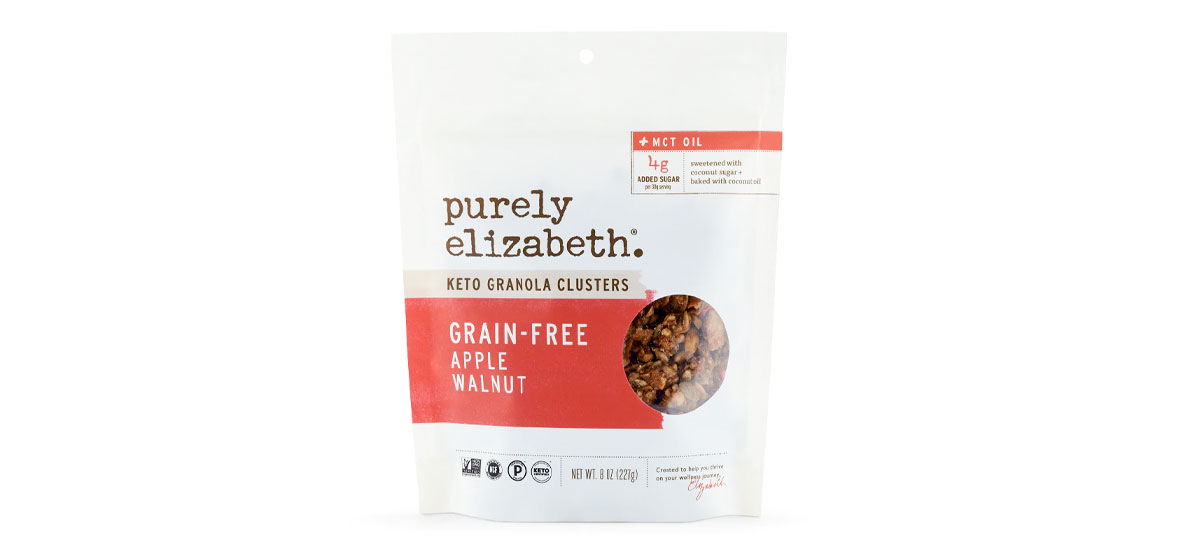 3. Purely Elizabeth Apple Walnut Grain-Free Granola
While Purely Elizabeth sells grain-based granola, it offers grain-free versions which come in apple walnut (newest flavor) and other flavors — vanilla almond butter, coconut cashew, banana nut butter, and cinnamon peanut butter. If you're on a strict keto diet, you may not like some of the ingredients used such as dried apples and organic coconut sugar.
One serving of this grain-free granola provides 8g net carbs, 5g protein, 12g fat, and 4g added sugar. With that, you may need to be careful with the serving size. Stick to one to two servings at a time, depending on your personal daily carb allowance.
Price (3 packs): $22.47 at Purely Elizabeth, $32.98 on Amazon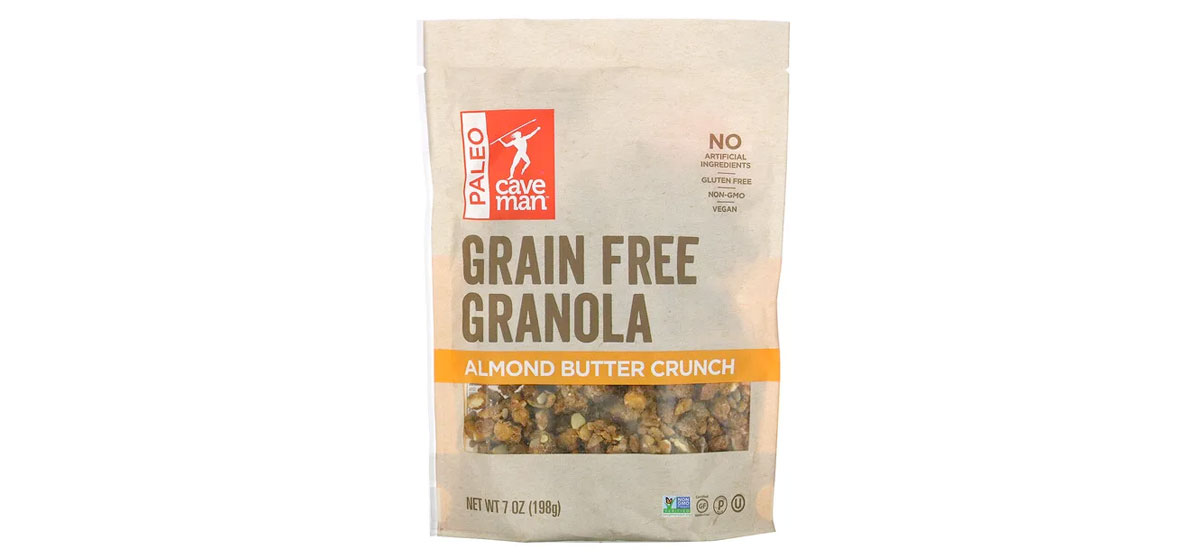 4. Caveman Foods Almond Butter Crunch Grain Free Granola
Those who are on a paleo keto diet will love this grain-free granola made with almonds, sunflower seeds, and pumpkin seeds. However, watch out for the maple syrup ingredient which brings the added sugars to 5 grams per serving. (Note that maple syrup isn't a keto-friendly sweetener).
Regardless, you can still fit this into a lazy keto or dirty keto diet since it provides 7 grams of net carbs in a ⅓ cup serving. It's gluten-free, soy-free, and dairy-free. Plus, it comes in a resealable bag to ensure freshness and convenience if you're bringing it with you to work or while traveling.
Price (1 bag): $7.99 at Caveman Foods, $7.29 on Amazon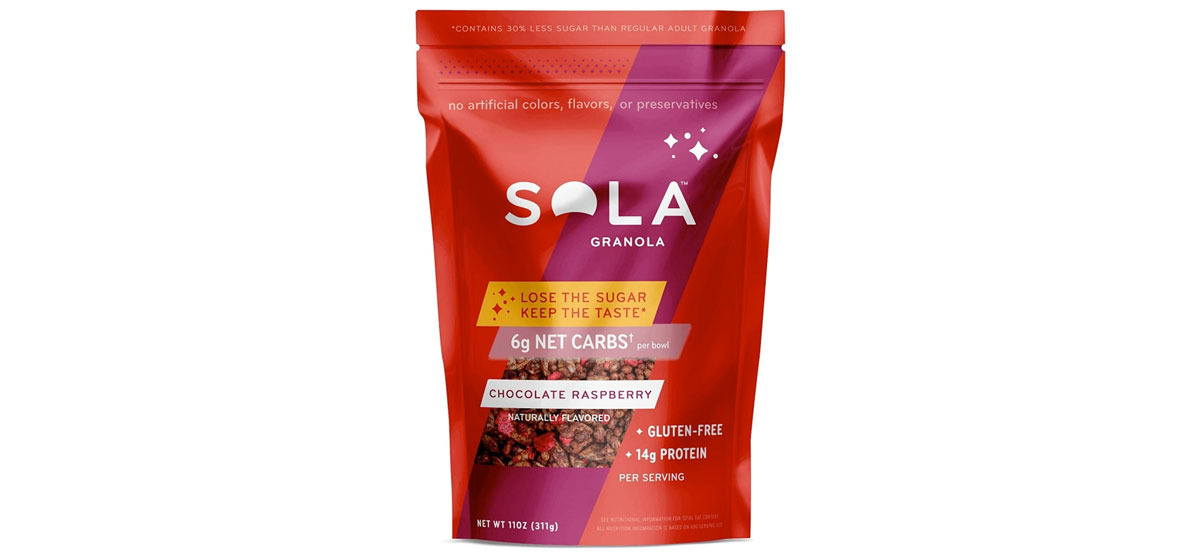 5. SOLA Chocolate Raspberry Granola
Is granola keto-friendly if it has a high amount of protein? The answer is yes. In fact, if you're trying to increase your protein intake to support your active lifestyle on keto, try SOLA granola. A ⅓ cup serving has 7 grams of protein, plus 5g net carbs and 10g fat. You can also choose from other flavors like vanilla almond, double chocolate, and maple pecan.
This keto granola is mostly made with healthy ingredients like almonds, pumpkin seeds, freeze dried raspberries, sea salt, and stevia leaf extract. Some enjoy it as a portable snack while others soak it in almond milk for filling breakfast cereal.
Price (1 bag): $7.99 at SOLA, $10.99 on Amazon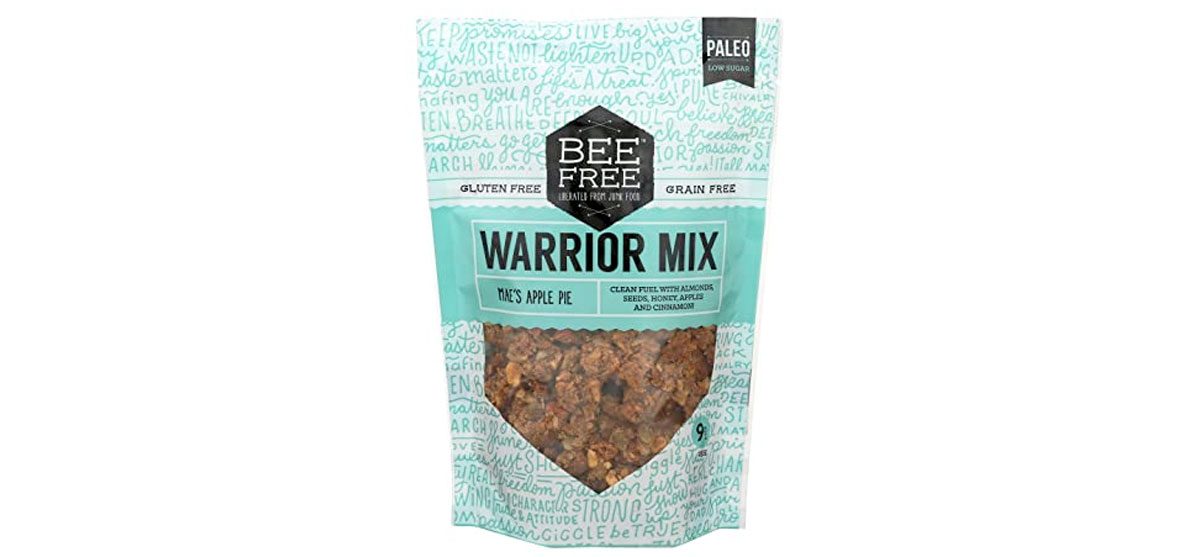 6. BeeFree Warrior Mix Granola
This grain-free and gluten-free granola is for chocolate lovers. It's made with pure cocoa with a touch of cinnamon, and other good-for-you ingredients like almonds, pumpkin seeds, and sunflower seeds. One serving (¼ cup) provides 7g net carbs, 4g protein, and 13g fat.
While this is considered keto, since it's low-carb and high-fat, note that it lists honey as one of the ingredients. Great for vegetarians and paleo keto dieters, people enjoy it as a quick pick-me-up snack. You may also use it as a yogurt topping or eat it with nut butter — just pay attention to your carb intake.
Price (1 bag): $8.95 at BeeFree, $7.08 on Amazon
Bottom Line
So, is granola keto-approved? It can be, as long as it helps you limit your carbs to 50 grams or less per day. In that case, check the number of carbs per serving on the package as well as the ingredients used.
Non-keto ingredients like honey, coconut sugar, and dried apples can quickly increase the carb and sugar content of a granola product, so you'll have to be careful when choosing. With a little research, you'll be able to find the best granola that satisfies your macros and supports your health goals on keto.
If you're looking for granola with the fewest possible carbs and made with the highest quality ingredients (especially when you're on a clean keto diet), choose our Perfect Keto Nola bars.
6 References