Raspberry keto thumbprint cookies are going to change your world. Sure, you have fewer cravings since starting a low-carb keto diet, but everyone deserves a cookie now and then — especially around the holidays.
These easy, gluten-free, grain-free cookies will satisfy your sweet tooth and refill your nutrient stores with nutrient-dense ingredients like almond flour, pastured eggs, and grass-fed butter.
The holidays are ripe with temptations that can sabotage your keto diet. Luckily, more and more people are getting on the low-carb, sugar-free diet bandwagon. That means more recipes like this that won't spike your blood sugar and kick you out of ketosis.
Plus, it's unlikely that your friends, family, and coworkers will even notice that these cookies are sugar-free! That's how good they are.
These perfectly buttery keto thumbprint cookies are:
Perfectly sweet
Buttery and fruity
Satisfying
Have a bit of crunch
Sugar-free and low-carb
The main ingredients in these Keto Christmas Cookies include:
Egg
Sugar-free raspberry jam or other fruit preserves
Optional variations:
Almond butter and chocolate chip (skip inflammatory peanut butter)
Sugar-free chocolate chips
Sugar-free strawberry jam
Cream cheese + Stevia frosting (add after baking)
Health Benefits Of Keto Cookie Ingredients
#1. Healthy Fats Lower Inflammation
Almond flour is loaded with nutrients that improve your blood sugar and cholesterol levels. For a flour, it's relatively high in protein and fiber. Plus, it's got a good amount of vitamin E (a potent antioxidant) and magnesium, which is essential for hundreds of different enzymatic functions in your body[*][*].
Grass-fed butter is a decent source of omega-3 fatty acids and vitamin K, both of which can actually help lower inflammation and promote heart health, among other benefits[*][*].
Pastured, free-range eggs also have high concentrations of omega-3 fatty acids that can reduce your blood triglycerides and strengthen your heart[*][*].
Raspberries are naturally low in sugar and high in antioxidants like vitamin C and quercetin. Polyphenols like ellagitannins and anthocyanins give raspberries their distinctive red coloring and contribute to the anti-inflammatory and free-radical fighting effects of these delicious berries[*].
Worried about eating fruit on the keto diet? Don't worry too much about raspberries. They're extremely low on the glycemic index and contain about 1g of fiber per 10 berries. That means they most likely won't kick you out of ketosis or mess with your blood sugar.
#2. Vanilla And Raspberries: Rich In Antioxidants
Vanilla is best known for flavoring high-sugar desserts. But natural vanilla extract is actually a powerful flavoring with incredible antioxidant properties.
Natural vanilla extract can help battle free radicals and oxidative stress, as well as help calm stomach discomfort[*][*][*].
Again, raspberries are packed with antioxidants and even rank near blueberries on the ORAC scale that lists foods with highest concentrations of antioxidants[*][*][*][*].
Pastured eggs contain a good amount of lutein and zeaxanthin, two powerful antioxidants known for supporting eye health[*][*].
#3. Grass-Fed Butter And Almonds For Gut Health
Grass-fed butter is rich in butyric acid, a short-chain fatty acid you can find in high amounts in grass-fed butter, ghee, and raw milk. Your gut also makes butyric acid in your colon through the bacterial fermentation of dietary fiber[*].
Butyric acid is essential to gut health, but it's especially important for colon health and function.
Almonds are also a decent source of plant protein, fiber, and essential nutrients that support gut health. High in healthy monounsaturated fat, fiber, vitamin E, and minerals like magnesium and copper, almonds are linked to lowering systemic inflammation and oxidative stress. This means a healthier, better functioning gut.
The fiber in almonds also promotes healthy, balanced gut bacteria. And happy gut bugs mean better overall health, including gut and mental health[*].
It's true — you can have your cookies and eat them, too. Rather, you can have a few low-carb cookies and still reap some health benefits.
At the very least, you can enjoy yourself and not worry about spiking your blood sugar and sabotaging everything you've worked so hard for.
These delicious, shortbread cookies
If you're looking for already-made keto cookies with cleaner ingredients, opt for Perfect Keto Cookies, which also contain a serving of grass-fed collagen and only 4 net carbs per serving.
Print
Raspberry Keto Christmas Cookies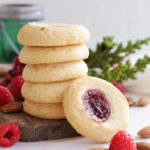 These low-carb, gluten-free keto cookies are buttery, delicious, and perfectly sweet without any added sugar.
Author:
Total Time:

15 minutes

Yield:

12

cookies

1

x
Instructions
Preheat oven to 350 degrees and line a cookie sheet with parchment paper.

Combine flour, xanthan gum, baking powder, and salt in a small bowl. Set aside.

In a medium-sized bowl or stand mixer, whip butter and sweetener together until light and fluffy.

Add egg and vanilla extract.

Beat in flour mixture and mix just until combined.

Divide and portion dough and place onto a prepared cookie sheet.

Press the center of each cookie dough ball. Spoon 1/2 teaspoon of jam into the center of each cookie.

Bake cookies for 10-12 minutes just until edges have slightly turned golden brown.

Let cool until jam is set.
Nutrition
Serving Size:

1 cookie

Calories:

168

Fat:

16g

Carbohydrates:

2g

Fiber:

3g

Protein:

4g
Keywords: keto thumbprint cookies