Is it possible to follow a vegetarian keto diet?
The simple answer is yes. But it takes a little extra thought. While a traditional keto diet typically involves protein from animal sources, it is possible to avoid meat while following a keto meal plan. In fact, the biggest component of the ketogenic diet is fat, which you can easily get from vegetarian foods.
Overall, the keto diet focuses on eating real, whole foods. You'll focus on leafy green veggies, low-sugar fruits, plant-based protein, and lots of healthy fats.
Whether or not a long-term vegetarian keto diet is healthy is another story. Long-term vegetarian keto could result in protein deficiencies and not getting enough calories. But for a short period of time, it's doable — as long as you have the right information, tools, and foods available to you.
Get ready to dive into a vegetarian-friendly keto food list — one macronutrient at a time.
Carbohydrates for a Vegetarian Keto Diet
Besides getting plenty of healthy fats, keeping your carb intake to a minimum is one of the most important factors on the keto diet. Avoid carb-heavy snacks and meals, cutting out any foods that will spike your blood sugar considerably. This includes, but is not limited to, refined carbs like sugar, flour, bread, cereal, and potato chips. Adjusting to this way of eating may seem difficult at first, but like anything else, it just takes some getting used to.
Carbs to Avoid on Keto
On keto, you'll eliminate high-carb, starchy vegetables, sugar, candy, and grains (even whole grains). Here are some carb sources to remove from your home and kitchen:
Pastas
Breads
Chips, crackers, and pretzels
Tortillas
Rice
Sodas
Cereals
Any other packaged foods with refined sugars or flours
Fruit juices and most fruits
White potatoes, sweet potatoes
Starchy vegetables
Carbs to Enjoy (In Moderation) on Keto 
On a vegetarian keto diet, you'll enjoy the same carbohydrates as those on a "regular" keto diet. These include low-sugar fruits, full-fat yogurt and dairy products, and low-carb veggies.
Low-Carb Vegetables
Low-carb veggies have plenty of health benefits. Low-carb leafy vegetables provide dietary fiber, keep you full, and are packed with beneficial vitamins and minerals. Plus they're extremely low in carbs.
To keep your meals fresh and exciting, experiment with how your veggies are prepared. Try some raw atop a salad, and roast others in coconut oil with plenty of seasonings. Be sure to check the Perfect Keto recipe library for more ideas.
Spinach
Kale
Brussels sprouts
Swiss chard
Lettuce
Asparagus
Green beans
Broccoli
Artichokes
Summer and winter squash
Red and white cabbage
Cauliflower
Bell peppers
Onions
Mushrooms
Tomatoes
Eggplant
Garlic
Low-Sugar Fruit
Because of its sugar content, fruit should be eaten in moderation on keto. Some fruits, however, are lower in carbs (and therefore sugar) than others. Berries and avocado are much lower in sugar than apples, bananas, or watermelon, and therefore can be enjoyed sparingly.
Blackberries
Strawberries
Raspberries
Blueberries
Avocado
Condiments, Dressings, and Spices on the Vegetarian Keto Diet
Condiments, spices, and some salad dressings don't quite fit into any macronutrient category. However, they're important to mention because they can give plenty of flavor to your meals. Here are a few condiments you might want to keep stocked in your fridge on your vegetarian keto diet:
Coconut aminos (a gluten-free substitute for soy sauce)
Worcestershire sauce
Hot sauces
Yellow mustard
Mayonnaise (look for brands made with cage-free eggs)
Sugar-free ketchup
Sauerkraut (free of sugars)
Sugar-free or low-sugar high-fat salad dressings
Dried and fresh herbs and spices are also keto-friendly. Try adding these to your keto meals for a punch of flavor:
Basil
Oregano
Parsley
Rosemary
Thyme
Cilantro
Cayenne pepper
Chili powder
Cumin
Cinnamon
Nutmeg
Lemon or lime juices
Pepper and salt
Protein on a Vegetarian Ketogenic Diet
There are plenty of high-protein foods that do not come from animal products. Here's a comprehensive list of vegetarian protein sources to try on keto:
Eggs
Full-fat dairy
Tempeh
Lentils
Natto
Miso
Nuts and seeds (discussed further below)
A few final things to note here: If you eat soy products, try to stick to high-quality, non-GMO sources (like organic tempeh). If you find your protein needs still aren't being met, you could supplement with an organic rice or hemp protein powder.
Lastly, be wary of packaged vegan and vegetarian meat substitutes. These packaged products typically contain unwanted and unnecessary ingredients, and have a high carb content.
Fats for Vegetarians in Ketosis
When trying to enter a state of ketosis, fats should make up the bulk of your calories. Luckily, most high-fat, high-quality foods come from plant-based sources, including nuts and seeds, oils, and dairy products.
Nuts and Seeds
Nuts and seeds are fantastic sources of both protein and fat. Be sure to choose mostly low-carb and high-fat nuts and seeds, as some are higher in carbs than others. Check out this full guide to nuts on the ketogenic diet for further information.
Some high-fat, low-carb nuts and seeds include:
Pecans
Brazil nuts
Macadamia nuts
Pumpkin seeds
Walnuts
Coconut (unsweetened)
Hazelnuts
Pine nuts
Almonds
Chia seeds
Flaxseeds
Nut butters made from any of the above
Other nuts and seeds should be eaten in moderation. These have a higher carb content than those listed above. These include:
Peanuts
Pistachios
Cashews
Chestnuts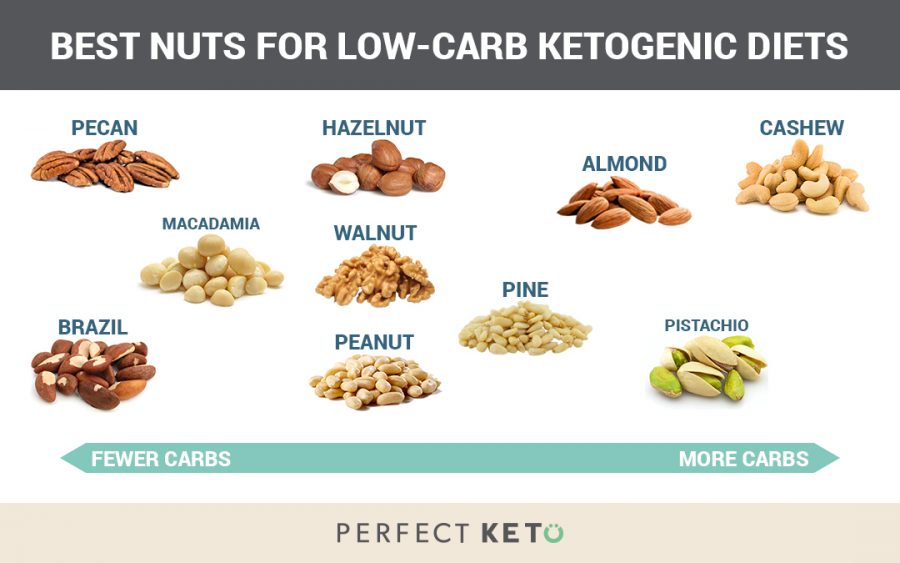 Healthy Oils and Other Non-Dairy Fat Sources
The right types of oils are great for a ketogenic diet because they're made entirely of fat. MCT's (medium chain triglycerides) are a type of fat that's easily broken down and metabolized for energy. This can help improve mental clarity, athletic performance, and negate the side effects of keto flu[*][*].
MCTs can be found in coconut oil and other healthy oils. Otherwise, you can supplement with it through Perfect Keto's MCT Oil Powder, which can easily be mixed into your morning smoothie.
Other beneficial oils include:
Olive oil
Coconut oil
Avocado oil
Macadamia oil
Flaxseed oil
Remember, there are plenty of foods with a healthy fat content beyond oils, nuts, and seeds. These include:
Olives
Avocados
Cocoa butter
Coconut cream
Dairy and Eggs 
If you tolerate dairy, it is perfectly acceptable to consume on keto. Simply choose high-quality, full-fat dairy products from organic, grass-fed sources whenever possible. Some keto-friendly egg and dairy products include:
Heavy whipping cream
Cream cheese
Cottage cheese
Mayonnaise
Full-fat, hard cheeses like parmesan, Swiss, and cheddar
Full-fat, soft cheese like brie, Monterrey jack, mozzarella, feta, and goat cheese
Eggs (make sure they're pastured or free-range and preferably omega-3-enriched)
Full-fat unsweetened Greek yogurt or coconut yogurt
Vegetarian Keto Meal Ideas
Now that you know which foods are included in a vegetarian keto diet, here are some keto-friendly recipe ideas for breakfast, lunch, and dinner.
Breakfast ideas:
Vegetables and eggs with avocado fried in coconut or olive oil
Egg frittata with asparagus and avocado
Vegetable and feta omelet fried in coconut or olive oil
Smoothie made from coconut cream, berries, ice, full-fat yogurt, almond butter, and stevia extract
Lunch ideas: 
Egg salad with added avocado
Mixed greens salad with avocado, mozzarella, pesto, olives, bell pepper, onions, a few nuts, lemon juice, and extra virgin olive oil dressing
Vegetarian low-carb Greek salad with feta, tomatoes, onions, olives, fresh Greek spices, and extra virgin olive oil
Stir-fried cauliflower "rice" with salmon
Dinner ideas: 
Can You Follow Keto as a Vegan?
Great question. Since a vegan diet is even more restricted in terms of eating any animal products (including eggs and dairy), going keto as a vegan is highly impractical and takes a lot more thought. It is very difficult to sustain a healthy ratio of protein and fats as a keto vegan. However, if you consume plenty of fats from healthy oils, nuts and nut butters, avocados, seeds and seed butters, and coconut, it is possible. But again, it's very challenging.
Vegetarian Keto is Possible, But Not Recommended
It's true — following a vegetarian diet on keto is possible, but over time is a very restrictive diet that might not meet your caloric or protein needs. If you're planning on following a vegetarian diet long-term, please consult with a qualified doctor or nutritionist.
Being vegetarian and staying in ketosis takes more thought and a lot of preparation. Overall, you should focus on eating plenty of high-quality fats; high-fiber, low-carb vegetables; and getting enough protein through plant-based sources.
If you're struggling to get enough calories, you can consider supplements such as a vegetarian protein powder or MCT powder.
If you find yourself in need of meal ideas, be sure to check out this extensive list of recipe ideas.
Perfect Keto also offers plenty of snack options that are vegetarian-friendly to hold you over between meals. To get started, consider creating your own vegetarian keto bundle to help get you through any adjustment period and succeed on keto.