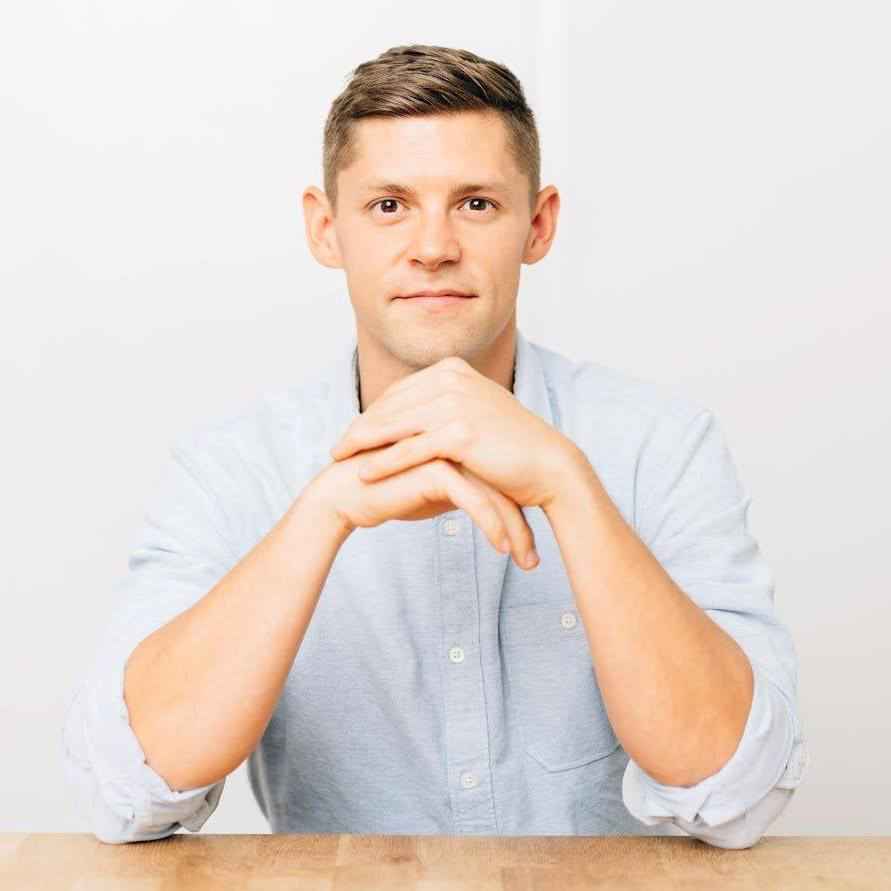 Dr. Anthony Gustin is a board-certified sports chiropractor, functional medicine practitioner, entrepreneur, podcast host, and founder of Perfect Keto.
on August 20, 2018
Is a ketogenic diet for vegetarians reasonably possible? Regardless of your motives for cutting out the animal meat, you are probably equally aware of all the buzz about the ketogenic diet and wondering if you can go keto for all the performance while staying away from all the meats.
The answer is yes, but it takes a little extra thought. While the traditional keto diet typically involves a lot of meat for protein, it's also not necessary to eat meat while following the plan. In fact, the biggest component of the ketogenic diet is fat, which you can easily get from vegetarian foods.
However, the biggest mistake vegetarians make is eating too many carbohydrates from vegetables. You do have to be a little more careful with your carb and protein choices since traditional vegetarian forms of protein include things like beans and grains, which aren't a part of a keto diet.
Let's tackle this by discussing the three macronutrients one at a time.
Carbohydrates for a Vegetarian Ketogenic Diet
Since vegetarian diets are typically higher in carbs than meat-eating diets, it's especially important to understand the right types of carbs when following a meat-free ketogenic diet.
Good Carbs Vs Bad Carbs
Besides getting plenty of healthy fats, watching your carbs is one of the most important factors here—and a lot of the go-to meals and especially snacks common for vegetarians and vegans are pretty carb-heavy. But excessive carbohydrates (even from veggies) aren't part of a keto diet. Of course, refined carbs like sugar, flour, bread, cereal, chips, etc. are immediately off the table.
Bad Carbs (High Glycemic, Highly Processed)
Here are some carb sources to remove from your home and kitchen:
Pastas
Breads
Chips, crackers, and pretzels
Tortillas
Rice
Sodas
Cereals
Any other packaged foods with refined sugars or flours
Fruit juices and most fruits
White potatoes, sweet potatoes
Starchy vegetables
Good carbs on a vegetarian keto diet are basically the same as those on a normal keto diet, such as low-carb fruits, full-fat yogurts, and low-carb veggies (more on this below).
Good Carbs (Limited) for a Vegetarian on Keto
Low-carb Vegetables
If you're one of those vegetarians who hates vegetables, this diet is going to be harder for you. While the most important aspect of keto is keeping your fat content high, you'll need healthy low-carb veggies to provide enough bulk and fiber to fill in your meals and get enough to eat.
Don't be afraid to explore and open yourself up to trying new vegetables in different ways. If raw turns you off, try cooking some in coconut oil or butter with lots of seasonings. Give yourself time to get used to the changes. Here are some low-carb vegetables to rely on:
Spinach
Kale
Collard greens
Swiss chard
Lettuce
Asparagus
Green beans
Broccoli
Cucumber
Summer and winter squash
Red and white cabbage
Cauliflower
Bell peppers
Onions
Mushrooms
Tomatoes
Eggplants
Garlic
 Fruits
All types of fruits should be limited, but berries are lower in sugars and carbs, so they're typically okay in small amounts and at the end of the day before you fast while sleeping:
Blackberries
Strawberries
Raspberries
Blueberries
Non-Carbs to Mention (Condiments and Spices)
Condiments
If you can make all your condiments at home, that's the best choice, but these are okay to buy too. They are generally non-carbohydrate containing, or their carb count is microscopic.
Soy sauce or coconut aminos
Worcestershire sauce
Hot sauces
Yellow mustard
Mayonnaise (look for brands made with cage-free eggs)
Sugar-free ketchup
Sauerkraut (free of sugars)
Sugar-free or low-sugar high-fat salad dressings
Spices
Basil
Oregano
Parsley
Rosemary
Thyme
Cilantro
Cayenne pepper
Chili powder
Cumin
Cinnamon
Nutmeg
Lemon or lime juices
Pepper and salt
Protein on a Vegetarian Ketogenic Diet
Here's a comprehensive list of protein-containing foods that have the green light on a keto vegetarian diet:
Vegetarian Ketogenic Proteins
Eggs
Dairy
Tempeh
Natto
Miso
Nuts and seeds (see below)
If eating any soy products at all, try to stick to only those that are non-GMO and fermented (like organic tempeh).
If you find your protein needs still aren't being met, you could consider using an organic rice or hemp protein powder, but only use it as a supplement—not a regular meal replacement.
Be wary of packaged vegan and vegetarian meat substitutes: While these might be good substitutes for meat in terms of fat and protein, they might also contain a high amount of carbs. Be sure to check the carb content per serving, and consider the ingredients. Is it full or preservatives and fillers? Better meat substitutes would be any of the proteins mentioned above as well as portobello mushrooms or eggplant.
Fats for Vegetarians in Ketosis
Nuts and Seeds
Nuts and seeds are sources of both protein and fat. Just be sure to choose mostly low-carb and high-fat choices, as some nuts and seeds are higher in carbs than others and can add up quickly. Check out our full guide to nuts on the ketogenic diet and recipes like our insanely easy Macadamia Nut Fat Bomb.
Best nut options (lower carb):
Pecans
Brazil nuts
Macadamia nuts
Walnuts
Coconut (unsweetened)
Hazelnuts
Pine nuts
Almonds
Nut butters made from any of the above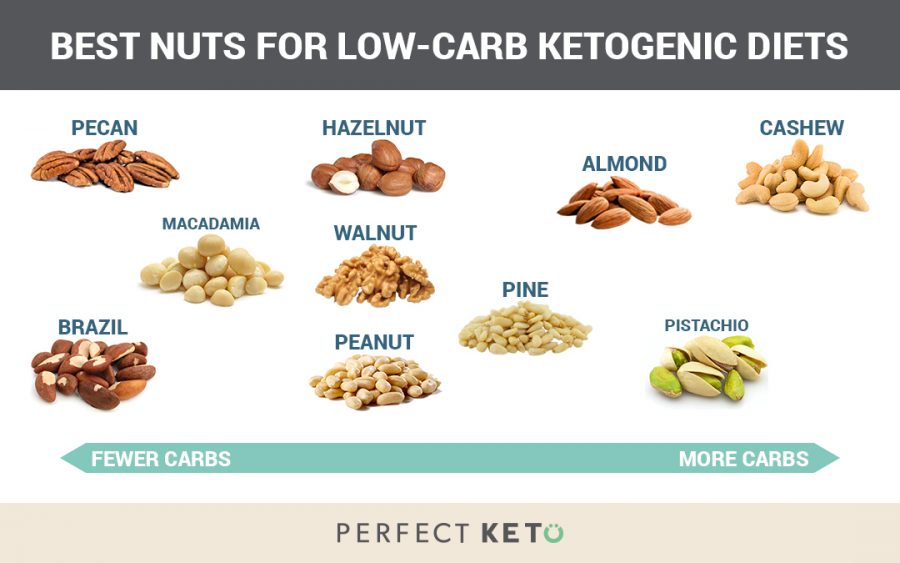 Nut options to eat sparingly or not at all(higher carb):
Peanuts
Pistachios
Cashews
Chestnuts
Best seed options:
Healthy Oils
The right types of oils are great for a ketogenic diet because they're entirely made of fat. MCT's in particular are a type of fat that is metabolized quicker than most and broken down into useable energy. It also can easily cross the blood-brain barrier, which is why they are so beneficial to our mental clarity and performance. Perfect Keto made a convenient MCT Oil Powder just for this reason, and more can be found in our article Are MCT Supplements Worth Taking? Here are some more great options:
Olive oil
Coconut oil
Avocado oil
Macadamia oil
Flaxseed oil
Other Non-Dairy Fat Sources
Olives
Avocados
Cocoa butter
Coconut cream
Dairy and Eggs
Heavy whipping cream
Cream cheese
Cottage cheese
Mayonnaise
Hard cheeses like parmesan, swiss, feta, and cheddar (full-fat)
Soft cheese like brie, Monterrey jack, mozzarella, and bleu cheese (full-fat)
Butter (grass-fed)
Eggs (make sure they're pastured or free-range and preferably omega-3-enriched)
Full-fat unsweetened Greek yogurt or coconut yogurt
Okay, that's about everything for the foods you'll need for a high-quality vegetarian keto diet, but what's the best way to put it into action? Perfect Keto has you covered, and navigate over to our recipe page as well. 🙂
Vegetarian Keto Meal Ideas
Breakfasts Ideas
Vegetables and eggs with avocado fried in coconut or olive oil
Eggs frittata with asparagus and avocado
Vegetable and feta omelet fried in coconut or olive oil
Smoothie made from coconut cream, some berries, ice, full-fat yogurt, almond butter, and stevia extract
Lunch Ideas
Egg and avocado salad
Mixed greens salad with avocado, mozzarella, pesto, olives, bell pepper, onions, a few nuts, lemon juice, and extra virgin olive oil dressing
Vegetarian low-carb Greek salad with feta, tomatoes, onions, olives, fresh Greek spices, and extra virgin olive oil
Stir-fried cauliflower "rice" with veggies and eggs
Dinner Ideas
Cheese pizza with cauliflower crust and broccoli
Pasta made with zucchini noodles and keto alfredo sauce
Portobello "steak" with kale salad and cauliflower mashed potatoes
Eggplant parmesan fried in coconut oil
Okay, we are almost to the end of the post and I can hear you thinking…
What About Keto as a Vegan?
Great question. Since a vegan diet is even more restricted in terms of low-carb foods, keto as a vegan is highly impractical and takes a lot more thought. However, you can still consume plenty of fats if you stick to healthy oils, nuts/nut butters, avocados, seeds/seed butters, and coconut as your sources while making sure you get enough protein too.

Overall, a ketogenic diet for vegetarians can take a little more thought if you're new to it, but it's definitely possible for those wanting to avoid animal by-products entirely.
Best advice is to go for it and test your ketone levels and adjust from there.