This silky smooth pumpkin spice hot chocolate is made with real pumpkin puree and pumpkin pie spices for a delicious seasonal flavor you'll crave year-round. Learn how to make this easy recipe at home, from scratch — with real nutrient-dense ingredients — as a single serving for batch-made for a group.
Sugar-Free Pumpkin Spice Hot Chocolate
The real problem with most hot chocolate drinks isn't the chocolate — it's the sugar content. This pumpkin spice hot chocolate is sugar-free, low-carb, keto, and gluten-free, making it the perfect addition to your fall and winter recipe roster.
Typical pumpkin spice lattes and hot chocolate recipes are packed with sugar, and worse, contain synthetic additives to make it taste like pumpkin as opposed to the real thing.
If you're following a low carb diet or keto diet, it's especially important to avoid sugar and stick to nutrient-dense, low-carb ingredients.
Don't worry — this warming hot chocolate is still decadent, creamy,  and filled to the brim with free-radical-fighting antioxidants. Read on below for all the health benefits of these superfood ingredients.
This creamy, comforting drink is:
Perfectly spicey
Creamy
Decadent
Dairy-free
Vegan
Nutrient-dense
Rich chocolate flavor
The main ingredients in this Pumpkin Spice Hot Chocolate include:
Optional ingredients:
Health Benefits of Pumpkin Spice Hot Chocolate Ingredients
#1. High in Antioxidants
Grass-fed dairy is part of a healthy keto diet for most people (unless you're sensitive or allergic to dairy), but this particular recipe is dairy-free.
That's because there are tons of anti-inflammatory benefits to almond and coconut milk. Almond milk contains vitamin E, a potent antioxidant that helps you fight free radicals and reduce oxidative stress[*][*][*].
In just 1 oz. serving of almonds, you'll also find vitamins, antioxidants, and trace minerals including[*]:
Manganese: 32% of your RDI
Magnesium: 19% of your RDI
Vitamin B2 (riboflavin): 17% of your RDI
Phosphorous: 14% of your RDI
Copper: 14% of your RDI
Calcium: 7% of your RDI
Pumpkin contains alpha-carotene, beta-carotene, and beta-cryptoxanthin, other protective antioxidants that help lower inflammation[*].
And cocoa powder contains compounds called flavanols and polyphenols that also have powerful antioxidant and anti-inflammatory effects.
Polyphenols are linked to numerous health benefits like regulating blood pressure, improving cholesterol, and reducing inflammation when taken in high amounts[*].
#2. May Help Improve Brain Function
Besides putting you in a festive spirit for Halloween and Thanksgiving, pumpkin and cacao contain antioxidants that can also protect brain health. For instance, vitamin E may help protect your brain from age-related decline[*][*].
Perfect Keto MCT Oil Powder Chocolate is loaded with medium chain fats or MCTs, healthy fatty acids that provide your brain with quick, easy energy. If you're having trouble with brain fog or overall energy, this drink may help provide a mental boost.
#3. May Improve Blood Pressure and Cholesterol Levels
Contrary to popular belief, fat does not contribute to heart disease. In fact, keto, low-carb, nutrient-dense drinks like this may help.
Most of the fat in almond milk is monounsaturated — the type of fat associated with regulating cholesterol levels and protecting against metabolic syndrome[*][*][*][*].
Cocoa powder, with its powerful polyphenols, is also great for heart health and has anti-inflammatory benefits. The many constituents in cocoa are also related to lowering blood pressure, reducing LDL levels, and decreasing your risk of heart attack and stroke, and improving overall heart health and circulation[*][*][*][*][*][*].
Full-fat coconut milk and coconut cream are also rich in MCTs, specifically lauric acid. Lauric acid in coconut fat may help lower LDL "bad" cholesterol and increasing HDL "good" cholesterol[*].
This pumpkin spice hot cocoa will surely warm you up on crisp fall mornings, chilly fall evenings, or anytime you're craving a warm, spicey, creamy treat.
Print
Pumpkin Spice Hot Chocolate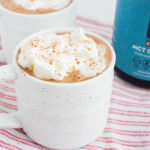 This spicey spin on classic hot cocoa has everything: it's sugar-free, low-carb, keto, and bursting with flavor. Cozy up with this pumpkin spice hot chocolate any night of the year for comfort and health benefits.
Author:
Prep Time:

2 minutes

Cook Time:

5 minutes

Total Time:

7 minutes
Instructions
In a small pot over medium heat, heat the almond milk and coconut cream to desired heat — no need to bring to a full boil.

Once heated, add the milk and the remainder of the ingredients to a high-speed blender, blending until well combined (should be a little frothy).

Pour into two glasses and top with whipped coconut cream or homemade whipped cream, if desired.
Notes
If you don't have a high-speed blender, have no fear! You can add the remainder of the ingredients to the pot and use an immersion blender to mix.
Nutrition
Serving Size:

2

Calories:

307

Fat:

31 grams

Carbohydrates:

2.5 grams

Fiber:

6 grams

Protein:

2 grams
Keywords: Low-Carb Pumpkin Spice Hot Chocolate