Forget those old school matcha recipes; this nutrient-packed matcha green tea lemonade is going to give Starbucks and Teavana a run for their money. Bye bye simple syrup-laden Starbucks matcha lemonade, hello refreshing keto pick-me-up.
Looking for a pre-workout beverage? Loaded with healthy ingredients like Japanese green tea, lemon juice, and MCTs, the health benefits of this matcha recipe range from weight loss to endurance.
Or maybe you just want to relax with a delicious drink. With a prep time of only 2 minutes, this matcha lemonade is the perfect summer drink to throw into your cocktail shaker.
With a bright citrus flavor, high-quality matcha powder, MCTs, exogenous ketones, and some cold water you can (and will) feel great about drinking this sugar-free lemonade.
This matcha lemonade is:
Refreshing
Light
Invigorating
The main ingredients are:
Optional additional ingredients
Ginger slice
Lemon slices
Ice cubes
3 Health Benefits of Matcha Green Tea Lemonade
#1: BCAA Increase Muscle Growth And Recovery
Branched-chain amino acids (BCAA) are three amino acids that play an indispensable role in muscle growth and maintenance.
They're known as essential amino acids, which means you need to get them through food or supplements because your body doesn't create them on its own.
Your muscles use BCAAs to help post-workout recovery and muscle growth.
One study examined the effect of BCAAs on delayed onset muscle soreness in a group of people doing squats. Researchers found that ingesting BCAA before exercise decreased muscle fatigue and also decreased muscle soreness the next day[*].
BCAAs can also reduce exercise-induced muscle damage.
When a group was given BCAA before and after resistance exercise, they showed a reduction in muscle damage, along with enhanced recovery. Researchers believe it's the greater bioavailability (the ability of your body to absorb and utilize BCAAs)  that contributes to these healing effects[*].
Enhanced recovery time is excellent, but what about muscle growth?
BCAAs have also been shown to increase muscle synthesis after a workout. Compared to a placebo group, people who supplemented with BCAAs after resistance training showed a 22% increase in muscle synthesis[*].
#2: Enhances Endurance
BCAAs have an interesting effect on exercise endurance. When you consume BCAAs, they inhibit another amino acid called tryptophan — which is a precursor to the neurotransmitter serotonin.
Serotonin is a "feel good" neurotransmitter, but it's also responsible for making you feel fatigued and ready to quit during a strenuous workout[*].
Due to their fatigue diminishing effects, studies have shown that ingesting BCAAs can improve mental focus and reaction time during workouts for athletes[*].
The caffeine coming from the green tea powder in this matcha green tea lemonade is another ally in your endurance game.
Studies have shown that caffeine may enhance physical performance, stamina, and recovery[*].
In a group of cyclists either given caffeine or carbohydrates before a ride, the caffeinated group showed a 7.4% increase in workload[*].
#3: Helps With Weight Loss
If you're looking to lose weight, always choose sugar-free beverages over the sugar-laden ones at your local coffee shop.
But the weight loss benefits of this refreshing drink go way beyond the fact that it's sugar-free.
This tea includes BHB (beta-hydroxybutyrate) — a form of exogenous ketones. These are the same ketones your body makes when you shift into a ketogenic state — the same ones that fuel your brain and body.
BHB can help you get into ketosis faster, provide a clean source of energy for your cells, increase fat oxidation, and may even help you burn abdominal fat[*].
In one study, BHB was given to a group of healthy male volunteers to assess its impact on exercise and fat burning.
The group of volunteers was in a fasted state, and either consumed BHB or a placebo before their workout. Researchers found that the BHB group burned 23% more fat than the placebo group[*].
Both caffeine and green tea are known for their impact on weight loss as well. In fact, consuming green tea before a workout has been shown to increase fat burning up to 17%[*][*].
The BHB plus the matcha green tea in this green lemonade make it a perfect pre-workout beverage for enhancing weight loss.
Matcha Green Tea Lemonade
Before you hit the gym, take a couple of minutes to throw together this delicious drink. The BHBs, MCTs, and caffeine will give you all the kick you need to make it a workout of a lifetime.
Add a lemon slice or some ginger some added nutrients, or just throw some ice cubes in there and hit the road.
Print
Matcha Green Tea Lemonade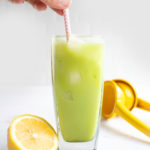 Matcha green tea lemonade is your answer to your favorite Starbuck's matcha recipe — without the simple syrup and cane sugar.
Author:
Total Time:

2 minutes

Yield:

1 cup

1

x
Scale
Ingredients
1 tablespoon

fresh lemon juice

8 ounces

of filtered water
Instructions
Add all ingredients to a shaker cup or blender

Shake/mix until powders dissolve

Add stevia to taste if desired

Serve with or without ice cubes
Nutrition
Serving Size:

1 cup

Calories:

73

Fat:

7g

Carbohydrates:

2g

Fiber:

0g

Protein:

0g
Keywords: matcha green tea lemonade