As busy as we all are, it is easy to slip off the ketogenic diet track when we reach for the easy, store-bought condiments but finding keto-friendly condiments that please the palate doesn't have to be difficult. The key is taking the homemade approach and knowing where your ingredients come from. Having trouble pronouncing a certain ingredient? Then it's probably terrible for you. Give your meal some quality extra flavor with the one minute keto mayo.
WHAT'S IN YOUR KETO MAYO?
Something we often emphasize with the ketogenic diet is quality over quantity. This means knowing what ingredients are in your meals as well as where the ingredients come from. With such a simple recipe as mayonnaise, which doesn't contain too many ingredients, you might be wondering how it can be unhealthy. Let's take a look and compare some ingredients from your typical jar of store-bought Hellman's vs. our one minute keto mayo.
Hellman's Mayonnaise
Soybean Oil
Eggs
Modified Food Starch (Corn and Potato)
Soybean Oil – Although a great source of essential fatty acids, has more omega-6 than omega-3. This imbalance may make a person more at risk to blood clotting and inflammation. The typical American diet has an overabundance of omega-6s, so it's important to find foods that give us more omega-3s while also limiting our omega-6s.Since our bodies can't make essential fatty acids, we rely on getting them from our food. Instead of soybean oil, a healthy keto polyunsaturated fat (PUFAs) we recommend is olive oil. This liquid fat from olives is an omega-3 booster. This increase of omega-3s give us health benefits like reducing the risk of stroke, heart disease, and inflammatory diseases.
Eggs – Don't just go for the common misleading terms "cage free" and "free range" thinking the hens were just prancing around warm golden rolling hills. They are still raised in terrible conditions even with these terms on the carton. To find the best eggs, check out Dr. Anthony Gustin's guide on buying healthy eggs.
Modified food starches – AKA  processed carbs. Food starches are derived from carbohydrates and are essentially additives just to get a creamier consistency. Good news for us: no modified food starch in our keto mayo! For a creamier consistency, you can mix in a scoop of MCT oil powder instead!
My mom always told me – KISS – Keep It Super Simple. This means understanding that even with a simple recipe, it's important to know where your ingredients come from as well as the nutrient content. The homemade approach allows you to do this as you essentially choose what quality ingredients go into your recipe. Once you've tried this easy-to-make recipe, reaching for the mayonnaise jar will be much simpler in the comfort of your own home!
Print
One Minute Keto Mayo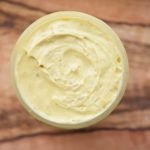 Author:
Prep Time:

10 minutes

Cook Time:

0 minutes

Total Time:

10 minutes
Scale
Ingredients
3

large egg yolks

1 tsp

mustard

1 tsp

apple cider vinegar

1/4 tsp

sea salt

1/4 tsp

black pepper

1 tsp

dried herb blend

1/2 cup

olive oil
Instructions
Combine all of the ingredients in a large mason jar or measuring cup.

Insert immersion blender (stick blender) and blend until thick and creamy.
Nutrition
Calories:

70

Fat:

7.6

Carbohydrates:

0.1

Protein:

0.5