Are you a fruit curd fan? If so, this gluten-free lemon curd recipe with a hint of fresh peaches may be your new go-to dessert.
If you're looking for an easy recipe that's packed with nutrients but has zero added white sugar, then this is the recipe for you.
This sweet and refreshing sugar-free dessert has zero net carbs and seven grams of fat. And unlike most fruit curd recipes out there it's completely free of blood sugar destabilizing ingredients like white sugar, maple syrup, and honey.
The best part? There's no fancy kitchenware required.
You can leave your food processor on the shelf, and don't even worry about turning your oven on for this no-bake keto dessert.
This low-carb peach curd is:
Sweet
Rich
Bright
Flavorful
The main ingredients used are:
3 Health of Benefits Sugar-Free Lemon Curd
#1: Supports Weight Loss
There are many reasons to choose dairy from grass-fed cows, from humane animal practices to the nutritional value of the dairy.
Grass-fed dairy is especially high in a nutrient called conjugated linoleic acid (CLA).
CLA is a polyunsaturated fat that's found mainly in grass-fed beef, butter, and a few other animal products[*]. And CLA can be up to 500% higher in grass-fed butter than grain-fed butter.
There are several health benefits associated with CLA, from weight loss to lowering inflammation. Although the exact mechanism is still being studied, scientists believe CLA may impact weight loss by curbing appetite, increasing energy expenditure, and increasing fat cell breakdown[*].
#2: May Help Control Stress
Limonene is a natural compound found in the oils of many citrus fruits, concentrated mainly in the peel. Lemons have an abundance of limonene, which provides many of the health benefits associated with this tart fruit.
Along with its anti-inflammatory activity, limonene may also help your body fight stress. In an animal study, rats that were given limonene and then put under stressful conditions showed fewer signs of stress than the control group.
Researchers determined that limonene has an effect on the central nervous system, specifically helping to boost the parasympathetic nervous system (PNS). The PNS is sometimes called the "rest and digest" system, as it's responsible for keeping your body in a state of calm and repair[*].
#3: Boosts Brain Health
Sure, you're probably not thinking much about brain health when you're about to dig into a delicious dessert. But this peach lemon curd is packed with exogenous ketones to boost cognitive and physical performance.
The keto diet has been used for decades to treat neurological disorders like epilepsy. Today, researchers are looking at the diet's effective on neurodegenerative diseases like Parkinson and Alzheimer's.
But even if you're not suffering from a neurological-related illness, ketones can still benefit your brain.
In an animal study, researchers gave rats ketones and then had them find their way through a maze. The ketone-fed rats not only found their way through the maze with fewer mistakes, but they did it 38% faster than the control rats[*].
Sugar-Free Peach Lemon Curd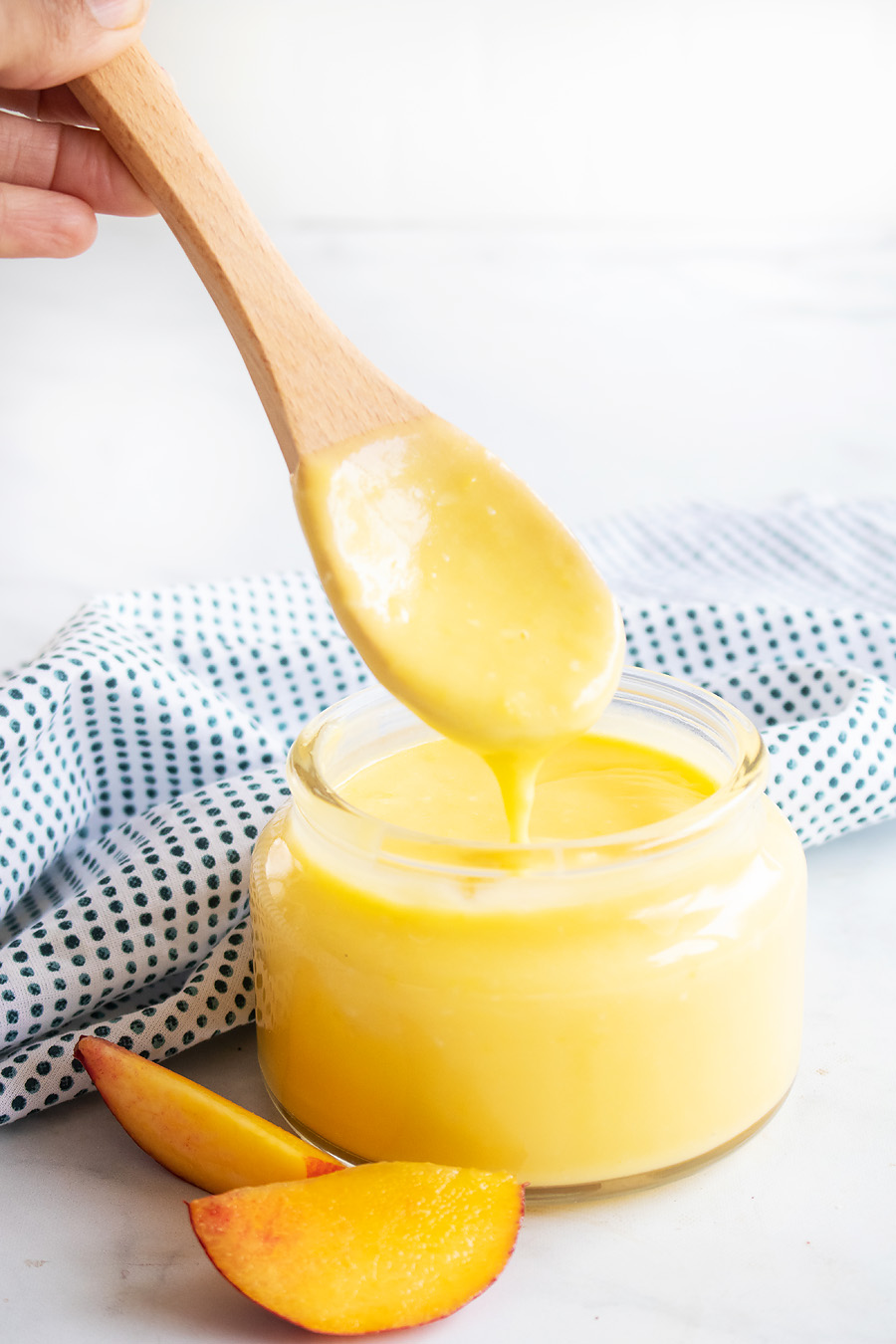 This sugar-free peach lemon curd is creamy, sweet, tart, and packed with nutrients. Enjoy it by itself, with some keto whipped cream, or as the filling of a low-carb pie.
Begin by gathering your ingredients. You'll want to have everything handy as things move quickly with this recipe.
Unwrap your butter and place it in a small saucepan over low-medium heat.
As the butter is slowly melting, grab a small bowl and whisk together your eggs, one large egg yolk, and your monk fruit or stevia.
Have your lemon zester handy and slowly whisk in your lemon juice, lemon zest, and Perfect Keto Peach Exogenous Ketone Base.
Take your melted butter off the stove and slowly add it to your egg and peach base mixture.
Slowly add the entire mixture back into the saucepan and continue to whisk for about 10-15 minutes, or until the curd mixture is thick.
At this point, you can taste test to see if you need to add in any extra sweetener.
Strain the curd mixture through a fine-mesh sieve to remove any zest or lumps.
You can now allow the curd to cool to room temperature or put it in the refrigerator to cool further.
This delicious dessert will stay good in the refrigerator for up to three weeks.
Print
Sugar-Free Peach Lemon Curd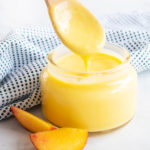 Sugar-free, gluten-free peach lemon curd with lemon zest, egg yolks, and zero white sugar. Pair this sugar-free dessert with keto whipped cream or ice cream for the perfect summer treat.
Author:
Prep Time:

5 minutes

Cook Time:

10 minutes

Total Time:

15 minutes

Yield:

16 tablespoons

1

x
Instructions
Melt butter in a small saucepan on the stove under low-medium heat.

Whisk together sweetener, eggs, and egg yolk in a medium-sized bowl.

Whisk in lemon juice, zest, and

Perfect Keto Peach Base

.

Slowly whisk in the butter.

Pour mixture into a small saucepan and cook for 10-15 minutes until thickened. Whisk constantly. Taste and add additional sweetener to taste.

Strain curd through a fine-mesh sieve to remove zest and any lumps if needed.

Cool and pour curd into a large jar or container and store for up to three weeks in the refrigerator.
Nutrition
Serving Size:

1 tablespoon

Calories:

65

Fat:

7 grams

Carbohydrates:

0 grams

Fiber:

0 grams

Protein:

1 gram
Keywords: sugar-free peach lemon curd