Whether you're hitting the gym for a hard workout or just need an on-the-go keto snack, you may be interested in protein shakes. Portable, nutritious, and surprisingly delicious, protein shakes offer convenience and you can design them to meet your macros perfectly.
If you're following a keto diet, there's good news: Protein shakes (and protein powder, for that matter) are keto-friendly.
Now, here's where things get dicey: There are plenty of protein powders out there, made from a range of foods, but most of them contain hidden sugars, calories, or chemical fillers and binders that are better to avoid entirely.
Below, you'll learn all about protein shakes, the best protein powders for a keto diet, and a few delicious, keto-friendly protein shake recipes to try at home.
What Are Protein Shakes?
Protein shakes are made by blending protein powder with water or another liquid, such as coconut milk or almond milk. You can stop there or create a smoothie or meal replacement out of your protein shake by adding ingredients like:
Low-sugar fruit
Leafy greens for magnesium and other micronutrients
Greek yogurt or coconut yogurt
Spices like cinnamon or nutmeg
Nuts and seeds or pre-made nut butter
Protein shakes are popular among bodybuilding communities and other gym-goers, but their convenience and portability make them attractive to busy families and working professionals as well.
A protein shake takes less than one minute to prepare and you can quickly toss one into your gym bag, purse, or desk drawer for an on-the-go breakfast, post-workout fuel, or midday meal.
What Are the Best Keto-Friendly Protein Powders?
Protein powders are made from a number of different sources: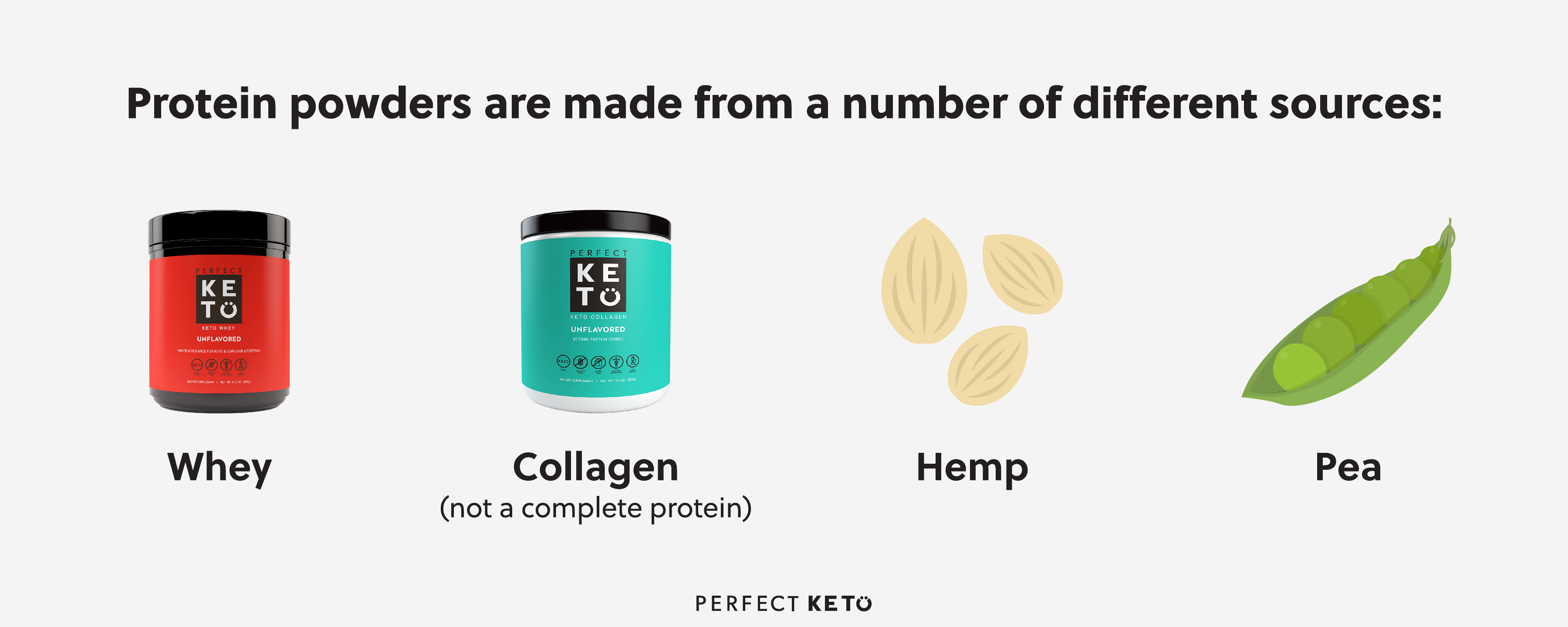 Whey
Collagen (not a complete protein)
Hemp
Pea
These are just a few of the more popular protein powders available. Unfortunately, most of them aren't keto-friendly.
When assessing whether a protein powder fits your low-carb lifestyle, be sure to answer these questions: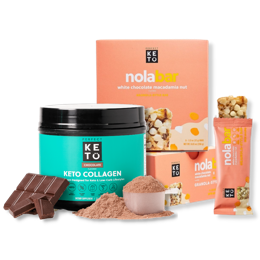 Browse our curated collection of fan-favorites and discover your new favorite snack or supplement.
Shop Best Sellers
Does it contain all nine essential amino acids? Protein powders that contain all nine essential amino acids, such as casein- or whey-based products, are best for recovery. However, not all whey protein powders are keto-friendly.
Does it contain unwanted ingredients? Just because a protein powder is derived from egg whites, casein, whey, or another keto-compliant ingredient doesn't automatically mean it's keto-friendly. Choose a brand you trust, and check the ingredients to ensure it doesn't contain added sugar or hidden carbs.
Does it fit within your diet and lifestyle? If you're a vegan or vegetarian following the keto diet, you'll need to find a plant-based protein powder. To start, search for hemp seed, pea, eggs (for vegetarians), or another source of protein derived from a keto-friendly food.
Why Choose Whey in Your Protein Shake?
Whey protein is one of the best-studied protein powders out there. But what makes it such a coveted, muscle-building product?
Whey is an optimal, high-protein powder because:
What to Look for in a Keto-Friendly Whey Protein Powder
Once again, not all protein powders are created equal — just because you find a whey protein powder on store shelves doesn't mean it fits within a healthy ketogenic lifestyle. To determine whether a product is keto-friendly, consider these factors:
Is it grass-fed? Whey is a milk protein, made from cows. Cows that graze on grass — rather than corn or soy products — produce milk that contains more omega-3 fatty acids, conjugated linoleic acid (CLA), and other nutrients than grain-fed cows[*].
Does it contain healthy fats? Perfect Keto Whey Protein Powder contains MCTs (medium-chain triglycerides), giving you a boost of fats that your body can easily utilize for energy.
Does it contain any added sugar or artificial sweeteners? Unfortunately, many protein powders contain unwanted ingredients, namely carbs and sugar. Be sure to double-check the ingredients to ensure your protein powder doesn't contain hidden sugars.
The 6 Best Keto Protein Shake Recipes 
If you're looking to enjoy a protein shake beyond protein powder and water, you'll want to double-check the recipe ingredients. These low-carb, keto-friendly protein shake recipes offer a clean list of ingredients that you can feel good about.
1. Creamy Triple Chocolate Keto Shake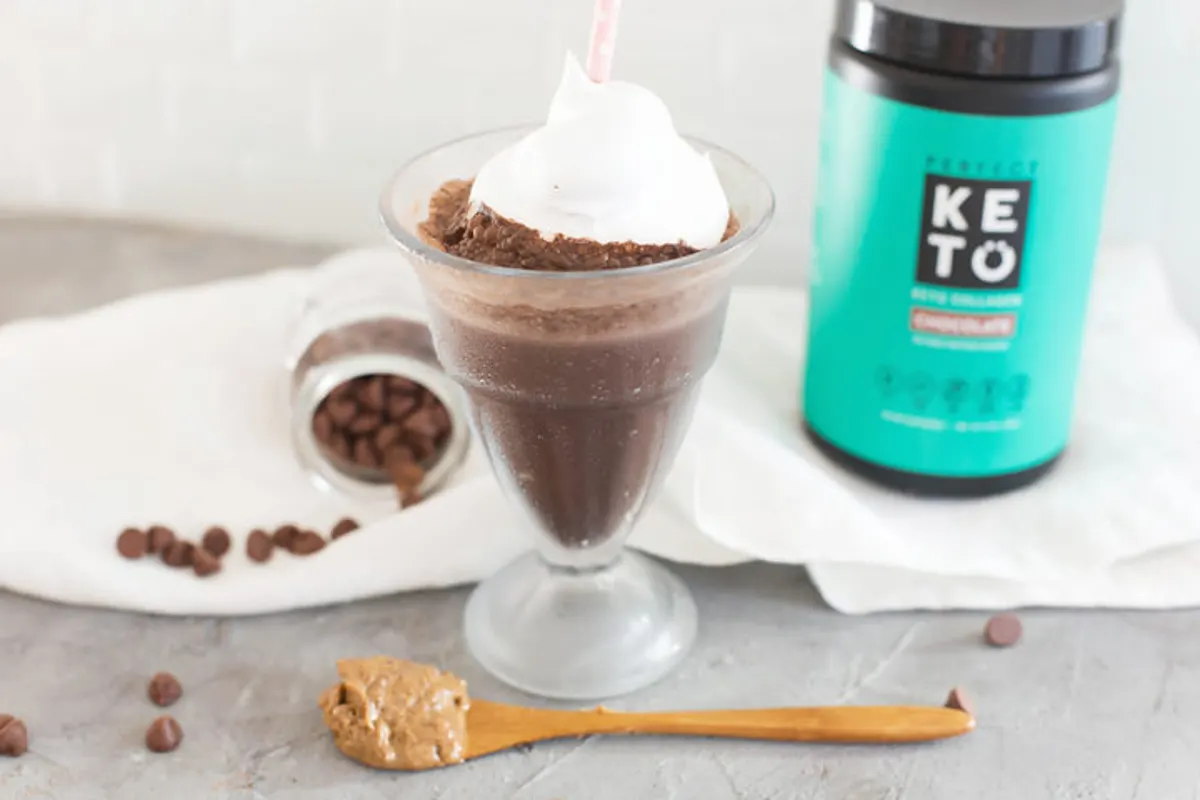 This chocolate protein shake may look like a chocolate milkshake, but there's not a speck of sugar or cream in sight. That's because it's made with dairy-free milk, cacao powder, Perfect Keto Collagen, and Perfect Keto Chocolate MCT Oil Powder.
The collagen supports your hair, skin, nails, and joints, while the MCTs give you a faster, cleaner source of energy. Since collagen isn't a complete protein, feel free to add a scoop of Perfect Keto Whey for a post-workout muscle-building boost.
2. Mean Green Matcha Protein Shake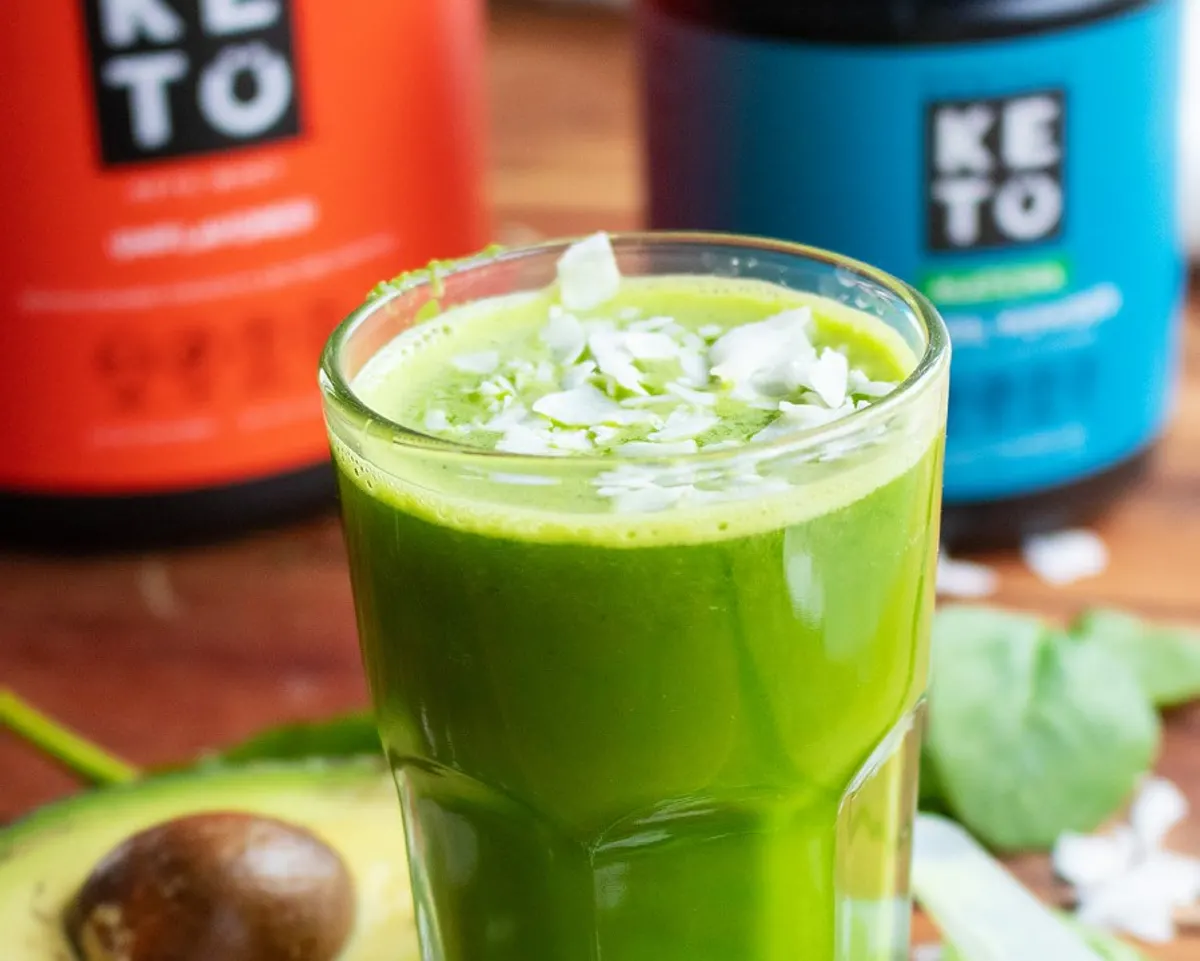 With matcha powder, Perfect Keto Vanilla Whey Protein Powder, MCT oil, spinach, and avocado, this green shake provides quite a bit of protein, healthy fats, and micronutrients. With 19 grams of protein, 13 grams of carbohydrates, and 24 grams of fat, it's the perfect post-workout fuel.
3. MCT Oil Powder Cinnamon Smoothie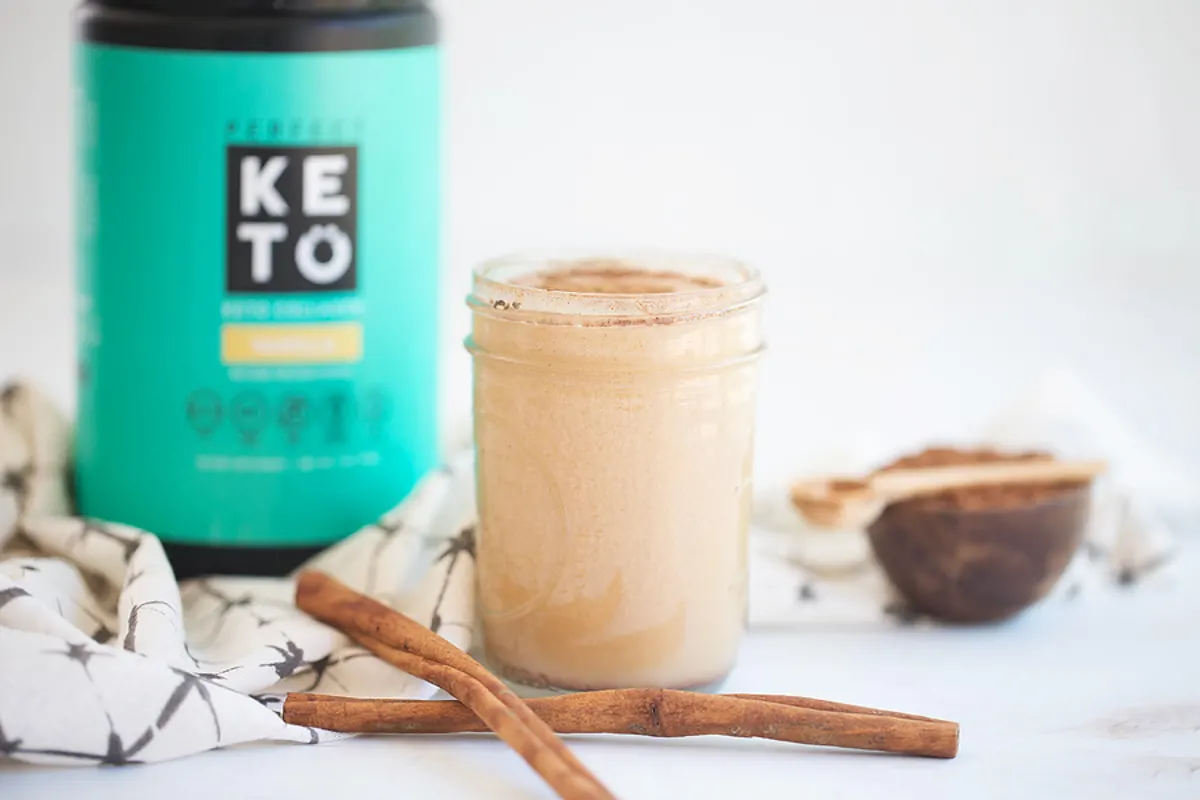 You can set down your morning cup of joe and use this cinnamon protein shake for energy instead. Made with just almond milk, cinnamon, vanilla protein powder, and MCT oil powder, it provides a clean source of energy and over 25 grams of protein.
4. Chocolate Almond Smoothie Bowl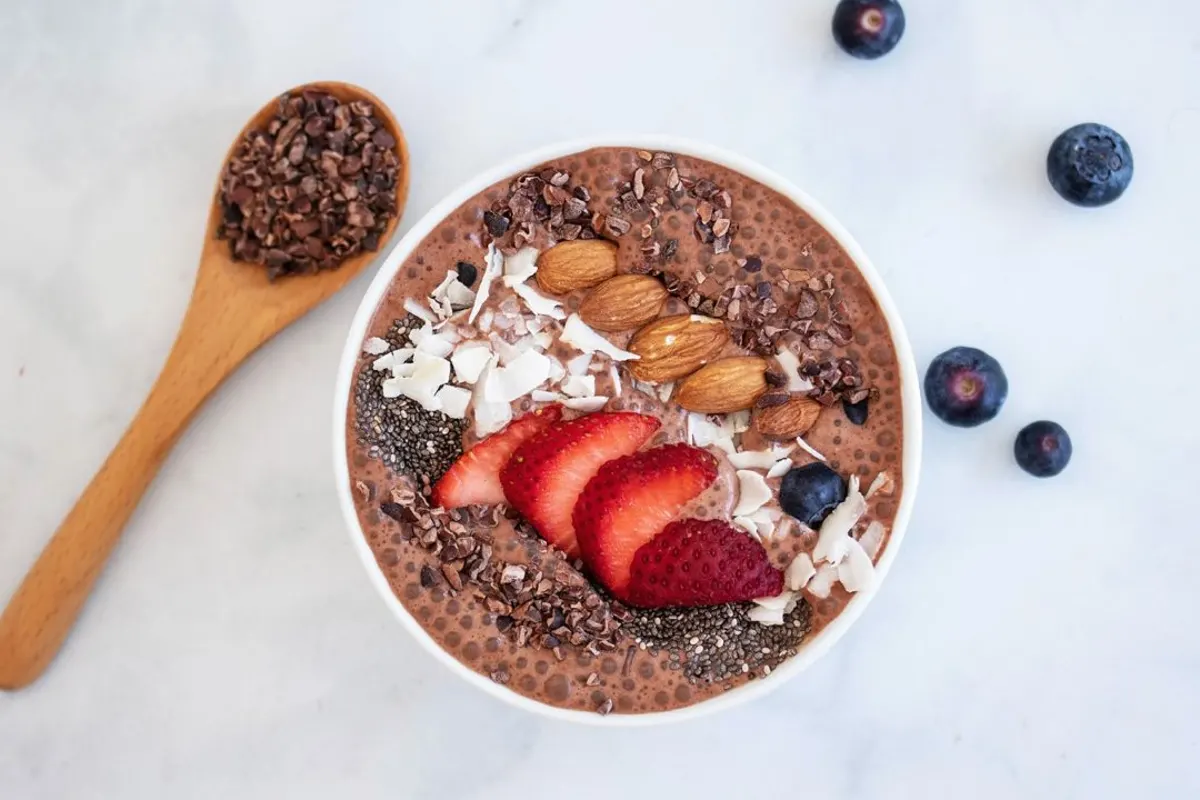 While you can easily make a protein shake with just protein powder, ice, and milk, you can jazz things up for a more substantial meal. This smoothie bowl blends Perfect Keto Chocolate Whey Protein with maca powder, cocoa powder, chia seeds, and almond milk, and then tops it with nut butter, raspberries, and cacao nibs for an added crunch.
5. Muscle Building Keto Post-Workout Shake
 
As you learned earlier, a combination of all three macronutrients — fat, protein, and light carbohydrates — is necessary for optimal recovery. This delicious muscle-building shake is the perfect post-workout snack option, providing nutrients from chia seeds, avocado, coconut milk, almond butter, and Perfect Keto Whey Protein Powder.
6. Best Keto Protein Shake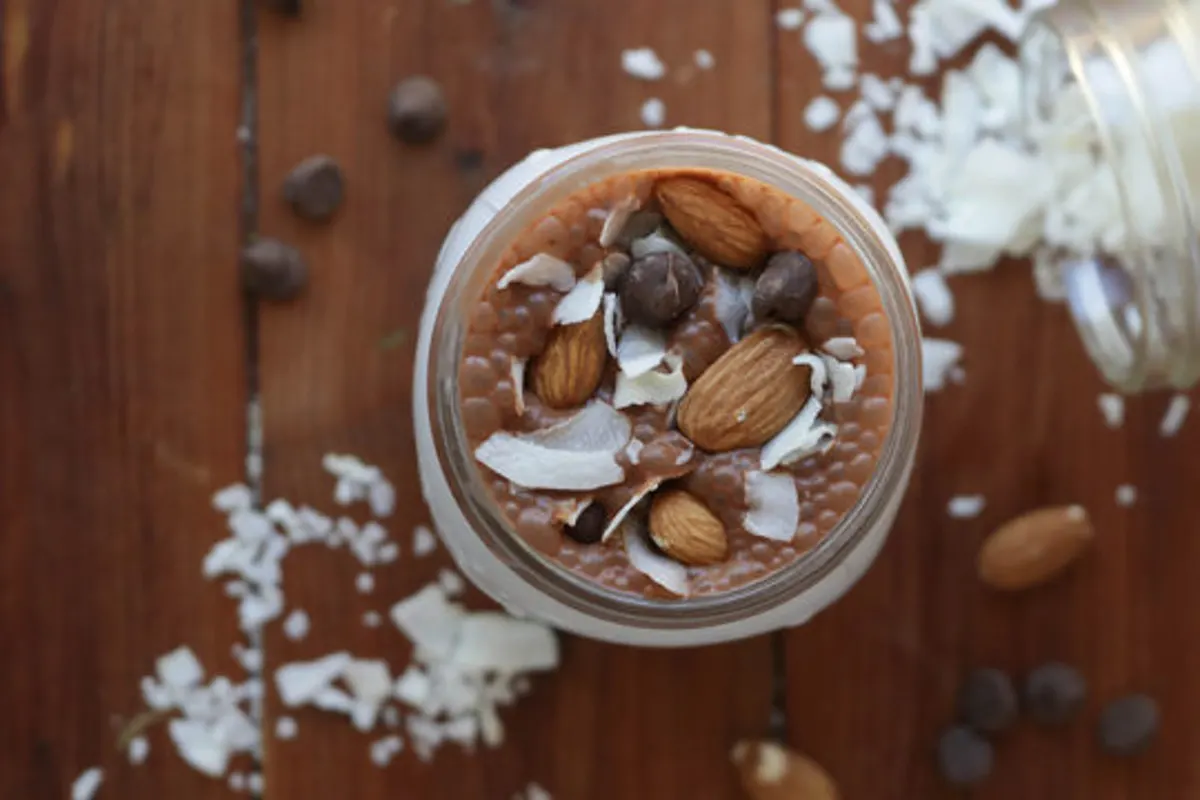 It's completely possible to enjoy a sweet-tasting protein shake without the hidden carbs or sugars found in some protein powders. This sugar-free chocolate shake is sweetened with stevia, bringing the net carb count down to just 3 grams per serving.
Use a Keto Protein Powder in Your Protein Shakes
Protein shakes are compliant with a keto diet, as long as they use keto-friendly ingredients. When making shakes at home, select a protein powder that works within your low-carb lifestyle.
Perfect Keto Whey Protein is a grass-fed protein powder made without sugars or artificial sweeteners. Containing healthy fats (MCTs) and grass-fed whey, and sweetened with stevia, it helps create the perfect post-workout recovery shake. Plus, it comes in delicious chocolate and vanilla flavors (and unflavored, too).
You can consume Perfect Keto Whey Protein with water or make a delicious smoothie. Want more ideas? Add a scoop to one of these low-carb smoothies to make a complete, protein-packed meal.