Today, we're thrilled to feature one the most dramatic keto transformations we've ever seen. It highlights the extraordinary results you can get from making small changes over time.
Five years ago, Richard was morbidly obese.
"This was the old me!" he says. "I was pre-diabetic with a body fat percentage of around 50%. I was constantly lethargic — no energy to train or even enjoy days out with my family."
Richard also had trouble with his mental health.
"I struggled with anxiety and depression and hated the way I looked, but I had no 'get-up-and-go' to do anything about it!"
"I could no longer continue the way I was living. I knew I had to make a change."
Richard's health and lifestyle habits were taking a toll on other parts of his life, too.
I suffered from debilitating migraines nearly every day…All the migraine medication issued by my doctor had stopped working over the years, which forced me to use the only thing that still worked: a FULL pack of paracetamol (Tylenol) EVERY SINGLE DAY!!! This was having a detrimental effect on my kidneys."
Richard was overweight, depressed, unable to work, and in constant pain.
"I could no longer continue the way I was living," he says. "I knew I had to make a change."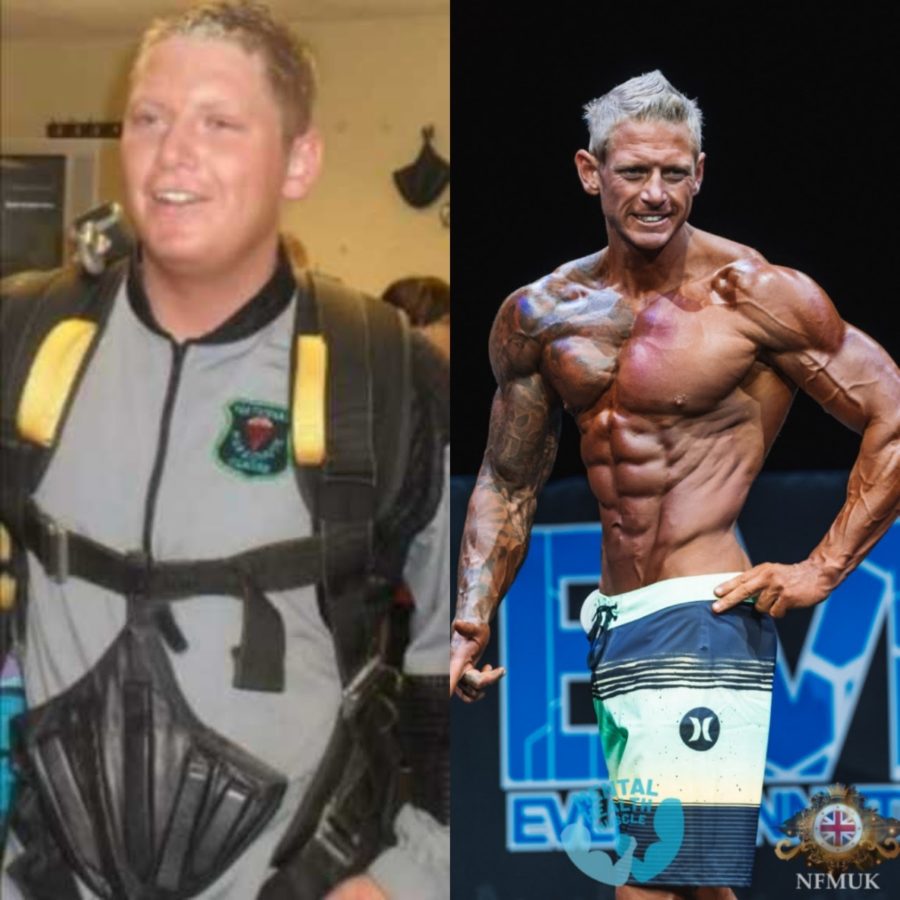 Richard's Keto Success Story
Richard's life began to change once he found keto.
"I was introduced to keto by my friend Jonathan," he says. "A diet that burns fat for fuel and makes you healthier for it? Seemed way too good to be true, but at this point in my life I had damaged and abused my body so much that nothing else could make it any worse! So, I decided to give it a go."
"By month four, I had lost an amazing four stone — that's 56 pounds in 120 days!"
Switching to keto wasn't easy, but Richard stuck with it. His story is the perfect example of how small daily improvements compound over time.
"It was a total lifestyle change, so everything was a challenge," he says. "Giving up bread was initially the hardest, but I just kept making subtle changes.
"By month four, I had lost an amazing four stone — that's 56 pounds in 120 days!"
Today, Richard is a few steps beyond fit. He's a world-class bodybuilder — in 2019, he took first place in the U.K. Ultimate Physique Masters championship, and then went on to win the world championship as well.
Richard's migraines, back pain, depression, and excess body fat are all gone, and he looks and feels better than ever.
Throughout his transformation, Richard has used a few Perfect Keto products.
"Adding Ketone Base to my coffee was a real game changer for me," he says. "And Perfect Keto's snacks are fantastic when you really feel like a treat."
Richard, your keto success story is extraordinary. Congratulations on your incredible transformation, and here's to your continued health and happiness.
Have a story to share? Fill out this form and look out for your keto success story on our blog and social media.
Keto Success Stories are shared by our readers and customers in their own words. The keto diet and any nutrition advice found on this blog are not meant as a medical intervention, advice, or diagnosis. If you're interested in trying a new diet, supplement, or lifestyle change, please speak with your doctor or another qualified healthcare provider. As with any diet or lifestyle protocol, individual results may vary.