Miss Taco Tuesday? Do you find yourself craving the burritos and quesadillas you enjoyed before your keto days?
Well, there's good news. You can keep your weekly taco tradition, even on the keto diet.
Most tacos, enchiladas, fajitas, and your other favorite Tex-Mex dishes are packed with carbohydrates. And once you add the requisite side of rice, you're consuming well over your daily net carb allowance.
But there are alternatives that won't slow down your weight loss progress when you're on a keto diet.
Just as you can still consume pasta, pizza crusts, and dessert on keto, you can still indulge in Mexican food. All you need are a few smart ingredient swaps.
This list of low-carb tortillas are a perfect match for keto-friendly rice substitutes and low-carb bean options (rather than your typical refried beans). Top with guacamole, and you'll have the perfect low-carb evening.
Read on to find four homemade low-carb tortilla recipes, two store-bought picks, and three brands you should avoid.
Why Aren't Tortillas Low-Carb Friendly?
In North and Central America, tortillas have been made with corn (maize) for centuries. Modern recipes replace cornmeal with white flour, while following the same cooking method.
Once the flour is ground, it's combined with water and salt to form a dough, then flattened out into thin disks and cooked on a flat surface.
Tortillas — both corn and wheat — are not keto-friendly for two reasons. First, they are made up almost entirely of carbohydrates. Second, while tortillas once consisted of just three ingredients, nowadays most tortilla brands you find in the grocery store have much longer ingredient lists.
Many tortilla brands add vegetable oils, flavors (including those that are artificial), and preservatives to enhance the taste and shelf life.
Tortilla Nutrient Profile
One pre-packaged wheat flour tortilla (8 inches in diameter) provides 140 total calories and is nearly 80% carbohydrates. It contains 1.5 grams of fat, 1 gram of fiber, 4 grams of protein, and 26 grams of total carbohydrates (23 grams of net carbs). It provides just 8% of your daily calcium and iron, with the micronutrient (vitamins and minerals) benefits ending there[*].
Corn tortillas aren't much better. While gluten-free, a single 6-inch tortilla carries 54 calories, 84% of which are from carbohydrates. It contains 12 grams of carbs, 1.5 grams of protein, and less than a gram of fat[*].
Whole grain or whole wheat tortillas may be healthier options, but they're still not suitable on a keto diet. Why? Their high-carb content, which goes over the recommended keto daily values[*].
As a reminder, it's suggested to stay between 20 and 50 grams of net carbohydrates to stay in ketosis. Just one wheat flour tortilla would take up over half of your carb intake for the day.
Homemade Low-Carb Tortillas
You can still enjoy tacos and your other favorite Mexican-inspired dishes with one of the following keto tortilla alternatives. Simply swap your traditional tortilla for one of the recipes below.
#1: Pork Rind Tortillas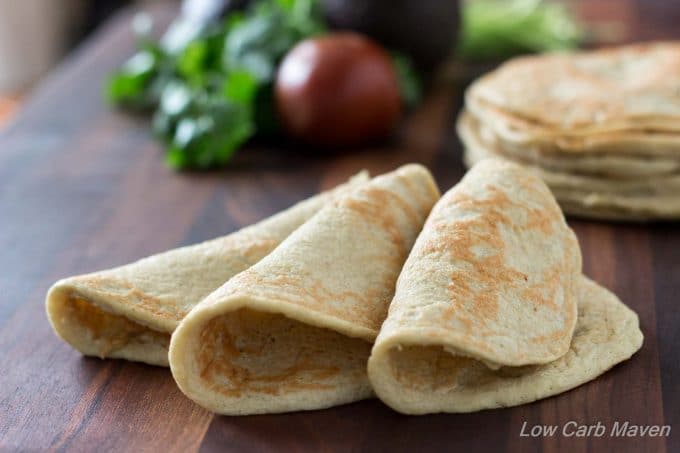 Image: Almost Zero Carb Low Carb Wraps
Pork rinds are made from pork skins that are chopped and then fried in lard. The rinds become hard, with a crunchy, puffy consistency. While pork rinds are a popular low-carb alternative to chips, they can be ground up to a flour-like consistency.
Pork rinds contain zero carbs, which makes them the perfect ingredient for low-carb tortillas. The following recipe is not only incredibly easy to prepare, but also dairy-free.
Instructions
Grind the pork rinds with a food processor until they have a fine texture.
Add water, eggs, and seasoning to the ground pork rinds to create a dough-like texture.
Once the dough is formed, divide it into smaller dough balls and flatten into disks.
Using a keto-friendly oil (like avocado oil or coconut oil — not cooking spray), heat each disk in a skillet until it reaches the desired texture.
#2: Coconut Flour Tortillas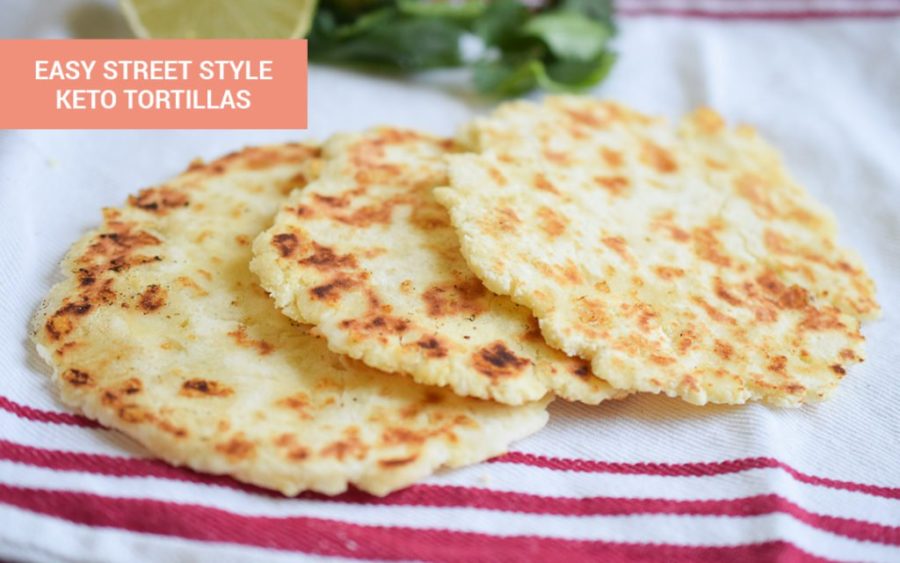 Image: Easy Street Style Keto Tortillas
Coconut flour is made from ground coconut meat. Unlike white flour, it provides a number of health benefits.
It's incredibly low-carb and abundant in medium-chain triglycerides (MCTs). MCTs are your body's ideal energy source (in terms of burning fat instead of glucose), as they are easily absorbed and can enhance ketone production. This allows them to be used for energy right away[*][*].
For this coconut flour tortilla recipe, all you need is one large egg, coconut flour, and asiago cheese. It requires just 10 minutes of cook time, with one serving size containing just 4 grams of net carbs, 17 grams of protein, and 20 grams of total fat. It's a game-changer.
Instructions
Microwave the cheese and coconut flour until the cheese is melted, then combine with the egg until a dough forms.
Separate the dough into smaller balls, then flatten into disks on parchment paper (or in a tortilla press, if you own one).
Place the tortillas in a hot cast-iron or nonstick skillet until both sides brown on the edges.
#3: Almond Flour Tortillas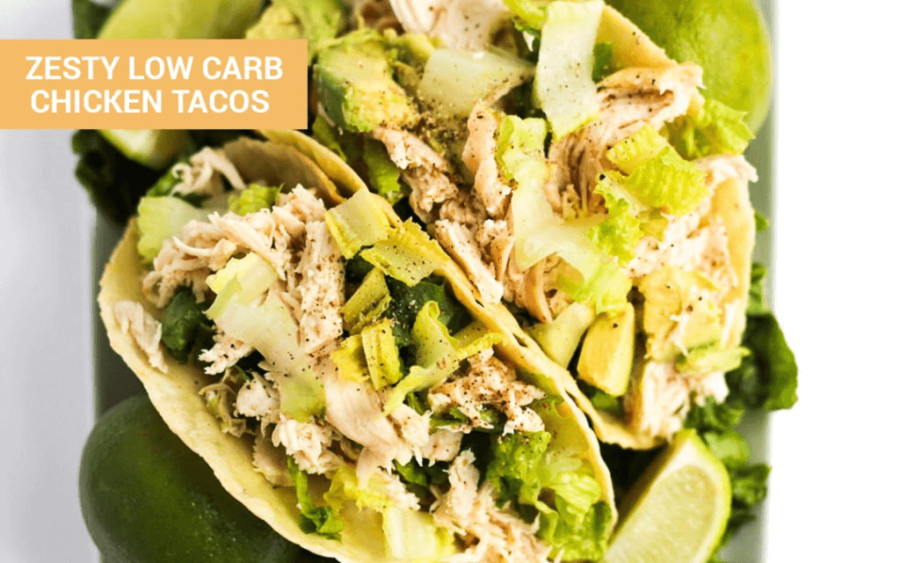 Image: Zesty Low Carb Chicken Tacos
Almond flour (or almond meal) is made from ground almonds. It's made up of 65% monounsaturated fat, which helps to reduce cholesterol and lower your risk of heart disease[*][*].
It's also a good source of dietary fiber, iron, potassium, calcium, manganese, magnesium, and vitamin E. While it is has a higher caloric nature than coconut flour, it contains fewer carbs per serving[*].
To make almond flour tortillas at home, you'll need a combination of almond flour and coconut flour.  This simple and quick recipe is a great one.
Instructions
Combine both flours with water, egg white, and salt to form a dough.
Divide the dough in smaller tortillas.
Heat a skillet at medium heat, then drizzle some avocado oil.
Cook each tortilla (roughly 8 inches in diameter) until browned on both sides.
#4: Cloud Bread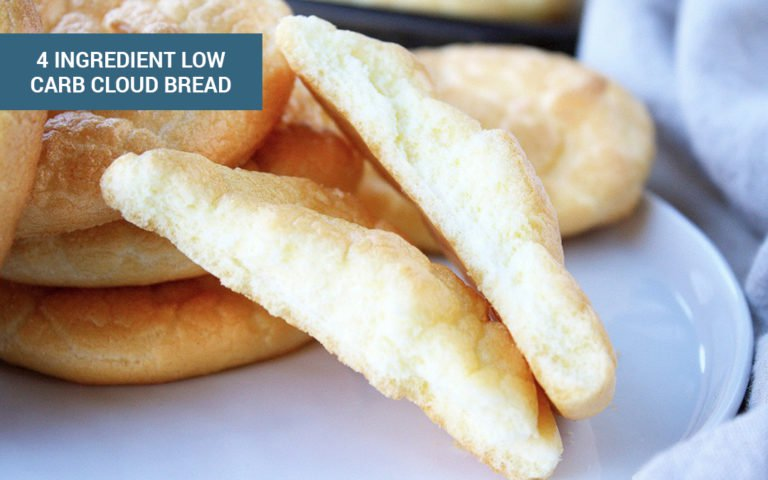 Image: 4 Ingredient Cloud Bread
Cloud bread is a light, airy bread with less than half a gram of carbs per slice. Cloud bread is packed with saturated fats and used in keto recipes for hamburger buns, sandwich bread, and tortillas.
To make cloud bread at home, follow this recipe. You'll need egg whites, cream cheese, and cream of tartar. The entire recipe takes a total time of 40 minutes.
Instructions
Using a hand mixer, beat the egg whites until stiff, white peaks form.
Using a spatula, fold in the cheese and tartar to make an eggy dough.
Spoon onto parchment paper, then bake at 300°F for 30 minutes.
Store-Bought Low-Carb Tortillas
How many times did you make traditional tortillas from scratch before keto? Probably never. When time is not on your side, these are some of the best low-carb tortilla brands out there.
Siete Foods Tortillas
Siete Foods makes gluten-free, paleo, and keto-friendly tortillas and tortilla chips that are available at most health food stores, Whole Foods, and Amazon.
These tortillas taste exactly like the ones you enjoyed during your pre-keto days. If you love Mexican food and refuse to compromise on taste, these will not disappoint. They offer several varieties of tortillas, including those made with almond flour, a coconut and cassava flour combo, and a cassava and chia blend.
Unfortunately, the almond flour tortillas are the only ones suited for a low-carb diet, and even these should be reserved as an occasional treat. The almond flour variety contains 16 grams of net carbs per serving, while the other two products contain over 20.
Paleo Wraps
There are many store-bought versions of coconut wraps available online, the most popular being Paleo Wraps. These were originally intended to be a replacement for sandwich wraps, not tortillas. As such, you might find the consistency of these low-carb wraps to be a bit hard and crunchy, unlike a soft taco.
You'll love the ingredients and nutrition facts, though. Paleo Wraps are suitable for any low-carb or low-calorie diet, and they contain just two ingredients: coconut and water. One tortilla contains 90 calories, 5 grams of fat, 3 grams of protein, and just 6 grams of net carbs[*].
Store-Bought Brands to Avoid
When shopping for store-bought tortillas, there are a couple of brands you should be wary of. These brands advertise their products as low-carb (which they are), but they also contain unnecessary and unhealthy ingredients.
When buying premade tortillas (or any food item), always check the ingredients list before purchasing an option with "low-carb" in the title.
Since grocery shopping on keto can be difficult and confusing, the following brands should be avoided:
Mission Carb Balance Fajita Tortillas[*]
Mama Lupe Low-Carb Tortillas[*]
La Banderita Low-Carb Tortillas[*]
Note: Some of these tortillas, such as Mama Lupe, contain fewer carbs than the recommended brands in this guide. However, you must consider the lengthy ingredient list and questionable additives.
Enjoy Your Mexican Favorites Without the Worry
Following the keto diet doesn't necessarily mean giving up your favorite foods. It means choosing healthier, low-carb alternatives rather than the traditional favorite.
The next time you're craving Mexican food, consider going the DIY route and making your own low-carb tortillas to pair with guacamole and cauliflower rice. If time is an issue, simply use this guide to find the right store-bought option.
These easy tortilla recipes can be used as a replacement for pita flatbreads, sandwich wraps, and much more. They will certainly become one of your favorite go-to low-carb recipes.
For more Mexican keto-friendly recipes, check the recipe page where you can find great meal ideas such as spicy beef keto fajitas and this warming Mexican mocha.