Nothing says "crunch" quite like crackers and chips. The problem is that on a keto diet, finding low carb options with that irresistible crunch can be tough.
You won't find many keto-friendly options to buy at the supermarket, but luckily healthy homemade crackers are only about 30 minutes away. These crackers are simple, delicious, crunchy, and extremely versatile. You can easily change the flavors just by swapping out your herbs and seasonings.
The main ingredients in these crackers include:
The crunch in these baked crackers comes from a mix of nuts and seeds that are packed with nutrients, fiber, healthy fats, and are low in carbs so they keep you in ketosis. Pumpkin seeds are especially beneficial and loaded with powerful nutrients you may not be aware of.
3 Benefits of Pumpkin Seeds
#1: Boost Your Immunity
Pumpkin seeds are loaded with antioxidants and phytochemicals.  These compounds help to fight and reverse oxidative stress in your body and reduce the possibility of infection.
They also contain zinc which helps boost immunity, aids cellular growth and division, and improves sleep and mood.
#2: Heart Healthy
These seeds are a rich source of healthy fats and antioxidants that are beneficial for your heart because they can help lower your "bad" cholesterol (LDL) and increase your "good" cholesterol (HDL).  Pumpkin seeds are also a wonderful source of magnesium which is necessary for over 600 different chemical processes in your body.
#3: Lose Weight
These seeds may be little, but they pack quite a punch when it comes to healthy fats and fiber that will help to keep you satisfied. They are a great snacking option because it doesn't take too many of them to make you full.
All of these benefits plus that satisfying cracker crunch everyone misses on a ketogenic diet. The next time you have a little time to spare and get a craving for a healthy snack loaded with amazing nutrients, give these crackers a try and don't be afraid to play with your flavors and spices so you never get bored.
Print
Crunchy Keto Rosemary Crackers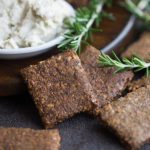 Author:
Total Time:

35 minutes

Yield:

15

crackers

1

x
Instructions
Preheat oven to 325 degrees and line a large baking sheet with parchment paper. Set aside

Beat egg in a small bowl with water, olive oil, salt, pepper, garlic powder, and finely chopped rosemary

Add nuts and seeds to a large food processor and blend on high until roughly chopped. Add flax meal and stir to combine. Pour in liquid mixture and pulse just until combined

Roll out mixture onto a parchment paper and roll out to 1/6″ thick. Cut into even pieces and transfer to baking sheet

Bake for 30 minutes until golden brown and crisp
Nutrition
Serving Size:

1 cracker

Calories:

136

Fat:

11g

Carbohydrates:

Net Carbs: 2g

Protein:

5g