If there's one thing the keto diet isn't lacking, it's butter. So, what better way to support your favorite condiment than whip up an easy batch of herb butter?
Adding fresh herbs and spices to your butter is an excellent way to add variety to your diet without going off program. The bonus benefit is that you'll be adding more nutrients to your diet as well.
Simply take some unsalted butter at room temperature and start to get creative. From roasted garlic herb butter to other fresh herbs like dill or basil, the possibilities are endless.
For this recipe, you'll use fresh or roasted garlic and fragrant fresh rosemary — a classic combination that will go perfectly with a fatty steak, grilled chicken, or keto garlic bread.
Add this garlic herb butter to any of your favorite recipes, and enjoy.
This rosemary garlic butter recipe is:
Satiating
Savory
Rich
Flavorful
The main ingredients in this rosemary garlic herb butter include:
Optional additional ingredients:
Health Benefits of this Rosemary Garlic Herb Butter
#1 Improves Heart Health
In addition to satisfying your taste buds, this butter will help keep your heart beating strong.
Garlic is a superfood that improves your health in many ways, but one of the most significant is its impact on heart health.
Research shows that garlic may help prevent certain heart diseases, and in some cases may even help reverse these serious conditions.
It can reduce blood pressure and lower your blood lipids while balancing cholesterol — all leading factors in heart disease and stroke[*][*][*][*][*].
Butter isn't thought of as a health food by most people — especially a heart-healthy food. However, high-quality, grass-fed butter actually has an impressive nutrient profile. And it's way better for your heart than margarine, which is linked to an increased risk of coronary heart disease[*].
#2. Strengthens Brain Function
These ingredients also help improve the health of one of your other most important organs, your brain.
Garlic contains powerful antioxidants that have been shown to significantly improve brain function. Research in animals shows that garlic may help prevent and alleviate the symptoms of Alzheimer's disease and dementia.
As a neuroprotective agent, Incorporating garlic into your diet today may help keep your brain functioning at optimal levels for years to come[*][*][*].
Similarly, rosemary may also help prevent and treat symptoms of these debilitating brain disorders. Research shows that rosemary may improve brain function in elderly people with cognitive decline[*][*].
#3. Helps Prevent Cancer
By now you can see how incredible garlic is for your health. But it doesn't stop at just your heart and brain. Garlic may even help prevent certain cancers due to its antibacterial properties and sulfur compounds.
Research shows that garlic may reduce the risk of stomach, colon, esophagus, pancreas, and breast cancers. Even the National Cancer Institute recognizes garlic's potential impact on preventing cancer[*][*][*].
The anti-inflammatory and antioxidant capabilities of rosemary have been linked to helping fight against cancer and protect healthy cells.
One crucial property found in rosemary is carnosol, which has been shown to directly fight against certain cancers in animal models. Research shows that this miracle ingredient may help with prostate, breast, skin, leukemia, lung, and colon cancers, to name a few[*][*][*].
Rosemary Garlic Herbed Butter
This butter goes perfectly on top of keto Cloud Bread or with a slice of Keto Almond Bread.
If you're ready to step up your butter game, all you need is some garlic cloves, fresh rosemary, and grass-fed butter.
Finely chop the garlic cloves and rosemary until you have a heaping tablespoon of minced garlic and two heaping tablespoons of rosemary. Another option is to add your herbs and garlic to a food processor and mix until you make a fine paste.
Place your chopped fresh herbs in a bowl and add the butter, garlic powder, and salt. Stir to mix until all ingredients are evenly combined in the bowl.
Remove the butter mixture and place in plastic wrap, making a log shape. Wrap and twist the plastic and then place it in the refrigerator for two to three hours to let it harden.
When you're ready to spread this delicious savory butter; remove it from the refrigerator and slice it into your desired portion size. Feel free to sprinkle with chunky sea salt to taste.
This flavorful butter pairs beautifully with grilled steak, cauliflower "mashed potatoes," or you can spread it on fresh keto bread for some out of this world keto garlic bread.
Print
Rosemary Garlic Herbed Butter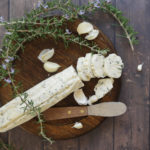 Rosemary garlic herb butter made with unsalted butter, fresh rosemary, and roasted garlic pairs perfectly with grilled steak or keto garlic bread.
Author:
Prep Time:

10 minutes

Total Time:

2 to 3 hours

Yield:

16

1

x
Instructions
Add all ingredients to a small bowl. Stir until well combined.

Place mixture on plastic wrap or parchment paper and form into a small log. Wrap and twist ends shut.

Refrigerate for 2-3 hours until set. Slice into disks as needed.
Nutrition
Serving Size:

1 tablespoon

Calories:

102 kcal

Fat:

12g

Carbohydrates:

0g
Keywords: Rosemary garlic herbed butter