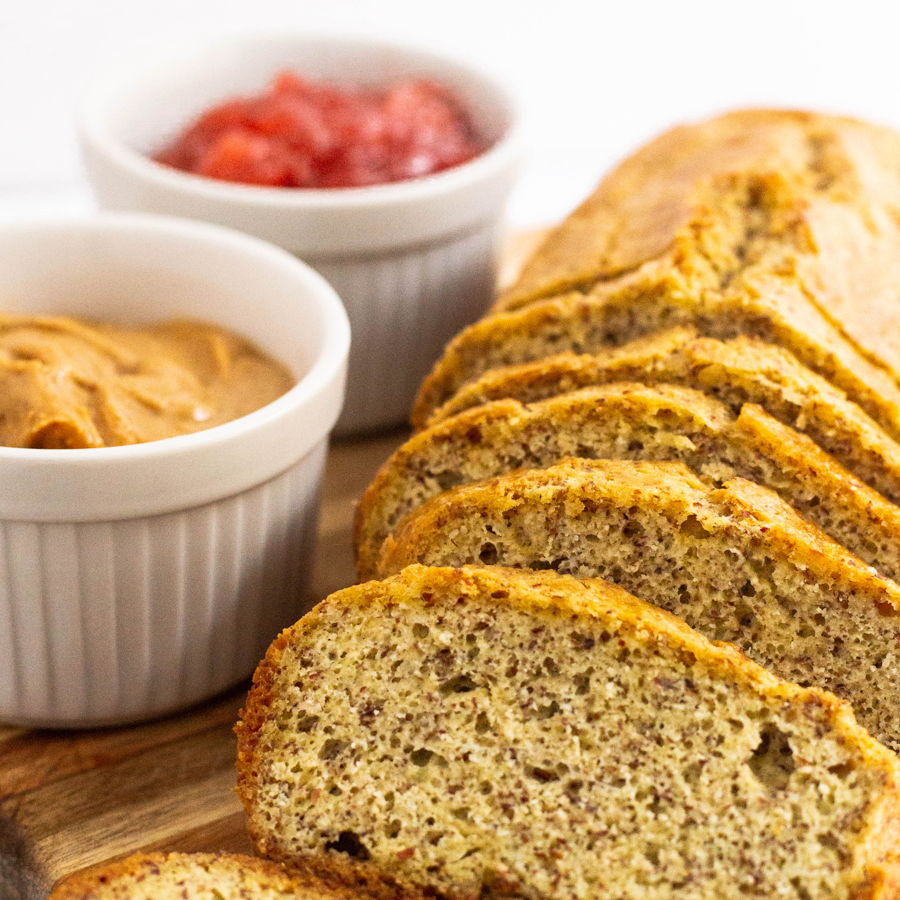 Are you transitioning to a low-carb or keto diet but don't think you can cut bread from your life? You're not alone. Bread is virtually everywhere and it's one of the hardest carbs to give up.
But whether you like multigrain, white, whole wheat, rye, baguettes, ciabatta, brioche, naan, or any other bread — this recipe will give you the best keto bread substitution.
This keto almond flour bread contains less than 3 grams of net carbs per slice and fits perfectly into your low-carb meal plan.
It's packed with healthy fats, vitamins, and minerals including vitamin E, riboflavin, manganese, magnesium, phosphorus, calcium, and iron.
So what's in this recipe that makes this almond bread low-carb while being a perfectly satiating snack? Keep reading to find out.
How to Make Almond Flour Bread 
For this almond flour bread recipe, you need just four ingredients. You'll also need parchment paper, a mixing bowl, spatula, bread pan, and a toothpick.
The main ingredients in this recipe are:
7 large eggs, room temperature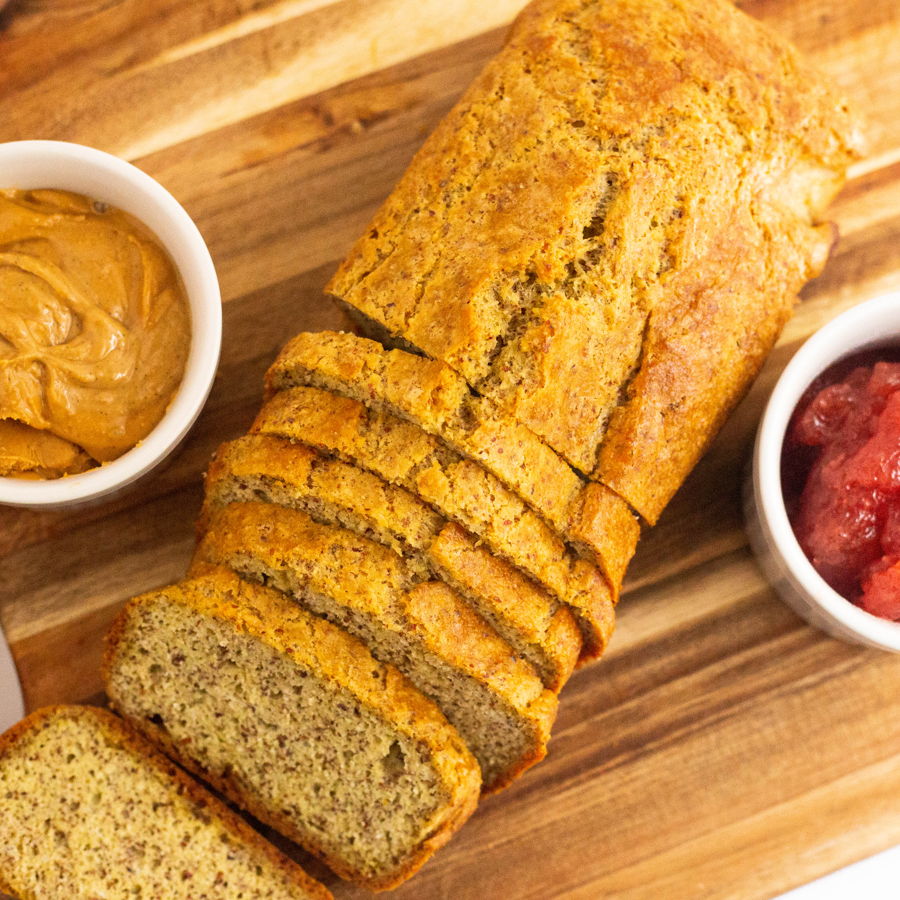 Every ingredient can be purchased at your local grocer or online on Amazon. Seems simple enough, right?
Recipe Notes: Almond Flour Bread Recipe FAQ
This simple recipe for gluten-free bread is incredibly easy to prepare. However, if it's your first time making grain-free bread, you may have a few questions. Hopefully, these tips and tricks set you up for success.
Can almond meal be substituted for almond flour? Yes — both ingredients are made of just ground almonds. However, since almond meal is coarser in texture, you may want to run it through a food processor first.
Can avocado or olive oil be substituted for coconut oil? Technically yes, but it's not recommended as it will slightly influence the texture of your recipe, giving it a dense, moist feel.
Can coconut flour, flaxseed meal, or psyllium husk powder instead? Unfortunately, no. Baking is pure chemistry, and the chemical makeup of these flours is completely different. Therefore, you could not substitute flax meal for almond flour for a 1:1 ratio, as you would when substituting wheat flour for regular white flour.
Do you really not need any baking soda or baking powder? Nope. The surplus of eggs in this recipe will give your bread that nice, fluffy texture that a teaspoon of baking soda normally would, without making it too eggy.
Can this recipe be made dairy-free? Yes. You can substitute butter for sustainably sourced palm oil shortening at a 1:1 ratio to make it dairy-free.
Can this recipe be made vegan? Technically yes. You could substitute chia seed eggs or flax eggs as a 1:1 ratio for the whole eggs (egg yolks and egg whites) used in this recipe.
Could this recipe be made with a bread machine? Yes. Simply pour the wet ingredients and dry ingredients into your machine, and prepare according to the machine instructions.
How to Prepare Your Low-Carb Bread Recipe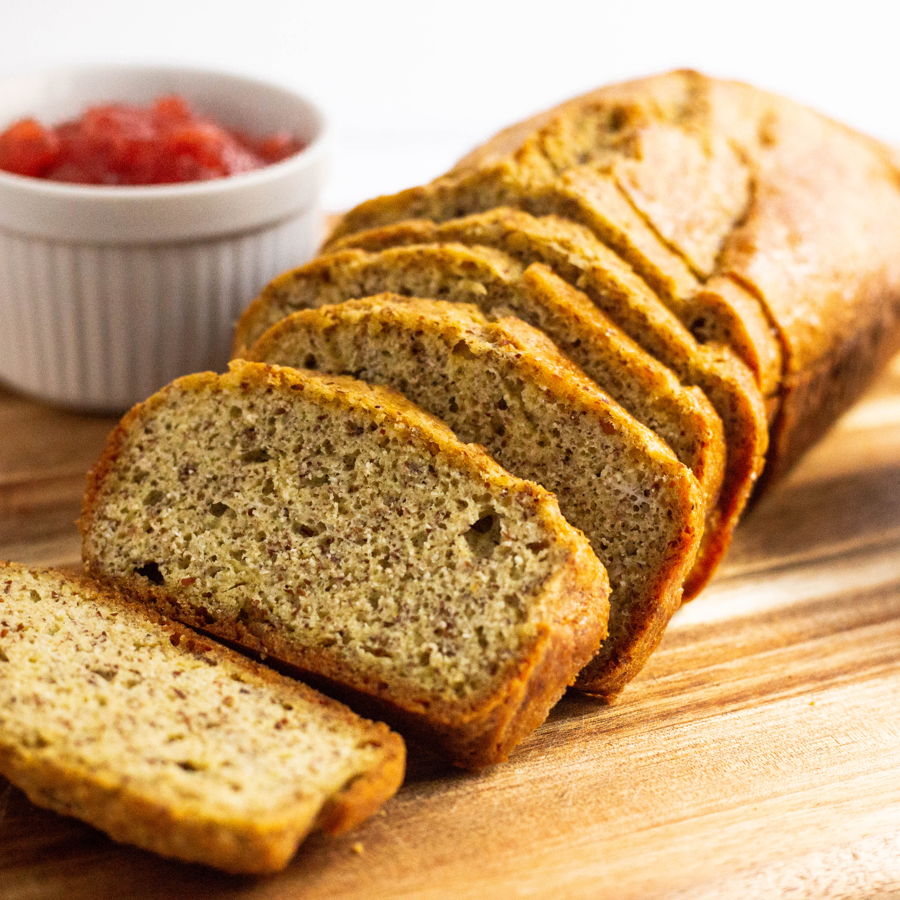 You can use this almond flour bread just as you would regular white or wheat bread. Use it as a sandwich bread, in French toast, or simply smother it in almond butter. Here are several gluten-free and grain-free ideas to get you started.
Salmon and lox: Love this classic brunch dish? Toss a slice of bread in your toaster, then smother with cream cheese and smoked salmon.
Whip up your favorite sandwich: Toast your almond flour bread until golden brown, then top with egg salad, curry chicken, or chicken salad.
Prepare as English muffins: This easy recipe can be modified to make English muffins or biscuits. Simply pour your bread dough into a muffin tin, or use a cookie cutter to form discs roughly two inches in diameter. Note: You will have to shorten the cooking time considerably, so check your baked goods after 20 minutes in the oven.
Make into French toast: Dredge your bread in egg yolks, then fry for a few minutes per side on a skillet to make keto french toast. Top with almond butter, ghee, or fresh berries to serve.
3 Health Benefits of Almond Bread
If you took a peek at the nutrition facts, you probably noticed that this keto almond flour bread only contains four natural ingredients. Not only is it low in total carbohydrates, it also contains hidden health benefits. Here are three ways this recipe could benefit your health.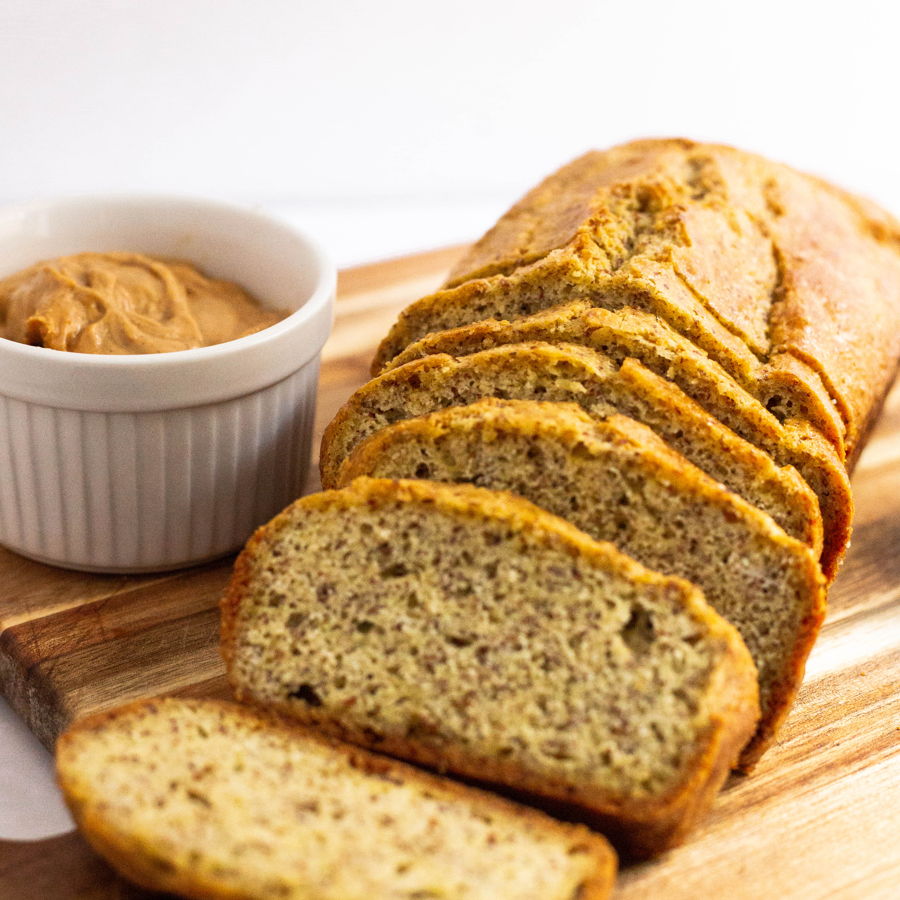 #1: Packed With Healthy Fats
The butter and coconut oil in this recipe can give you an energy boost by helping increase your ketones levels. They also provide the fat your cells need to function efficiently. Coconut oil is rich in lauric acid, a type of saturated fatty acid that has antibacterial and antiviral properties[*]. Plus, both these fats keep you full and satisfied, which could reduce hunger cravings[*].
#2: Rich in Micronutrients
Almond flour contains certain health benefits you wouldn't get from white enriched flour. When almonds are used for flour instead of wheat and other grains, you'll have a dose of healthy fats (56 grams per cup) plus minerals such as magnesium, potassium, and calcium. You'll also get 24 grams of protein, 12 grams of dietary fiber, and only 12 grams of net carbs per cup too[*].
#3: Gives Your Brain a Boost
There are seven eggs in this bread — which means a lot of choline. Choline is a vitamin-like essential nutrient that later turns into acetylcholine, an important brain neurotransmitter[*].
If you've been craving bread on keto, you can indulge with this recipe without any guilt or coming out of ketosis. Just add a tablespoon of butter on top for a comforting, satiating way to start the day.
Enjoy This Almond Flour Bread on the Keto Diet 
If you've been craving bread since starting a low-carb diet, you simply have to try this recipe. Made with four ingredients and containing 2.2 grams of net carbs per slice, this keto bread recipe is paleo, low-carb, and completely sugar-free. Plus, although it does come with a surplus of eggs, it doesn't come with the eggy taste you might get from other recipes.
You can enjoy this bread just as you would regular bread. Toast it and smother it with nut butter and a sprinkle of sea salt, top with salmon and cream cheese, or enjoy it with a slab of butter. No matter how you choose to enjoy it, this quick bread recipe works for breakfast, lunch, or dinner.
Looking for more keto recipes to enjoy? Be sure to check out the recipe library on this site for more ideas on how to enjoy your low-carb bread.
Print
4-Ingredient Keto Almond Bread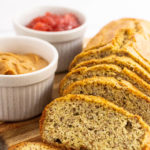 This tasty bread is a great low-carb substitute to your favorite grain, packing plenty of healthy fats without all the carbs of regular bread.
Author:
Prep Time:

10 minutes

Total Time:

55 minutes

Yield:

12

slices

1

x
Instructions
Preheat the oven to 355℉.

Line a loaf pan with parchment paper.

Mix the eggs in a bowl on high for up to two minutes.

Add the almond flour, melted coconut oil and melted butter to the eggs. Continue to mix.

Scrape the mix into the loaf pan.

Bake for 45-50 minutes or until a toothpick comes out clean.
Nutrition
Serving Size:

1 slice

Calories:

178

Fat:

15g

Carbohydrates:

3.9g (2.2g net)

Fiber:

1.7g

Protein:

6.4g
Keywords: keto almond bread