One of the concerns some people have when transitioning to a ketogenic diet is feeling like they need to stop drinking alcohol all together.  The good news, is there are quite a few options these days that make having an occasional cocktail a definite possibility.  Consuming most traditional mixed drinks, which are filled with flavored alcohol and sugary juices, will most likely kick you out of ketosis, but liquor options such as tequila, whiskey, and plain vodka mixed with soda water and zero carb carbonated drinks are wonderful choices for keto.
The Main Ingredients in This Cocktail Include:
Fresh mint leaves
White rum
Key Lime La Croix
These days nearly every regular supermarket carries at least a few options for sugar-free carbonated drinks and water.  Most will be either be completely unsweetened or sweetened with stevia or monk fruit. Zevia and La Croix are available almost everywhere now and will be your best bet for a delicious and satisfying cocktail mixer.  Not only that, these tasty drink options can also come with a few other benefits.
Benefits of Natural Sugar Free Carbonated Sodas:
#1: Spice Up Your Day
With so many options to choose from these days, you will never get bored with your beverage options.  Each company that offers these sugar free drinks offers a wide variety of different flavors to choose from, most of which you wouldn't even be able to find with traditional sodas.  You'll be able to pick from the classics such as lemon lime and cola, but can also indulge in flavors like coconut, mango, and even passionfruit.
#2: Ditch the Unhealthy Sodas
There aren't many people that would argue how harmful traditional sodas are for our health.  Not only do they contain large amounts of sugar, they are also filled with chemicals and many other artificial ingredients.  Soda has been linked to decline in kidney function, poor dental health, and even an increased risk of diabetes and obesity. Unsweetened and naturally flavored soda options like Zevia and La Croix allow people who love the bubbly, carbonated drinks to break their long standing sugary soda addictions much easier.
#3: Balance Electrolytes
A very low carb, ketogenic diet changes how your body handles electrolytes and water.  This becomes especially important when first starting keto because the body will begin to deplete the large amounts of water it is retaining.  This is a major cause of the keto flu which can actually be completely avoided.  These sugar free, keto friendly soda options are great way to restore electrolyte balance and hydrate yourself without the boredom plain water tends to have on people.
When it's time to have a cocktail, it's nice knowing there are plenty of choices readily available.  Simply stick to a hard liquor that does not contain flavorings or sugar, and either plain soda water or one of the many low carb, sugar free options you can find at your regular supermarket.  Never get bored with any of your beverages, alcoholic or otherwise.
Print
Sparkling Strawberry Low Carb Mojito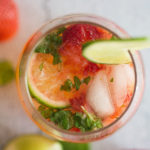 Author:
Total Time:

2 minutes

Yield:

1

glass

1

x
Scale
Ingredients
2

lime wedges

8

mint leaves

1/4 cup

white rum

1

packet Stevia

2

medium strawberries

1 cup

Key Lime La Croix
Instructions
Combine lime wedges and mint in the bottom of a glass. Use a muddler or the bottom of a wooden spoon to crush the mint and lime together, releasing the juices and oils.

Add strawberries and crush slightly.

Pour in the rum, ice, and stevia, and use a spoon to stir. Top off with La Croix and serve garnished with an additional sprig of mint, sliced strawberries, and/or lime slice.
Nutrition
Serving Size:

1 glass

Calories:

114

Fat:

0g

Carbohydrates:

Net Carbs: 4g

Protein:

0g