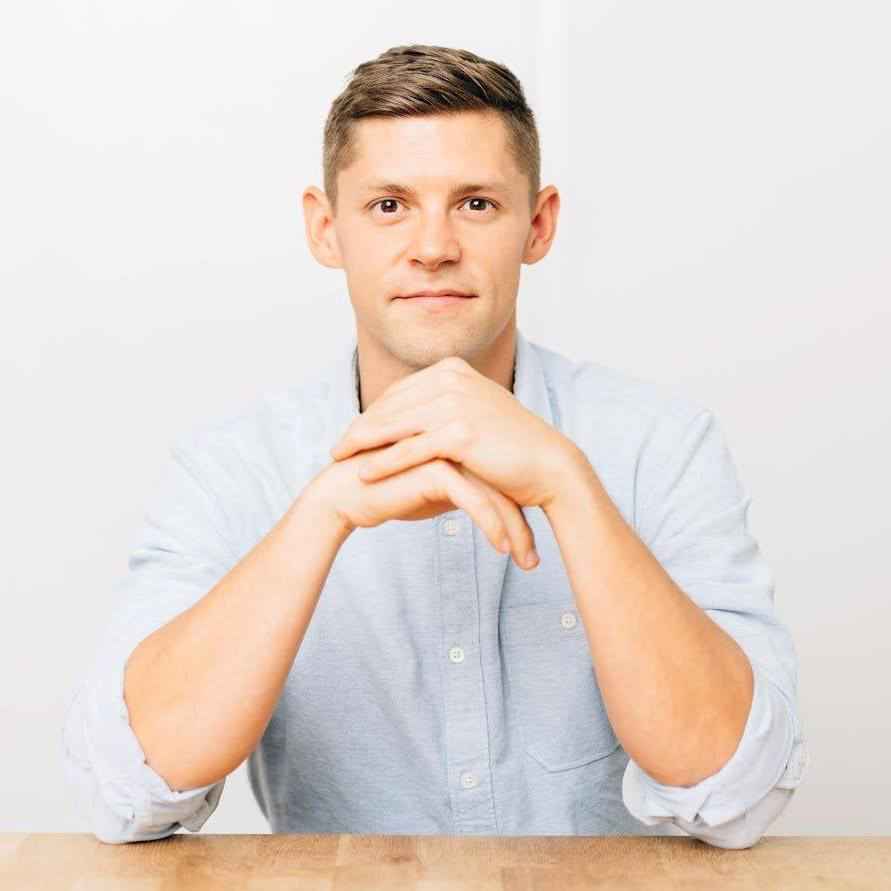 Dr. Anthony Gustin is a board-certified sports chiropractor, functional medicine practitioner, entrepreneur, podcast host, and founder of Perfect Keto.
on September 11, 2018
Can you drink alcohol on a ketogenic diet, or are all adult beverages off limits?
You don't have to stay sober because you're following a keto diet, unless, of course, you want to. But that doesn't mean you can choose anything behind the bar and stay in ketosis.
As you'll see in this guide, some options can kick you out of ketosis while others may have little to no effect.
That's not all we'll be covering. You'll also learn:
There are three specific downsides to consuming alcoholic drinks while following a ketogenic diet. Let's get the bad news out of the way first.
Three Reasons to Reconsider Drinking Alcohol on a Keto Diet
You can certainly drink some types of alcohol on a ketogenic, low carb diet without guilt. But there are reasons why drinking alcohol can potentially sabotage your goals.
#1: You Turn Into a Bottomless Pit Hungry for Calories
Alcohol is packed with empty calories. The calories you get from alcohol — 7.1 per gram to be exact — offer no nutritional value.
You won't feel full, and you'll be more likely to overeat unhealthy foods since your inhibitions are lowered. This can make your stomach seem like a bottomless pit, scrounging for more calories as soon as you finish your first drink.
And, you'll imbibe a large number of calories getting there. Alcohol has double the number of calories per gram compared to protein.
#2: You Turn Off Your Body's Ability to Burn Fat for Fuel
Did you know your body treats alcohol as a toxic substance? When it enters your bloodstream, your body shifts gears and focuses all of its energy on processing the alcohol out of your system.
Everything else hits the pause button, including properly digesting your alcohol, including the carb-heavy meal you may have considered a solid base for drinking. When this happens, your body stores that excess energy of sugar and carbs as fat.
Since your body is busy filtering out alcohol, it stops using fat for energy like it normally does when you are in ketosis. It uses the empty calories you drank for fuel. This won't help you reach or maintain ketosis — it has the opposite effect.
If you've been struggling to reach ketosis, start by reducing or eliminating your alcohol intake.
If you can avoid succumbing to high-calorie cravings and you don't plan on drinking enough to kick you out of ketosis, there's still one more aspect to consider before you order that drink.
#3: You'll Get Drunk Faster and Your Hangover May Be Worse
Whether you have a glass of red wine or two with your friends after work or plan to drink beer through 18 holes of golf on the weekend, following a keto diet alters alcohol's effect on your body.
When you're in ketosis, alcohol hits your system faster and stronger than it did when your body was housing more carbohydrates. Your alcohol tolerance plummets to near zero when you're in ketosis.
Typically, people have plenty of glycogen stored in their bodies thanks to carb-heavy diets, which serve as a cushion for metabolizing alcohol. Without this buffer, your body processes alcohol much faster and you'll feel the effects sooner.
Those on a ketogenic diet also report experiencing harsher hangovers compared to when they ate a high carb diet. While there aren't definitive studies proving why this happens, dehydration and an imbalance of electrolytes seem to play a part. Both dehydration and electrolyte imbalance can occur when you drink alcohol and when you're in ketosis, creating the perfect storm for intense hangovers.
But, can you minimize the downsides of drinking alcoholic beverages on a ketogenic diet?
Yes.
Follow These 6 Guidelines When Drinking Alcohol in Ketosis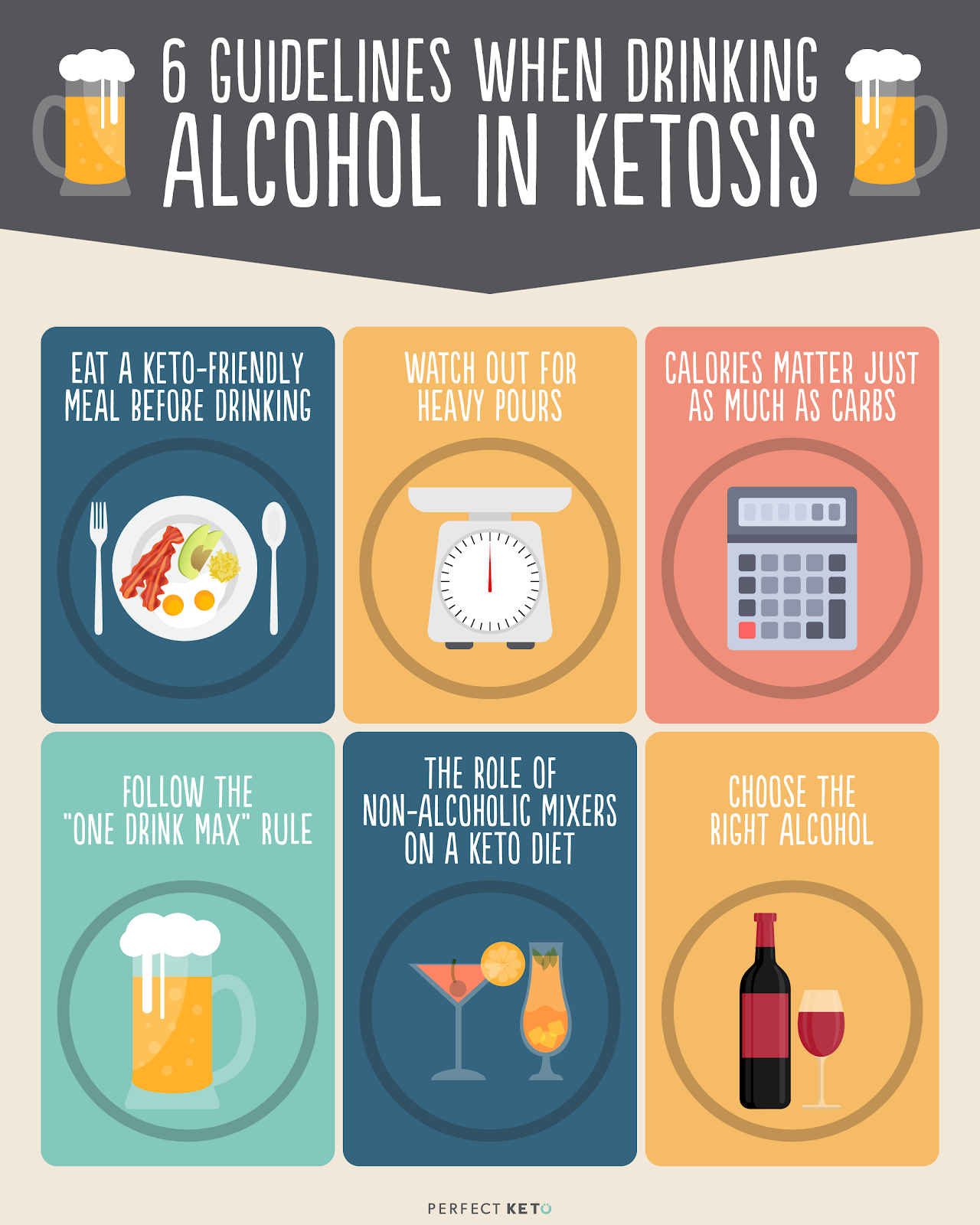 If you're going to drink alcohol while on a keto diet, be smart about it and plan to take extra precautions.
#1: Eat a Keto-Friendly Meal Before Drinking
Carb-loading before a night of drinking is not your best option.
When you eat a meal heavy in carbs before drinking, you'll kick yourself out of ketosis and jeopardize how your body metabolizes the alcohol.
Fat and protein are your allies before drinking. Reach for a keto-friendly meal abundant in healthy fats with some protein. This powerful combination helps slow the effects of alcohol, so it delivers less of a metabolic strike to your system.
#2: Watch Out For Heavy Pours
At the bar, it can be near impossible to know if your whiskey-based cocktail or champagne spritzer is mixed to exact proportions. Is that glass of pinot noir or cabernet an appropriate five ounces, or did the server over-pour and give you eight?
Unless you can watch the bartender make your drink or know the weight of the wine in different glasses, it's difficult to know if your serving is within your macros.
If you enjoy alcoholic beverages at home, don't let them damage your goals either. Develop a habit of measuring the alcohol as you pour it to keep your portion sizes in check. This will help you stay on track towards your goals, makes it easier to visualize accurate measurements when you're at a bar or restaurant.
It's easy to do with a digital food scale. Place your wine glass or a shot glass on the scale, reset the weight to zero and pour the alcohol as usual until you reach the proper serving size[*]: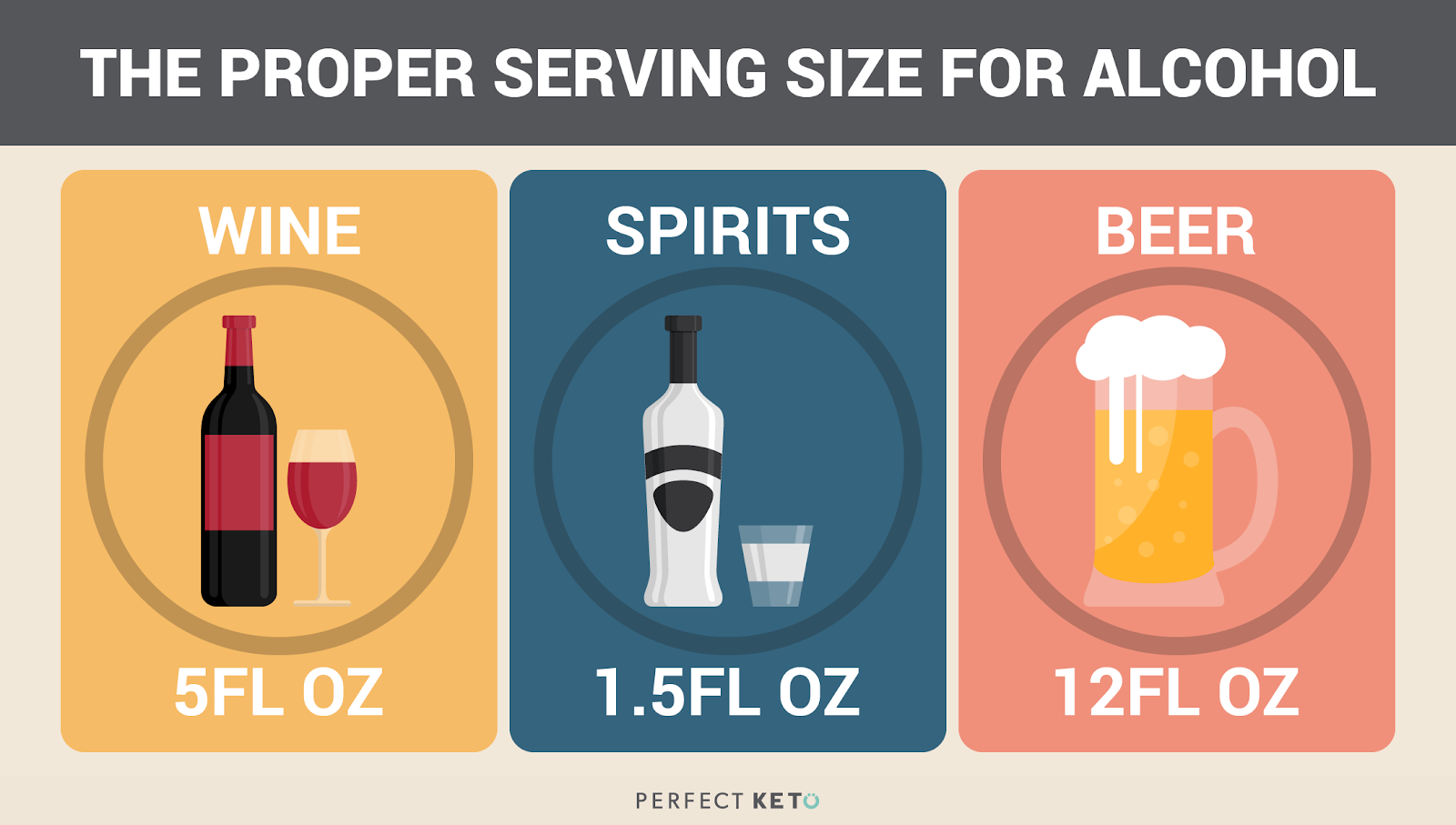 Do this enough times and you'll be able to gauge if that glass of white wine at your favorite restaurant came with a heavy pour. If it does, adjust the rest of your macros and account for it in your meal plan.
#3: Calories Matter Just as Much as Carbs
Counting net carbs is more critical than counting calories on a ketogenic diet, but alcohol is the exception to the rule.  Alcohol contains 100 percent empty calories and you can easily drink a meal's worth of calories without realizing you are over your limit.
Repeat this too often and your weight may start tipping in the wrong direction. Familiarize yourself with low carb, low-calorie options and stick to them.
#4: Follow the "One Drink Max" Rule
While you can enjoy low carb alcohol on a keto diet, you need to practice moderation to hit your goals. It's hard for your body to process alcohol and it can disrupt your fat burning potential.
Not at your goal weight yet? Having difficulty reaching or maintaining ketosis? Cut out alcohol entirely for two to four weeks to determine if it's holding you back.
You can also try practicing the "one drink max" rule. Limit yourself to one drink per sitting and one to three drinks per week. Once you've reached your goal weight, or you've been able to reach and maintain ketosis, you can imbibe a bit more to find what works for you.
Until you do, avoid alcohol or practice moderation.
#5: The Role of Non-Alcoholic Mixers on a Keto Diet
When it comes to mixed drinks, choosing the right combination is everything.
While vodka has zero net carbs, pairing it with sugary lemonade, soda or tonic water defeats the purpose of choosing vodka for its low carb content. The majority of mixed drinks have at least one ingredient that's not keto friendly, such as fruit, juice or sour mix.
Here's the carb count in the most dangerous cocktails on a ketogenic diet[*]: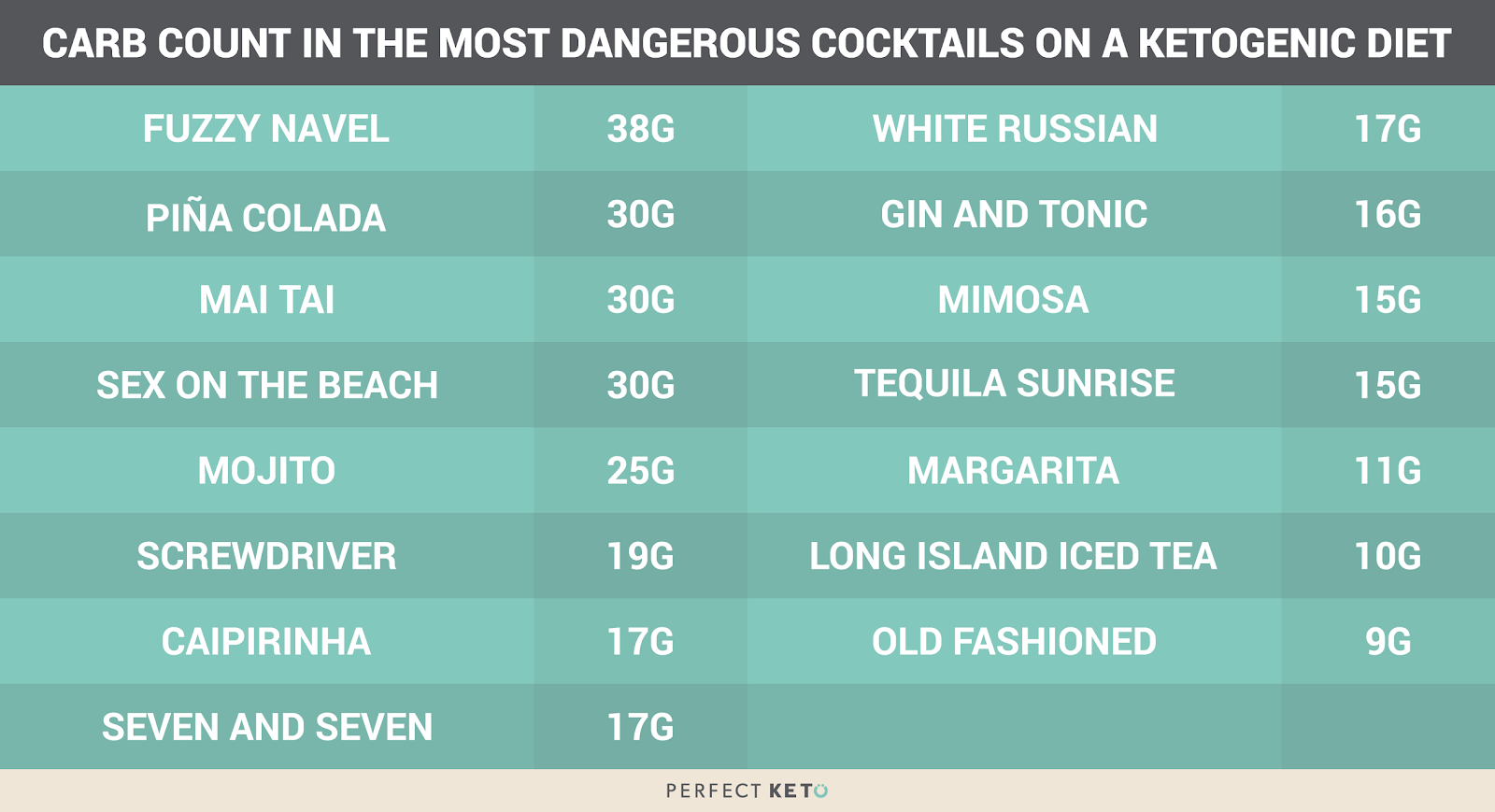 Opt for drinks without mixers or choose spirits mixed with seltzer or soda water and a splash of sugar-free lemon or lime. These drinks have zero carbs.
For variety, try low carb cocktails that are keto friendly when you don't have too many[*]:

#6: Choose the Right Alcohol
Quantity isn't the only factor in choosing alcoholic drinks on a keto diet; quality matters just as much.
Some alcoholic beverages, like many beers, hide loads of carbs. Others are keto friendly as long as you practice moderation. There are certain types of alcohol to keep on your bar cart and some you should steer clear of at the bar.
Perfect Keto founder Dr. Anthony Gustin (@dranthonygustin) chooses Mezcal over most drinks because it's keto-friendly. Follow him for more keto tips:
The Verdict: You Can Enjoy Alcohol on a Ketogenic Diet
Now that you have a better idea of how alcoholic beverages affect you in ketosis and know which low carb alcohol choices are better than others, you can decide if it has a place in your meal plan.
If you're new to practicing a keto diet, or you haven't reached ketosis yet, consider taking a break from alcohol to help you get there. If you decide to imbibe, take it easy. Your alcohol tolerance will be much lower once you're in ketosis.
For seasoned keto veterans — you should have no trouble enjoying your favorite adult beverages, provided you account for the carbs in your daily macro budget.
Friendly reminder: Don't consume too many drinks each week or in one sitting. Always have a designated driver and practice responsible, safe drinking.