You don't have to skip taco night now that you're keto. Instead, capture all the flavors and textures of this Mexican classic with these simple, low carb keto taco cups that use lettuce instead of corn or flour tortillas.
Why Keto Taco Cups?
Most taco recipes are packed with carbohydrates from white flour or corn. Plus, many tortillas will use GMO ingredients, which can do a number on your gut lining and your immune system.
Stay low carb and keto, all while satisfying your cravings for zesty, super filling tacos – no low-quality taco seasoning packet required.
With each bite of these beef taco cups, you'll get a mouthful of flavor plus the health benefits that come with eating real, whole food.
Read on to find out how some of these ingredients can help improve your skin and support cell and immune health.
This might just become your favorite taco recipe yet.
These zesty taco cups are:
Flavorful
Light, but super filling
Versatile
High protein
Great for anytime of year
The main ingredients in these Chili Lime Taco Cups include:
Grass-fed ground beef or ground turkey
Romaine lettuce
Avocado
Diced tomatoes
Cilantro
Garlic
Optional ingredients include:
Full-fat, grass-fed sharp cheddar cheese or Mexican blend
Green onions or red onions
Green chiles
Shredded cabbage
Health Benefits Of These Chili Lime Taco Cups Include:
#1. Antioxidant-Rich Ingredients
Food is medicine. Even when it tastes amazing.
These Chili Lime Taco Cups don't just taste good — they come with real health benefits.
Take romaine lettuce, for example. It may not seem like it packs much of a nutritional punch, but romaine lettuce rich in antioxidant-rich nutrients. Vitamin C and carotenoids (a precursor to vitamin A) both fight free radical damage and promote cell health[*][*]. High chlorophyll content is specifically good for your digestive health and was shown to fight colon cancer in rats[*][*].
Romaine isn't just good for you, it will give you the crunchy taco cups you crave.
Make sure you use grass-fed when you shop for your taco meat. Grass-fed beef and grass-fed dairy are both high in conjugated linoleic acid (CLA), which is linked to reducing the risk of various diseases, like cancer, cardiovascular disease, obesity, and diabetes[*][*][*][*].
Avocados aren't just the perfect fatty, creamy food, they also contain a number of cancer-preventing vitamins and phytochemicals[*]. Rich in lutein and vitamin E, avocados fight free radicals and increase cell health[*][*][*][*]. And populations with diets high in monounsaturated fatty acids from foods like olive oil and avocados tend to have lower cancer rates[*].
Tomatoes, too, are high in antioxidants and carotenoids like lycopene, which aid in your body's defense against disease[*][*][*][*][*][*][*].
The moral of the story? Add tons of colorful vegetables and grass-fed animal products to any meal for a slew of disease-fighting benefits.
#2. Skin-Boosting Ingredients
The way you look on the outside is a direct reflection of your internal health. Including veggie-rich, low carb meals like these taco cups won't just keep your gut happy — they might just make your skin glow.
Again, romaine lettuce, avocados, and tomatoes provide free-radical fighting compounds that your skin will love.
Your skin is tough, but it also bears the brunt of constant sun, wind, pollution, and sweat. By including foods rich in vitamin C and carotenoids like lutein and lycopene, you'll help your skin repair and enhance overall vibrance.
With their abundance of antioxidants, healthy fats, and lutein, avocados provide incredible skin nourishment. Lutein, in particular, aids in skin health, strength, and protection[*][*].
Vitamin C and lycopene in tomatoes may help protect against harmful UV rays, sunburns, and help repair skin cell damage[*][*][*].
Cilantro is another ingredient that's packed with antioxidants that may help prevent skin aging and damage[*].
#3. Immune-Supporting Ingredients
If you're following a low carb or ketogenic diet, you may find it harder and harder to get enough protein. Fat is super satiating on its own, so many keto dieters actually need to work to get adequate protein.
Although the keto diet isn't known for being a super high protein diet, it's still important that you get an array of essential and non-essential amino acids to help build and maintain muscle.
Plus, protein from pastured, high-quality sources will help support your immune system[*]. If you notice you're getting sick often, you might want to track your protein intake.
Garlic is another superstar when it comes to immune support[*]. Just make sure to crush or chew your garlic to release its active ingredient, allicin.
Other ingredients like leafy green lettuce, tomatoes, avocados, and cilantro are packed with antioxidants to help support your immune system and fight off infection.
Taco night isn't just for summertime. These taco cups are the perfect meal to include once or twice per week if you're short on cook time.
So skip the corn, black beans, and refried beans and make taco Tuesday keto-friendly!
And now that you know more about what makes these tasty chili lime keto cups nutritious and delicious, let's get to the taco cups recipe.

Print
Zesty Chili Lime Taco Cups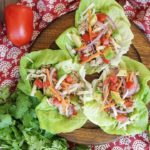 Two step zesty chili lime taco cups that are great for any lunch or dinner. Quick, satiating, and fun for the whole family.
Author:
Total Time:

15 minutes

Yield:

8

lettuce cups

1

x
Scale
Ingredients
1

lb grass-fed ground beef

3

cloves garlic (finely minced)

1/2 teaspoon

cumin

1/2 teaspoon

chili powder

1/2 teaspoon

dried oregano

1 teaspoon

salt

1

large lime (juice reserved)

1/4 teaspoon

black pepper

1

head romaine lettuce

1

medium avocado, diced

1

small roma tomato

1/3 cup

cilantro (roughly chopped)

2/3 cups

cheddar cheese

2 tablespoons

sour cream
Instructions
Heat a large skillet over medium heat. Add ground beef, salt, pepper, chili powder, cumin, and garlic. Saute until the meat is golden brown.
Stir in lime juice and set aside to cool.
Make taco cups by adding cooked 1-2 tablespoons taco mixture, chopped tomatoes, chopped avocado, and cheese to romaine or butter lettuce leaves.
Garnish with cilantro, about 1 tablespoon of cheese, and sour cream if desired.
Nutrition
Serving Size:

2 lettuce cups

Calories:

306

Fat:

19g

Carbohydrates:

2g

Protein:

29g
You think these sound incredible, check out our Zesty Chicken Enchilada Casserole.