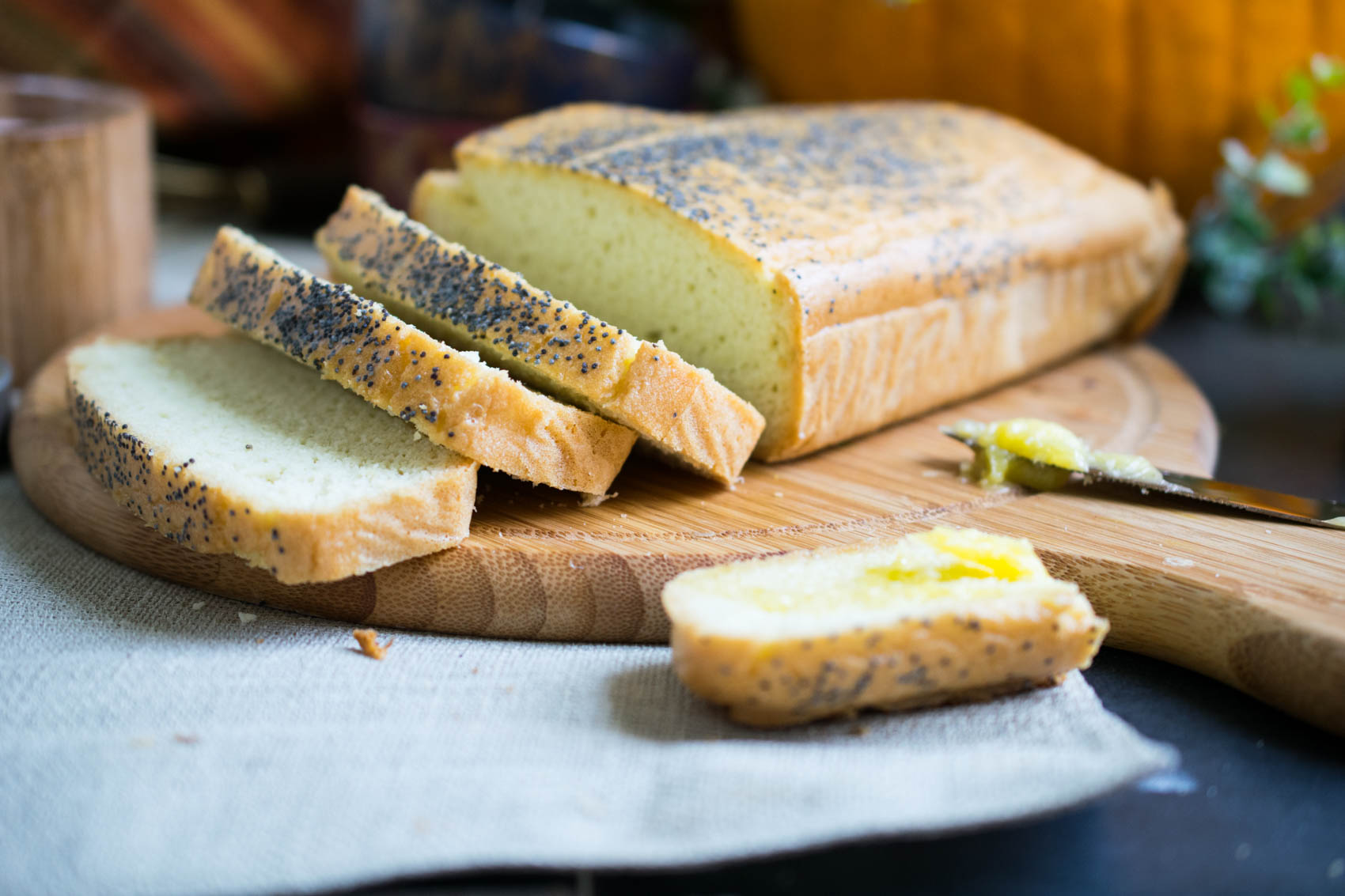 If you're following a ketogenic diet, you might think bread is out of the question.
A single slice of white bread contains 15 grams of total carbohydrates and almost no fiber[*]. Even whole wheat bread, although it contains more protein and fiber, is made up of 67% carbohydrates[*]. On the ketogenic diet, carbohydrates usually only make up 5-10% of total calories. For most individuals, that's around 20-50 grams per day. Fat and protein should make up 70-80% and 20-25% of total calories, respectively.
In other words, a single sandwich — with two pieces of white bread — will wipe out your entire carb intake for the day.
If you're trying to keep your carb count low, regular store-bought bread is out of the question. However, with alternative gluten-free flours like coconut flour and almond flour becoming more and more popular, there are plenty of low carb bread recipes available.
This keto bread is low carb and packed with healthy fats. With just 5 grams net carbs per slice, seven ingredients and 7 grams of protein, this recipe will satisfy any carb cravings while keeping you in ketosis.
What You Need to Make Keto Almond Flour Bread
Many keto or paleo bread recipes contain a variety of hard-to-find ingredients, such as psyllium husk powder or flaxseed powder. Lucky for you, this recipe contains the following easy-to-find ingredients:
Avocado oil (you can substitute olive oil)
Large eggs
Poppy seeds
You will also need a hand mixer, parchment paper and a bread loaf pan — no food processor required.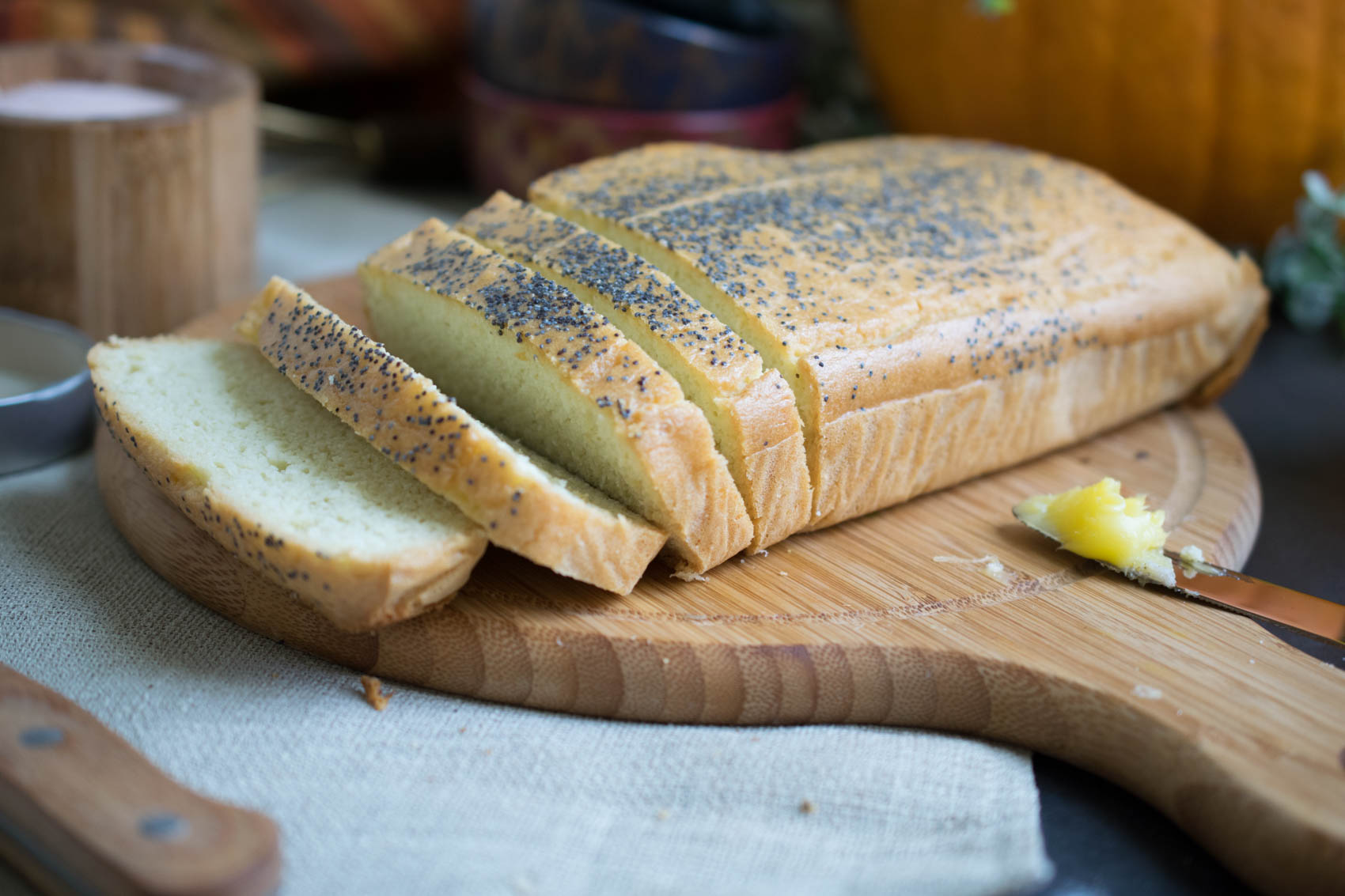 Benefits of Baking with Almond Flour
Almond flour is one ingredient every keto baker should keep stocked in their kitchen. It's incredibly popular in gluten-free and keto baking due to its versatility. On this site alone, you'll find it used in a number of keto recipes, including biscuits, pie crust and even birthday cake.
Almond meal and almond flour are the virtually the same thing, except almond meal has a more coarse texture, while almond flour is ground more finely. The only ingredient in both items is whole almonds, ground with the outer skin removed. One cup of either one contains 24 grams of protein, 56 grams of fat and 12 grams of fiber[*]. They are also a great sources of calcium, copper, magnesium and iron. One cup contains 24% of your daily values of iron, the most common nutritional deficiency and the lack of which is the leading cause of anemia[*].
Because of the high fiber and healthy fat content, almonds are believed to benefit cardiovascular health and reduce the risk of diabetes. They also help decrease inflammation and oxidative stress[*].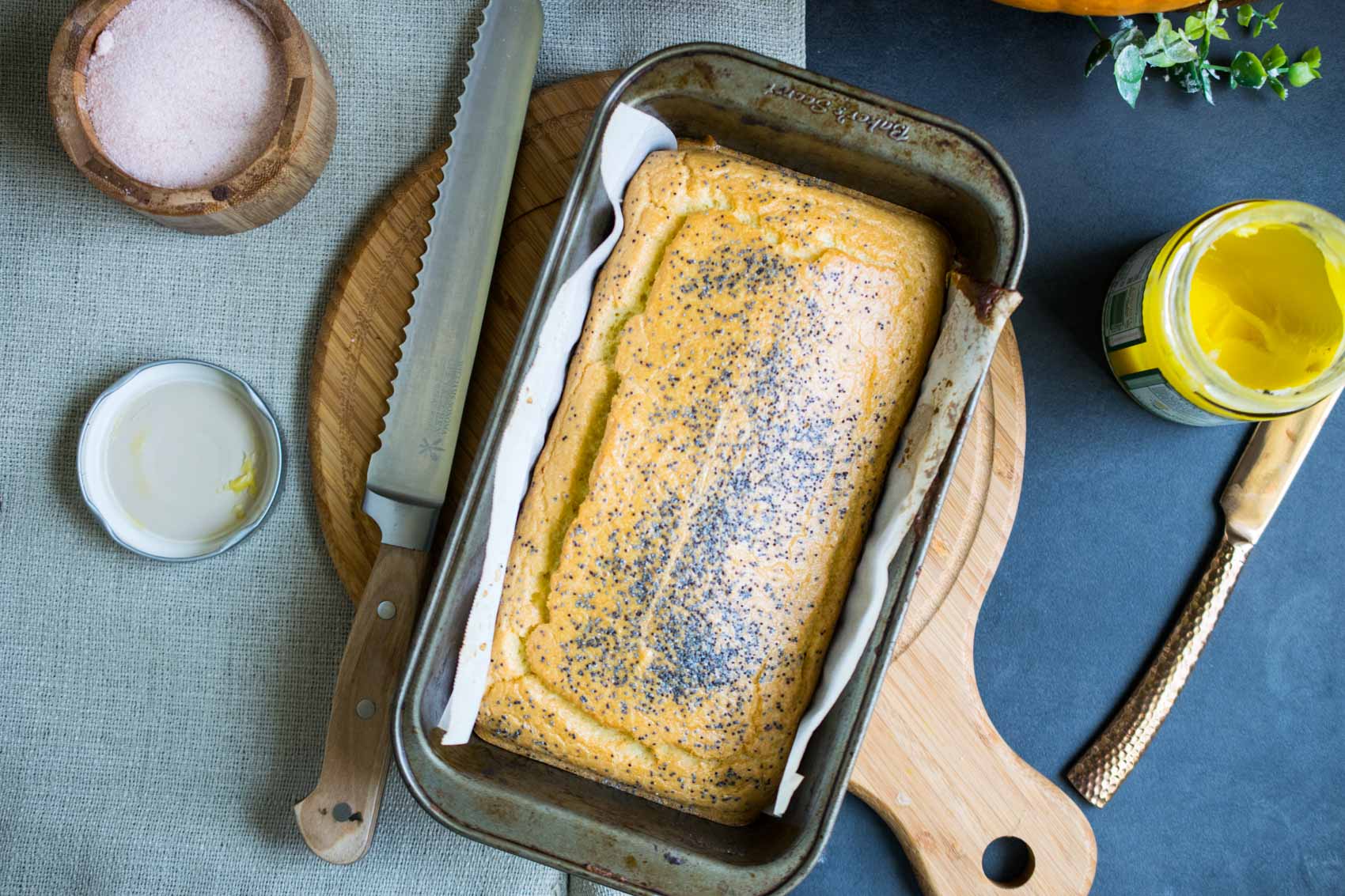 Health Benefits of Avocado Oil
Avocados are the one fruit you can enjoy in abundance on the keto diet. Avocados are filled with dietary fiber, potassium and magnesium. They also contain vitamins A, C, E, K and B. In some studies, avocados were shown to support cardiovascular health, weight management and healthy aging[*].
Avocados are made up of 71% monounsaturated fatty acids, 13% polyunsaturated fatty acids and 16% saturated fats[*].
Avocado oil is one of the few natural resources abundant in the compound beta-sitosterol. Beta-sitosterol is a phytosterol that has been shown to inhibit the division of cancer cells[*].
One of the most notable benefits of the addition of avocado oil to different dishes is its ability to increase absorption of other nutrients. Adding fats — avocado oil in particular — improves and increases the absorption of carotenoids (important antioxidants) in other foods[*].
Recipe note: If you can't find avocado oil at your local grocery store, olive oil will work just as well, and still contains a healthy dose of fats. The consistency of your dough should be the same whether you use olive oil or avocado oil, so follow the recipe accordingly.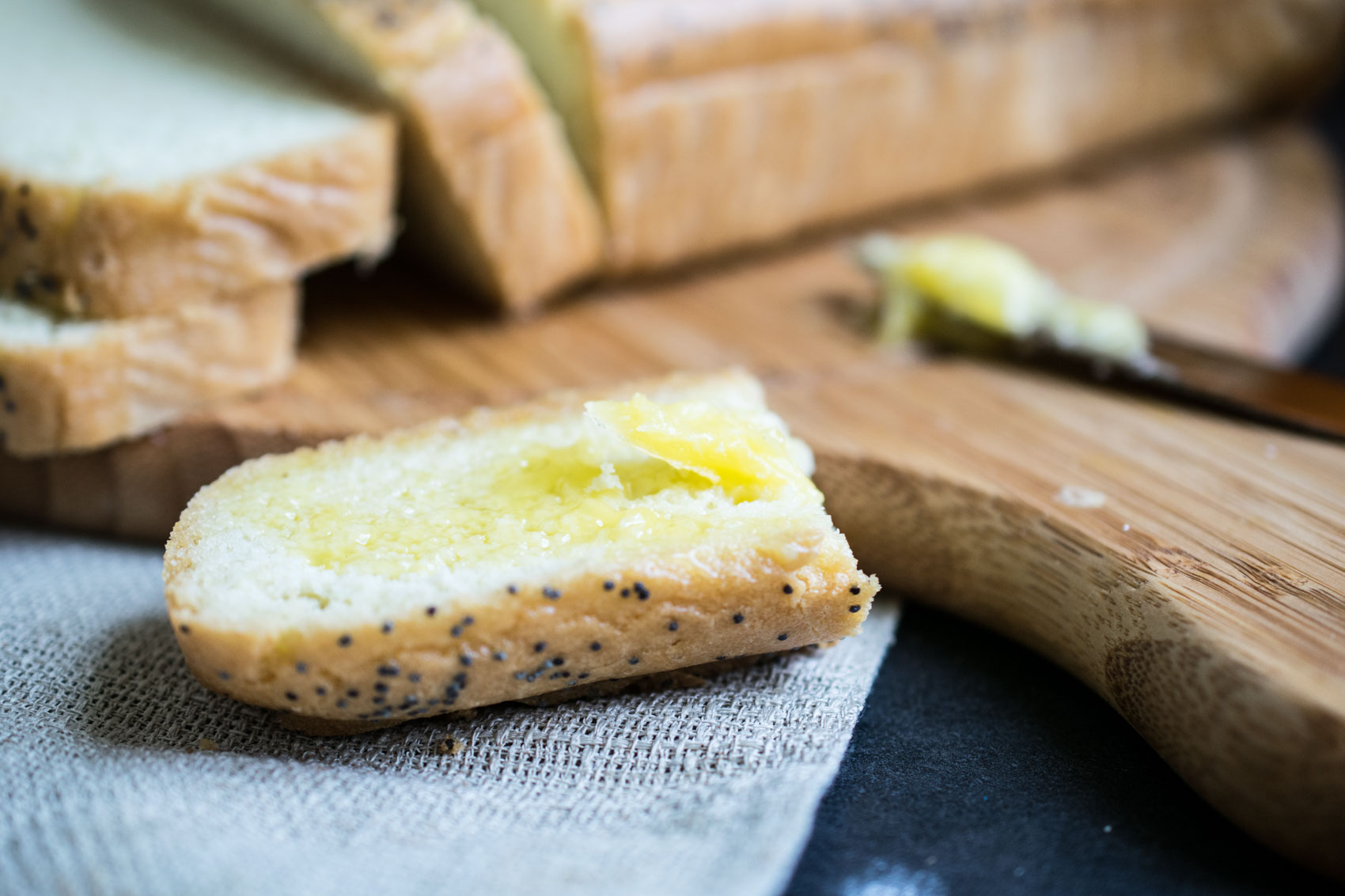 Health Benefits of Eggs
This keto bread packs five large eggs into a single loaf. Eggs have one of the lowest calorie to nutrient density ratios of any food[*]. They are a great source of protein, fats and micronutrients that benefit your health. One large egg contains just 71 calories and has over 6 grams of protein and less than one gram of fat. It's a good source of vitamin A, riboflavin, vitamin B12, phosphorus and selenium[*].
Eggs once had a bad reputation for their high cholesterol content. This led many individuals to eat egg whites only, even though the egg yolk is what holds the majority of the nutrients. New research shows that eggs raise your good cholesterol (HDL) cholesterol, not bad cholesterol[*]. Furthermore, science has shown that eggs are not connected with the onset of heart disease[*].
Egg yolks and egg whites are filled with antioxidants. Many egg proteins such as ovalbumin, ovotransferrin, and phosvitin and egg lipids such as phospholipids are reported to have antioxidant properties[*].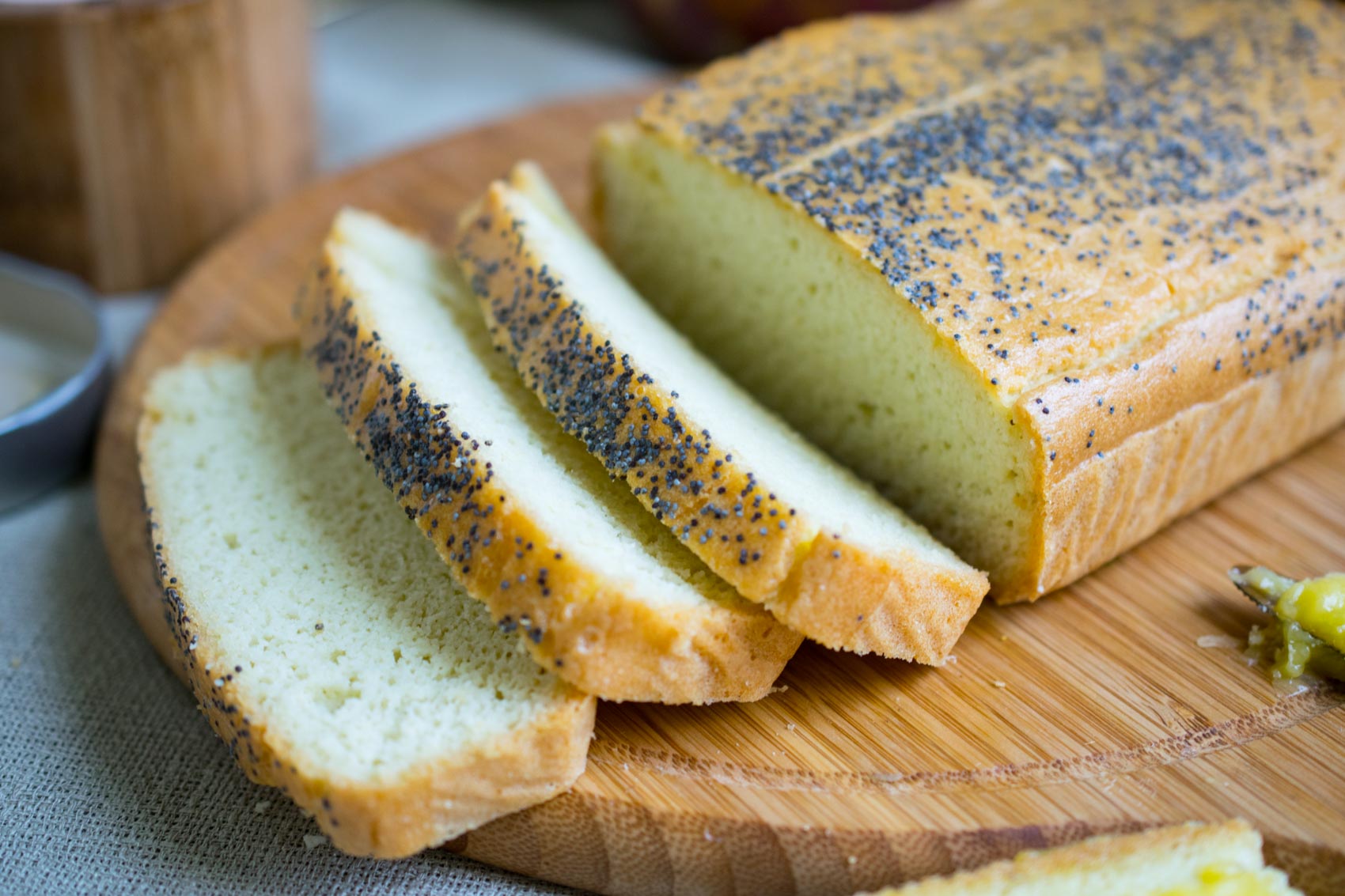 The Best Keto Bread Recipe
The next time you're craving freshly-baked bread, give this recipe a try. It takes roughly 10 minutes of prep time and 40 minutes to cook (or until the crust turns golden brown). Overall, you're looking at a total time of 50 minutes.
This gluten-free bread can be enjoyed for breakfast, lunch or dinner. Slice it up and serve it with melted butter, refry it the next morning into French toast or top it with smoked salmon and cream cheese for a low carb lunch option. If there are any leftovers, simply cover and store for up to five days.
Print
Almond Flour Keto Bread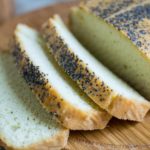 No need to stay away from bread while on keto. This keto bread recipe is a great way to fill you up but still ensure that you remain in ketosis.
Author:
Cook Time:

40 minutes

Total Time:

40 minutes

Yield:

1

loaf (about

14

slices)

1

x
Category:

Sides

Cuisine:

American
Instructions
You will need a hand mixer, loaf pan and parchment paper
Pre-heat oven to 400F. Line loaf pan with parchment paper.

In a large bowl mix together the almond meal, baking powder and salt.

While still mixing, drizzle in the avocado oil until a crumbly dough forms. Make a well (small hole) in the dough.

Crack the eggs open into the well. Add in the water and beat together, making small circles with your mixer in the eggs until light yellow and frothy. Then begin making bigger circles to incorporate the almond meal mix into it. Keep mixing like this until it looks like pancake batter. Smooth, light and thick.

Pour the  mix into the loaf pan, use a spatula to scrape it all out. Sprinkle the poppy seeds on top. Bake for 40 minutes in the center rack. It will be hard to the touch, elevated and golden brown when done.

Remove from the oven and let it sit for 30 minutes to cool. Then unmold and slice it.

Store in airtight container in the fridge up to 5 days. Toast to heat!
Nutrition
Serving Size:

per slice

Calories:

227

Fat:

21g

Carbohydrates:

4g

Fiber:

2g

Protein:

7g