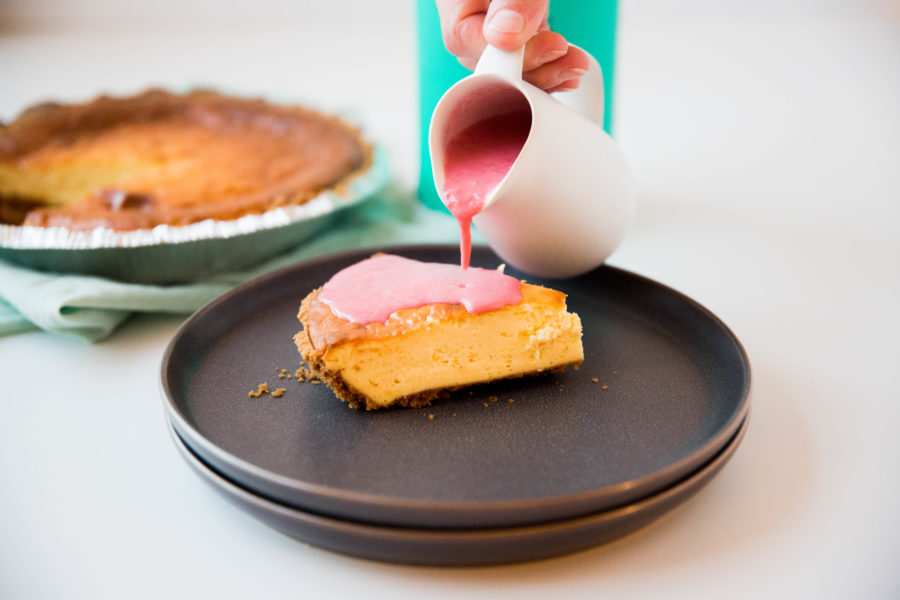 Who said the keto diet was limiting?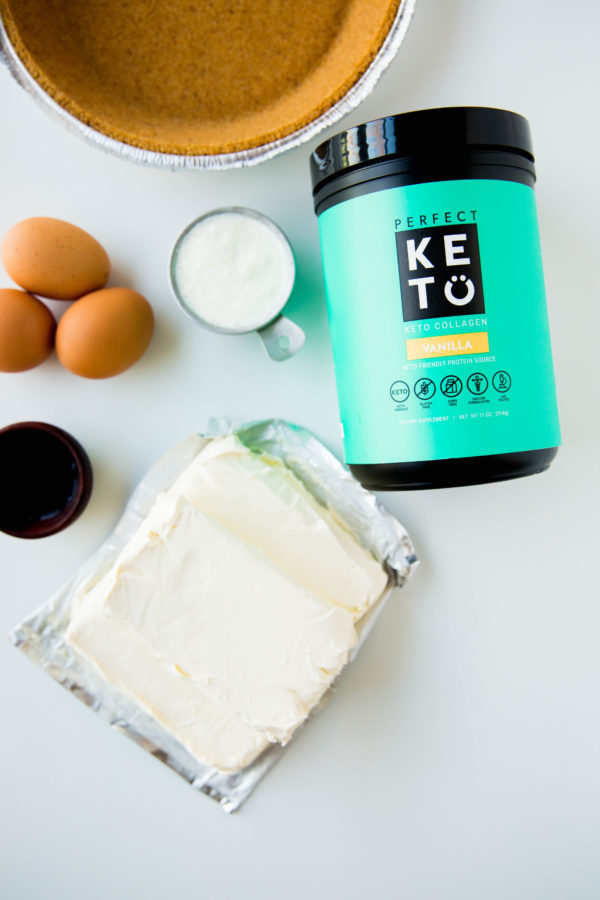 You can enjoy decadent, low carb desserts while on the keto diet. You just need to swap out a few ingredients.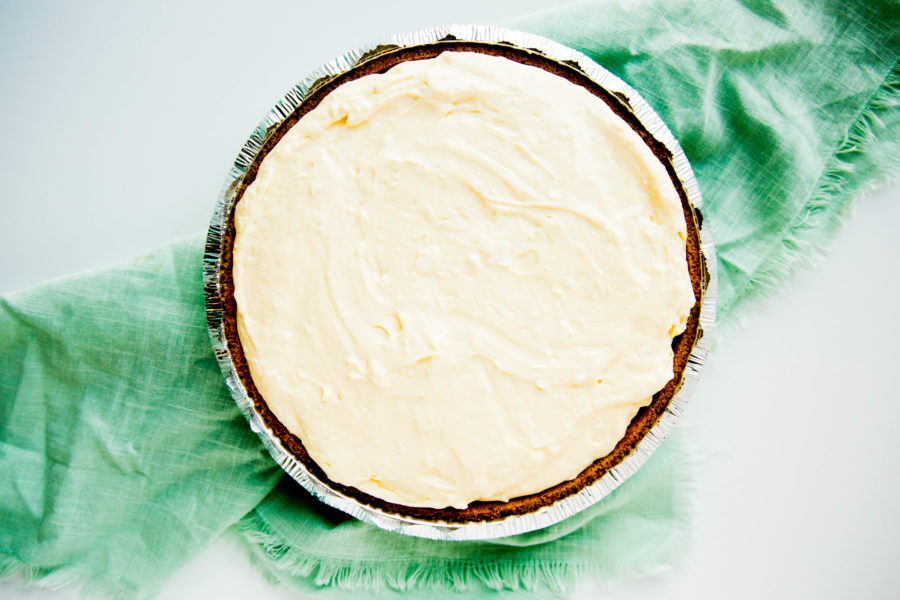 This low carb cheesecake recipe contains less than eight grams of net carbs per serving, to keep you in ketosis. Plus, it's filled with nutrient-dense ingredients you (and your body) will love. A zero-calorie sweetener, eggs and full-fat dairy make this dessert low carb, gluten-free and guilt-free. Nestled in a golden brown almond flour crust, this is sure to be the best keto cheesecake you ever try.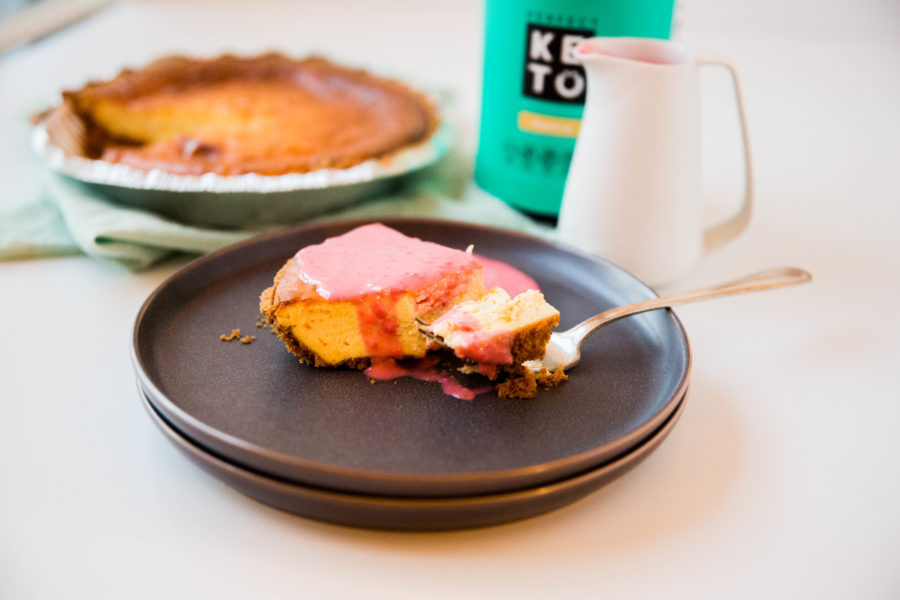 Keto cheesecake is perfect for those times when you're craving an indulgence, but want to keep your carb count low. Just check out the nutrition facts: each slice contains over 12 grams of protein and 49 grams of total fat. With no need for bulky kitchen equipment (all you need is a hand mixer), a quick prep time, and a total time of just one hour in the oven, the real question is — why wouldn't you want to make this keto cheesecake?
Keep reading past the recipe for more health benefits of this cheesecake!
Print
Low Carb Decadent Keto Cheesecake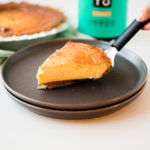 If you're looking for a low carb dessert, this keto cheesecake recipe only has 8 grams of net carbs per serving (plus, it is loaded with healthy fat).
Author:
Prep Time:

15 minutes

Cook Time:

2 hours 20 minutes

Total Time:

2 hours 35 minutes

Yield:

12

slices

1

x
Category:

Dessert

Cuisine:

American
Instructions
Preheat oven to 350 degrees.
Melt butter in microwave.
In a small mixing bowl, add all crust ingredients and, using your hands, mix together until well-combined.
Press crust mixture into bottom of 9 inch springform pan.
Bake crust for 8 minutes.
Remove crust from oven and reduce oven heat to 325 degrees.
Add filling ingredients to a large mixing bowl and, with a hand mixer, mix together until well-combined.
Bake at 325 degrees for 1 hour, 10 minutes.
After cook time has elapsed, turn oven off, open oven door 1 inch, and allow cheesecake to cool slowly in oven for 1 hour.
Remove cheesecake from oven, cover with foil, and chill in refrigerator for 4 hours prior to serving.
For optional Raspberry Cream Sauce, microwave frozen raspberries until just warmed, about 45 seconds. Add raspberries and heavy cream to blender and blend until smooth. Pour over cheesecake immediately before serving.
Nutrition
Serving Size:

1 slice

Calories:

517

Fat:

49g

Carbohydrates:

28.8g (Net Carbs: 7.5g)

Protein:

12.2g
Keywords: keto cheesecake
Benefits of Monk Fruit
A keto dessert? Isn't that an oxymoron?
Contrary to popular belief, low carb desserts are completely possible. You just won't be using bleached flour or granulated sugar to bake them.
The use of monk fruit makes this low carb recipe taste sweet, without the added calories or blood sugar spike. It's also what gives this dessert its flavor (with a little help from the heavy cream and vanilla extract).
Monk Fruit hails from Southeast Asia and, for centuries, has been used as a treatment for digestion and the common cold. Recently, it has started to be used to sweeten foods and beverage. The extract (juice) of monk fruit is between 150 – 200 times sweeter than regular sugar.
Monk fruit has zero calories — even though it's sweeter in taste than white sugar. Since it doesn't affect blood sugar levels, it's an excellent sugar substitute for those with diabetes, as well as those looking to lose weight or follow a low carb diet.
The Benefits of Almond Flour
Almond flour is gluten-free, low carb and packed with amazing health benefits (more on that in a second).
You'll find almond flour used frequently on keto recipes on this site, from keto to breakfast items (Keto waffles? Yum.). If you can't find almond flour at your store, simply purchase almond meal and grind it in a food processor until it reaches a finer texture.
1: Improves Blood Sugar Levels
Almond flour doesn't spike your blood sugar, making it a sound alternative to white flour, no matter if you're following keto or a low-calorie diet. The Journal of Nutrition published a study showing the positive effects of almonds on post-meal glucose levels. The study showed that almonds actually decreased the blood glucose levels of healthy individuals after their meals, along with their insulin levels and any oxidative damage. The control group consumed either almonds, potatoes, rice or bread. The participants that consumed the almonds actually had decreased levels compared to the other groups[*].
2: Improves Energy
While almond flour contains a significantly lower amount of carbs in comparison to other flours, it is jam-packed with nutritional benefits such as healthy fats, vitamins and minerals that make it an ideal source of energy. It also contains 6% of your percent daily values of iron[*].
Almond flour is abundant in riboflavin, manganese and copper. Riboflavin (vitamin B2) is a key component in energy production, cell growth and function and the development of red blood cells[*].
3: Improves Heart Health
The School of Life and Health Sciences at Aston University published a study showing the effects of the consumption of almonds on participants blood pressure. Not only did the individuals have a significant increase in the number of antioxidants found in their bloodstream, but had lower overall blood pressure as well[*]. All of these factors play a larger role in a healthy heart and reduced risk of heart disease (the number one killer in the country).
Selecting High Quality Dairy Products
Is it ok to consume dairy on a ketogenic diet? Yes, with one caveat: You have to be able to digest it properly. Those who are lactose intolerant or experience stomach upset due to dairy are best avoiding it altogether.
While you may be used to seeing cheesecake recipes that call for cream cheese or sour cream, this cheesecake filling uses butter and heavy whipping cream. When selecting your ingredients, be sure to choose high-quality products. Choose organic, grass-fed dairy whenever possible.
Organic, grass-fed dairy has higher amounts of omega 3 fatty acids and CLA (conjugated linoleic acid). These two nutrients are essential for reducing inflammation, promoting weight loss and increasing muscle strength. If cost is an issue, try shopping for products online on Amazon rather than at a health food store.
Luckily, the two dairy ingredients in this recipe are two choices we recommend. We do not recommend reduced-fat or fat-free products (which are typically loaded with carbs). Instead, we recommend full-fat choices, making butter and whipping cream excellent options. These two ingredients carry zero carbs and are loaded with good, saturated animal fats. Butter alone has 12 grams of total fat per serving, helping to keep you in ketosis.
Choosing Keto-Friendly Fruit
If you read this recipe and think you should skip the sauce, let's do a quick review on keto-friendly fruit.
The sauce drizzled over the top of your cheesecake is made of raspberries. While fruit is typically avoided on the keto diet due to its high carb content, berries are fine in moderation.
Berries are filled with antioxidants, are high in dietary fiber and have less sugar than other fruits. According to MyFitnessPal, raspberries have 15 grams of total carbohydrates, but due to the high levels of dietary fiber they contains just 7 grams of net carbs.  They also contain just 64 calories per serving.
Some high-sugar fruits (like mangos or watermelon) contain quadruple the amount of sugar you'll find in berries. Again, fruits should only be consumed in moderation on a ketogenic diet. But if you're splurging on a keto dessert, you might as well make the most of it.
Low Carb Keto Cheesecake
Besides being low-carb and keto friendly, this keto cheesecake recipe is sure to boost your health in a number of different ways. The next time you're at a loss for what satiating dessert fits within your health goals, try this recipe out.
This delicious keto cheesecake will be a hit at your next work or family gathering. Not only does it taste absolutely delicious, it is incredibly simple to make. The optional Raspberry Cream Sauce drizzled on top is a tasty, low-carb addition that is sure to please everyone who enjoys a slice.