Do you have a sweet tooth? Do you constantly fight sugar cravings? This keto birthday cake might be the sweet surprise you're looking for.
You can still enjoy some of your favorite treats — even though you follow a low-carb diet. And while these desserts shouldn't make up the base of your calories by any means, there's no reason you can't indulge on special occasions.
Now, if you're ready for a true indulgence, get ready to stick your fork into this keto birthday cake.
The Secret to Making Keto Birthday Cake
This delicious, gluten-free chocolate cake with vanilla buttercream serves a group of six, perfect for a small celebration. If you look at the nutrition facts below, you'll see one mouthwatering slice (or serving size) contains:
61 grams of total fat
10 grams of protein
5 grams of net carbs
No, that's not a typo — you're about to dip your fork in a chocolate layer cake that's smothered in buttercream, all for a fourth of the net carbs you'd get from a single apple[*].
How is that possible?
The secret to this cake recipe is stevia — a zero-carb, zero-calorie sweetener that's over 200 times sweeter than regular table sugar. Combined with almond flour, coconut cream, and vanilla protein powder in the cake batter, this is a protein-packed, low-sugar dessert you don't need to feel guilty about.
How to Make Keto Chocolate Cake
Most low-carb recipes call for three swaps in ingredients to make it compliant with a keto diet:
A gluten-free, grain-free, or alternative flour
A zero-carb sweetener
A healthy source of fat
You'll learn about each of these ingredients in depth below.
#1: Select a Low-Carb, Gluten-Free Flour
When following a keto recipe, particularly for a dessert, you will always swap out white or wheat flour for a low-carb alternative. Typically, desserts such as brownies, mug cakes, cupcakes, and other baked treats call for a few cups almond flour or coconut flour.
In this cake recipe, you'll use almond flour, which has several health benefits, including:
It's gluten-free
It's one of the lowest carb flour alternatives
It's abundant in several key vitamins and minerals, including vitamin E, calcium, potassium, iron, magnesium, and manganese[*].
Almond flour is also a suitable swap for those diagnosed with diabetes. The consumption of almonds has been shown to help reduce blood sugar and insulin levels[*].
2. Add a Dose of Healthy Fats
Most keto baked goods call for a healthy fat, and this cake calls for coconut cream, which is a dairy-free ingredient that can help lower blood pressure, boost your energy, and prevent a blood sugar spike[*]. Other cake recipes may call for coconut oil, melted butter, heavy cream, cream cheese, heavy whipping cream, or almond milk.
3. Sweeten With Sugar-Free Sweetener
All keto desserts usually have low-carb sweeteners such as powdered monk fruit, erythritol, Swerve, or stevia. This chocolate cake calls for stevia, which you'll learn about below.
What Is Stevia?
Stevia is an extract of the herb stevia rebaudiana. Native to South America, the stevia plant has been used for around 200 years to sweeten food and beverages. It's exponentially sweeter than regular white sugar but doesn't raise blood glucose levels. Since it's so sweet, you only need trace amounts (rather than the 1-2 cups of sugar most desserts call for) to bake a treat.
Why Use Stevia?
Stevia has been shown to:
Prevent blood sugar and insulin spikes after a meal[*]
Reduce oxidative stress, as it contains compounds apigenin and quercetin, which can help reduce free radicals[*]
You can find stevia in many forms — typically drops or powders. Powdered stevia is your best choice. Double-check the ingredients to make sure it's not combined maltodextrin, dextrose, cane sugar or artificial sweeteners, all of which can raise your blood sugar levels.
What Makes It So Sweet?
Stevia contains sweet-tasting compounds called steviol glycosides. There are 11 major steviol glycosides, each one up to 250–300 times sweeter than sucrose. A single stevia leaf can contain one steviol glycoside or several, which makes it incredibly sweet[*]. Plus, it doesn't contain a bitter aftertaste.
Now that you know the basics of a perfect keto cake, it's time to talk frosting.
How to Make Low-Carb Buttercream Frosting With MCT Powder
Buttercream is typically made by whipping powdered sugar and butter, but that doesn't mean you have to kiss it goodbye on keto.
Instead of powdered sugar, you can use vanilla MCT oil powder.
What Are MCTs?
MCT stands for medium-chain triglycerides, a form of saturated fatty acids. Unlike long-chain fatty acids, MCTs don't need digestive enzymes to be broken down for energy, so they're not stored as fat and are used as energy instead. Inside your body, MCTs boost blood ketones, so it's an excellent fat for keto dieters.
In addition, MCTs help:
Improve mental clarity
Boost digestive health
Support hormonal health and metabolic functioning
Prevent heart disease and diabetes
MCTs can be eaten through whole foods such as coconut, or you can get MCTs through supplements. However, in whole foods MCTs are mixed with other long-chain fatty acids, so you get smaller doses and don't get the quick energy boost.
Perfect Keto MCT Oil Powder contains MCTs extracted from organic coconuts and, in this recipe, it takes the place of vanilla extract for an incredible keto baking hack.
Bite Into This Keto Birthday Cake at Your Next Party
For your next celebration, bake this moist, delicious chocolate cake that will keep your carb count low and cravings at bay.
Thanks to the limited ingredients, limited carbs, and health benefits, this is the perfect cake to make next time you host a birthday, engagement party, or another special occasion. Cheers!
Print
Chocolate Keto Birthday Cake with Vanilla Buttercream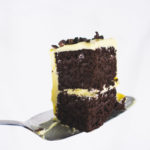 This delicious keto birthday cake recipe is low-carb and jam-packed with all the healthy fats you want.
Author:
Prep Time:

15 minutes

Cook Time:

25 minutes

Total Time:

40 minutes

Yield:

6

1

x
Category:

Dessert
Scale
Ingredients
4 ounces

stevia-sweetened dark chocolate, chopped

1/2 cup

coconut cream

2

large eggs

30

drops liquid stevia

2 tablespoons

cacao powder

1/2 cup

almond flour

2 teaspoon

baking soda

1/4 teaspoon

fine salt

1/2

pound of Kerry Gold butter (

1

block), softened

3

scoops Perfect Keto Vanilla Collagen MCT or MCT powder
Chocolate chips or cacao nibs
Instructions
Preheat oven to 350℉.

In a large microwave-safe bowl, melt the chopped chocolate for 30-40 seconds until soft.

Whisk until smooth, then mix in coconut cream and whisk until completely smooth.

If it thickens too much, microwave it for 10 more seconds. Then continue to whisk until glassy and smooth. Once it has cooled, mix the eggs and stevia in until fully combined then set aside.

Mix all of the dry ingredients in a separate bowl then fold them into the wet mix.

Transfer the batter to a cake pan lined with parchment paper. Bake for 25-30 minutes.

Let the cake cool before unpanning. Cut the loaf in the middle evenly as you're going to stack them.

Whip the butter and vanilla MCT powder until smooth. Add 2 tablespoons to one square, smooth it out and then stack the two cake layers. 

Apply one thin coat of buttercream — this is the crumb coat. Then set it in the freezer for the butter to harden, about 20 minutes.

 Remove from the freezer and finish applying the buttercream with a spatula. Garnish with chocolate chips.
Nutrition
Calories:

623

Fat:

61g

Carbohydrates:

8g

Fiber:

3g

Protein:

10g
Keywords: chocolate keto birthday cake