on October 11, 2017
A little spiced and toasty, these little fat bombs pack a ton of nutritional superstars from ceylon cinnamon, turmeric (with black pepper), and MCT powder! Feel the anti-inflammatory effects of an MCT fat bomb or two. This recipe is another way to incorporate healthy fats in a delicious treat. Pleasing the palate isn't the only thing these fat bombs will do; an unlikely ingredient packs an extra crunch of benefits.
Black Sesame Seeds
These tiny, oval seeds are recognizable in most Asian dishes and the bagels you probably used to love. They come in a variety of colors and add a nutty flavor with an extra crunch, but have you ever wondered what these tiny seeds actually do health-wise? Don't overlook all of these health benefits the next time you see these seeds in your food. They may be small, but they're definitely powerful. Check out what sesame seeds have to offer below.
Black sesame seeds is one of the oldest condiments known to man. Sesame seeds, in general, are highly valued for their oil. Along with the MCT oil powder included in this recipe, the black sesame seeds are a great source of energy for their high fat content. The healthy fats included are polyunsaturated fatty acids and omega-6.
Sesame seeds are also a great source of manganese, calcium, magnesium, iron, phosphorous, vitamin B1, zinc, selenium and dietary fiber, all of which contribute to alleviating health issues like rheumatoid arthritis and reducing risk of cancer.
 More Sesame Seed Benefits:
Excellent source of vitamins and minerals
Promotes bone health
Lowers cholesterol
Protects heart health
Boosts nutrient absorption
Improves blood pressure
Helps you sleep better
Alleviates anemia
Improves eye health
Relieves constipation and indigestion
Fun Fact
You might be familiar with the famous phrase, "Open Sesame!" from Arabian Nights. Well, that line reflects the distinguishing feature of the sesame seed pod, which bursts open when it reaches maturity.
Print
Anti-Inflammatory MCT Fat Bomb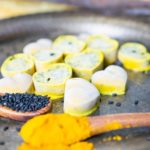 This anti-inflammatory MCT fat bomb recipe is another way to incorporate healthy fats in a delicious treat super packed with great nutritional benefits.
Author:
Prep Time:

5 minutes

Total Time:

5 minutes

Yield:

12

Category:

Dessert

Cuisine:

American
Ingredients
6 scoops Perfect Keto MCT oil powder
10 drops liquid Stevia
1 tsp turmeric
1 tbsp black sesame seeds
Pinch chinese five spice
Pinch of black pepper
1/2 tsp ceylon cinnamon
1/3 cup warm water
Instructions
In a small bowl whisk together all of the dry ingredients.

Add in the warm water and stir until well combined.

Distribute the mix evenly between 12 silicone candy molds, about 1 tbsp per mold.

Set in the freezer until hard.

Keep them frozen until ready to eat, they will melt fast!
Nutrition
Serving Size:

2

Calories:

81

Fat:

8

Carbohydrates:

2

Protein:

1
Keywords: anti inflammatory mct fat bomb