Classic tomato soup, with black pepper and a drizzle of olive oil or a dollop of sour cream, is a year-round classic recipe.
But are tomatoes really keto? With all of the classic tomato soup recipes out there, how can you be sure that your soup recipe will keep you in ketosis?
Not only is this recipe packed with nutrients from high-lycopene tomatoes and chicken broth or chicken stock, but it's also just 12 grams net carbs per cup.
Perfect for a weeknight meal with a keto grilled cheese sandwich, or a light afternoon lunch with some sprigs of fresh basil and creme fraiche, tomato soup is a classic dish that everyone loves.
This tomato soup recipe is:
Warm
Comforting
Savory
Creamy
The main ingredients in this homemade tomato soup are:
Optional additional ingredients
3 Health Benefits of This Creamy Tomato Soup
#1: Enhances Immunity
One of the best meals you can have when you're sick is soup. It's warm, comforting, nutritious, and it goes down nice and easy.
Adding garlic to your soup (or really any meal) when you're sick sends a boost of nutrients right to your immune system.
A compound in garlic, allicin, has antibacterial properties that can assist your immune system in fighting off colds and flu.
In one study, researchers gave a group of participants garlic supplements or a placebo and then assessed their immune health for 12 weeks. The group taking garlic supplements not only experienced significantly fewer colds but those who did get colds got over them faster[*].
#2: Protects Your Heart
Tomatoes are an excellent food for your heart; in fact, some people even say that tomatoes resemble the four chambers of your heart when you slice them in half.
The beautiful deep red color of your tomatoes comes from the carotenoid lycopene. Lycopene is an antioxidant compound, and tomatoes happen to be one of the richest dietary sources of this phytonutrient[*].
Consuming high levels of lycopene may protect your heart. Low levels of lycopene, on the other hand, have been linked to heart attack. This correlation suggests that low lycopene concentration may increase your risk for heart disease[*].
#3: Supports Gut Health
One of the primary reasons this soup is made with chicken bone broth, and not just a vegetable stock, is for the collagen that bone broth naturally contains. Collagen is the main structural protein found in your connective tissues. This includes the tissues lining your gut.
A component of collagen called gelatin, which is found in bone broth, may help alleviate inflammation in your gut lining[*].
What's more, researchers have found a link between low levels of collagen and inflammatory bowel diseases like Crohn's disease and ulcerative colitis[*].
Creamy Tomato Soup
Are you ready for some delicious, creamy tomato soup?
Start by gathering your ingredients and making sure they're prepped — this soup doesn't take long once you get going.
You can buy canned tomatoes (San Marzano tomatoes are best), but if you want to crush fresh tomatoes that's even better. Once your tomatoes are prepped slice your onion and chop your garlic cloves, so they're nice and fine.
Begin by sautéing your onion for two to three minutes, then add in your garlic and stir for about a minute. You'll want to get that rich aromatic scent of the onion and garlic going before you stir in your tomato paste.
Next, you'll add in three cups chicken broth, 1/4 cup heavy cream, and your canned or diced tomatoes and stir well to mix with the onions and garlic.
Finally, you'll add in your salt and pepper and allow the soup to simmer for about 15 minutes.
Once you're done simmering you can use a high-speed or immersion blender to mix everything until it's smooth and creamy.
Add more seasonings to taste, and finish with some fresh basil or parsley.
This soup pairs beautifully with keto rosemary crackers or a grilled cheese sandwich made with low-carb 90-second bread.
Print
Creamy Tomato Soup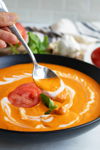 This creamy tomato soup is made with garlic cloves, diced tomatoes, yellow onion, and heavy cream. Keto grilled cheese sandwich and soup, anyone?
Author:
Total Time:

20 minutes

Yield:

4

-

5

servings

1

x
Instructions
Heat olive oil in a large pot set to medium-high heat. Add onions to pot and saute for 2-3 minutes. Add garlic and stir for 1 minute.

Stir in tomato paste and coat onions/garlic.  

Pour in chicken broth, tomatoes, salt, pepper, and heavy cream. Simmer for 15 minutes.

Add contents to a high-speed blender and mix on high until smooth. Adjust seasoning to taste. Garnish with fresh basil or parsley if desired.
Nutrition
Serving Size:

approximately 1 cup

Calories:

163

Fat:

6g

Carbohydrates:

17g (12g net)

Fiber:

5g

Protein:

10g