What is it about deviled eggs that make them so delicious?
Show up to Christmas dinner or Easter brunch with a bunch of hard-boiled eggs, and you'll get some sideways glances. But slice those bad boys in half and fill them with perfectly seasoned egg yolks and you're everyone's favorite guest.
This deviled eggs recipe takes it up another notch by adding in a keto favorite — avocados. If you thought mayo made your eggs creamy, you won't believe how rich the mouthfeel on these deviled eggs will be after adding in avocado.
With a prep time of only 10 minutes these gluten-free, low-carb appetizers make the perfect go-to when you want to impress but don't want to turn on your oven. Who has time for that?
This deviled egg recipe is:
Smokey
Filling
Fresh
Dense
The main ingredients in these keto deviled eggs are:
Optional additional ingredients:
3 Health Benefits of Avocado Deviled Eggs
#1: Boosts Heart Health
The oxidation of LDL cholesterol is one of the primary steps in the progression of heart disease. Keeping your inflammation and oxidative stress low are two essential pieces to the heart-health puzzle.
Eggs contain lutein and zeaxanthin, two phytonutrients that are excellent for heart health and the prevention of cardiovascular disease. Lutein, an antioxidant compound,  specifically helps regulate HDL (high-density lipoproteins) and LDL (low-density lipoproteins) and may help protect your heart by protecting LDL from oxidation[*].
The phospholipids in eggs may also have heart-protective effects. Pre-clinical trials have shown that egg phospholipids may help calm inflammation and regulate cholesterol, which may in turn help protect you from cardiovascular disease[*].
#2: Improves Gut Health
Another impressive nutrient that eggs contain in abundance is glycine. Glycine is an amino acid which studies have shown to be directly correlated with reducing inflammation in the gut and reducing the risk of diseases, like colitis[*].
In animal studies, glycine supplementation down-regulated inflammatory chemicals and alleviated diarrhea, ulceration, and inflammatory changes in the gut. These effects lead researchers to conclude that glycine could be a beneficial nutrient for those suffering from IBD (irritable bowel disease)[*].
#3: Supports Weight Loss
Eggs are loaded with protein; in fact, there are approximately 6 grams of protein in each egg. This high concentration of protein helps to satisfy your body's appetite in ways that other foods can't. Research shows that a diet high in protein can help enhance weight loss and fight obesity by acting on your satiety hormones and helping you increase your energy expenditure[*].
Additionally, the lutein found within eggs has been linked to improving physical activity — a key component in weight loss[*].
Lime juice can also play a contributing role in your weight loss goals. With its bold flavor, it can be a great substitute to incorporate into your meals instead of sugars that lead to weight gain. Additionally, research has revealed that limes may have the natural ability to encourage weight loss [*].
Avocado Deviled Eggs
Gather all your ingredients, prep your eggs, and get ready to make a delicious and satiating snack.
After you've allowed your hard-boiled eggs to cool, grab a medium-sized bowl, a cutting board, and a knife. Use the knife to slice the eggs in half lengthwise. Remove the yolks from the egg and set the yolks aside in the bowl.
Add the avocado, red onion, lime juice, cilantro, salt, and black pepper to the bowl with the egg yolks. Grab a fork and mash everything until it's evenly combined.
Now, grab your sliced egg whites, arrange them onto a platter, and fill each egg white with the egg yolk and avocado mixture, finishing each off with a small pinch of paprika and a little extra fresh cilantro.
Print
Avocado Deviled Eggs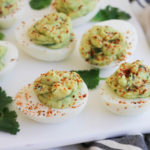 These Avocado Deviled Eggs come with little prep time and many health benefits that puts a new twist on a classic American dish the whole family will enjoy.
Author:
Total Time:

10 minutes

Yield:

12

pieces

1

x
Scale
Ingredients
6

Large eggs, hard-boiled

1

Large ripe avocado

1 tablespoon

lime juice or lemon juice

1 tablespoon

finely chopped red onion

2 tablespoons

finely chopped cilantro

1/4 teaspoon

sea salt or kosher salt

1/4 teaspoon

black pepper

1/4 teaspoon

smoked paprika or regular paprika
Instructions
Cut the eggs lengthwise, remove the yolks, and place eggs aside.

Add egg yolks, avocado, red onion, lime juice, cilantro, salt, and pepper to a small bowl. Mash and stir well to combine.

Arrange egg white halves on a large platter. Fill the egg halves with avocado/egg yolk mixture.

If you have a piping bag this can make the process a little smoother.

Garnish with a pinch of paprika and extra cilantro if desired.
Nutrition
Serving Size:

1 piece (½ egg)

Calories:

56

Fat:

4g

Carbohydrates:

1g

Fiber:

1g

Protein:

3g
Keywords: Avocado Deviled Eggs