When assessing if a food fits into your low-carb lifestyle, things aren't always cut and dry. Some vegetables like spinach, kale, and broccoli are clearly low in carbs.
Other vegetables can leave you scratching your head. Eggplant, due to its texture and semi-starchy taste, fits into this category for many people.
So let's dig into the nutritional value of eggplant, and reveal whether or not this versatile veggie has a place in your keto diet.
Is Eggplant Keto?
With a more substantial consistency than most other low-carb vegetables, you might be confused as to whether eggplant can work on a keto diet.
Although it has a carb-like consistency and definitely offers a chew that resembles more starchy vegetables when you take a look at the macros, you'll find that eggplant is indeed a keto vegetable.
Eggplant Nutrition
Eggplant, like most non-starchy vegetables, is actually quite low in calories. Here is a breakdown of the macronutrient profile of eggplant:
One cup of chopped eggplant contains[*]:
Calories: 20 kcals
Fat: 0.14 grams
Carbohydrates: 4.82 grams
Dietary fiber: 2.46 grams
Net carbs: 2.36 grams
Protein: 0.80 grams
Although the majority of eggplants macros come from carbohydrates, the calorie count is so low in this vegetable that it would take quite a bit of eggplant consumption to kick you out of ketosis.
Also, keep in mind that eggplant is not a vegetable that's typically consumed on its own. Many eggplant recipes come with significant sources of fat and protein — perfect for rounding out your keto macronutrient ratio.
In addition to its low-calorie count, that beautiful deep purple color of eggplant comes from phytonutrients called anthocyanins. Eggplants are particularly rich in an anthocyanin called nasunin.
Anthocyanins are potent antioxidants, which help your body combat oxidative stress. Nasunin, in particular, has been shown to impart antioxidant activity protecting lipids in your body — which are a crucial component to your cell membranes[*].
Other research shows that antioxidants from eggplant may protect against certain types of cancer and ward off DNA damage caused by free-radicals[*].
11 Keto-Friendly Eggplant Recipes
Looking for ways to incorporate eggplant into your diet? This veggie can be used in a variety of dinner recipes, snacks, and appetizers. One tip: when cooking with eggplant, don't peel off the skin, that's where all those crucial phytonutrients are. Once cooked, the skin becomes much softer and more edible.
Here are some delicious keto-friendly eggplant recipes:
#1 Roasted Eggplant Chips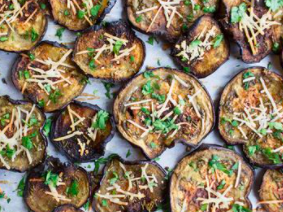 These crispy roasted eggplant chips are simple to prepare and make an excellent snack or appetizer. You can enjoy them as-is, or pair them with a low-carb sauce or dip.
Follow this recipe exactly as it is, or you can have fun with the herbs and spices to mix things up (but the parmesan cheese is an absolute must).
Also, depending on the size of your eggplant slices, these chips can either come out large or small — it's your call.
#2 Keto Eggplant Parmesan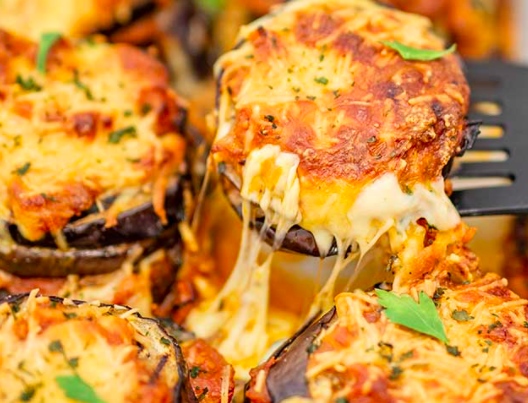 When you think about eggplant dishes, eggplant parm is likely the first thing that comes to mind. While most eggplant parm recipes call for breadcrumbs and other off-limits carbs, this recipe keeps things keto by skipping the gluten altogether. With 14 total carbs and 8 grams of fiber, each piece of keto eggplant parmesan is only 6 net carbs –you may even be able to enjoy more than one!
Side note: make sure you choose a low-carb marinara sauce to serve on your eggplant parmesan.
#3 Creamy Chicken and Eggplant Casserole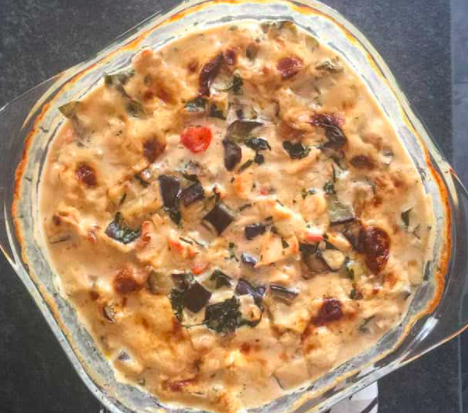 Casseroles are a fantastic option when you're looking for a lot of flavor in a little time. You can add whatever you want to a casserole; the cheese usually takes care of the rest. This creamy chicken and eggplant casserole makes a great option for dinners, potlucks; you name it. And don't be fooled by the name, this creamy casserole is dairy-free as well.
#4 Eggplant Lasagna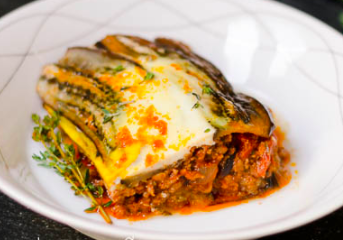 Did you know you could replace lasagna noodles with eggplant? Keto recipes are so ingenious sometimes. It may sound a little strange, but using this versatile veggie for an eggplant lasagna increases the nutritional value of your meal, while significantly cutting the carbs. This recipe serves eight, but you may want to double it and freeze some for later — it's that good.
#5 Roasted Baby Eggplant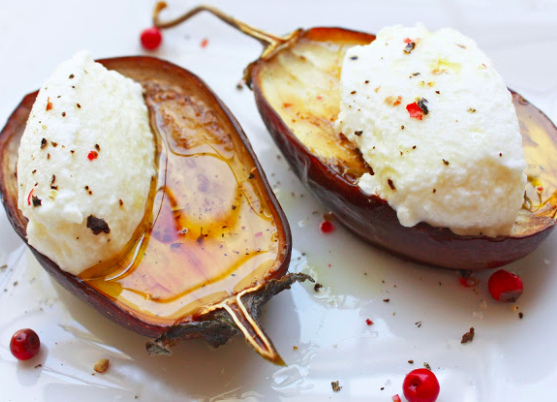 This recipe offers a simple yet delicious way to enjoy eggplant. With a drizzle of olive oil, some ricotta cheese, and the perfect blend of herbs, you'll have your dinner guests in awe of your cooking skills. Serve this roasted baby eggplant as an appetizer, a side dish, or make a bunch and serve it as your main course.
You can even use a large eggplant if you want to make the portion size more significant.
#6 Eggplant Bruschetta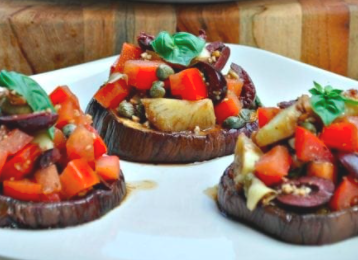 Who says bruschetta needs to include bread? In true low-carb fashion, you can utilize this hearty vegetable to serve your favorite Italian appetizer. Eggplant bruschetta not only offers a lower carb version of the original, but it's a fantastic way to get a mouthful of veggies in.
If you want to get really fancy, throw some mozzarella cheese and Italian seasoning on top.
#7 Roasted Red Pepper and Eggplant Dip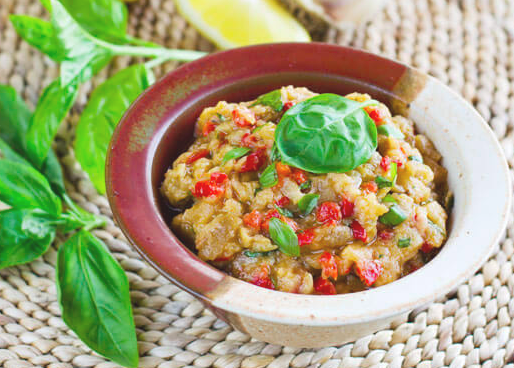 Eggplant makes an excellent addition to dips, as exemplified by this rich and creamy roasted red pepper and eggplant dip. This recipe hits all the dietary restrictions — low-carb, paleo, vegan, gluten-free, and dairy-free. You can feel confident whipping up a match of this dip and bringing it to any social gathering.
#8 Garlic Baba Ganoush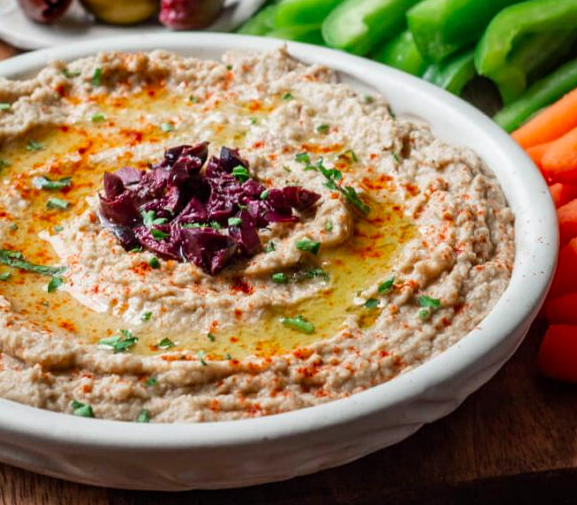 Baba ganoush is a Lebanese dish that's made with roasted eggplant, tahini, garlic, and olive oil. It's typically served with pita bread but goes great with veggies or on top of a grilled chicken dish. You can also pair this dip with your favorite keto bread or keto-friendly crackers.
#9 Lamb Stew Over Charred Eggplant Puree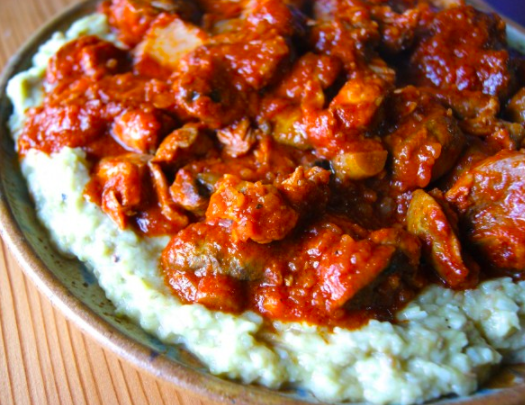 As if lamb stew wasn't flavorful and delicious on its own? Serving this stew over eggplant puree offers an extra hit of creamy goodness to your meal, and takes the place of higher-carb options like toasted bread or rice. This dish is the perfect comfort food on a cool winter night.
#10 Greek Eggplant Salad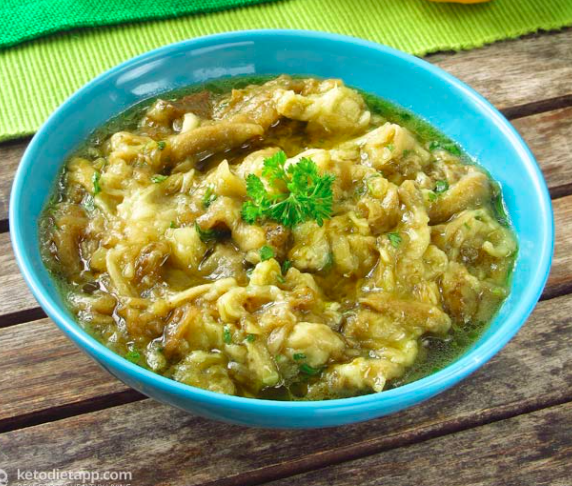 Greek eggplant salad, also known as Metitzanosalata, is a classic Greek dish that's made with just a handful of ingredients — eggplant, garlic, onion, olive oil, and herbs to taste. This light and delicious dish is the perfect side to a heartier protein main, and clocks in at only seven grams of carbs for a half cup.
#11 Fried Eggplant Rounds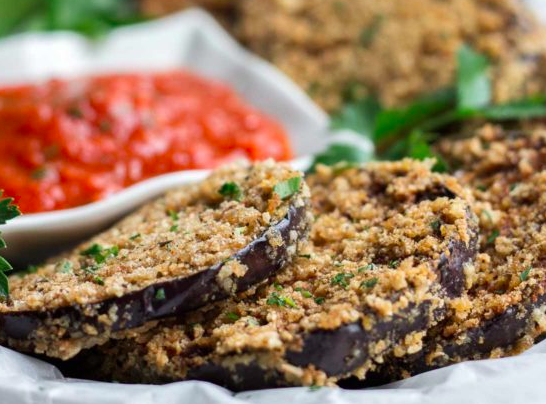 This recipe is like mozzarella sticks met eggplant parm, and they had a crispy and delicious low-carb baby. Cooked to a perfect golden brown color, you won't find any breading on these fried eggplant rounds — pork rinds only here.
The Takeaway
The verdict is in. You can add eggplant to your shopping list and stay in ketosis. The above low-carb recipes are a great place to start, but you can find even more if none of them are calling to you.
Keeping variety in your keto diet is crucial not only for the myriad of nutrients that different foods provide, but also to keep your taste buds happy.