It doesn't get more American than grilling up some hamburger patties with a few slices of cheddar cheese. But now that you're keto, you'll need to skip the hamburger buns.
Instead, these juicy BBQ ranch burgers are lettuce-wrapped and infused with BBQ sauce and ranch dressing flavoring for a burger recipe you won't forget.
This recipe calls for turkey, but you can easily swap the lean meat out for grass-fed ground beef patties or even buffalo or fatty lamb burgers.
Feel free to add some high-quality cheddar cheese, slices of bacon, and some low-carb barbeque sauce to really take these BBQ ranch burgers to the next level.
And of course, you'll want to keep your sides keto-friendly, so ditch the french fries and opt for some delicious grilled or roasted veggies.
These BBQ ranch burgers are:
Savory
Juicy
Delicious
Flavorful
The main ingredients are:
Optional additional ingredients:
Ranch dressing
100% grass-fed ground beef
3 Health Benefits of These BBQ Ranch Burgers
#1: Rich in Sulfur Containing Compounds
Both onions and garlic are rich in the mineral sulfur. Sulfur doesn't get as much attention as some other minerals like calcium or magnesium, but it plays a vital role in your health just the same.
Perhaps one of sulfur's most essential functions in your body is its role in the production of glutathione (GSH). GSH is an incredibly important antioxidant that's been linked to eye health, cancer prevention, cardiovascular disease, and neurological disease[*][*].
In fact, in many chronic diseases your levels of blood GSH decreases, signifying the importance of this antioxidant system for your immune health[*].
#2: Boosts Sleep Quality
The quality of your sleep can either set you up for success the next day, or create a massive roadblock to optimal brain function.
If you struggle with sleep, then you know what a huge impact a good night's rest can have on your entire body.
While many people joke about needing a nap after a big Thanksgiving dinner, turkey may actually play a big part in your post-feast lethargy. That's because turkey happens to be a fantastic source of the amino acid tryptophan.
Once absorbed, tryptophan is converted into a new compound called melatonin. Melatonin is a hormone which calms your body and lets it know it's time for sleep. It plays a crucial role in your circadian rhythm and signals your body that it's nighttime.
Several studies have shown that melatonin can increase your sleep quality, and decrease the amount of time it takes to fall asleep[*][*].
Therefore, if you're having trouble with your sleep, these BBQ ranch burgers will make an excellent meal for dinner time.
#3: Great Source Of Protein
Getting enough protein is essential to the health of every tissue in your body. Turkey is an excellent source of protein, and each serving of this recipe contains 22 grams.
There are many benefits associated with getting enough protein in your diet. From weight loss to satiety — protein is essential if your goal is optimal body composition.
When you eat protein, it increases something called "diet-induced thermogenesis." What this means is that, when you eat protein, it burns more calories per gram than other macronutrients. That's because your body has to work a bit harder to break it down, elevating the amount of energy needed for the process[*].
BBQ Ranch Burgers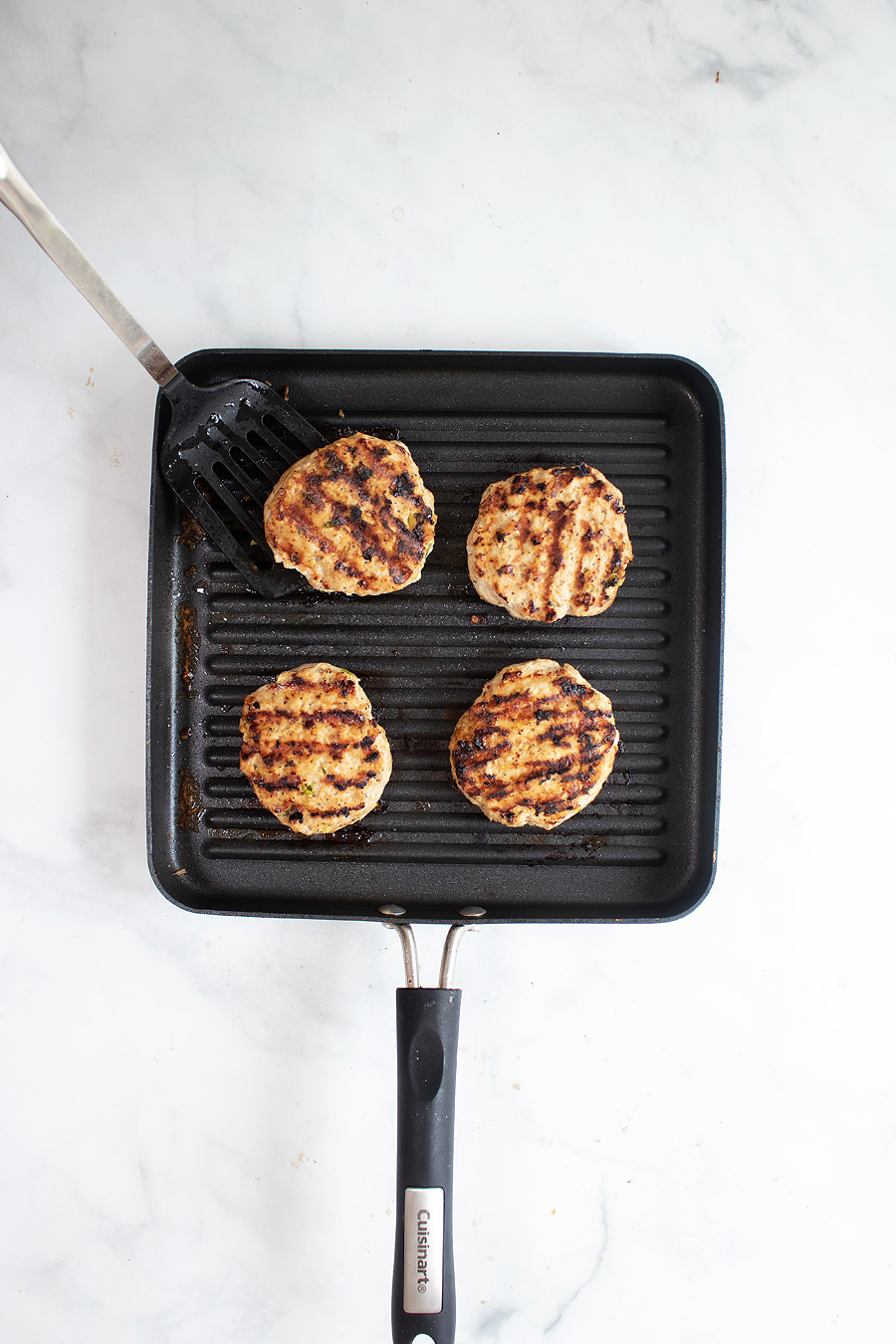 Bursting with BBQ and ranch flavor, and loaded with nutrient-packed ingredients, this isn't your standard burger recipe.
And what about the burger buns?
Well, you can wrap these barbeque ranch burgers in collards, sandwich them between these cheesy low-carb hambuger buns, or add even more delicious toppings — as long as they're low-carb.
This burger recipe offers so much flavor you could just eat the meat by itself if you wanted.
So fire up that grill, and get ready for some turkey BBQ ranch burgers.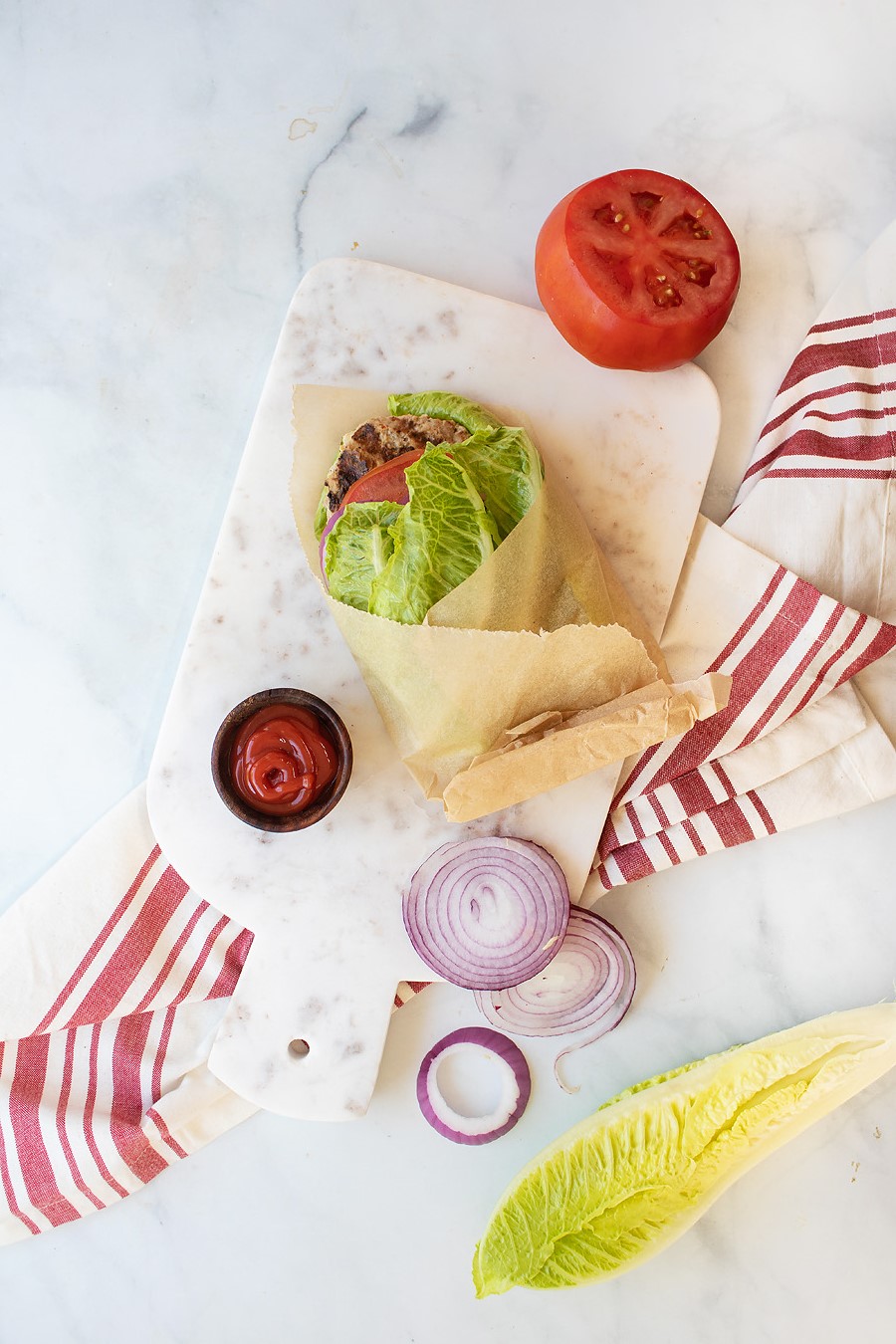 Print
BBQ Ranch Burgers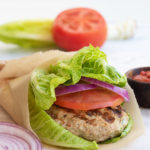 These juicy BBQ ranch burgers skip the hamburger buns and add ranch dressing. Top with avocado, slices bacon, a slice of cheese, or BBQ sauce for an American treat.
Author:
Total Time:

10 minutes

Yield:

4

burgers

1

x
Instructions
Add ground turkey, ketchup, and all seasonings to a large bowl. Using your hands, mix well until all spices and seasonings are well incorporated.

Divide patties equally into 4 burgers.

Cook on the BBQ or on a grill pan 3-4 minutes each side until completely cooked through.

Assemble burgers and add toppings of choice.
Nutrition
Serving Size:

1 burger (no toppings)

Calories:

170

Fat:

9g

Carbohydrates:

0g

Fiber:

0g

Protein:

22g
Keywords: bbq ranch burgers