Greens powders get all the attention but reds superfood powders are just as nutritious and also have a lot to offer in terms of nutrition. In this article, we are going to look at what reds superfood powders are, how they can benefit you, how to choose the right brand, and the seven best brands of reds superfood powder available on the market today.
What are Reds Superfood Powders?
Reds superfood powder are nutrient dense formulas made with naturally red foods such as hibiscus, pomegranate, strawberries, beets, and cherries. The powders are designed to be a quick and convenient way to boost your nutrient intake and fill in the gaps your diet might have.
What makes reds superfood powder is simply their color. As you might know, the color of plant foods is often a depiction of the nutrients present. In red foods, you can expect to obtain nutrients like lycopenes, vitamin A, vitamin C, and anthocyanins. Reds superfood powders are therefore often rich in these nutrients and more.
To make reds superfood powder, fresh fruits and vegetables are dried, ground and combined with other healthy ingredients. Reds superfood powder ingredients vary from brand which is why it is essential to do your research before choosing one.
Benefits of Reds Superfood Powders
Reds superfood powder offer a number of benefits including:
Antioxidant and Anti-inflammatory Support
Reds superfood powders are packed with antioxidants including lycopenes, vitamin C, and A. Antioxidants are essential for protecting the body from oxidative stress which is a result of the action of free radicals. Oxidative stress results in cell damage and has been shown to be a factor in many chronic diseases including cancer, diabetes, and heart disease (*). Furthermore, many of the compounds in reds superfood powders offer anti-inflammatory support through antioxidant action and other mechanisms.
Healthy Skin
The high levels of antioxidants, vitamins, and minerals in reds superfood powder can help to reduce inflammation and inflammation-related skin conditions like acne. The nutrients in reds superfood powder, particularly vitamin C, also support collagen production, a key element in skin health (*). Not only does collagen maintain skin elasticity but it also helps slow aging in the long term (* , *).
Stronger Immunity
Finally, reds superfood powder can help boost your immunity against infections and illnesses. These powders contain a range of vitamins and minerals that are essential for supporting a healthy immune response, including vitamin C, vitamin E, zinc, and selenium. These nutrients work to reduce the risk of infections and illnesses by strengthening the immune system and boosting the action of immune cells.
How We Select These Reds Superfood Powders
To select the best reds superfood powder, we considered four factors; ingredient quality, processing, macros, and micronutrient content.
Ingredient Quality
All the reds superfood powder on this list are made with the highest quality natural ingredients. Each ingredient is there for a reason therefore none of the powders contains any fillers or bulking agents. Additionally, no artificial preservatives, dyes, colors, or sweeteners are present.
Processing
While some level of processing is necessary to make reds superfood powder, high quality brands try to minimize how much they process their products. This is to ensure that minimal nutrient loss occurs and very few additives are added. You can rest assured that all the reds superfood powders on this list didn't go through unnecessary rounds of processing to extend shelf life or improve taste and appearance.
Macros
The third factor we considered in selecting the best reds superfood powders was the macro nutrient content. We looked at the amount of net carb content present in each powder to ensure that they have a minimal effect on blood sugar levels. You should be able to stay in ketosis even if you use these reds superfood powders on a regular basis.
Micronutrient Content
Lastly, we considered the micronutrient content of each reds superfood powder. We reviewed the quantity and diversity of micronutrients present in each powder to ensure that they provide adequate nutritional support. We especially looked out for vitamin C as it plays a significant role in many body functions including immunity, skin health, cardiovascular health.
Best Reds Superfood Powder Brands
1. Perfect Keto Reds Superfood Powder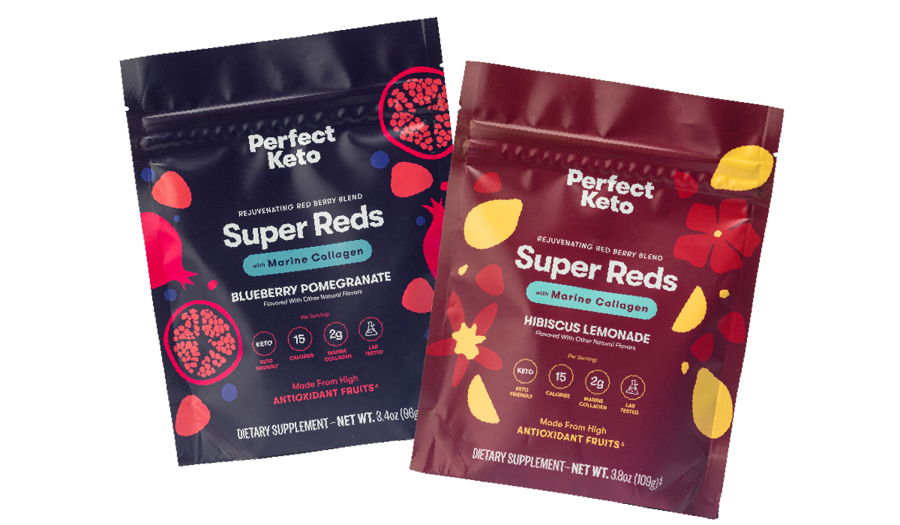 Perfect Keto Reds Superfood Powder is one of the best keto supplements for three reasons: high quality ingredients, rich nutrient content, and marine collagen.
Some of the health benefits you may receive from Perfect Keto reds include healthier skin nails and hair, natural boost in energy, stronger immunity, and anti-inflammatory support. The reds powder is able to achieve these benefits through its rich ingredient list which includes marine collagen, antioxidant fruit blend, celery juice powder blend, acerola, beet root powder, hibiscus, sour cherry, and pomegranate.
If you have previously found the taste of superfood powders repulsive, you are in luck. Not only is the Perfect Keto Reds Superfood Powder made to taste great even when mixed with just water, but it also comes in two flavors to cater to different tastes. The flavors available are Hibiscus Lemonade and Blueberry Pomegranate.
Perfect Keto Reds Superfood Powder is great for anyone but we think it will especially be ideal for you if you are looking to improve the health of your skin, nails, hair, and cardiovascular health. This is because of the collagen present that supports the health of all three systems. Better yet, Perfect Keto Reds Superfood Powder works even for those who don't eat beef since the collagen comes from white fish.
Pros
Natural high quality ingredients
Contains marine collagen
Comes in two flavors
Low net carbs
Cons
Not available as capsules or chews
2. Gundry MD Vital Reds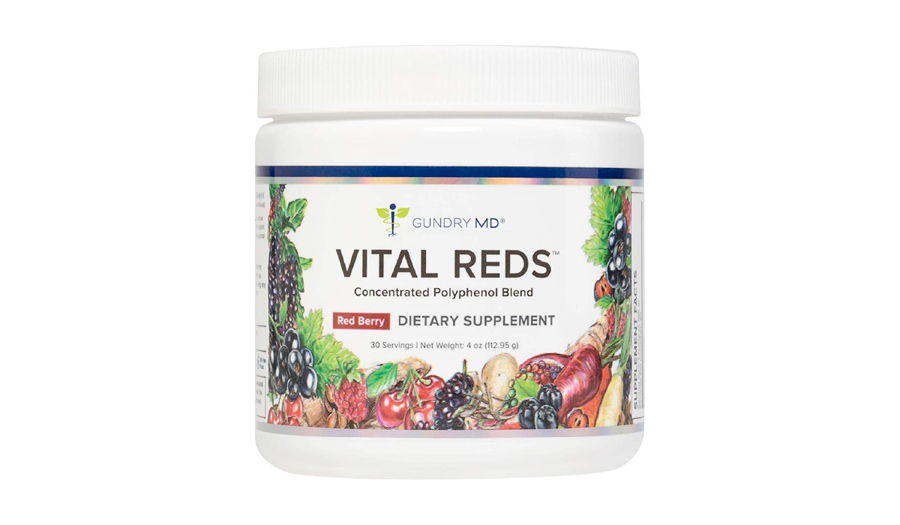 What makes Gundry MD Vital Reds supplement outstanding is its ingredient list. The powder contains a whopping 34 superfoods including carrot, organic apple peel, grape skin extract, aronia berry extract, organic flax seed, grape seed extract, acai fruit extract, acerola fruit extract, apple, apple pectin, and organic beet root.
It is therefore no surprise that this powder is capable of naturally boosting energy. In addition to energy, you will also enjoy a variety of vitamins, minerals, and phytochemicals. The key micronutrients in the powder are vitamin B12, B6, thiamin, riboflavin, niacin, folate, biotin, pantothenic acid, chromium and selenium.
Furthermore, Gundry MD Vital Reds also contain probiotics that support gut health. These can be beneficial to you if you tend to have digestive issues such as bloating, diarrhea, constipation, and gas.
Pros
34 different fruits
High in polyphenols
Caffeine-free energy
Contains probiotics
Cons
Mixing with water is sometimes difficult
Claims of fat burning ingredients
3. Organifi Red Juice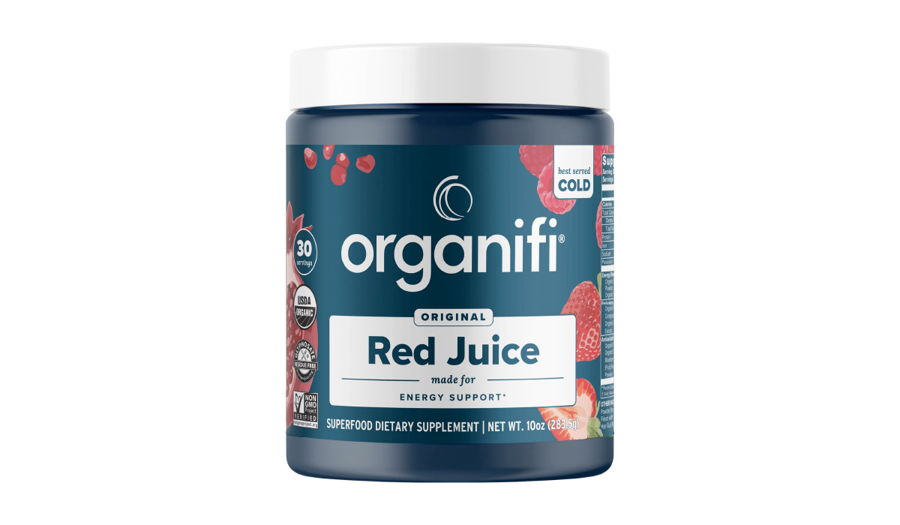 While all the red powder on this list are rich in antioxidants, Organifi is particularly outstanding. Organifi's antioxidant power comes from a fresh fruit blend which includes fruits such as cordyceps, freeze-dried berries, and lemon. In addition to the rich antioxidant content, Organifi also contains prebiotics which are essential for optimal gut health.
Organifi also provides you with a natural energy boost that doesn't come from caffeine. This means that you will get a sustainable energy boost that won't be followed by a crash. Despite its ability to boost energy, Organifi also contains a very small amount of sugar.
Similar to all the powders on this list, Organifi is free of additives, artificial preservatives, added sugars, and GMOs.
Pros
High in a variety of antioxidants
Contains prebiotics
Low net carb content
Cons
Slightly pricier than other reds powders
4. Super Beets Super Reds Powder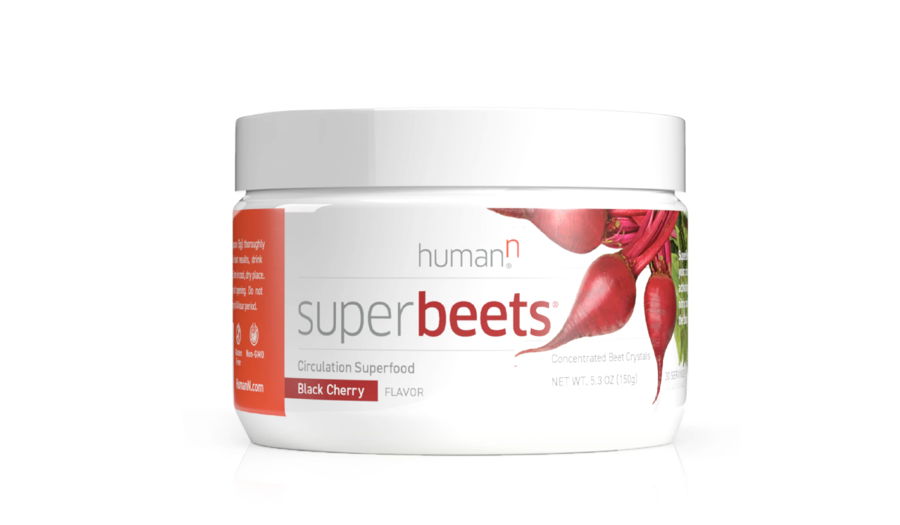 As the name suggests, this reds powder has beets as its main ingredient. Beets offer many health benefits but the most remarkable is their effect on cardiovascular health due to their nitric oxide content (*). Nitric oxide supports cardiovascular health by promoting the expansion of blood vessels, a process known as vasodilation.
Vasodilation in turn has a positive effect on the heart as it lowers blood pressure. Unlike other brands on this list, Superbeets only contains one ingredient. While beets are great for health, adding other fresh fruits and vegetables could make the powder even more beneficial for health.
Reviews of the taste of SuperBeets are mixed as some customers dislike the taste but say its worth the health benefits. However, most customers love the SuperBeets chews which are a great alternative if you also don't find the taste of the powder appealing.
Pros
Rich in nitric oxide
Multiple positive reviews on its effectiveness for blood pressure
Non-GMO
Vegan
Cons
Contains only one vegetable
Mixed reviews on the taste
5. Red Tonik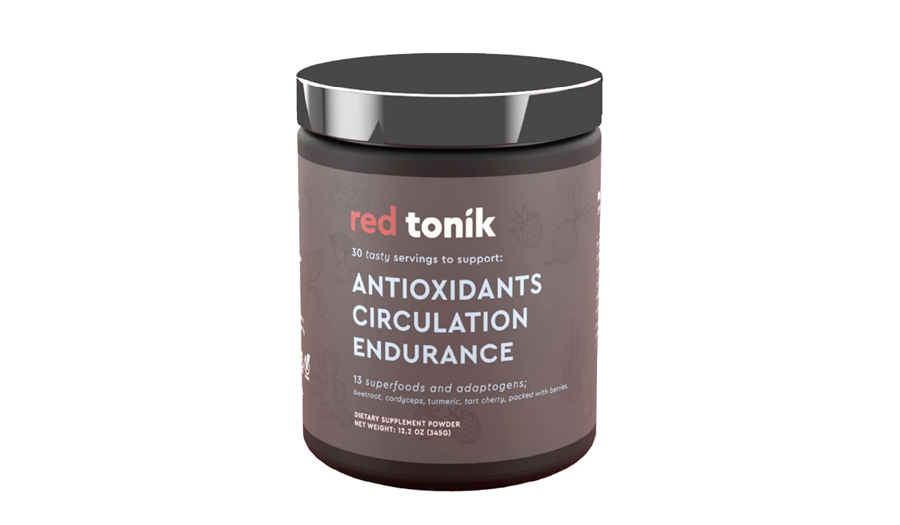 The Red Tonik Reds Powder is specifically made to support cardiovascular health, however, you can also expect to boost your stamina and antioxidant protection. Red Tonik prides itself on using the right doses of all ingredients to ensure that you get the most from each scoop.
Some of the key ingredients in the powder include beets, cordyceps mycelium extract, cranberry fruit powder, turmeric root extract, sour cherry fruit extract, pomegranate fruit powder, lycium (got) fruit powder, grape seed extract, trans-resveratrol (from japanese knotweed root extract), blueberry fruit powder, raspberry fruit powder strawberry fruit powder, and ginger root extract. Not animal products, fillers, or preservatives are present.
One more reason to love Red Tonik is its sweet refreshing taste. The powder has a delicious cranberry flavor that tastes just as good mixed with just water.
Pros
Transparent labeling
Contains adaptogens
Third party tested
Precise dosing
Cons
Often out of stock
Pricey
6. MacroLife Miracle Reds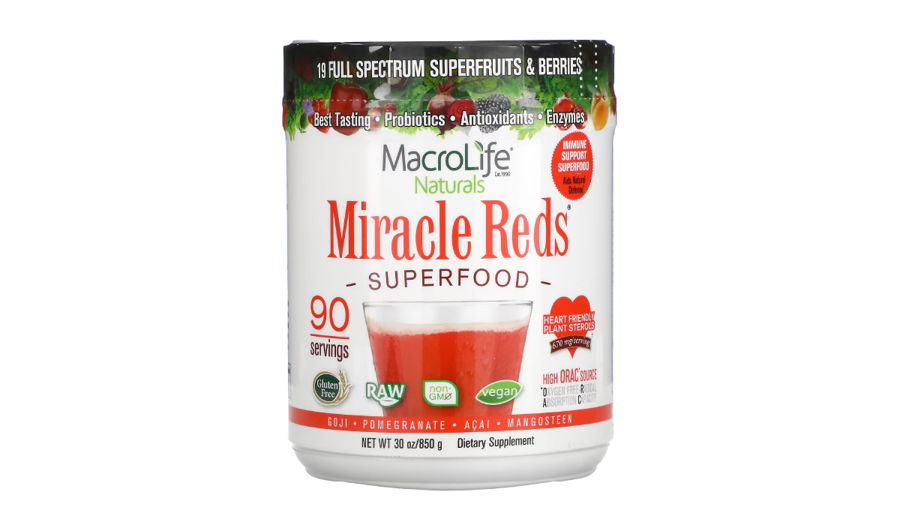 This reds powder is a vegan fruit blend that has been designed to supplement anyone's diet. The unique proprietary mix is doctor-formulated to be non-allergenic and non-GMO. From each scoop of Miracle Reds, you get a combination of vital vitamins, minerals, polyphenols, probiotics, digestive enzymes, carotenes, and phytonutrient antioxidants.
These nutrients come from a blend of highly nutritious fruits including blueberries, boysenberries, elderberries, blackberries, and red raspberries.
In addition to its stellar nutrient profile, Miracle Reds also come in a variety sizes to suit every lifestyle. The sizes available are 2 ounces, 10 ounces, 20 ounces, and 30 ounces. There is also an option for one-serving sachets. These are ideal for you if you would like to have your reds on the go or if you would like to spare yourself from having to measure your servings everyday.
Pros
Contains enzymes
Non-GMO
Organic and vegan
Comes in one-serving sachets
Cons
The sachets are quite pricey
4 grams of net carbs per serving
7. Peak Performance Organic Reds Superfood Powder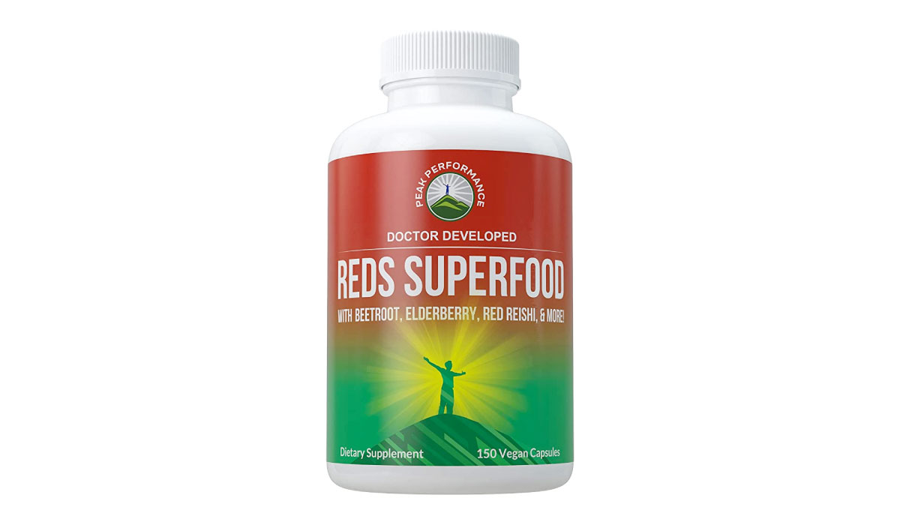 With over 25 whole fruits and vegetables, there is no doubt that Peak Performance Organic Reds are a wonderful addition to your diet. Not only is this delicious red powder nutritious but it is also vegan and low-carb.
The Peak Performance Powder is made with only the natural ingredients some of which include organic blackcurrant, organic strawberry, organic raspberry, organic blueberry, organic carrot, organic grapeskin, organic grapeseed, organic elderberry, organic pomegranate extract, organic turmeric, organic acerola cherry extract, organic beetroot, organic acai berry, and organic red reishi mushroom. It is free of any artificial additives and and the following allergens; soy, milk, egg, shellfish, corn, wheat, peanut, and gluten.
Pros
Over 25 fruits and vegetables
Vegan
Free of multiple allergens
Rich in antioxidants
Cons
Not third party tested
Comes in only one flavor
Frequently Asked Questions
How to choose the best red superfood powders?
To choose the best red superfood powders, consider the ingredient quality and nutrient content. Good quality reds superfood powders are made with natural ingredients and should provide a wide range of vitamins, minerals, and antioxidants.
What is the difference between red and green powders?
The main difference between red and green powders is the nutrient content. Green powders tend to be rich in iron, calcium, potassium, lutein, indoles and glucosinolates while red powders tend to contain more lycopenes, beta-carotene, and anthocyanins. For this reason, red and green powders offer slightly different health benefits and can therefore be used together as long as you watch your daily dosage.
Are reds superfood powders safe?
Yes, reds superfood powders are safe. However, this is only true if you choose a reputable brand that uses high quality natural ingredients that have a low-risk of side effects.
The Bottom Line
All in all, reds superfood powders are a wonderful option for anyone looking to improve their health, particularly if you are looking for healthier skin, antioxidant and anti-inflammatory support, and better immunity. To fully enjoy the benefits of reds superfood powder, ensure to choose a brand that uses natural ingredients and offers a wide variety of nutrients.
5 References