Set your keto meal plan on easy with these 20 low-carb slow cooker recipes.
Want to come home to a delicious keto meal that's been cooking all day while you're at work?
Need a way to save money on keto and still feed a crowd?
A Crock-Pot or slow cooker solves both these problems. And it's the closest thing you have to a private robot chef.
All you have to do is feed the Crock-Pot ingredients and press a few buttons for a tasty keto meal to appear.
So it's time you stop underusing this magical device and put these low-carb slow cooker recipes to work.
Why Use a Crock-Pot On Keto?
Crock-Pots make cooking keto meals easier.
One of the biggest complaints about starting a keto diet is all the time spent prepping, cooking, and cleaning in the kitchen.
But a slow cooker does most of this work for you.
And this small appliance may help you lose weight, reach ketosis, and finally achieve your health goals.
Crock-Pots Make Amazing Meals for People Who Hate Cooking Or Just Don't Have Time
Once you add the ingredients, a slow cooker works by heating the food low and slow. The steam released by the food as it cooks bastes your dishes so they stay juicy despite hours of cooking.
Those are hours you don't have to spend standing over a stove in the kitchen. So you can squeeze in a workout, take care of chores, do homework with the kids, etc.
You Can Batch Cook Like a Pro
Most low-carb Crock-Pot recipes make multiple servings. So you'll cook and clean once to have meals for days. Or you can feed a crowd without spending a ton.
You can even freeze portions for later.
Having a keto lunch ready for the next day will also help you avoid spending money at the drive-thru.
Slow Cookers Make Cheaper Cuts of Meat Taste Fancy
The low and slow cooking method breaks down tougher meats so they melt in your mouth. You can make some of the best cheap keto meals using a slow cooker.
Spend the money upfront on a slow cooker and you'll reap the rewards of delicious, affordable keto meals for years to come.
Check Amazon or home good stores like Target or Bed, Bath, and Beyond for deals on slow cookers, Instant Pots, and Crock-Pots. You can find a solid one for under $50.
3 Low-Carb Recipes for Dynamite Keto Chili
Keto chilis ditch the beans but not the satiating flavor of slow-cooked meat and seasonings.
These four chili recipes will warm your bones without blowing your macros:
#1. 30-Minute Hearty Keto Chili Recipe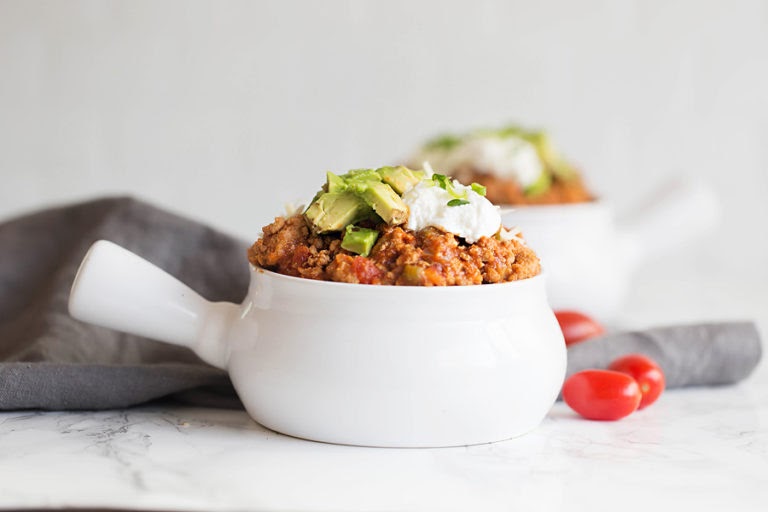 Don't be fooled by the name. This versatile 30-minute keto chili bursting with Tex-Mex flavor works well stove-top or in your slow cooker. A serving adds less than four net carbs to your day for 18g of protein.
#2. Keto Low Carb Chili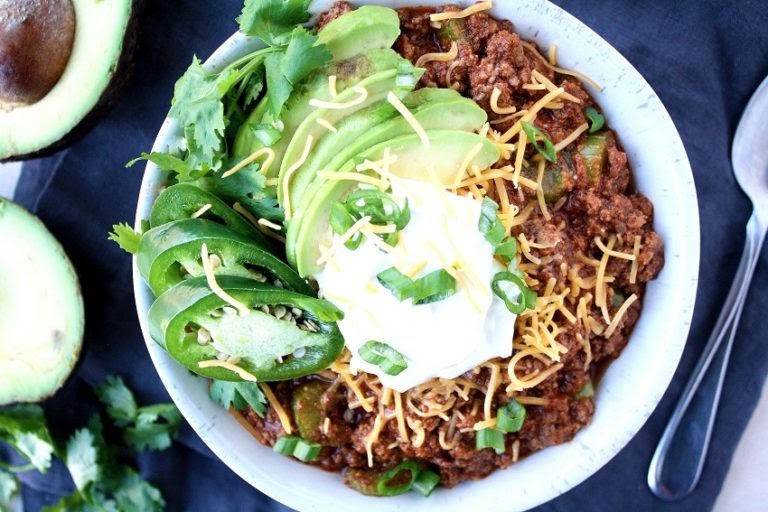 This hearty low-carb keto chili recipe flavors grass-fed beef with chipotle chili powder, garlic, and cumin. There's celery for body and bone broth for added health benefits.
Top with cheese, sour cream, cilantro, and green onions. The recipe makes six servings and each only has five grams of net carbs.
#3. Low-Carb Turkey Chili Recipe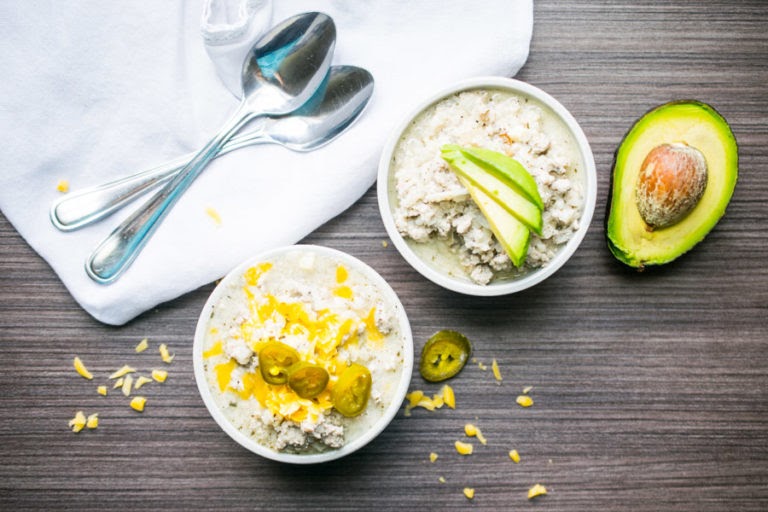 Swap out the traditional ground beef and lighten up with this easy white turkey chili. This recipe also replaces beans with cauliflower rice and tomatoes with coconut milk.
This unique, gluten-free recipe clocks in at less than six net carbs.
4 Keto Slow Cooker Chicken Soups
Is a bowl of chicken noodle soup your go-to when the weather gets chilly?
You'll find the same flavors (sans noodles) in these Crock-Pot chicken soups:
#1. Soothing Keto Chicken Soup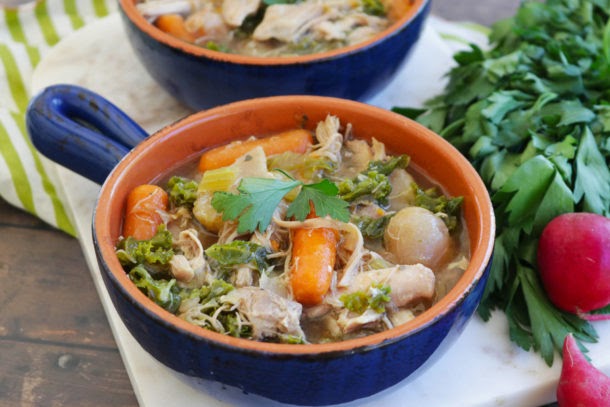 Prep this cozy, comforting keto chicken soup ahead of time for ultra-busy days.
You'll need chicken thighs, garlic, bone broth, onions, and carrots. But what you may not expect is the radishes and kale. Definitely worth trying.
#2. Easy, Creamy Keto Chicken Soup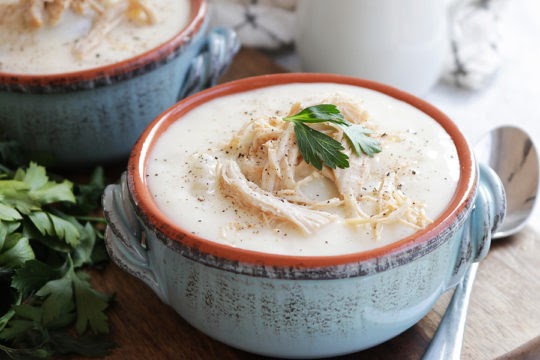 Unlike canned choices, this easy keto cream of chicken soup contains zero hidden carbs from fillers and thickeners. And it calls for shredded rotisserie chicken breasts to save time and use up leftovers.
#3. Spicy Keto Buffalo Chicken Soup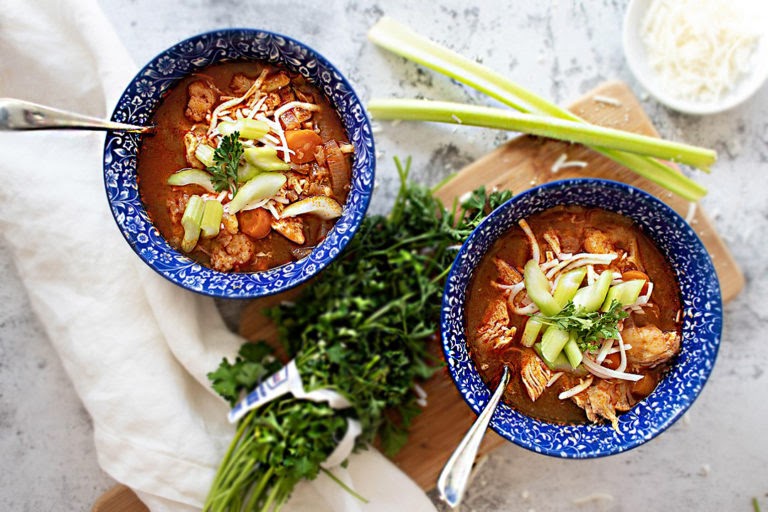 Make this Buffalo chicken soup recipe when your hands are too cold to eat Buffalo wings. It's also way less messy.
Top each bowl with crumbled blue cheese and celery for maximum wing-like effect. Each serving delivers 27g of protein for just six net carbs.
#4. Zesty Keto Mexican Chicken Soup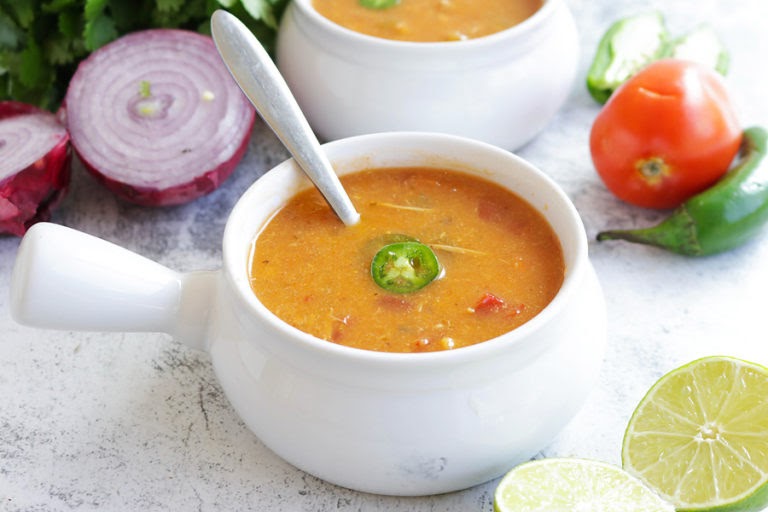 This zesty take on chicken soup gets a glow-up from Mexican-inspired spices and veggies.
You'll use your slow cooker to make the shredded chicken first. Then you'll toss the cooked chicken back in the Crock-Pot with all the other ingredients to marry the flavors.
5 Comfort Food Bowls for a Low-Carb Diet
Want something a bit heartier than chicken soup but just as easy?
These keto slow cooker meals will become your favorite low-carb comfort foods:
#1. Keto Beef Stew: Low-Carb Comfort Food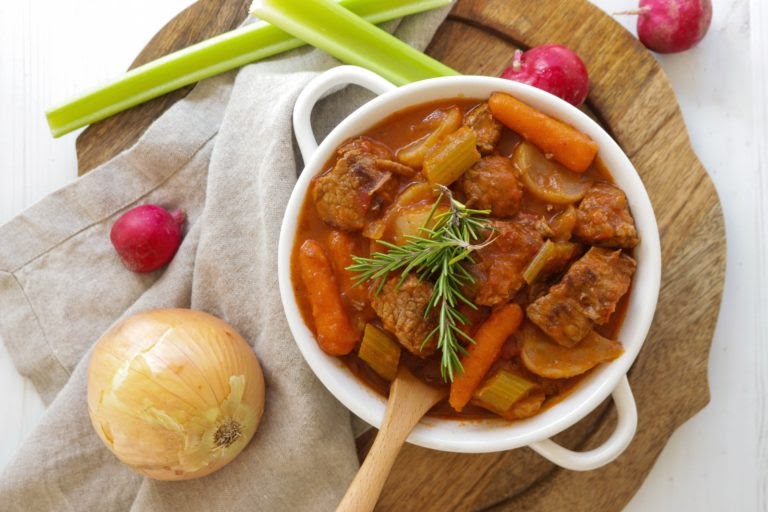 Keto beef stew is one of the best examples of a classic recipe turned low-carb. Instead of carby potatoes, you'll find super low-carb radishes. You could also use other keto potato substitutes like cauliflower, roasted celery root, rutabaga, and turnips.
Make this on a chilly night and melt into a warm, hearty bowl of heaven.
#2. Spring Keto Stew with Venison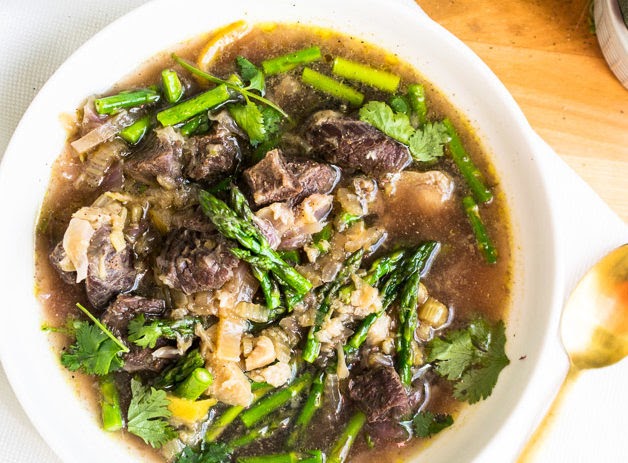 Would you eat more venison if you knew a serving of this keto venison stew provides 32g of protein? How about if it was stewed in bone broth with garlic, celery, cabbage, and asparagus?
Go ahead and make this slow cooker recipe just once. You may be surprised by how much you dig it. And if not, you can always revert to beef (the flavor profile still works).
#3. Low-Carb Lasagna Soup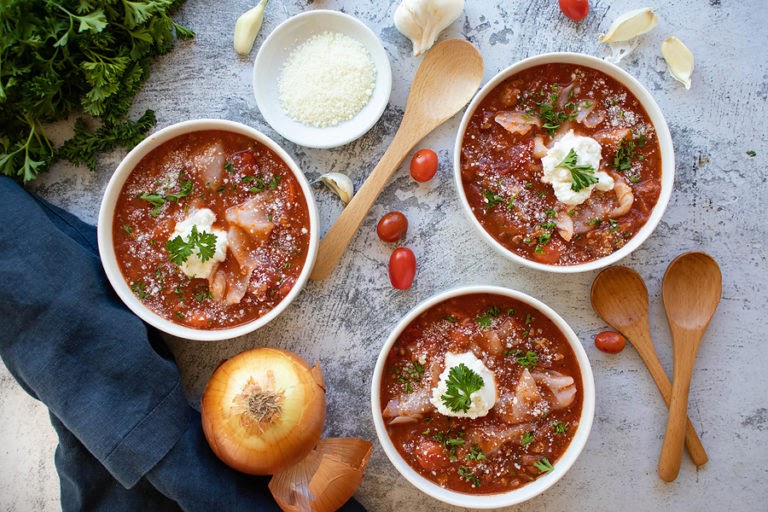 This low-carb lasagna soup has everything you love about lasagna minus the mean carbs.
First, you'll make a quick "sauce" with garlic, Italian sausage, onion, crushed tomatoes, and Italian seasonings. Then you'll stir in sliced zucchini noodles to sub for pasta.
Top each bowl with a dollop of ricotta cheese and a sprinkle of parmesan when done. *Chef's kiss*
You could also add pre-cooked keto meatballs if you're craving extra protein.
#4. Weeknight Italian Turkey Casserole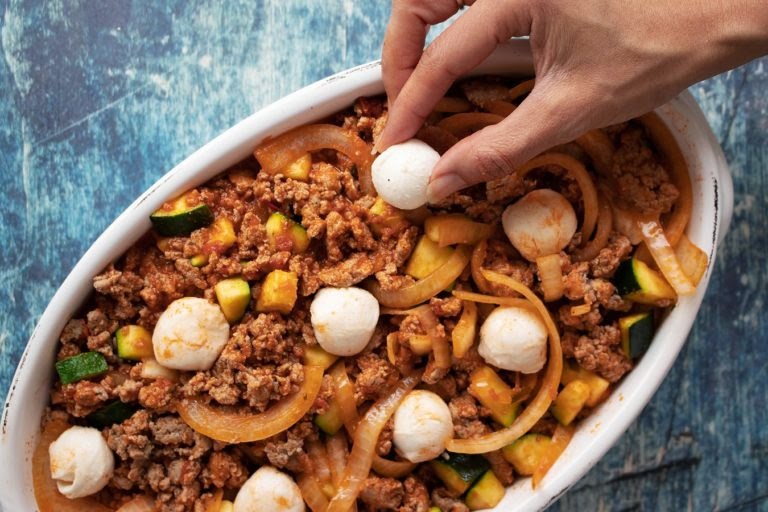 Casseroles are the easiest and tastiest meals for keto dieters short on time and cash.
This Italian turkey casserole recipe combines all the perks of a casserole with the simplicity of using a slow cooker. It's a two-fer you can't pass up.
#5. Slow Cooker Taco Soup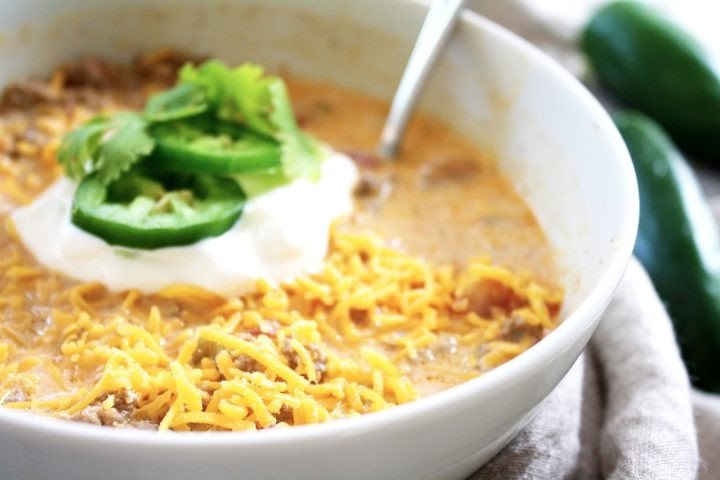 Too cold and snowy to hit up your favorite taco truck? Try this slow cooker taco soup with an almost perfect recipe rating (4.9!).
You'll need grass-fed beef, taco seasonings, and a can of diced tomatoes with green chiles. The addition of cream cheese, heavy cream, and beef broth creates a smooth, velvety, cheesy bowl of warmth.
Garnish with sour cream, cilantro, jalapeno, more cheese, and whatever else you like in your tacos.
5 Filling, Easy Slow Cooker Main Dishes
Your slow cooker can be used for more than soups and stews.
These hearty, filling recipes for main dishes will help you stick to your macros and never go hungry. Your whole family will happily devour them too:
#1. Ultimate Low Carb Keto Pot Roast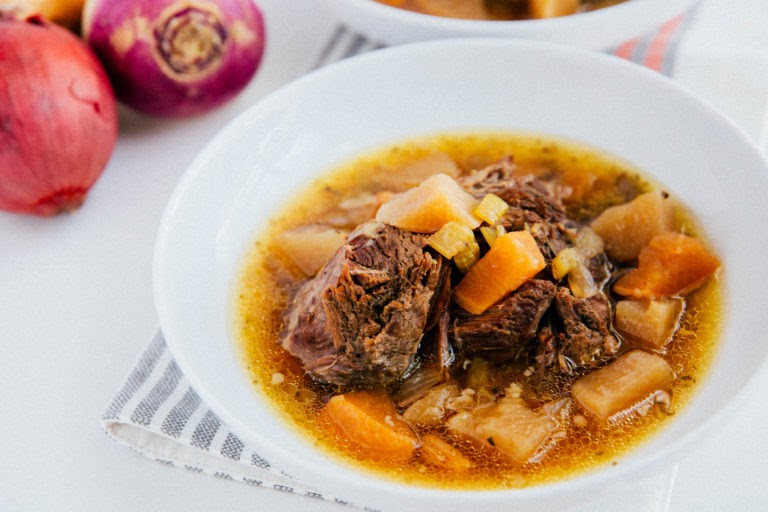 Your keto meal plans need this savory keto pot roast recipe come autumn and winter. It contains healthy ingredients to keep your immune system strong through cold and flu season.
Here's the best part: one serving dishes up almost 80g of protein and 29g of fat for just six net carbs. Now you see why it's the ultimate keto pot roast recipe.
#2. Holiday Pork Roast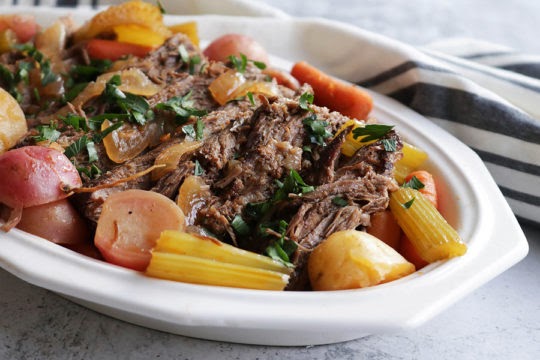 Make weeknights feel as special as holidays with this keto pork roast. You'll love the smells wafting from the pork shoulder roast and veggies cooking in bone broth, garlic, and spices as much as the taste.
Per serving you're looking at 34g of protein and 9g of fat for just… two net carbs! Seriously.
#3. Low-Carb Keto Butter Chicken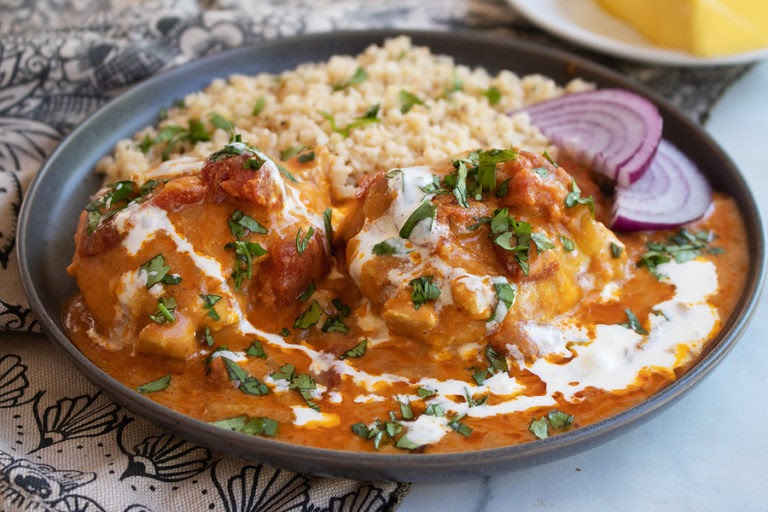 Skip the takeout and prep this keto butter chicken recipe in your slow cooker for an easy, low-carb take on a classic Indian dish.
Serve alongside cauliflower rice or homemade keto naan to truly impress yourself or your dinner party.
#4. Lemon Chicken Avocado Boats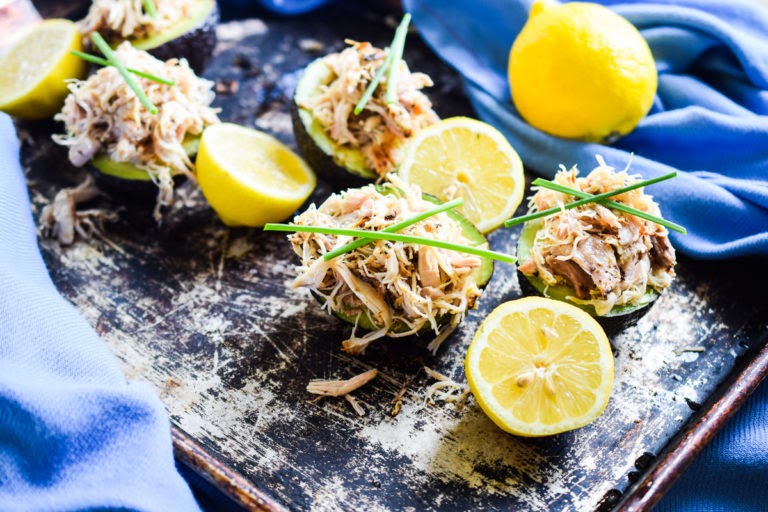 To make these lemon chicken avocado boats, just toss in chicken thighs, garlic, grass-fed butter, lemon, vinegar, and oregano. When cooked, shred the chicken and scoop it into a halved, pitted avocado.
You can adapt this Crock-Pot recipe for shredded chicken depending on the spices you add. Try making shredded chicken for keto-friendly chicken tacos and chicken fajitas (don't forget the keto tortillas).
#5. BBQ Pulled Beef Sando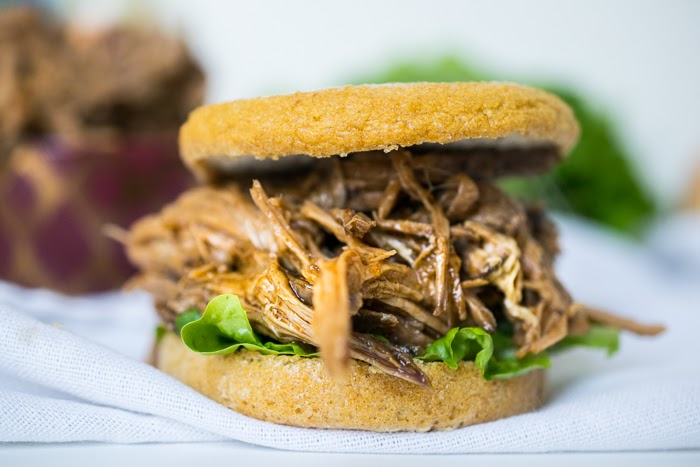 Slow-cooking pork or beef in barbecue sauce makes for epic tailgate and party food. This recipe for BBQ pulled beef sandos shows you how to make a spice rub and keto BBQ sauce.
Pair your pulled beef with one of these easy low-carb bread substitutes. Or enjoy it piled high on a salad if you're feeling lazy.
Bonus: 3 More Keto Recipes You Can Make In a Slow Cooker
You know a slow cooker crushes it for soups and stews. You even know it can whip up stick-to-your-ribs meat and faux-tatoes dishes.
But a slow cooker can also be used to create:
#1. Keto Bone Broth to Crush Inflammation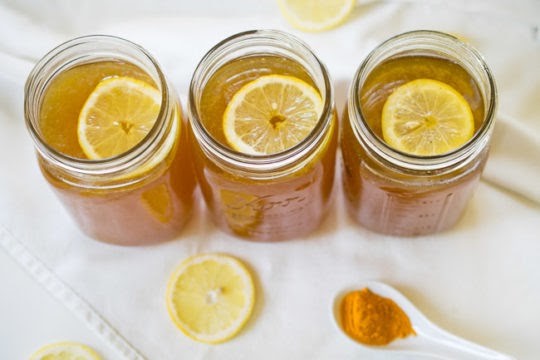 It's easy to make your keto bone broth at home — and it saves a boatload of cash.
You just simmer animal bones with water, fresh herbs, and acid (like apple cider vinegar) long enough to extract the beneficial collagen from the bones.
This recipe simmers three (leftover) chicken carcasses in a slow cooker on low for 24 to 48 hours. You score 12 one-cup servings.
#2. Deliciously Perfect Keto Creamed Spinach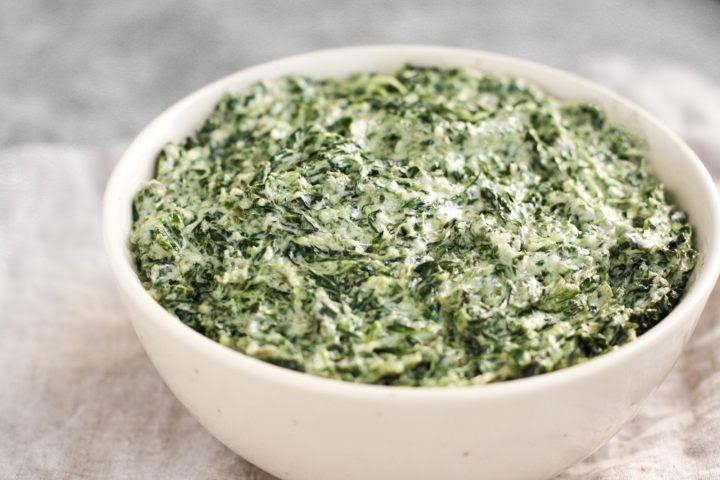 Making this paleo, keto creamed spinach recipe in your slow cooker ensures you get the perfect creamy side dish every time. Just add fresh or frozen spinach, cream cheese, grass-fed butter, and garlic and cook for one to a few hours.
#3. Cheesy Keto Buffalo Chicken Dip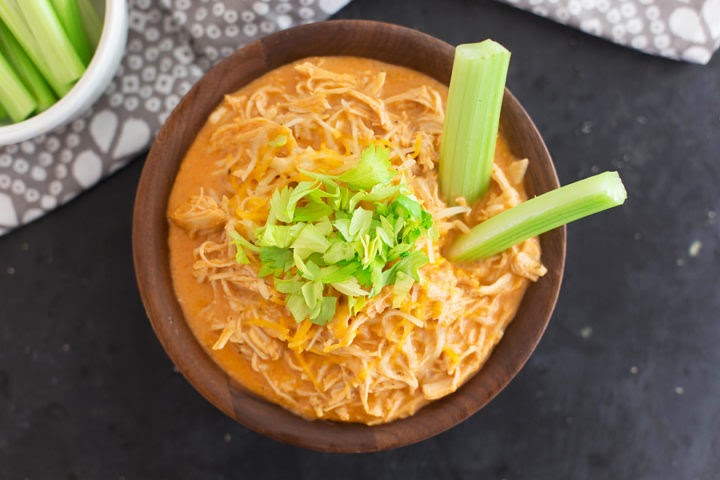 Everyone will be excited to see this keto buffalo chicken dip at a party — even if they're not living the low-carb life. Cook all the ingredients together and then keep your slow cooker on warm mode until everyone gobbles it all up.
Now Pick Your First Keto Crockpot Recipes To Try Today
Take your Crock-Pot out of hiding and renew your love affair with one of these low-carb slow cooker recipes. You have 20 choices from appetizers to mains to last well through autumn and winter.
Just be warned: these flavorful new recipes may spoil you forever. Once you get used to the set-it-and-forget-it ease of using a slow cooker, you may never want to stop.
So keep this keto Crock-Pot recipe roundup handy and save it like your very own digital cookbook. Then when you're busy, trying to save cash, cook keto meals in bulk, or feed a crowd, you'll always know exactly what to make.