In general, mug cakes are one of the easiest and most convenient desserts to have regardless of which diet you follow.  They only require a handful of ingredients and can be made in under 5 minutes. They hit the spot at the end of day and never seem to disappoint you when your sweet tooth has spoken up.  Chocolate always hits the spot when it comes to dessert, but every now and then it's worth changing up the routine with flavors.
The Main Ingredients in This Mug Cake Include:
Almond flour

Frozen wild blueberries
Blueberries and fruit aren't standard on a ketogenic diet, but should also not be feared.  While most fruits are not low enough in net carbs to keep you in ketosis, wild blueberries are a wonderful option to have on hand and could be enjoyed in moderation.  Not only that blueberries provide wonderful nutritional benefits.
Benefits of Blueberries:
High in antioxidants

Reduce inflammation

Supports digestion
#1: Top Antioxidant Food
Blueberries are synonymous with their ability to fight free radicals, prevent cell damage, and protect against a variety of diseases.  Many studies and research show promising results for antioxidant rich foods like blueberries to inhibit the growth and spread of many types of cancer.  Antioxidants can also help protect the brain, enhance memory, and improve focus.
#2: Anti-inflammatory
Due to its antioxidant content, blueberries are also known to have a positive impact on inflammation in the body.  Polyphenols found with blueberries can help reduce the activity of several inflammatory markers.
#3: Rich in Fiber
One of the reasons why blueberries are a great option on a ketogenic diet is because it contains more fiber than most other fruits.  Fiber will help promote regularity and the digestive process. It can also help bulk up stool and alleviate conditions like IBS and constipation.
As long as you track your carbs and don't get too carried away with berries, there is absolutely no reason they can't or shouldn't be enjoyed on your ketogenic diet.  Fortunately the amount used in this recipe is so minimal you can get a fruit fix and stay in a fat burning state of ketosis.  Another benefit to using frozen wild blueberries is they are picked and frozen at the peak of the season which means they are packed with flavor.  A little goes a long way with these berries.
Print
Blueberry Muffin Keto Mug Cake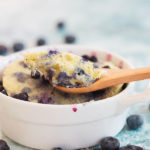 Author:
Total Time:

5 minutes

Yield:

1 mug cake
Ingredients
2 tablespoons almond flour

1/2 tablespoon coconut flour

1 scoop Perfect Keto 'Vanilla' Collagen

1/4 teaspoon baking powder

1 large whole egg

1 tablespoon melted butter or ghee

1 tablespoon frozen wild blueberries
Instructions
Grease a mug or ramekin with butter or non stick spray.

Add all ingredients to a mug or separate small bowl and mix until smooth. Stir in blueberries. Pour into prepare mug or ramekin if you used a separate bowl.

Cook in microwave on high for 2 minutes and 30 seconds. Top with fresh whipped cream, chopped nuts, or desired toppings. Enjoy hot.
Nutrition
Serving Size:

1 mug cake

Calories:

352

Fat:

27g

Carbohydrates:

Net Carbs: 3g

Protein:

20g
Corina Nielsen-Thomas lives in sunny San Diego with her real life super hero and her beautiful daughter. A handful of years ago she was diagnosed with an incurable spinal disease and an array of medical conditions which left her nearly bed bound and losing every aspect of her normal life, one by one. Corina has used a ketogenic diet to turn her life around and now works as a nutritional coach specializing in a paleo/keto way of eating for optimally health and healing. She also works as a full recipe developer and blogger who is passionate about utilizing food as fuel and medicine.