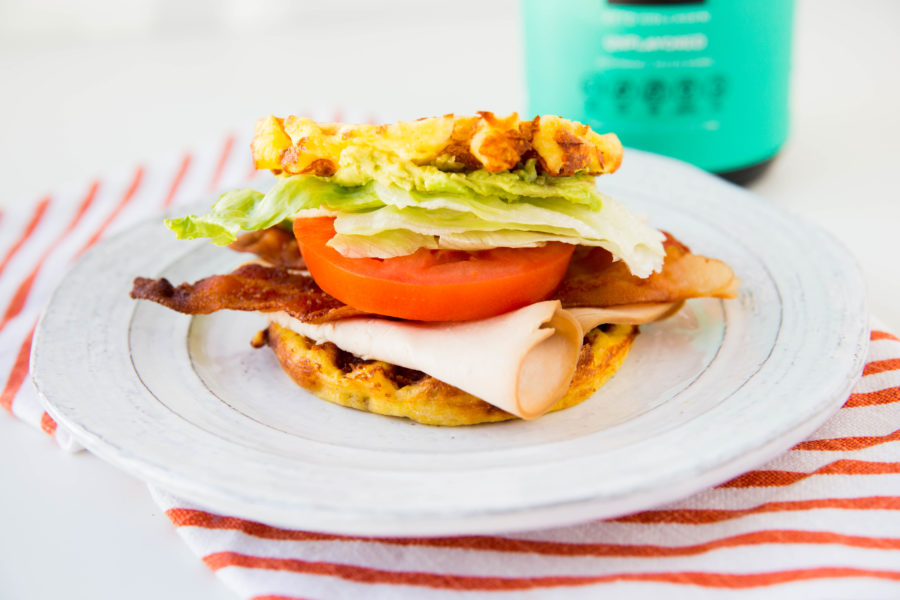 It's time to give your mini waffle maker something new to play with.
If you haven't heard of the latest keto chaffle (cheese waffles) craze, then get ready for a whole new twist on waffle recipes.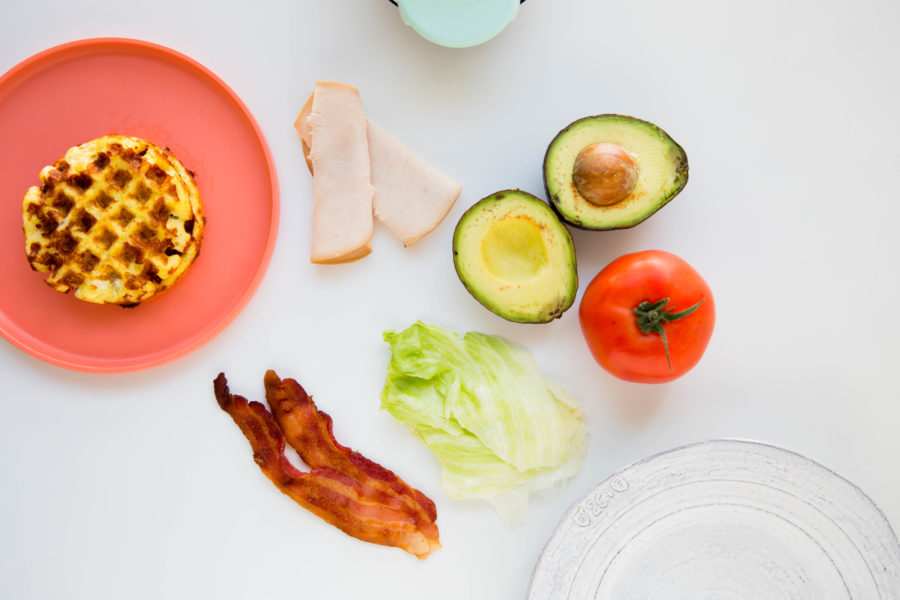 How do these chaffles work?
You simply cut the carbs (flour, sugar, etc.) and add in cheese and eggs in their place.
From there, the world is your oyster. You can add in different types of cheese, a dash of herbs, almond flour, whatever you like.
This particular keto chaffle recipe is for a turkey BLT sandwich. It's basically the same as your traditional BLT, but you replace the sandwich bread with a delicious cheese chaffle — a chaffle sandwich if you will.
Serve these up for brunch, lunch, or whenever you're craving a crispy, cheesy snack.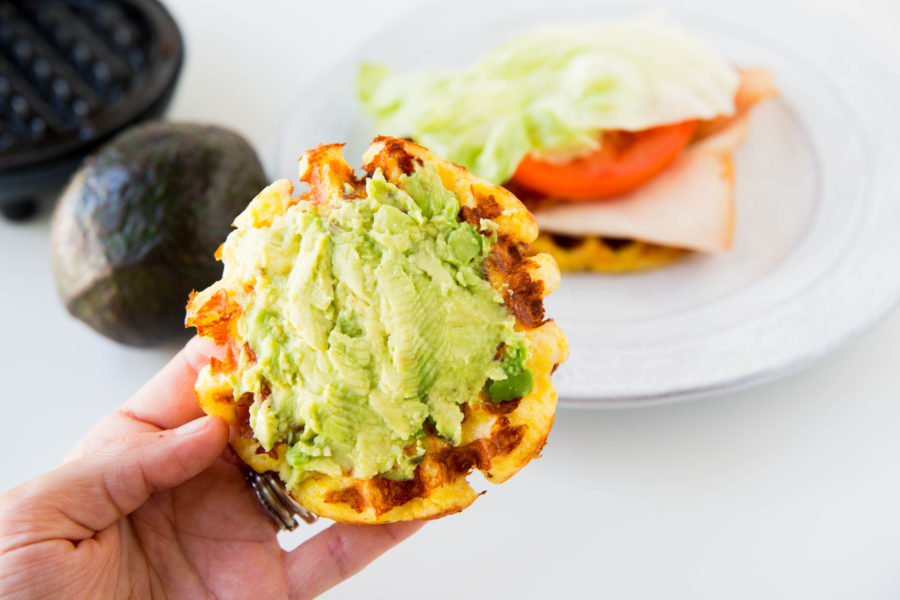 These low-carb BLT chaffles are:
Crispy
Flavorful
Savory
Satisfying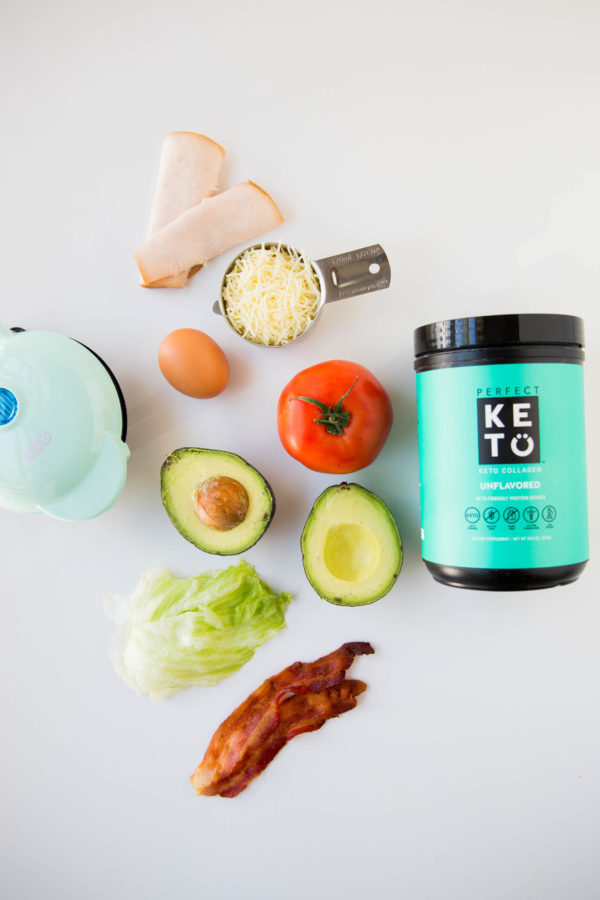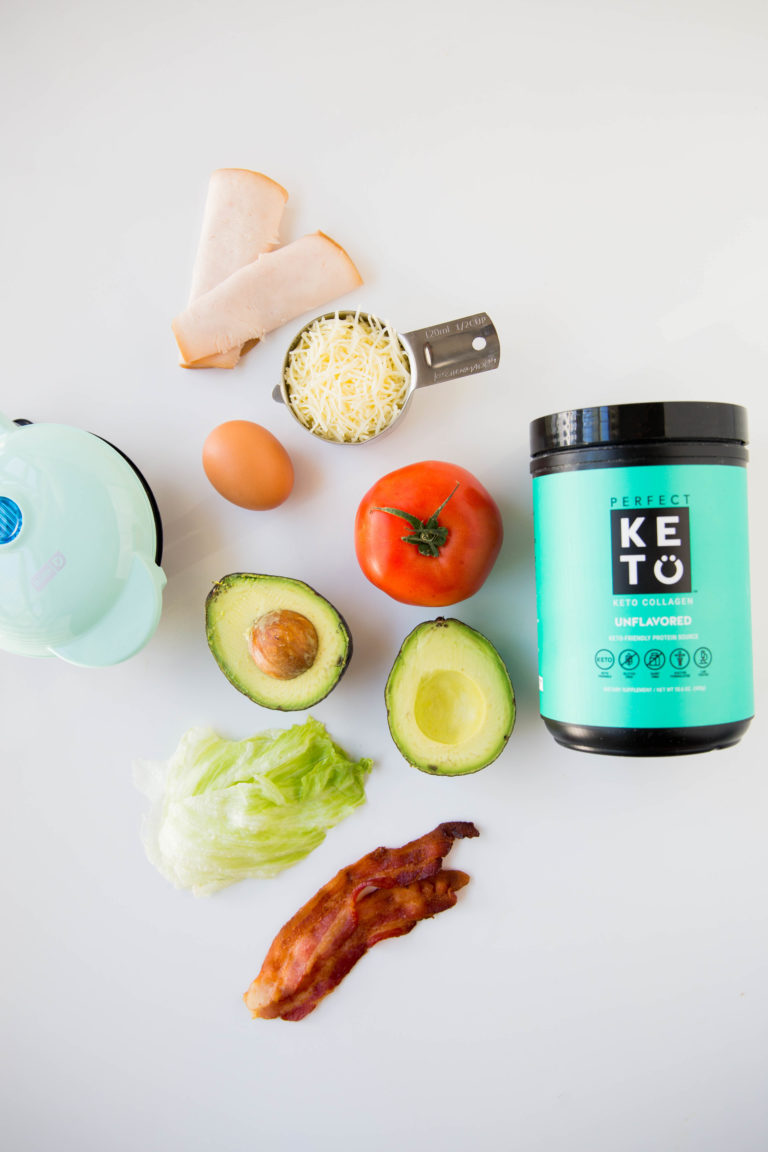 The main ingredients are: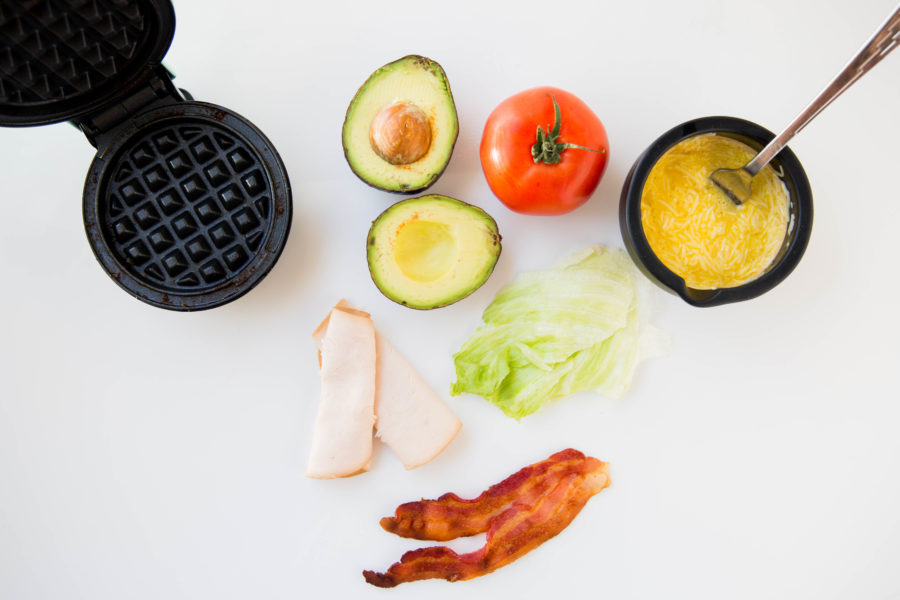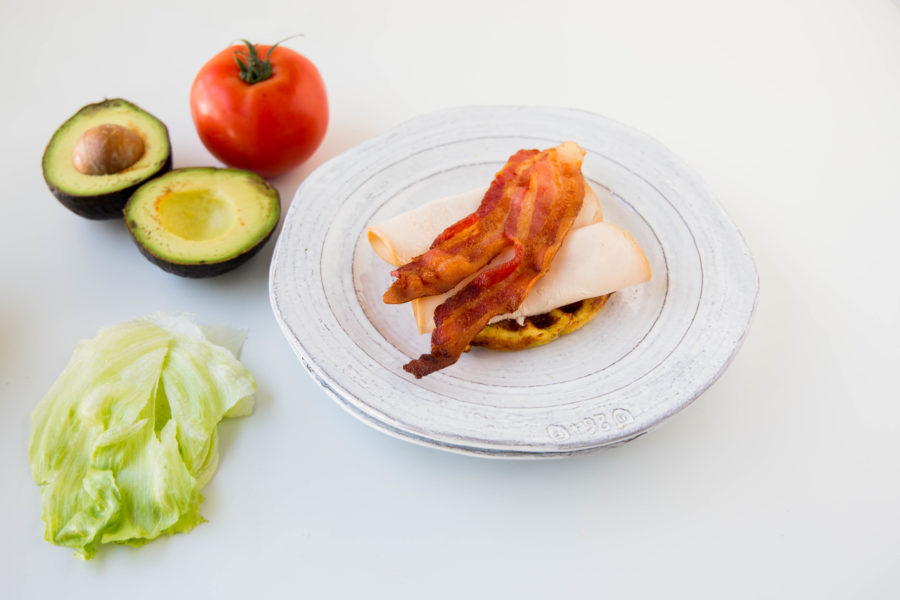 Optional additional ingredients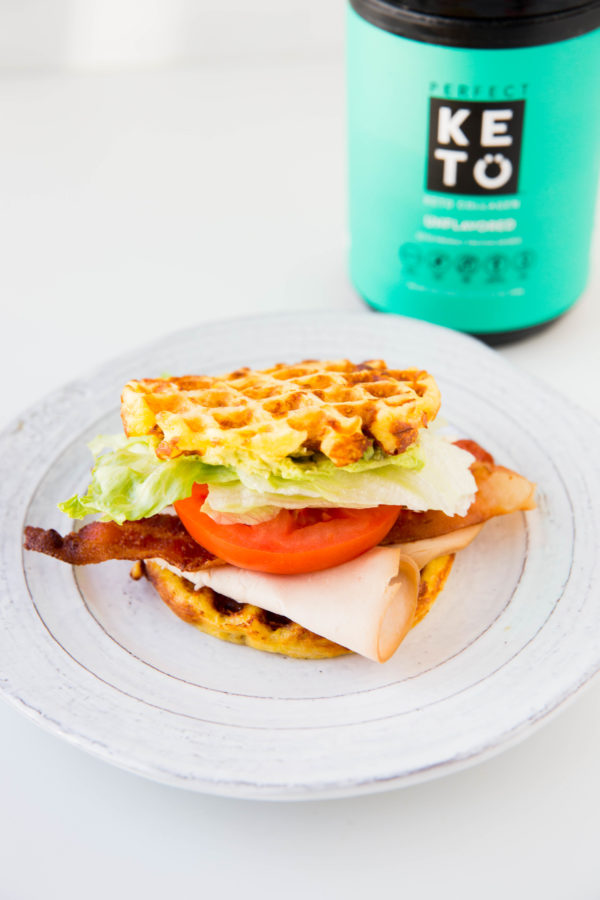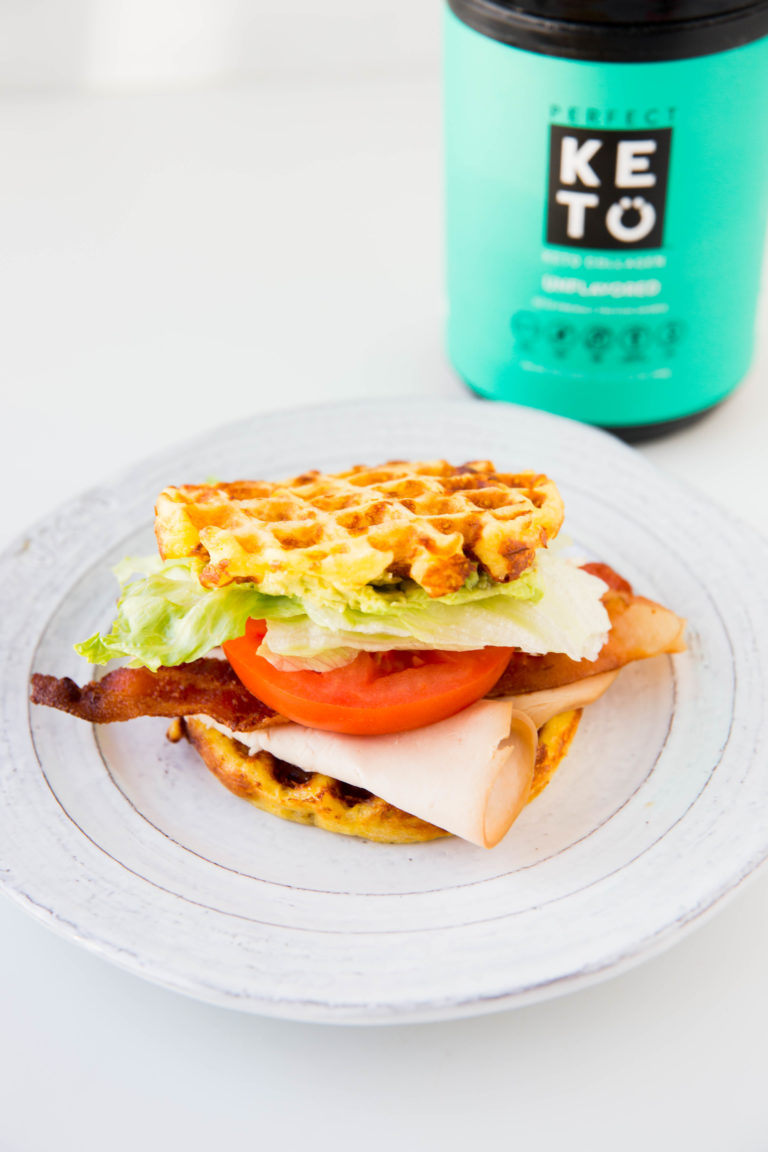 3 Health Benefits of This Chaffle BLT With Turkey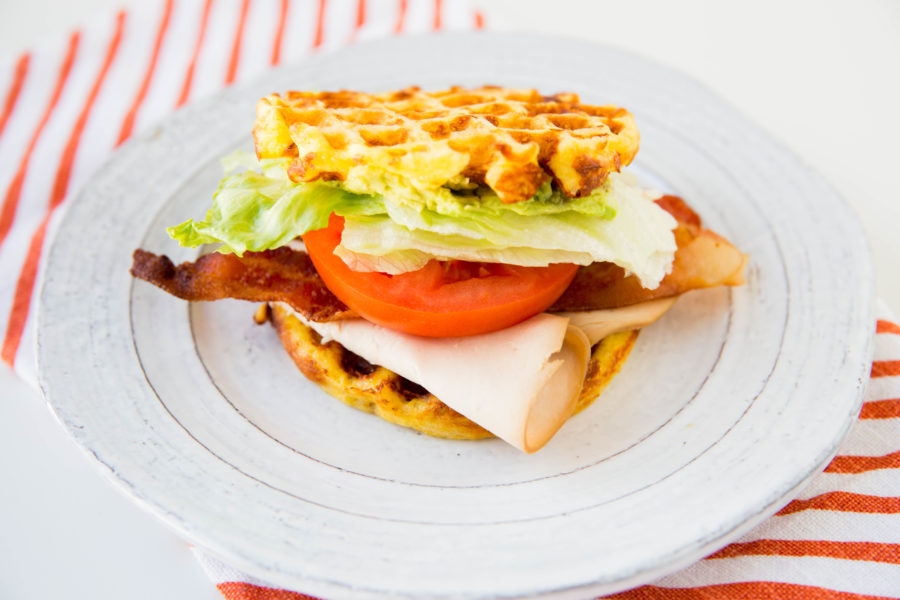 #1: Supplies Your Body With B Vitamins
These savory chaffles provide an extra boost of protein with the addition of turkey.  Aside from its essential role on your Thanksgiving dining table, turkey also offers a range of nutritional benefits.
In fact, turkey is a powerhouse when it comes to supplying your body with b vitamins and provides a rich source of vitamin B3 (niacin), vitamin B6, and vitamin B12.
Vitamin B3 (niacin) plays a crucial role in over 400 enzymatic reactions in your body and is used in almost every tissue. It's an essential vitamin for the metabolism of fat, protein, and carbohydrates[*].
Vitamin B6 plays a critical role in protein metabolism and is involved in more than 100 enzymatic reactions. It's also heavily involved in cognitive development and the synthesis of neurotransmitters[*].
Vitamin B12 plays a wide range of roles in your body. Some of its activities include red blood cell formation, neurological function, and the synthesis of DNA[*].
#2: Promotes Heart Health
The health of your heart is intimately tied to your dietary habits. While historically fat was demonized by cardiologists, research on the benefits of fat for heart health is mounting.
One food that's been particularly well studied are avocados. Rich in monounsaturated (omega-9) fatty acids, avocados may promote heart health by lowering cholesterol and triglyceride levels, two markers for heart disease[*].
What's more, avocado intake is associated with improved overall diet quality, nutrient intake, and a reduced risk of metabolic syndrome[*].
#3: Supports a Healthy Weight
Aside from the fact that you're completely skipping the carb-load that comes with traditional waffles, these chaffles may support a healthy weight with one of their primary ingredients — cheese.
While many people claim that reducing dairy intake is the way to weight loss, the research begs to differ. In a review of the associations between dairy fat, obesity, and cardiovascular disease, researchers found that dairy intake was inversely associated with obesity.
That's right; dairy wasn't just "not" associated with obesity, it was inversely related — meaning the more dairy people ate, the lower the rate of obesity[*].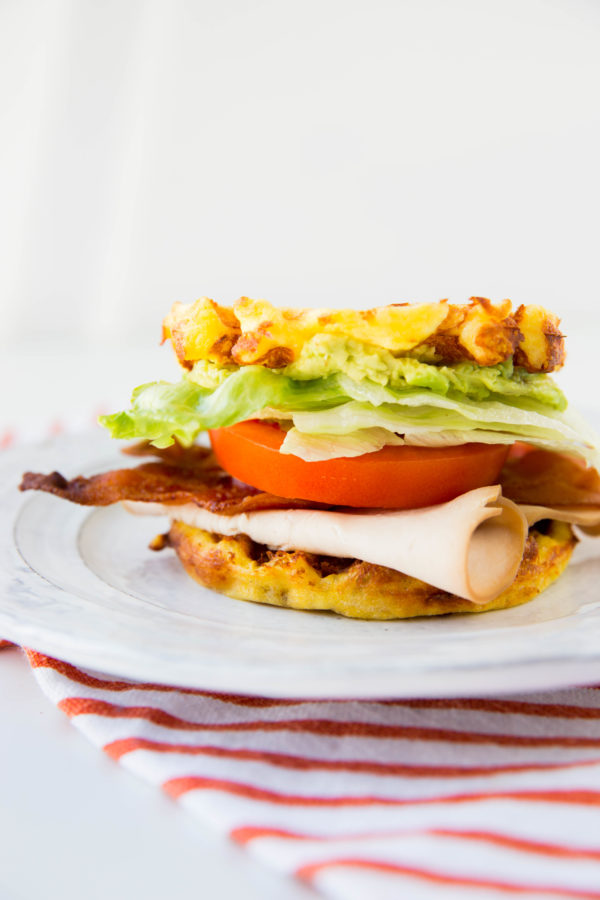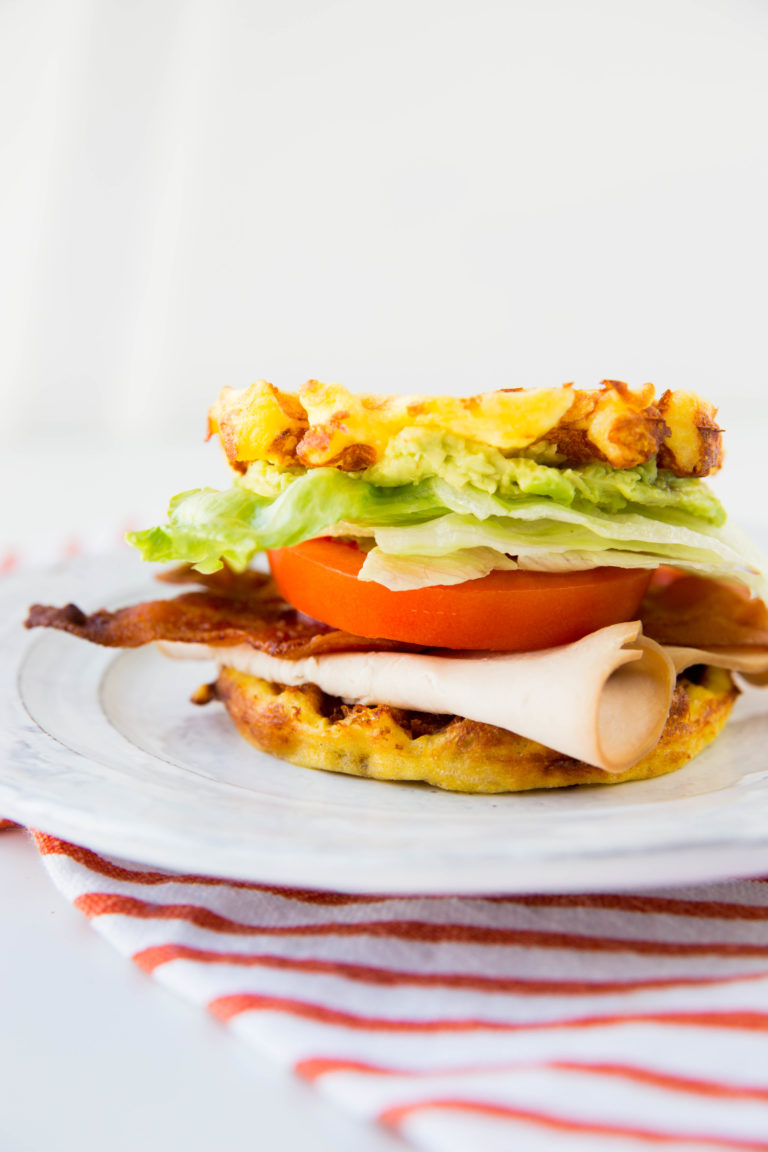 Print
BLT Chaffle Sandwich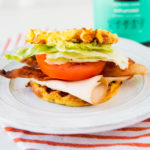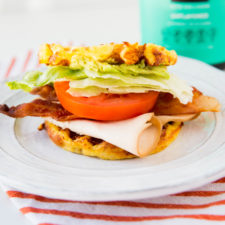 Making a keto sandwich can sometimes be a bit tricky. Unless you've nailed the keto bread situation, you might end up with a bunch of meat wrapped in collards. 
That is, until now. 
Chaffles provide a keto-friendly answer to all your flour-based bread needs. You can switch them out for breakfast sandwiches, add some sugar-free sweeteners for a sweet chaffle, or use them as a low-carb bread for a twist on a classic like this recipe. 
Author:
Total Time:

10 minutes

Yield:

2

chaffles

1

x
Scale
Ingredients
Sandwich makings:
2

slices turkey

1

–

2

pieces of bacon, cooked

⅓

avocado, mashed

A few pieces of lettuce

1

slice tomato (optional*)
Instructions
Heat the mini waffle iron.

While the waffle iron is heating, mix all the ingredients in a medium-sized bowl until combined.

Spoon out ¼ cup of the mix onto the waffle maker and cook for 3-4 minutes, or until waffles are desired crispness.

Add the sandwich makings to the chaffles and enjoy!
Nutrition
Serving Size:

1 sandwich

Calories:

491

Fat:

36.5g

Carbohydrates:

7g Net: 2g

Fiber:

5g

Protein:

38g