What are two words you never thought you'd see put together when you started your keto journey? Among the variety to choose from, we bet two of these words were "keto" and "bagels".
But wait, aren't bagels kind of the anti-keto?
To be fair, traditional bagels are typically known for being a rather high carb food, abundant in gluten and enriched, bleached flour. But this recipe calls for ingredients that make bagels not only healthy, but keto-friendly, too!
Some of the ingredients that make up these Keto Bagels include our favorite flour substitutes (almond and coconut flour), shredded mozzarella cheese, and cream cheese.
Almond flour and coconut flour are a couple of the top low carb flour alternatives used today. They each bring their own individual benefits to the table — no pun intended.
Almond flour offers the same benefits as — you guessed it — almonds. Almond flour has been shown to improve energy levels, help maintain healthy weight loss, help manage healthy blood sugar levels, and has even been shown to improve overall heart health. It contains less carbs and dietary fiber than coconut flour. But while a bit higher in carbs, coconut flour is abundant in minerals such as iron, manganese and copper, making this the perfect combo.
Another main ingredient in the dough of these keto bagels is shredded mozzarella cheese. Believe it or not, mozzarella cheese makes for a great consistency for dough — especially for individuals looking for a keto-friendly substitute.
Mozzarella cheese offers several key health benefits. Some of these benefits include being a strong source of biotin, as well as having an abundance of riboflavin, niacin, phosphorus and protein.
Are you new to the keto diet and think bagels are completely off limits? No worries. Try out these cheesy keto bagels the next time you're in the kitchen for a fulfilling breakfast dish that is sure to keep you in ketosis.
Print
Cheesy Keto Bagels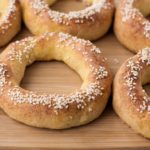 Looking for a low carb dish that lets you indulge in your favorite breakfast treat while still fitting your macros? Try these deliciously cheesy keto bagels!
Author:
Prep Time:

15 minutes

Cook Time:

17 minutes

Total Time:

40 minutes

Yield:

6

servings

1

x
Category:

Snacks

Cuisine:

American
Instructions
Preheat oven to 400 degrees and line baking sheet with parchment paper.

In a large bowl, whisk together almond flour, coconut flour, cream of tartar, and baking soda.

In a microwave-safe bowl, add shredded mozzarella and cream cheese and microwave for 90 seconds. Remove bowl from microwave and stir. Return bowl to microwave and microwave for another 60 seconds. Stir together until mozzarella and cream cheese are completely combined.

In a separate small bowl, whisk together 2 eggs. Add whisked eggs to dry ingredients.

Add melted cheese mixture to large mixing bowl of flour and eggs. Using your hands, knead together the dough until all ingredients are completely incorporated with one another.

Divide dough into 6 equal portions.

Using your hands, gently roll each of the 6 portions into a log shape, attaching the two ends to make the log into a circle. Place dough on prepared baking sheet.

In a bowl, whisk remaining egg. Using a pastry brush, brush egg wash over bagels. Sprinkle sesame seeds on top.

Bake bagels for 15-17 minutes, until the tops are golden brown.

Remove bagels from oven and allow to cool for at least 15 minutes.
Nutrition
Calories:

356

Fat:

27.9g

Carbohydrates:

9.7g (Net Carbs: 5.9g)

Protein:

22.8g
Keywords: cheesy keto bagels