There are many ways to prevent and reverse heart disease, and one of them is by eating a diet that combats high blood sugar, high insulin, obesity, and inflammation. These are factors that are closely linked to cardiovascular morbidity and mortality (* , *). With that in mind, you may be wondering, is keto bad for your heart?
Studies and opinions from health professionals show mixed results. We're going to explore them in this article and dive into the science of the keto diet. This will help you establish a connection between keto and heart disease, and then decide if it's the right approach for you.
What is the Keto Diet?
In essence, the keto diet is a very low-carbohydrate and high-fat dietary plan. People are required to limit their carbs to 50 grams in a day while bumping up their fat intake to 70-80% of their total calories. On the other hand, protein is kept at a moderate amount, about 20-30%.
This macronutrient composition forces your body to deplete its glycogen, which is the stored form of glucose. When this happens, you start to enter a metabolic state called ketosis. It's when your body looks for alternative fuel and burns its own fat to produce water-soluble lipid molecules called ketones (*).
Overall, by eating a keto diet, you enter ketosis. It means that glucose is no longer your primary source of fuel, but rather ketones. As an effect, your blood sugar levels go down, and other risk factors that contribute to heart disease are eliminated (*).
For many years, dietary fat, which the keto diet emphasizes, has been depicted in a bad light. This idea started in the 1970s when American physiologist and former chairman of the International Society of Cardiology Ancel Keys suggested that dietary cholesterol from fat intake lead to heart disease based on his "Seven Countries" study (*).
However, what he didn't mention was that the countries eating high amounts of fat were also eating high amounts of sugar (*).
This started the campaigns recommending low-fat foods. Yet, as we've continued this low-fat approach, we're also seeing heart disease becoming more common. In fact, in 2020, coronary heart disease has killed 382,820 people (*).
Furthermore, the CDC has noted medical conditions that increase people's risk of heart disease, such as diabetes, being overweight, and obesity (*).
As you'll find in the research studies below on keto and heart health, lowering carbs and focusing on the right fats resolve these medical conditions, which ultimately benefit your heart.
Studies About Keto and Heart Diseases
In a 2019 study, a group of Chinese researchers concluded that restricting carbs increases the incidence of atrial fibrillation — a common type of heart arrhythmia that's linked to advanced age, diabetes, obesity, and high blood pressure, among others (* , *, *).
Note that while this study associates the keto diet and heart arrhythmia, this was not a randomized trial. The participants, with an average age of 54.2±5.8 years, only self-reported their carb intake, which was way above the percentage required for ketosis (about 5% or less of calories from carbs). There was no data showing their ketone levels either (*).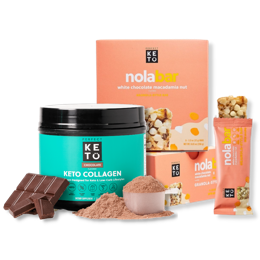 Browse our curated collection of fan-favorites and discover your new favorite snack or supplement.
Shop Best Sellers
Therefore, it is possible that the results may have been affected by other factors (*).
In an observational study (based purely on a researcher's observations), 11 adults who had type 1 diabetes followed a keto diet for up to 3 years. Data collected included their blood glucose levels, lipid profile, and kidney and liver function (*).
Although the participants had demonstrated excellent HbA1c levels, most saw increases in their total cholesterol, LDL cholesterol, and triglycerides. The researchers noted that it's unclear whether this was due to a higher saturated fat intake (*).
However, the Journal of the American College of Cardiology has an opposing viewpoint. In 2020, they published a statement suggesting that although saturated fats (coming from red meat and dairy) increase LDL cholesterol in most people, they increase only larger LDL particles (*).
Many studies have shown that small LDL particles are strongly related to cardiovascular disease, and not larger size LDL particles (*).
Studies About Keto and Heart Health
Bret Scher, a board certified cardiologist, lipidologist, and full-time medical director at Diet Doctor mentions in his video on keto and cardiovascular risk: "Mainstream medicine has been clear that any low-carb, higher fat diet is associated with an increased risk of cardiovascular disease and early death — and should, therefore, not be prescribed. I strongly disagree with that."
Furthermore, he mentions that studies that are suggesting that keto isn't good for heart health have subjects that are not strictly following a low-carb, high-fat diet. In other words, they're consuming a diet that also includes sugar and processed foods.
The studies below show favorable results.
A recent study in 2021, published in the American Journal of Clinical Nutrition, showed that overweight and obese subjects who increased their dietary fat and lowered their intake of refined carbs had great improvements in their cardiometabolic outcomes. This included their triglycerides, HDL cholesterol, blood pressure, liver fat, and body weight (*).
The same study mentioned that even with the presence of higher LDL readings on keto, low triglycerides and high LDL cholesterol are associated with lower heart disease risk (*).
Dr. Dariush Mozaffarian, a cardiologist and dean of the Friedman School of Nutrition Science and Policy at Tufts University, thinks that this study is important. He quotes, "Most Americans still believe that low-fat foods are healthier for them, and this trial shows that at least for these outcomes, the high-fat, low-carb group did better."
A 2-year trial was conducted in patients with type 2 diabetes. They self-selected to receive either CCI (continuous care intervention) or UC (usual care) (*).
Those in the CCI group restricted carbohydrates (less than 30 grams initially) and consumed fat to satiety. They also ate approximately 1.5 grams of protein per kilogram of reference body weight. To measure ketosis, their beta-hydroxybutyrate (BHB) ketone levels were tracked (*).
Meanwhile, those in the UC group continued their current habits and received advice from the American Diabetes Association (ADA) (*).
Based on the results, those who restricted carbs had lower levels of very small LDL, which means that there's no strong correlation to heart disease (*). In contrast, very small LDL particles are a risk factor for coronary artery disease (*).
Furthermore, the study discussion noted that a very low-carbohydrate diet induces weight loss and reduces central obesity (excess fat around your abdominal area), which may lead to changes in your LDL levels. In particular, reduced BMI is linked to lower levels of small LDL particles while ketosis is linked to larger LDL particles (*).
Larger, fluffier LDL particles are less likely to contribute to plaques in your artery walls (*).
FAQs
Below are common questions and answers on keto, heart disease, and heart health:
Should you try the keto diet if I have an existing heart condition?
Losing weight and reducing health markers such as blood glucose, insulin, and triglycerides through the keto diet will help reverse heart disease and reduce your likelihood of having a heart attack. So, yes, the keto diet may be used as an approach to support heart function.
If you are diagnosed with a heart condition and are interested in carb restriction, it's best to do keto under medical supervision. This will ensure that your ketone levels are properly monitored, along with your meal plans and medications.
Do cardiologists recommend the keto diet?
Some cardiologists suggest that the keto diet lowers your risk of heart disease, while others advise against it. Whether or not a cardiologist agrees with low-carb and high-fat living may depend on their current understanding and experience with patients who have used the diet.
Fortunately, more practicing cardiologists today are witnessing improvements through keto in their own patients suffering from heart disease. They have been able to see the connection between heart disease, hyperglycemia, hypertension, obesity, and insulin resistance.
Are low carb diets bad for your heart?
Despite some professionals warning that low-carb eating is dangerous, many studies show the opposite. These studies have found that restricting carbs lowers triglycerides, reduces small LDL particles, and other risk factors of heart disease.
Even with this knowledge, it's important that those on keto follow the diet correctly. Make sure that you consume healthy fats (such as omega-3s from fatty fish and saturated fats from red meat). Stay away from processed omega-6 oils and trans fats. These are bad fats found in soybean oil, corn oil, canola oil, sunflower oil, and safflower oil (*).
The Bottom Line
At this point, studies have established the role of low-carb eating on lowering some of the biggest heart diseases risk factors. Other studies associating the keto diet and heart arrhythmia, including high triglycerides, weren't randomized or were purely observational.
Despite the fears surrounding high-fat diets — consuming quality fat sources and getting supervision from a qualified health professional make the keto diet an option for a better quality of life.
27 References