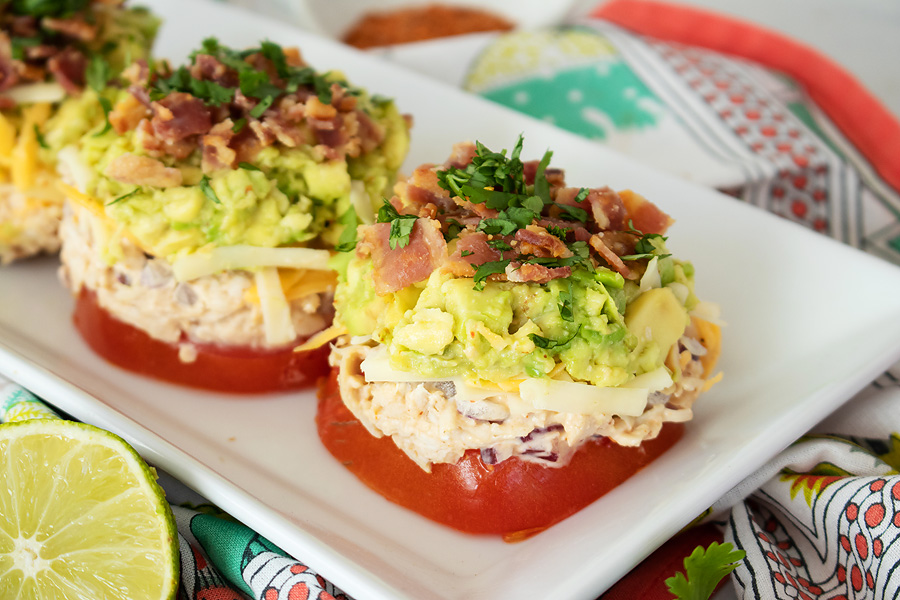 Chicken stack recipes can provide you with so many options and flavor combinations to provide a delightfully exciting taste to your pallet. With so many different ways to prepare the stacks, this recipe could become a weekly staple in your recipe repertoire with ease and simplicity! This is a recipe that will help you capitalize on the wide variety tasteful ingredients available in regular grocery stores these days. You will never be left feeling like anything is missing in your keto diet when you have dishes like these!
Chicken is always my go for whipping up a healthy meal, whether it is lunch or dinner, it never disappoints. It is the perfect ingredient to build a recipe around to ensure my family is eating healthy. The addition of delicious ingredients like creamy avocado, crispy bacon, sweet tomatoes, and bright flavors guarantees this dish will be gobbled up by your family in record time. This recipe screams robust flavors, and tender juicy chicken, with the option of variety and flavorings that could be taken to any dinner party, potluck or simply eaten at  home for an easy 15 minute dinner choice. If you want to add a powerful punch to your recipe collection, grab this recipe and make something delicious today!
Chicken Stack Recipe Ingredients
Chicken- Use a store bought whole rotisserie chicken to save yourself time. These are typically very fresh and the meat is tender and juicy. Simply grilled or poached chicken that is chopped or shredded will work as well.
Avocado- Choose an avocado that yields to firm pressure. It will be darker in color and soft, but not mushy.
Tomato- Go for a vine ripened whole tomato. They are bright red and are typically more flavorful than other tomatoes.
Red Onion- A touch of red onion will give the chicken stack a bit of texture and add a bold, yet sweet flavor.
Cheese- Use shredded cheddar, monterrey jack, or pepper jack cheese.
Bacon- To enhance the flavor of the chipotle, use a hardwood smoked bacon.
Chipotle Lime Mayonnaise- This is the secret ingredient in these Southwest chicken stacks. The chipotle provides a bit of mild smokiness and the lime helps bring all of the flavors together.
Cilantro- This is the perfect herb to garnish any dish with big Southwest flavors.
How to Make Chicken Stack Recipe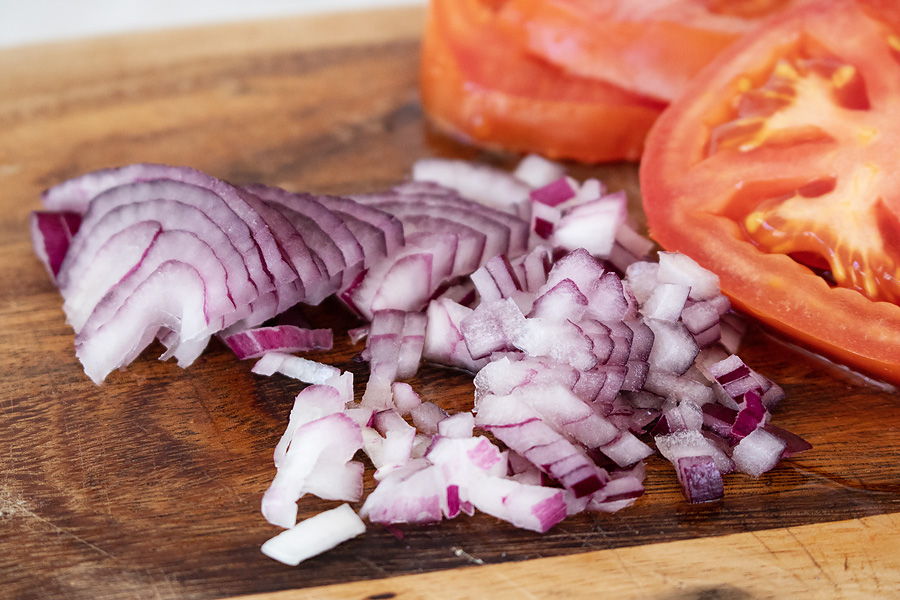 Prepare produce- Cut tomatoes into ¼" slices and pat dry with a paper towel. Finely dice red onion. Slice the avocado in half lengthwise until you feel the knife hitting the pit. Twist the two halves to open the avocado. Carefully hit the pit with a knife to remove it. Dice avocado with the skin still attached. Scoop avocado into a small bowl. Season with salt, pepper, and 1 tablespoon of lime juice.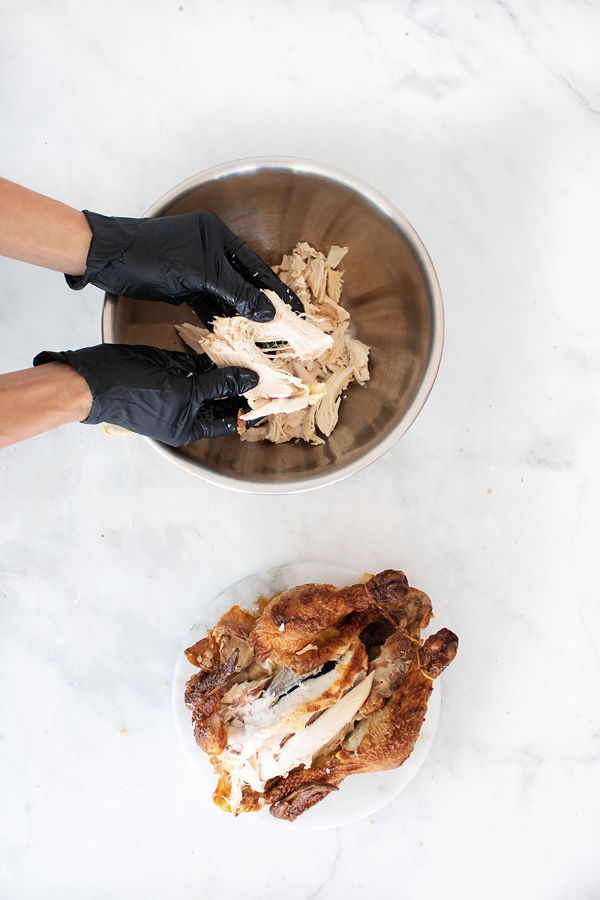 Prepare Chicken-  Remove chicken meat from the bones and place it into a large bowl. Fold in red onion and chipotle mayonnaise. Season with salt and pepper to taste.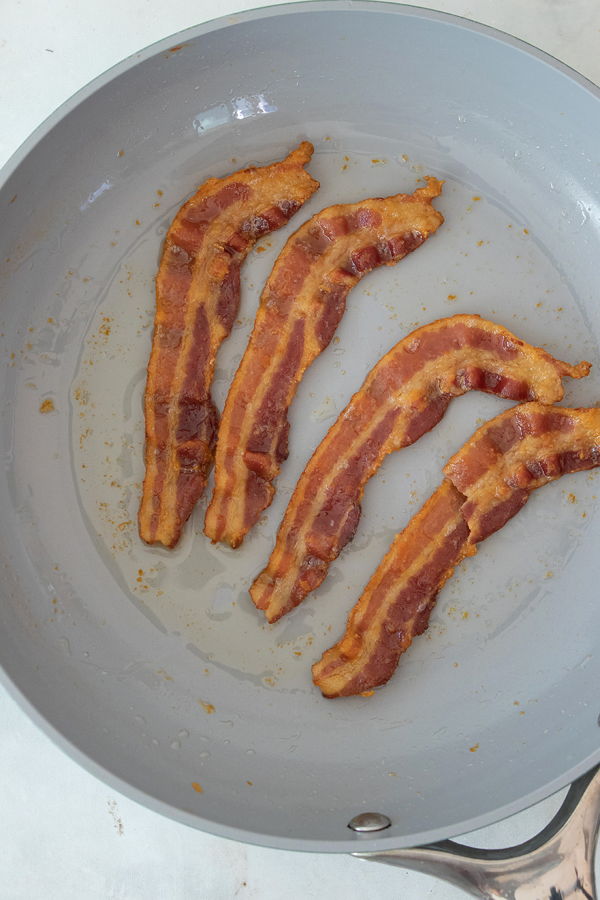 Cook bacon- Cook bacon until crisp in a shallow pan set over low-medium heat. Remove from the pan and pat with paper towels to remove excess grease.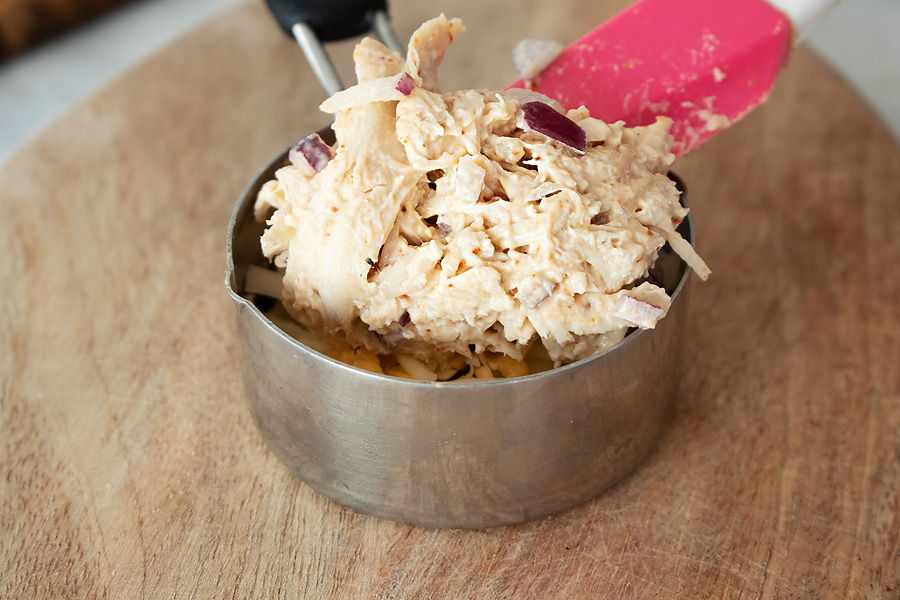 Assemble Chicken Stacks- Place a slice of tomato at the bottom of an 8 ounce cup measure. Add a layer of avocado, smooth to flatten. Scoop in a few tablespoons of the chicken mixture, then top with cheese bacon. Carefully turn the measuring cup over and tap to release chicken stack. You may need to run a sharp knife along the edgse to help release the stack. Finish with fresh cilantro and a sprinkle of lime juice.
Chicken Stack Variations
Mediterranean Chicken Stacks
For a fun Greek twist on these chicken stacks, instead of using tomato as the base use grilled eggplant. First you will need to find an eggplant that is similar in diameter to your cup measure. Then simply slice into ¼" disks and place them on a wire rack. Let them sit for 10-15 minutes to draw excess water from them.  Lightly season each disk with salt, pepper, and drizzle with olive oil. Grill for 3-4 minutes per side until tender. Other ingredients to use in a Mediterranean stack would be feta cheese, chopped kalamata olives, and plain mayonnaise to replace the chipotle lime mayo.
Chicken Tortilla Stack
Make this a heartier meal by cutting rounds of low carb tortillas that are similar in diameter to your measuring cup. Add them as the last layer in the cup and the tortillas will serve as a great base for your chicken stack.
Grilled Chicken Stack
If you are unable to find a ready made rotisserie chicken, simply season thawed chicken breasts with salt, pepper, and olive oil. Cook on a preheated grill for 3-4 minutes per side. Remove from the grill and let rest for 2-3 minutes, then shred or cut into a small dice.
Lemon Peppered Chicken Stack
Another fun variation of this recipe is a lemon peppered chicken. It has bright flavors and is perfect for Spring or Summer. Marinate chicken breasts with salt, lemon zest, lemon pepper, olive oil, and a couple of tablespoons of lemon juice. Let this sit for 2-3 hours before grilling. Instead of using chipotle lime mayonnaise, try a ready made pesto sauce. Replace the shredded cheese with rounds of mozzarella.  These flavors blend well with the lemon pepper.
Chicken Stack FAQs
What other spices can I use in this chicken stack recipe?
Cumin, chili powder, oregano, and paprika are all great to create even more flavor in this dish.
Where can I find chipotle lime mayonnaise?
Fortunately, many brands have started to expand flavors of their mayonnaise. Chipotle lime is gaining popularity and can be found in most grocery stores nowadays. If you are unable to find this flavor, you can easily season your own with canned chipotles, lime zest, and a bit of lime juice. Just whip these ingredients together until smooth. Adjust seasoning as needed.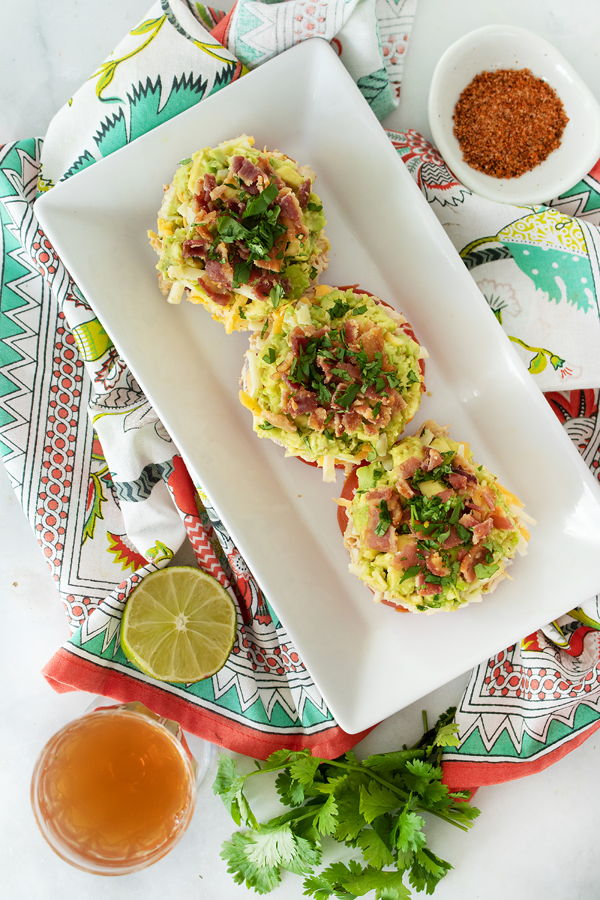 Print
Loaded Southwest Chicken Stacks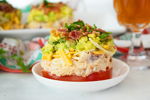 Impress your friends and family with these show stopping Southwest chicken stacks. They are jam packed with big, bold flavors, and the best part is they come together in less than 15 minutes!
Author:
Total Time:

15 minutes

Yield:

6

servings

1

x
Category:

Dinner
Scale
Ingredients
1

rotisserie chicken

1/3 cup

Chipotle Lime mayonnaise 

1 cup

shredded cheese

1

tomato (sliced into

¼

" rounds)

1

avocado (diced)

1

small red onion (finely diced)

6

slices of bacon

2 tablespoons

cilantro (roughly chopped)

Salt and pepper to taste
Instructions
Cook bacon slices under low-medium heat until crispy.  Remove from pan and pat with a paper towel to remove excess grease.  Set aside.

Remove and shred chicken from bone.  Place in a large bowl.  Add mayonnaise and red onion.  Mix well to coat.

Using a greased 8-ounce circular measuring cup, assemble stacks by adding a ¼"  layer of the avocado into the bottom, then add a layer of cheese, then add a few tablespoons of chicken mixture, and top with a slice of tomato.  Press down to pack.

To plate, invert measuring cup onto a plate.  You may need to tap it gently to release.  Add crumbled bacon and chopped cilantro to the top to serve.

Repeat the process to make remaining stacks.
Nutrition
Serving Size:

1 stack

Calories:

161

Fat:

15g

Carbohydrates:

4g

Fiber:

2g

Protein:

7g