Typical store-bought cookie dough contains ingredients like brown sugar, semi-sweet chocolate, all-purpose flour or wheat flour, soy lecithin, folic acid, thiamine mononitrate, natural flavor or artificial flavor.
You can find others with peanut butter, white chocolate, cane sugar, and processed palm oil.
And you don't need any of those ingredients to get delicious cookie dough that keeps your blood sugar balanced and doesn't sap your energy.
Instead, opt for this health-conscious recipe that takes care of cookie dough cravings, all while keeping you in ketosis.
These chocolate chip cookie dough balls are:
Sweet
Bite-sized
Chocolatey
The main ingredients in this recipe include:
The Health Benefits of This Recipe
#1: Contains Healthy Protein and Fat
Every Perfect Keto Bar contains grass-fed collagen protein, which is rich in unique amino acids that your body needs.
Collagen is the most abundant protein in your body and the primary protein that makes up your skin, joints, ligaments, and other connective tissues.
Collagen protein may also help heal and strengthen the lining of your intestines. And a healthy gut lining means better absorption of essential nutrients from all of your food.
Almonds are packed with monounsaturated fats and antioxidants, which may help lower blood pressure and blood glucose levels[*].
Another ingredient you'll need for this chocolate chunk cookie dough is coconut flour. Coconut flour is loaded with MCTs (medium chain triglycerides), which have been found to aid in metabolism and healthy blood sugar levels[*].
Grass-fed butter contains conjugated linoleic acid or CLA. And high levels of CLA are associated with a reduced risk of heart attack. Margarine, on the other hand, is linked to increased risk of coronary artery disease[*][*].
#2: Reduces Inflammation
Grass-fed butter is naturally rich in butyric acid, which is essential for colon and digestive health. Higher levels of butyric acid are associated with lower levels of cancer and inflammation in the bowels[*][*].
Vanilla has also been studied for its high antioxidant properties, which contribute to banishing systemic inflammation[*]. One study even found that vanillin was able to protect against acute liver injury in rats[*].
#3: Supports Digestion
Not only will this recipe satisfy your taste buds and your cookie dough cravings — it's also great for your gut.
Collagen contains critical amino acids that help keep your gut lining strong, which protects against leaky gut and helps with nutrient absorption. Want a painless way to ensure better gut health? Use a high-quality collagen supplement daily.
Even small amounts of tapioca act as a resistant starch, which bypasses your gut and feeds good bacteria in your colon[*][*]. Resistant starch also contributes to lower blood sugar and insulin levels and may help you lose unwanted fat[*].
Chocolate Chunk Cookie Dough
So, the next time you're craving something sweet, but don't want to take the time to whip up a batch of cookies or keto cake, this recipe is for you.
You won't even have to turn on the oven and — chances are — you already have all the ingredients you need.
Simple add your butter, sweetener, vanilla extract, sea salt, and milk into a large mixing bowl and stir to combine. Once your mixture is smooth, add in your coconut flour and combine.
And for the finale — fold in your Perfect Keto Bar chunks, shape the cookies into balls, place them on a plate or tray, and pop them into the fridge or the freezer to firm up.
If you can't wait and are super into instant gratification, you can start snacking right away. But if you can hold out for just 25-30 minutes, you won't be sorry!
Print
Chocolate Chunk Cookie Dough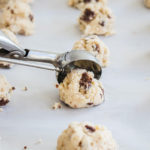 This one-bowl recipe is done in minutes — simply mix butter, coconut flour, keto sweetener, and vanilla for a delicious keto chocolate chunk cookie dough you can eat straight from the bowl.
Author:
Total Time:

30 minutes

Yield:

24

1

x
Instructions
Cream together butter, sweetener, vanilla extract, salt, and milk.

Add in coconut flour and beat together until well combined.

Fold in chopped Perfect Keto bar chunks.

Scoop into bite-size pieces and place on a baking sheet or plate covered in parchment paper.

Place in the fridge for 30-45 minutes to firm up or in the freezer for 20 minutes.

Enjoy and store the remainder in the refrigerator.
Nutrition
Serving Size:

1 ball

Calories:

58

Fat:

5g

Carbohydrates:

3g (1g net)

Fiber:

2g

Protein:

1g
Keywords: chocolate chunk cookie dough