People who are looking to improve the quality of their skin, reduce the signs of aging, relieve joint pain, and improve overall health and wellness consider taking collagen.
You may have heard of collagen and collagen peptides and are wondering how they're different. In a nutshell, collagen is found in your body while collagen peptides are a supplement that helps replenish your body's collagen supply.
This article shares everything you need to know about collagen and collagen peptides — their science-backed benefits, uses, bioavailability, digestibility, and some possible drawbacks of collagen supplements.
What is Collagen?
Collagen is the most abundant structural protein in your body, meaning that collagen supports major structures like your skin, hair, muscles, bones, and cartilage (*).
There are 28 known collagen types, with Type I collagen as one of the most abundant collagen molecules — it forms 90% of the organic mass of your bones and tendons, and is the major collagen found in your skin. It's also the best-studied collagen (*).
Other types of collagen are:
An interesting fact about collagen — and perhaps a common cause of concern for most people — is that collagen production starts to slow down after the age of 20. This makes your skin thinner and more fragile (*).
Not just that, but the quality of collagen also decreases. Research shows that collagen bundles are well-organized in adults but they become less dense, fragmented, and disorganized with increasing age (*).
While aging affects collagen production and quality, lifestyle factors such as smoking, eating too much sugar, excessive ultraviolet light exposure (prolonged sun exposure), and too much drinking can degrade collagen and accelerate skin aging (*, *, *, *).
Supporting your body's natural ability to produce collagen is possible by eating foods rich in vitamin C (*). Examples of vitamin C-rich foods that are also low in carbohydrates include red bell peppers, broccoli, and strawberries.
In addition, one study found that taking a glutamine supplement may stimulate collagen synthesis through proline conversion. Proline is one of the key amino acids to form collagen (*).
What are Collagen Peptides?
Collagen peptides, also popularly known as "hydrolyzed collagen" or "collagen hydrolysate" is the supplement form of collagen.
Unlike the collagen that's already found in our bodies, collagen peptides have gone through a process called hydrolysis with the use of proteolytic enzymes like alcalase, papain, pepsin, and more (*). This results in a collagen protein supplement that's easily mixed into cold liquids and better absorbed by your body.
The fact is that collagen peptides are not necessary to make your body produce its own collagen since it does this already from the dietary proteins you consume (which contain amino acids) — such as meat, eggs, turkey, chicken, and salmon (*).
However, many studies suggest that taking collagen hydrolysate greatly helps, especially when you're optimizing for specific collagen benefits like improved skin health and appearance, joint and bone health, and more.
Research also reveals that collagen supplements may improve body composition, muscle recovery, and strength, especially in people who exercise (*).
Collagen peptide supplements are usually derived from bovine (cows), porcine (pork), chicken, and marine (fish) sources. They usually come in powder form but can also be sold as capsules or drinks.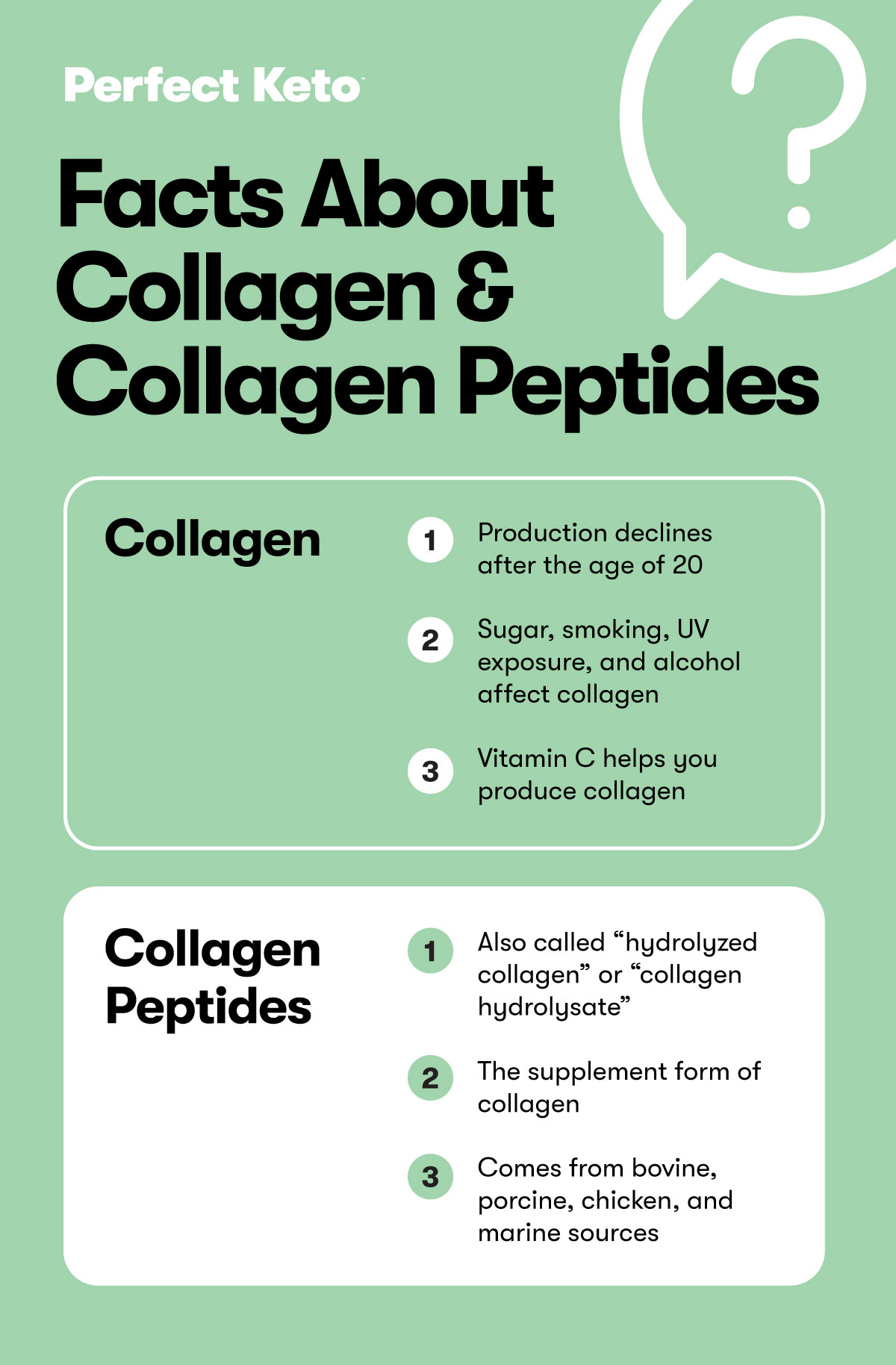 What's the Difference Between Collagen and Collagen Peptides?
Collagen 
Collagen Peptides (Taken orally)
Benefits

Comprises most of the structural proteins in your body
Forms your skin, bones, cartilage, hair, muscles, and blood vessels

May fight and prevent osteoarthritis
Increases skin elasticity, hydration, and density
May improve gut health by strengthening gut junctions
Beneficial for improving muscle mass and strength in combination with resistance training

Uses 
In clinical settings:

Applied as a dressing to hasten wound healing in patients with burn injuries
May be used as injectables to instantly reduce the appearance of smile lines and wrinkles

Taken orally at home or anywhere for their skin, bone, body composition, and gut benefits

Bioavailability 

Cannot be absorbed in your digestive tract due to its length

Highly bioavailable since collagen has already been broken down into small peptides

Solubility

Practically insoluble in water, just like most fibrous proteins

Dissolves completely in hot or cold water, so you can make collagen-boosted coffee and smoothies

Digestibility
Drawbacks

Collagen injections may cause skin redness, swelling, bruising, and scarring

Possible allergic reactions if you have fish, shellfish, and egg allergy
Collagen protein vs collagen peptides vary in their benefits (although with some similarities), applications, bioavailability, and more. We're going to discuss each aspect below.
Benefits
Full-length or unhydrolyzed collagen that's produced by your body and collagen peptides contain 19 amino acids and they're known for being high in the amino acids glycine, proline, and hydroxyproline. In fact, these three amino acids make up 57% of the total amino acids in collagen (*).
Moreover, hydrolyzed collagen is considered to possess antioxidant properties. Antioxidants prevent the formation of free radicals which contribute to disease and aging (* , *).
This amino acid composition makes collagen beneficial for:
Uses
Collagen protein has many uses in medical settings, such as hospitals and cosmetic surgery clinics.
For example, in patients with burn injuries, collagen dressings may be applied to promote wound healing by depositing freshly formed fibers. A study also showed that collagen-treated wounds were considered to be more sterile than wounds that were conventionally treated (*).
During cosmetic skin procedures, collagen may be used as an injectable (commercially known as Bellafill and made from bovine collagen) to immediately reduce the appearance of wrinkles and smile lines.
In one study, 123 male and female patients received type I and type III injectable human collagen. Based on the results, 90.2% of the participants rated their results as good or excellent (*).
As for collagen peptides, which are taken by mouth, they help with your skin, bone, joints, muscles, and gut health — as mentioned in the previous section of this article.
Bioavailability
Since collagen hydrolysate has already been broken down (from full-length collagen) into smaller peptides through hydrolysis, they're highly bioavailable. Meaning, that the small particle sizes of collagen supplements are easily broken down and absorbed by your body.
This makes collagen peptides a great addition to your current diet — whether as a powder, pill, or beverage.
Solubility
Solubility refers to the ability of a substance to dissolve in water. Between collagen peptides and collagen protein, collagen peptides are highly soluble due to their low molecular weight (3–6 KDa) (*).
That being the case, collagen powders dissolve completely in hot or cold water.
This means you can enjoy collagen peptides in various ways, such as adding a scoop to your cup of coffee (for collagen-boosted coffee) or making a delicious smoothie made of collagen peptides, unsweetened milk, and fresh strawberries.
While these options are common, you may also add collagen peptides to your soups and baked goods like muffins and energy balls.
Digestibility
Because collagen peptides are hydrolyzed, they're easier to digest by your body. Upon digestion, collagen gets distributed throughout your body — wherever collagen is needed.
Drawbacks
With all the benefits of collagen, you may be wondering if collagen protein and collagen peptides carry certain risks.
Both could cause side effects, especially if you have allergies to collagen sources like fish or shellfish and eggs. For instance, a person who's allergic to seafood may experience itching, generalized urticaria (or hives), and difficulty breathing after taking marine-derived collagen peptides.
Another example is injecting collagen under the skin, which may cause redness, swelling, bruising, and possible scarring.
But, for the most part, collagen supplements are well-tolerated.
Whether you're taking collagen peptides, applying collagen sheets, or receiving a collagen injection — be sure to note any allergies and work with a qualified health professional for collagen treatments.
Frequently Asked Question
Here are answers to common questions on collagen peptides vs collagen:
Which form of collagen is most effective?
The best form of collagen to take is hydrolyzed collagen or collagen peptides. Because it has undergone hydrolysis (meaning, it has been broken down), it's highly soluble and easily absorbed into your digestive system.
What is hydrolyzed collagen?
Hydrolyzed collagen, also called collagen hydrolysate or collagen peptides, is a type of collagen that has been broken down into smaller particles through a process called hydrolysis. Hydrolyzed collagen is usually available as a powder supplement.
What is gelatin?
Gelatin has the same nutritional composition as collagen, but gelatin is partially hydrolyzed. Because of that, gelatin forms a solid gel and is often used as an ingredient in gummy candies, sauces, marshmallows, and other ready-to-eat products.
Does collagen make you gain weight?
The answer is no. There's nothing in collagen that will cause weight gain (or kick you out of ketosis, if you're on a very low-carb diet) unless your collagen peptides supplement contains a lot of carbs and added sugars.
Bottom Line
Full-length or unhydrolyzed collagen and collagen peptides have the same amino acids, and both are beneficial for providing structure to your body. Specific uses include reducing the signs of aging, improving bone and joint health, and supporting the gut.
One major difference is that unhydrolyzed collagen is insoluble and indigestible, while collagen peptides are the complete opposite — which is why they're great as dietary supplements.
The average individual, a fitness enthusiast, or someone with specific needs can take a quality collagen peptides powder to boost their overall appearance and performance or receive collagen-based materials like dressings and injectables for medical purposes (such as speeding up wound healing or instantly looking younger).
Also, keep in mind that collagen levels in our bodies decrease naturally as we age; however, we can support them by living a healthy lifestyle — avoiding sugar, too much sun exposure, smoking, and drinking — and eating foods rich in amino acids (such as meat) and vitamin C.
26 References