Unlike many traditional diets, you typically don't have to count calories when you follow a low-carb diet. The reason for this is twofold:
#1 Once you're in ketosis, you won't be battling cravings and the desire to overeat because your blood sugar will be steady.
#2 You'll naturally feel more satisfied with less food as you nourish yourself with sufficient fat and protein.
With that being said, there are a handful of instances where calorie counting can be beneficial on keto. If you find yourself looking for a little more guidance in terms of how much to eat, a 1500-calorie meal plan tends to be a perfect balance for most people.
When And How To Follow A 1500-Calorie Meal Plan
Whether you're a total newbie or have been following a keto diet for a while, you may find that now and then, it can be helpful to provide yourself with a little more structure around calories.
Breaking A Weight Loss Plateau
Although many people experience weight loss as a side effect of following a keto diet, weight-loss plateaus are common. And while calorie counting isn't a huge part of a keto diet, restricting and tracking calories can help you bust through plateaus.
Even on keto, if you consume more than you burn, you won't see the scale budge. One common misconception with following a keto diet is that you can eat all the food you want and still burn fat. While this is true — once you're keto-adapted, you will burn fat for fuel — there is a difference between burning dietary fat and burning stored fat.
Put simply, if you consume more calories than your body needs for homeostasis, then you'll just be burning dietary fats all day and never give your body a chance to tap into your fat stores.
Therefore, if you find yourself struggling to lose extra weight, it may be time to experiment with calorie restriction. For most adults, 1500 calories are enough to feel satisfied and nourished, but will still keep you in a calorie deficit[*].
Intermittent Fasting
Intermittent fasting (IF) comes with a host of benefits, including weight loss, reduced inflammation, cellular repair, and more[*][*][*].
Depending on the type of IF protocol you follow, it can be beneficial to have some caloric guidelines to keep you in balance.
For instance, if you're following a protocol with an eating window, it may make sense to keep your calories within the 1500 range during your feeding time. Many people try eating windows of six to eight hours and stuff themselves with 2000 or more calories in this short time period.
The problem with this strategy is that you're actually over-feeding yourself, which could result in digestive distress. And if weight loss is your goal, then overeating during feeding windows isn't going to be very supportive to the end game.
Transitioning Into A Keto Diet
When you start out on a ketogenic diet, it can often feel overwhelming. How much fat can you eat? What about protein? Are there too many carbohydrates in this or that? What even are net carbs?
Having a meal plan that provides some guidance around calories is an excellent way to transition into keto without feeling like you have no boundaries with food.
It often takes a couple of weeks for the cravings to subside and for your body to become keto-adapted, at which point you'll be better able to listen to your intuition.
In the meantime, following a keto meal plan can be the perfect intro to keto. The meal plan provided in this article will help you take the guess-work out of what to eat, and it's full of variety, so you'll never get bored.
Sample 7-Day 1500 Calorie Keto Diet Meal Plan
Here is a sample 7-day keto meal plan that's filled with high-fat, high-protein, low-carb meals.
Monday
Breakfast
Two eggs with sautéed veggies and two tablespoons of cheese with ½ avocado
Lunch
Dinner
Tuesday
Breakfast
Avocado toast (1/2 avocado, 90-second keto bread, and sliced tomato with olive oil drizzle)
Lunch
Keto Taco Salad with guacamole
Snack
¼ cup almonds
Dinner
Wednesday
Breakfast
Sausage and cheese omelet with 2 eggs
Lunch
Chili Lime Tuna Salad with side of avocado
Dinner
2 pieces Cheeseburger Casserole
Thursday
Breakfast
Lunch
6 oz grass-fed ground beef burger in a lettuce wrap with one tablespoon chipotle mayo, and sliced tomato
Dinner
Friday
Breakfast
Lunch
1 cup Low Carb Chili with sour cream
Snack
¼ cup macadamia nuts
Dinner
Saturday
Breakfast
Avocado toast (1/2 avocado, 90-second keto bread, and sliced tomato with olive oil drizzle) (400)
Lunch
BLT lettuce roll-ups (3 slices of bacon, sliced tomato, ¼ avocado wrapped in lettuce)
Snack
¼ cup almonds
Dinner
2 cups Creamy Garlic Lemon Zucchini Pasta
Sunday
Breakfast
Sausage and cheddar cheese omelet with 2 eggs cooked with 1 tablespoon coconut oil
Lunch
6 oz grass-fed ground beef burger in a lettuce wrap with one tablespoon chipotle mayo, and sliced tomato
Snack
¼ cup macadamia nuts
Dinner
Instant Pot Pork Chops with a side of cauliflower mashed potatoes sprinkled with pecans
Tips for Meal Prep
When following a meal plan, it can be helpful to put together your shopping list and go grocery shopping in advance. There's nothing worse than getting home after a busy day and realizing you don't have everything you need to make dinner.
Prepping ahead is also a great way to ensure that you'll actually follow the meal plan. If you have an hour or two on Sunday, you can get your veggies chopped and portion out your meat. You can even fully prep dishes like casseroles or stews and refrigerate them for the week.
It's always a good idea to have some leafy greens on hand. When in doubt, green veggies make excellent sides and can be easily incorporated into almost any keto-friendly meal.
The same goes for sugar-free sweeteners like stevia and monk fruit. Even though you may not be experiencing intense sugar cravings anymore, you never want to deprive your sweet tooth completely.
Snack Like a Keto Pro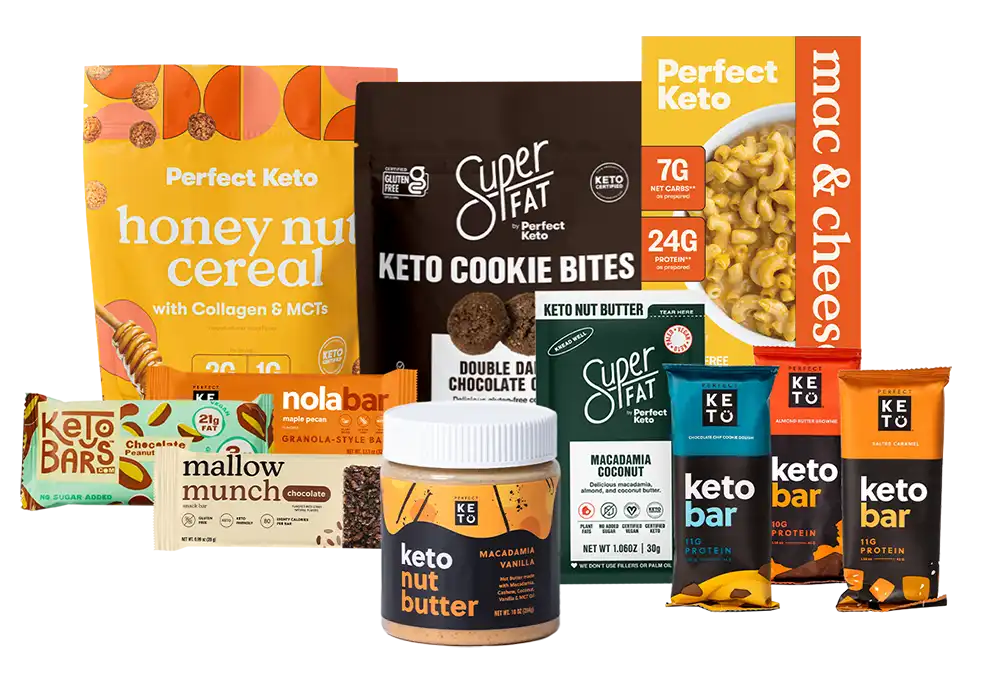 Master the Art of Keto Snacking with Perfect Keto. Nola Bars, Keto Cereal, Nut Butter & More. Fuel Your Body, Delight Your Senses.
Takeaway
Do you need to count calories to reap the benefits of keto? Absolutely not.
However, there are specific instances where keeping an eye on your calorie intake may translate into better results. However, be careful not to get caught in the calorie-counting trap, or your keto lifestyle will start to feel like a crash diet.
A 1500-calorie meal plan is an excellent way to help you transition into keto, blast through a weight loss plateau, or give yourself boundaries when intermittent fasting. However, be sure to avoid falling into the trap of calorie counting feeling like deprivation.