on May 22, 2019
If you've been following the keto diet for a while, your meal plan may be getting a bit stale. Even keto and other gluten-free pancake recipes are beginning to taste the same.
Not these keto cream cheese pancakes. A French twist on the American classic, these pancakes almost resemble crepes with their light, airy texture.
Because they replace almond flour and coconut flour with eggs and cream cheese, you end up with a completely different texture.
These delicious low-carb cream cheese pancakes are the perfect Sunday morning breakfast treat. Their soft consistency will remind you of the real thing, and their rich taste will keep you satisfied for hours.
Drizzle them with some monk-fruit maple syrup, or top them with your favorite berries — who says a low-carb diet can be fun?
You don't even need gluten-free nut flours like coconut flour and almond flour that most keto pancakes call for. with a few simple ingredients; these fluffy pancakes are yours in just ten minutes.
These low-carb pancakes are:
Warm

Creamy

Delicious

Satisfying
The main ingredients in this cream cheese pancake recipe are:
Cream cheese

Eggs

Monk fruit
Optional additional ingredients
Sugar-free syrup

Melted butter

Sugar-free chocolate chips

Peanut Butter or nut butter drizzle
3 Health Benefits of Cream Cheese Pancakes
#1: High Protein
Unlike traditional high-carb pancakes, these low-carb pancakes are loaded with protein to keep your blood sugar stable and your ketone production running smoothly.
When you eat protein, it causes an increase in something called diet-induced thermogenesis. Diet-induced thermogenesis measures an increase in energy expenditure above your basal metabolic rate. In other words, how much energy it takes to metabolize the food your eating.
As compared to carbohydrates, protein causes a high rate of diet-induced thermogenesis, so you're burning more calories just by eating protein-rich foods than carb-rich foods[*].
But there's more. Protein consumption, when compared with carbohydrate consumption, increases satiety and may boost your weight loss efforts[*][*][*].
#2: Supports Brain Health
One of the key ingredients in these keto pancakes are the eggs. Eggs are a great source of choline, a nutrient crucial for brain health.
Choline is a precursor to phospholipids which help to create the membranes around your cells. This improves the integrity of your cells and allows nutrients in and out[*].
While its role in cell membrane health affects your entire body, choline also plays a special role in brain health and function.
Specifically, it is the precursor to a neurotransmitter called acetylcholine. Acetylcholine is an essential neurotransmitter for mood, memory, and muscle control.
Choline also plays an important role in gene expression and early brain development[*].
#3: Boosts Fat Loss
There's a big difference between "weight loss" and "fat loss." When you lose weight, it could come from water, muscle, or stored body fat. But fat loss is much more straightforward — you're getting rid of unwanted extra fat.
While many diets and diet foods may claim they can help with weight loss, few have been found to have a direct effect on your fat cells.
An exception to this rule is monk fruit.
A compound in monk fruit called mogrol has been found in vitro to inhibit the growth of fat cells[*].
Cream Cheese Pancakes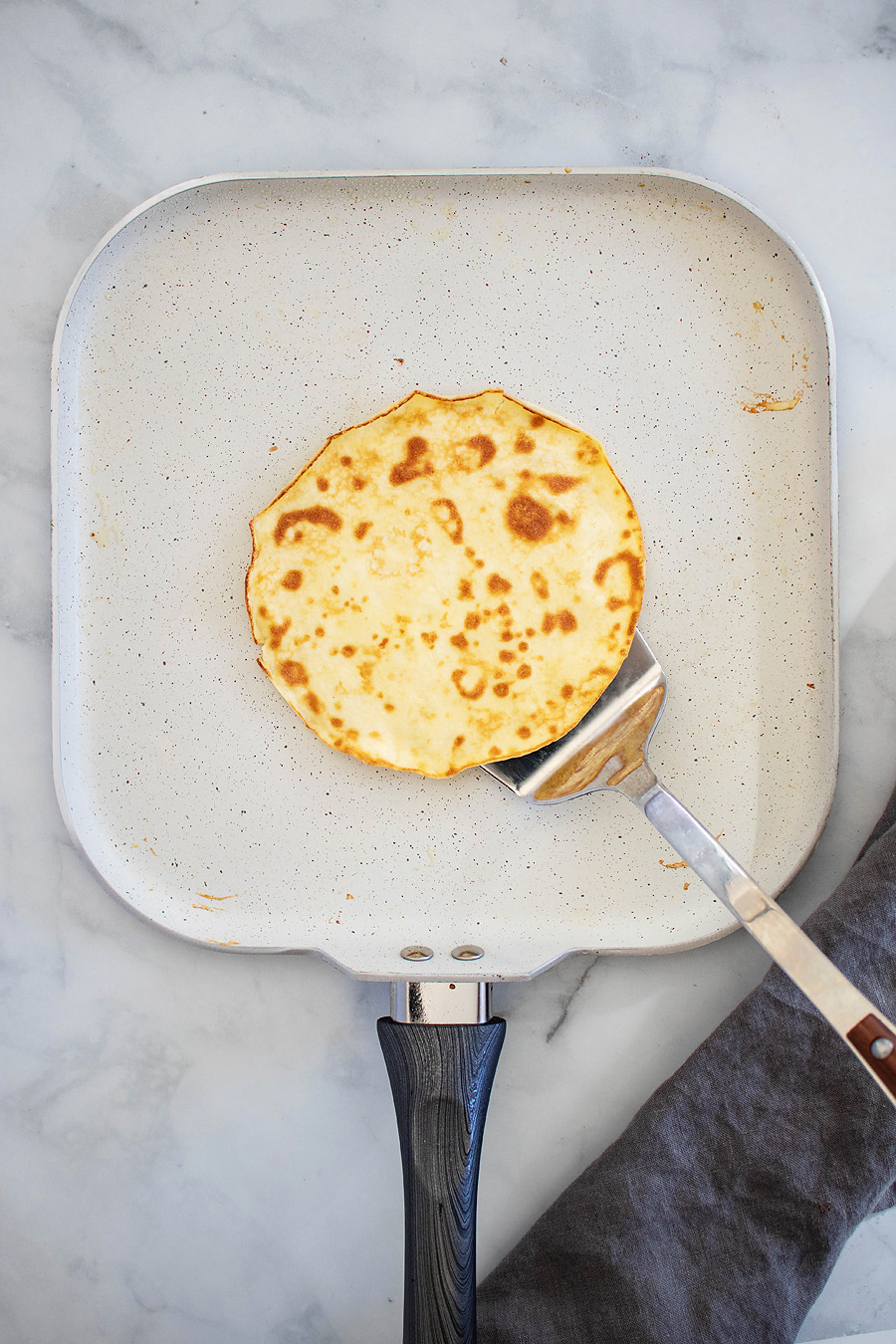 While regular pancakes contain a laundry list of ingredients from almond flour to coconut flour to baking powder, these cream cheese pancakes contain just a few ingredients. And they clock in at just 1 carb per gluten-free pancake. Add a little melted butter and you've got yourself a low-carb breakfast or even a midday snack.
If you're a keto pancake fan, but you're sick of the same old recipes, these are the pancakes for you. Add these to your regular keto breakfast of bacon and eggs for a brunch your family won't forget.
And because these pancakes don't contain the usual keto-alternatives like almond flour or coconut flour, you'll get a unique and fluffy texture with just a little bit of crunch.
This easy recipe only takes 10 minutes to prepare, and with a carb count of one carb per pancake, your macros are safe and sound.
So gather your ingredients and pull out your hand mixer — it's time to add this cream cheese pancakes recipe to your low-carb breakfast.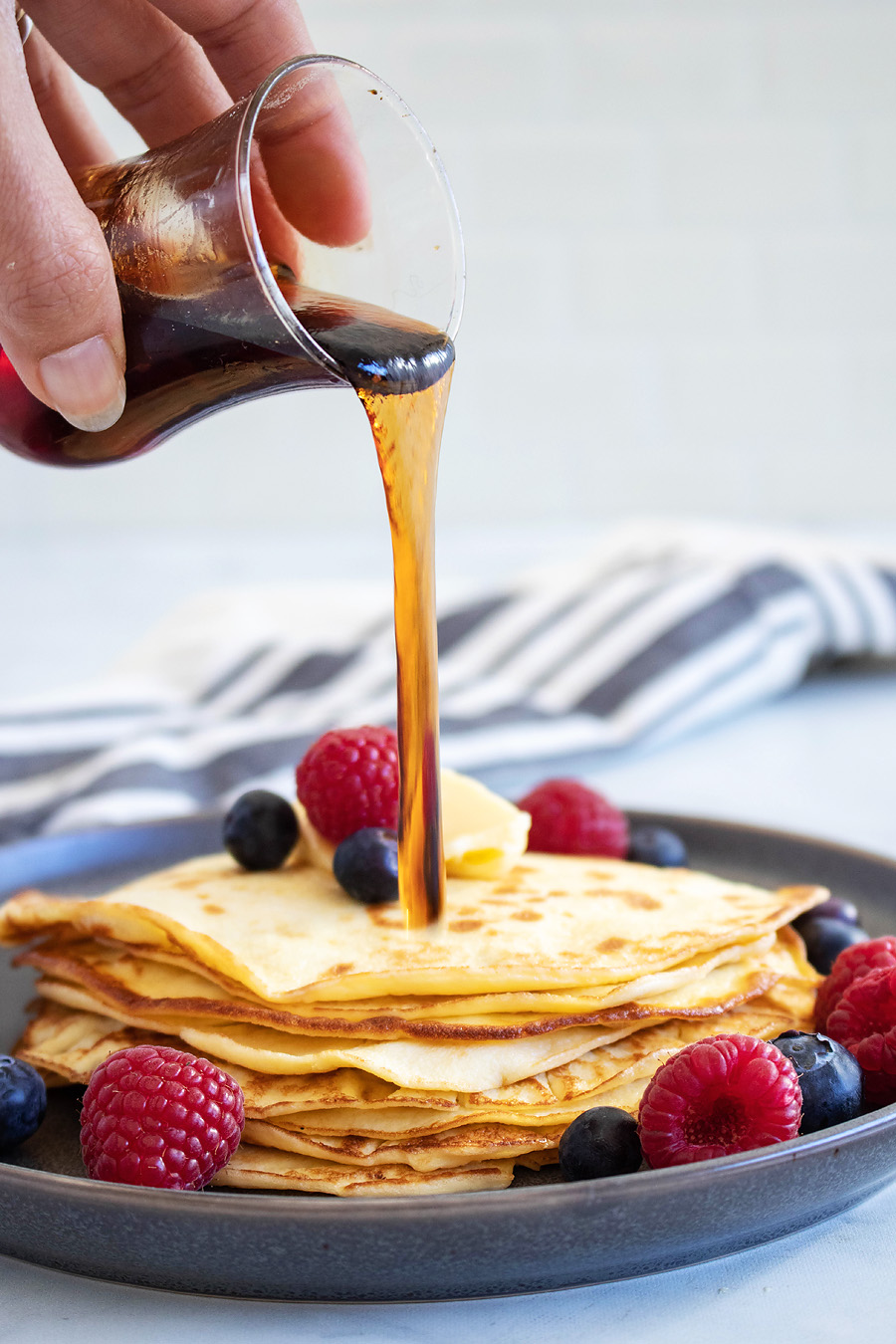 Print
Cream Cheese Pancakes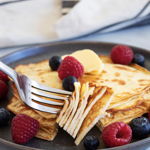 These cream cheese pancakes take keto pancakes to a new level. Add sugar-free syrup, chocolate chips, melted butter, or your favorite berries for a Sunday morning treat.
Author:
Prep Time:

2 minutes

Cook Time:

8 minutes

Total Time:

10 minutes

Yield:

6 pancakes
Ingredients
4 oz cream cheese (softened)

4 large eggs

2 teaspoon stevia or monk fruit sweetener

½ teaspoon vanilla extract

1 tablespoon butter (for greasing the pan)
Instructions
Add cream cheese, eggs, sweetener, and vanilla extract to a high-speed blender. Mix on high until smooth.

Preheat a large nonstick skillet or pan under low-medium heat. Melt ¼ teaspoon of butter in a pan.

Pour ¼ cup of batter onto the pan. Cover and cook for 2 minutes on each side until golden brown. Repeat step with remaining batter.

Top with sugar-free maple syrup, butter, coconut butter, etc. if desired.
Nutrition
Serving Size:

1 pancake

Calories:

131

Fat:

11g

Carbohydrates:

1g

Fiber:

0g

Protein:

6g
Keywords: cream cheese pancakes