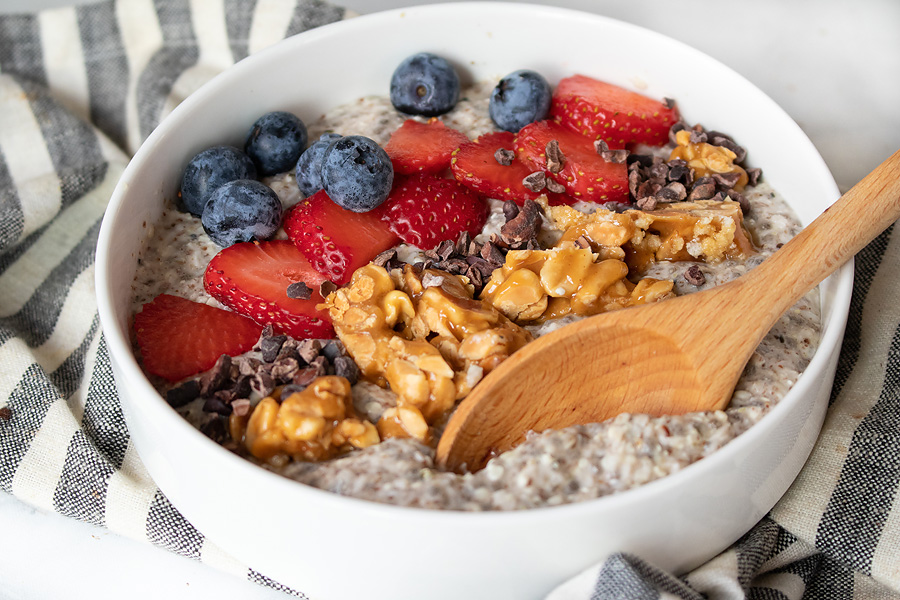 Imagine a cold rainy morning and it is time for breakfast. Personally, I love something warm and filling to start my day off right. I also know that I desire a healthy keto lifestyle as well and who would ever think that low carb oatmeal would even come close to matching the creamy deliciousness that regular oatmeal does? Well believe me, this high protein low carb oatmeal recipe will fit the bill just perfectly. Top your oatmeal with strawberries, nut butter or cinnamon and put that ice cold keto smoothie back in the summer months where it belongs! Your tummy will be delighted, and your health will be even happier when you delve into this low carb, high protein recipe for mouth watering keto oatmeal.
Dare I think that I could create a recipe that met the requirements of my low carb, high protein lifestyle? I headed to the kitchen to find out. With excitement, I excitedly began to play with ingredients that would give my tummy a delightful treat, stay with me until lunchtime, and keep the chill of winter away. I hit my test kitchen with excitement and my creative juices flowing. In a short amount of time, I was onto a delightful quest that turned out beautifully. This recipe for keto oatmeal will satisfy your oatmeal craving, while also keeping your health at the forefront of all you eat. Don't hesitate! Dive in!
Keto Oatmeal Ingredients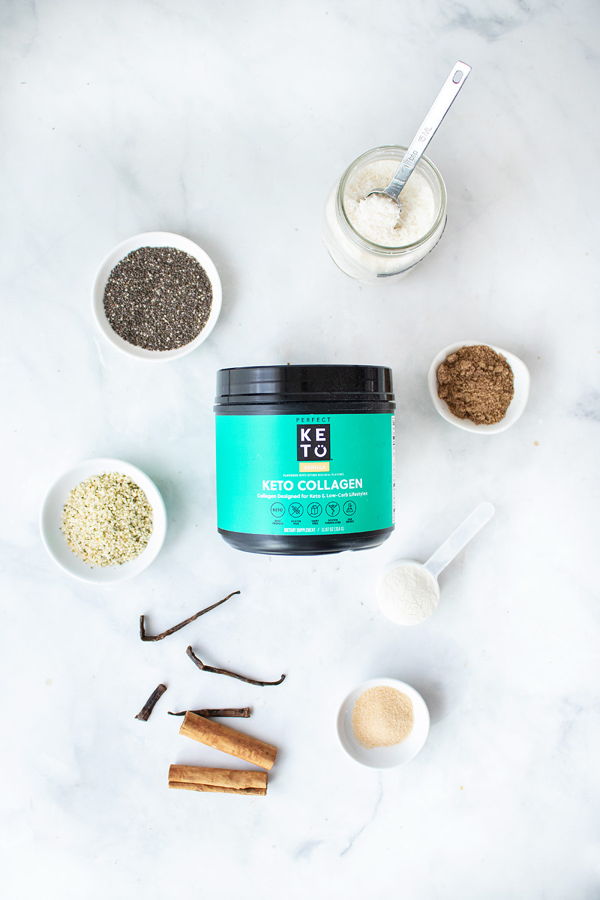 Chia Seeds – these little seeds are rich in nutrients, omega-3 fats, antioxidants, and fiber. Use either whole black or white chia seeds.
Coconut Flakes – unsweetened coconut will give your oatmeal some texture and a subtle coconut flavor. Lightly toast it in the oven for an even bigger boost of flavor and texture.
Hemp Hearts – these have a very mild, nutty flavor and are loaded with both omega- 3 and omega-6 fatty acids. Hemp hearts will also boost your protein intake.
Flax Seed – a plant based food that is loaded with healthy fats, fiber, and antioxidants. Flax also has a light nutty flavor that pairs well with the hemp hearts. Use either golden or brown seeds and grind them fresh for maximum flavor.
How to Make Keto Oatmeal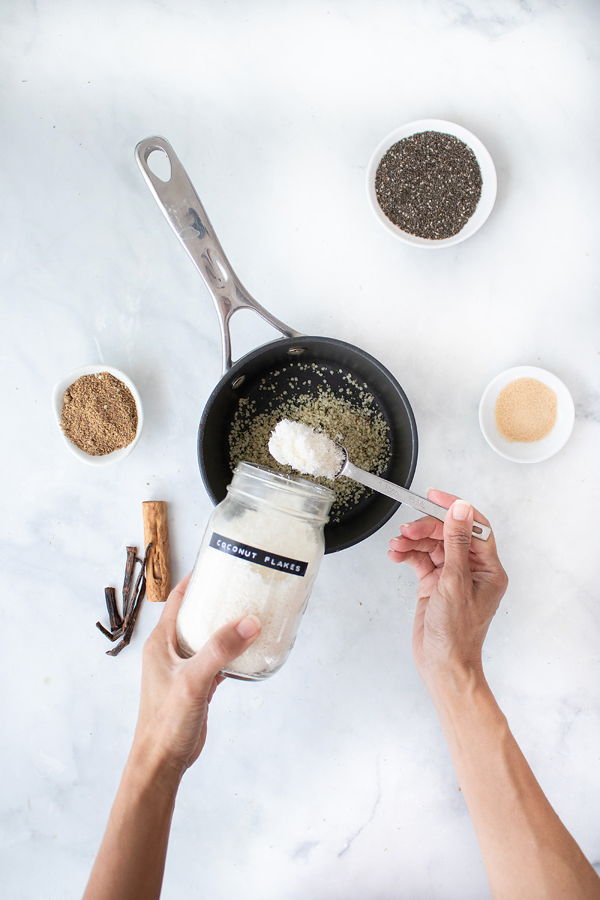 This is one of those recipes that couldn't get more simple!  Start out by adding all of your ingredients to a small pot set over low-medium heat. Stir well to combine. Cook for 7-8 minutes until mixture is thick and creamy. Add more milk for desired texture and adjust sweetness to taste. Remove from heat and add toppings of choice.
You can also make this low carb oatmeal ahead of time.  Simply add all ingredients to a mason jar, mix, and place in the fridge overnight. Add toppings and eat as is or heat on the stove for 3-4 minutes.
Best Toppings for Keto Oatmeal
This is where the fun starts!  The skies are the limits with oatmeal toppings. Depending on your nutritional goals, taste, and cravings you can change up this recipe a thousand different ways. Here are some of our favorite additions:
Extracts – There are so many flavor extracts available these days. Vanilla, banana, almond, strawberry, coconut, lemon, orange, and peppermint extracts can be found in most major grocery stores.
Protein – Adding collagen will not only boost your nutritional profile, but it will also help flavor your oatmeal.
Perfect Keto Cereal– This delicious cereal made with 9 grams of protein and 1-2 net carbs per serving will boost your keto oatmeal.
Fruit – Stick with low glycemic fruits like berries. These are lower in sugar and will add a lot of flavor and texture to your oatmeal.
Granola – Try making a batch of our keto granola as a fun topping that will add a great crunch.
Perfect Keto Bars – This is a delicious and nutritious way to add even more flavor and texture to this keto oatmeal recipe. Our favorites are Peanut Butter Nola Bars and any of the varieties of our original keto bars.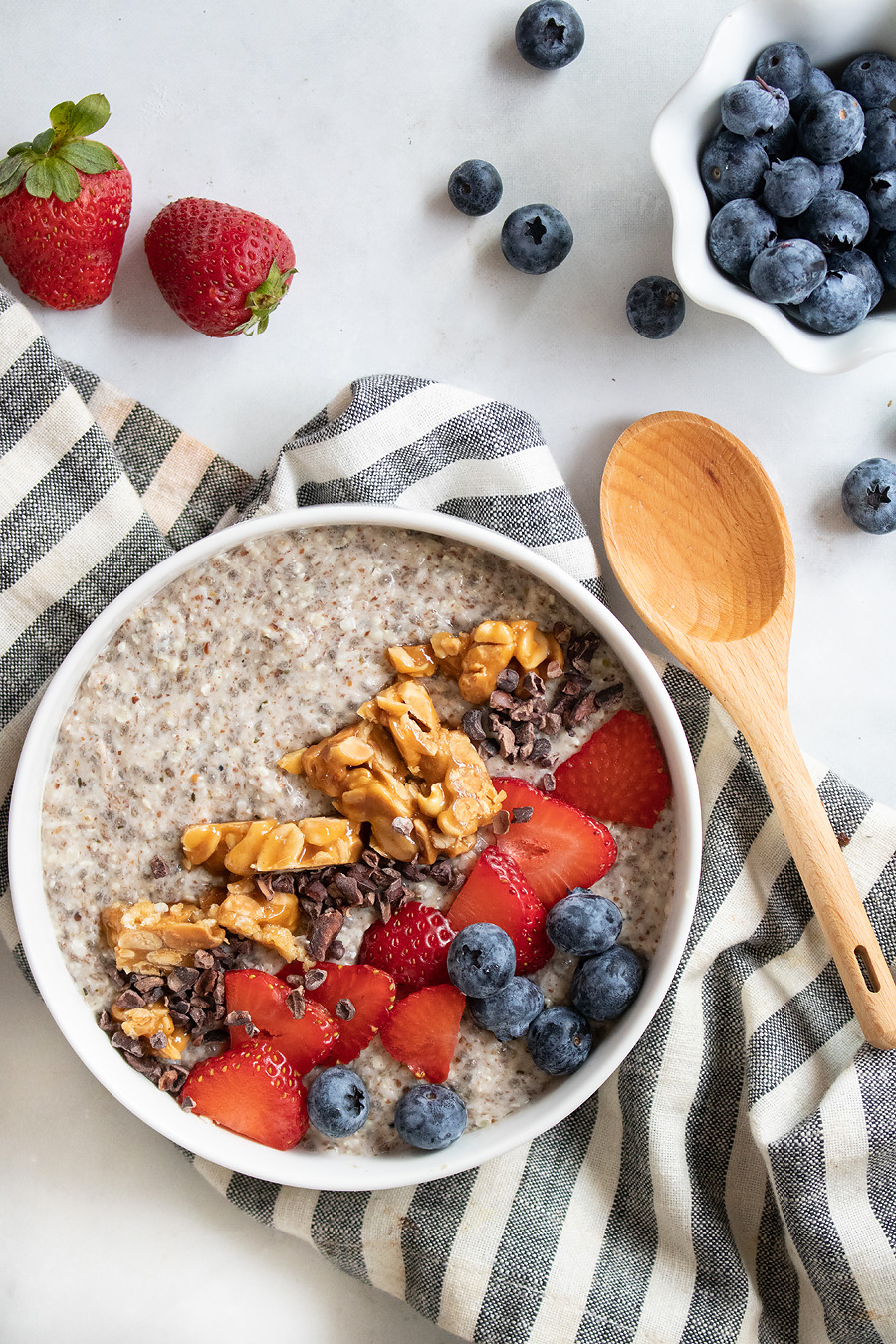 Keto Flavor Combinations
Maple pecan – 1/4 teaspoon maple extract and toasted pecans
Chocolate – chocolate collagen and 1 tablespoon of cacao powder
Cinnamon Roll – cinnamon toast collagen and 1/4 teaspoon cinnamon
Chocolate Peanut Butter – 1 tablespoon powdered peanut butter and 1 tablespoon cacao powder
Strawberries & Cream – strawberry collagen, 1 tablespoon of heavy cream, and 1/4 teaspoon strawberry extract
Almond Joy – 1 tablespoon of cacao powder, 1/4 teaspoon coconut extract, and 1 Perfect Keto coconut chocolate chip nola bar
Keto Oatmeal FAQs
Can I use cream or milk for this keto oatmeal?
You can use any unsweetened nut milk for this recipe. You can also use unsweetened coconut milk which will add a great, subtle coconut flavor and healthy fats. To make this even more rich, add in a tablespoon of heavy cream.
Can this keto oatmeal be made ahead of time?
Yes! This is a great make ahead meal. Add all of your ingredients to a small mason jar and mix well. Cover and refrigerate overnight. Add toppings and enjoy immediately.

Print
Creamy Keto Oatmeal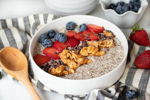 Skip that traditional bowl of oats that is loaded with carbs and try this creamy, low carb keto oatmeal recipe. It only takes 5 minutes to prepare and will keep you fueled all morning long. Enjoy everything you love about oatmeal, but without the carbs!
Author:
Total Time:

10 minutes

Yield:

1

serving

1

x
Scale
Ingredients
2 tablespoons

flax meal

1/4 cup

shredded coconut flakes (unsweetened)

1 tablespoon

chia seeds

2 tablespoons

hemp hearts

1 cup

unsweetened milk of choice

1 tablespoon

monk fruit or stevia
Instructions
Add all ingredients to a small pot set over low-medium heat.  Cook for 7-8 minutes until thick and creamy.  Stir occasionally to prevent it from sticking to the bottom of the pan.  Add more milk if needed to reach your desired texture. 
Nutrition
Serving Size:

1 cup

Calories:

360

Fat:

29g

Carbohydrates:

16g

Fiber:

11g

Protein:

14g