Why would anyone need 15 keto almond flour recipes?
The question shouldn't be what you're going to do with all these recipes, but why you need them in your keto lifestyle.
See, most of us hate buying random, expensive ingredients you only use for one recipe. And by the time you find another recipe calling for that ingredient, chances are, it's already expired in your pantry.
But thanks to its versatility, you can use almond flour to replace regular flour, make low carb bread, and even use it in keto pizza crust.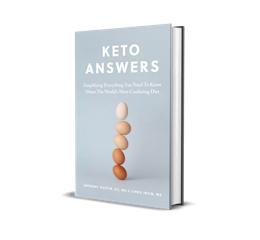 Keto Answers Book
Have a conversation with a leading keto doctor and keto researcher at your fingertips so you can feel better and keto with confidence.
Buy Now
So in this guide, you'll learn:
Trust me, when I bought almond flour for the first time to make keto macarons, it sat on the shelf afterwards for almost a year before I realized just how perfect it was for a ketogenic diet.
Today I'm going to help you put your almond flour to good use so you don't repeat the same mistake.
So let's start with why you should make the switch from white flour to almond flour (hint: it's not just for the low net carbs).

3 Reasons Why Almond Flour Trumps White Flour
There are three reasons why almond flour is better for you than white or even whole wheat flour:
#1: White Flour is Chock Full of Carbs and Gluten
Flour is generally off limits on keto because it's high in both gluten and carbs, two roadblocks to reaching ketosis.
You'll find roughly 96g of carbohydrates per cup of white flour and approximately 6g of carbs per tablespoon(!).
This mega high carb count is why consuming any foods made with white flour becomes an almost guaranteed ticket to an insulin spike.
This means you'll experience an instant jolt of energy — thanks to all the excess sugar floating around in your bloodstream — that is quickly followed by a sugar crash shortly thereafter.
As for the gluten in white flour, some people are highly sensitive and gluten-intolerant. They'll experience digestive upsets such as diarrhea, gas and bloating after eating foods with white flour and gluten in the ingredient list.
Almond flour, on the other hand, is naturally gluten-free and considered a low glycemic food, which means it won't raise your insulin to unhealthy levels.
And it shouldn't upset your digestive system if you're affected by gluten either.
But these two issues aren't the only downsides to wheat or grain-based flours.
#2: White Flour is Ultra Processed.
White flour, as opposed to almond or coconut flour, is stripped of what little nutrients it may have during processing.
Because of this, manufacturers have to artificially add back key vitamins and minerals that were lost. These nutrients aren't the real thing — they're manufactured forms that mimic natural vitamins and minerals, just like a spray-on tan.
Because of this…
#3: White Flour is Devoid of The Nutrients Almond Flour Delivers
When almonds are used for flour instead of wheat or grains, you'll have a dose of healthy fats (56g per cup) plus minerals such as magnesium, potassium and calcium[*].
You'll also get 24g of protein, 12g of dietary fiber, and only 12g of net carbs per cup too[*].
However, you will also find more calories because it's made of fat-rich nuts, which means you'll need to adjust for this in your macros.
These almond flour health perks aren't even the best part about making the switch.

Almond Flour Can Help You Create Keto-Safe Alternatives For Recipes Requiring Flour
When you're craving traditionally carb-rich foods such as bagels, waffles and birthday cake, almond flour can be a lifesaver.
Not only will it help you create keto-friendly versions of your favorites, almond flour is also closer to the texture and flavor of regular flour when compared to alternatives like coconut flour or flaxseed meal.
That's why it's one of the best low carb flour substitutes.
Now that you're aware of the health benefits of almond flour, you're probably wondering how and when to use it.
The answer is simple: practically everywhere.
But even though you'll be allowed to have your cake and eat it too, moderation and portion control is everything because these delicious recipes aren't carb-free.

15 Keto Almond Flour Recipes That You'll Swear By
Almond flour is the perfect substitute for regular flour on a keto diet, got it.
But it can also replace other carby ingredients like cornstarch and traditional breadcrumbs too.
So try using almond flour to make both savory and sweet low carb recipes like these:
6 Low Carb Alternatives to Carb-Heavy Favorites
These almond flour keto recipes will have you covered from breakfast through dinner.
#1: Fluffy Keto Waffles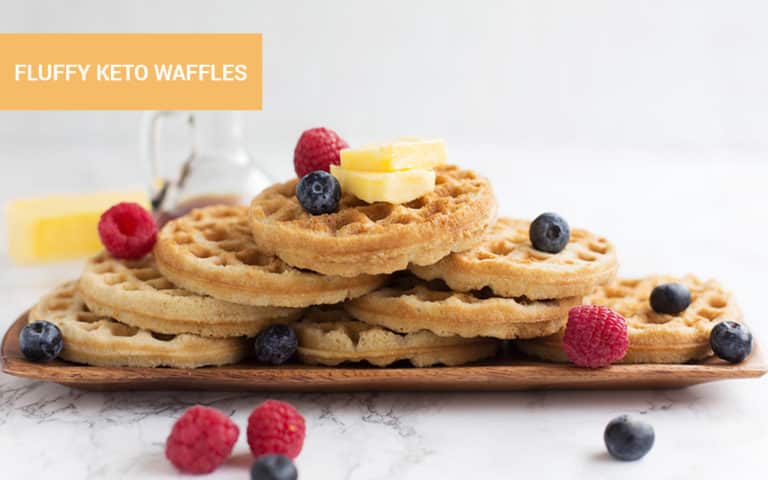 Before you sell your waffle maker at your next garage sale, you may want to check out this keto-friendly waffle batter recipe you won't feel guilty making every weekend.
With a mix of almond flour and a sprinkle of coconut flour, you'll have fluffy waffles that won't kick you out of ketosis.
And the same happens with this next almond flour recipe.
#2: Cheesy Keto Bagels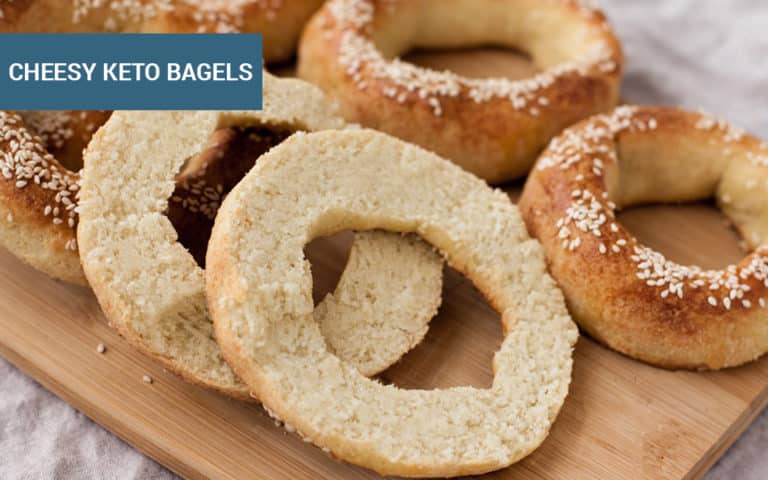 Most bagels are anything but keto-friendly.
But this cheesy keto bagel recipe becomes the one exception to that rule.
Instead of 40g+ of carbs per serving, this one clocks in at 5.9g net carbs and delivers 27.9g of total fat and 22.8g of protein, which most bagels can't compete with.
Schmear those bagels with butter or low carb cream cheese and say hello to your morning.
But if you're more familiar with biscuits in the AM, you'll want to rise and shine for this next recipe.
#3: Better Than Your Grandma's Low Carb Keto Biscuits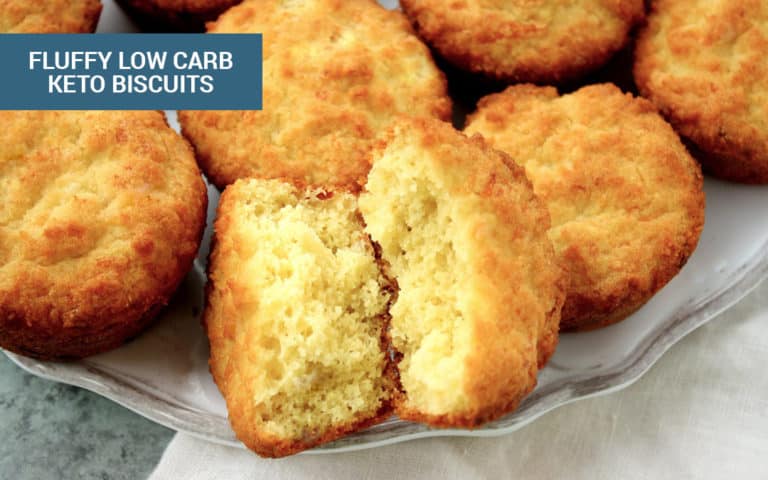 I want to apologize to your grandma, aunt or mom in advance.

While they probably mean well with their famous biscuit recipe, the amount of carbs in them isn't showing your body any love.
Fortunately, you can create a low carb copycat even they would approve of.
Using heavy whipping cream, mozzarella cheese and almond flour, you'll have a cheesy biscuit taste explosion without losing the same comforting texture (or eating too many carbs).
At least your grandma will be happy to know these are also nutritionally better for you than her recipe (sorry again, grams!) since there's only 2.2g of net carbs — plus 13.6g of fat and 7.1g of protein — in each one.
Moving on from breakfast to lunch…
#4: Ditch Your Taco FOMO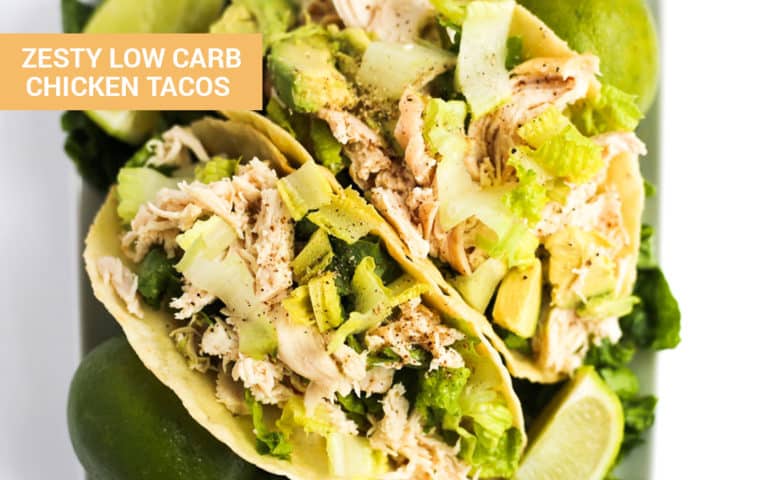 Though I once scoffed at the idea, I'm now a huge fan of using romaine lettuce and other low carb alternatives for taco shells.
But with that being said, sometimes you crave the real thing and lettuce just doesn't cut it.
Luckily this low carb almond flour taco shell recipe is just-as-tasty as flour or corn-based carb traps.
Now you can enjoy taco night again with your friends and family even on a low carb diet.
You might even be inspired to tackle this next replacement recipe: almond flour bread.
#5: Keto Bread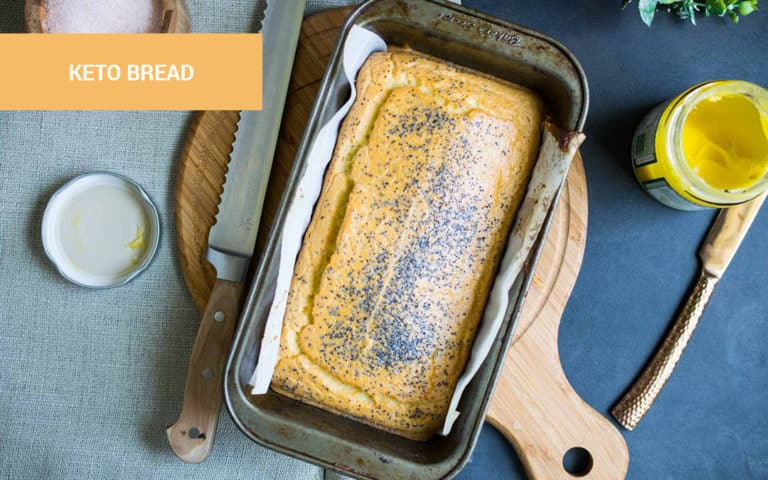 In the beginning of your keto journey, you may have an intense craving for all things bread.
With this keto bread recipe that only uses simple ingredients you actually have in your pantry, you'll have a gluten-free and keto-friendly alternative you can enjoy for breakfast, lunch, dinner or any other time those cravings strike.
Slices of keto bread go great with eggs and make the perfect sturdy base for grilled cheese and open-face sandwiches like this smoked salmon on avocado toast.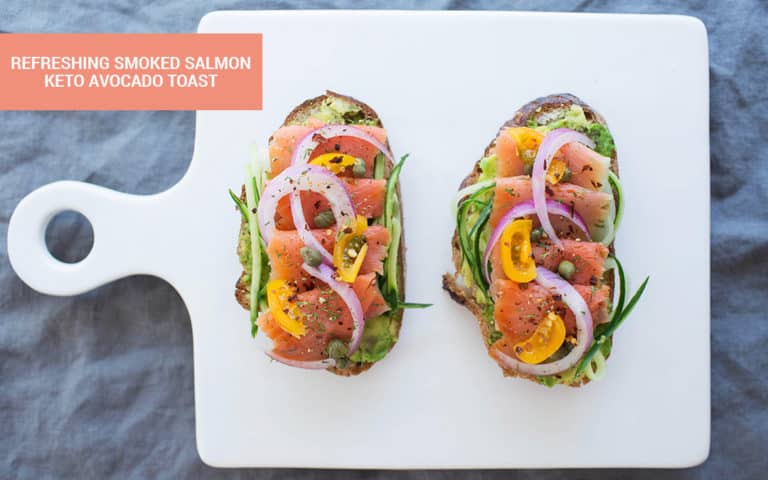 Up next is an update for another handheld classic: the fritter.
#6: Easy Low Carb Cauliflower Fritters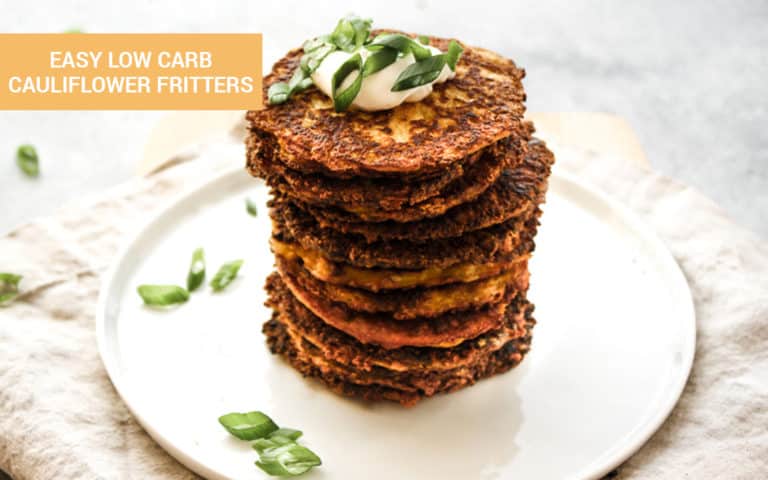 Fritters may not be something you crave as often as the other foods on this list, but you may feel otherwise after making this easy recipe.
Using cauliflower, almond flour, eggs, cheddar, parmesan cheese, and sea salt, you'll have a tasty substitute for regular potato hashbrowns.
Or whip up these fritters as a side dish or snack and top with a nice dollop of sour cream.
Just try these and thank me later.
Up next, these three almond flour recipes show off why almond flour makes an ideal swap for crusts of all types.
3 Low Carb Crust Alternatives
Whether you need a crust for a cheesecake or a pizza, these almond flour recipes have your answer to low carb and keto-approved foundations:
#1: Decadent Keto Cheesecake Crust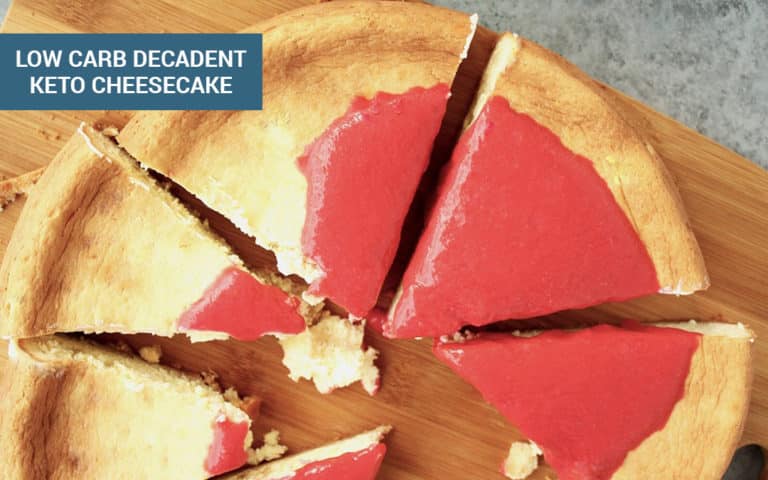 This low carb cheesecake crust recipe is a tasty gift your whole family will love.
And it only requires three ingredients, which you probably already have in your kitchen: almond flour, butter and monk fruit sweetener.
The same is probably true for the ingredients in this next recipe.
#2: Keto Fathead Pizza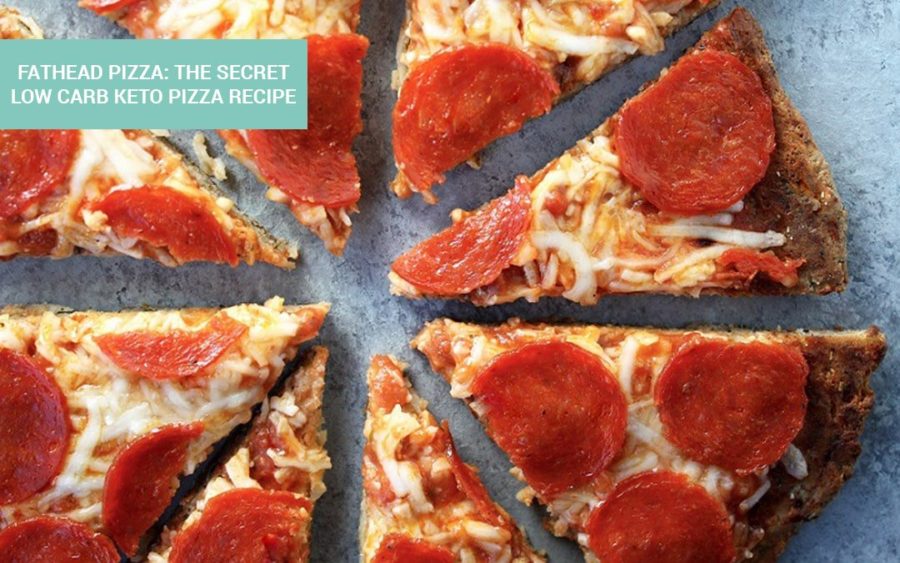 Just like I was skeptical of using romaine leaves for taco shells, cauliflower crust for pizza had me on the fence too.
So if you're still not convinced, this keto fathead pizza recipe, which uses almond flour in the base, will make you a believer of low carb pizzas.
This crust crisps up and makes the perfect crunchy canvas for all your favorite keto pizza toppings — minus the guilt and bloat of normally high-carb slices.
And if you're missing buttery quiche crust on keto, almond flour may reunite you two again.
#3: Dairy Free Keto Quiche Crust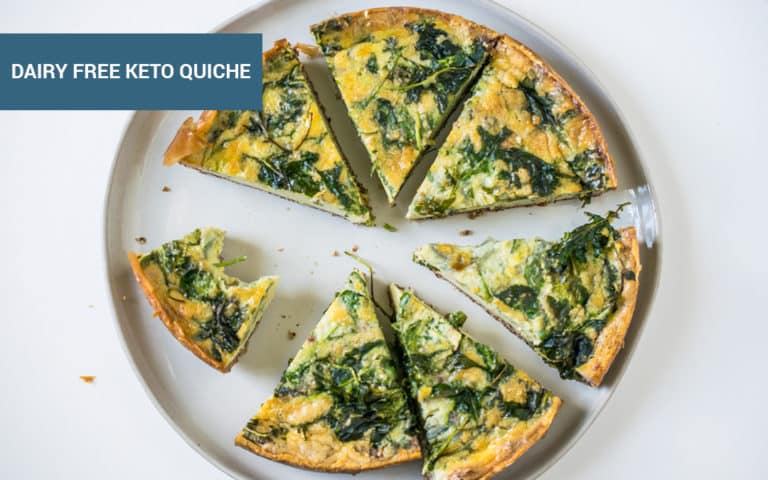 Most ketoers simply make their quiches crustless to save carbs, but that can get boring after awhile.
The good news is you can create a low carb quiche crust that tastes just as flavorful as one made with flour and may even keep you satisfied for longer.
And it's not just savory recipes that work well using almond flour.
As you'll see next, these desserts and sweet treats can all be made using this white flour alternative.
4 Sinfully Decadent Low Carb Desserts Made With Almond Flour
These next four recipes are practically guilt-free and can easily be worked into your macros every so often:
#1: Keto-Approved Cinnamon Rolls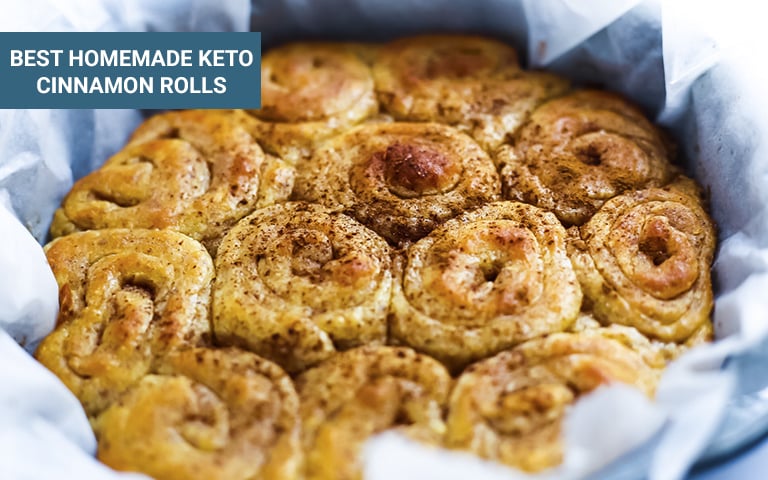 Who doesn't love the smell of fresh cinnamon rolls baking in the oven?
It doesn't matter if it's a Sunday morning or a rainy, cozy weekday, there's nothing better than the scent of warm cinnamon and sweet icing in the air.
Those crave-worthy rolls are usually off-limits on keto since they're nothing more than flour and sugar — until now.
This keto-approved cinnamon roll recipe means you don't have to settle for a life without these spirals of joy.
The best part is this recipe even includes a keto-safe frosting to further the authentic taste sans carbs and sugar. If you don't have it handy, you can replace the stevia in the frosting with other keto-approved sweeteners like monk fruit sweetener.
You'll only need to budget for 10g of fat, 10g of protein and 4g of net carbs per roll.
Now if you want a dessert to step up your nutrition game, check out this next recipe.
#2: Ooey Gooey Keto Almond Flour Brownies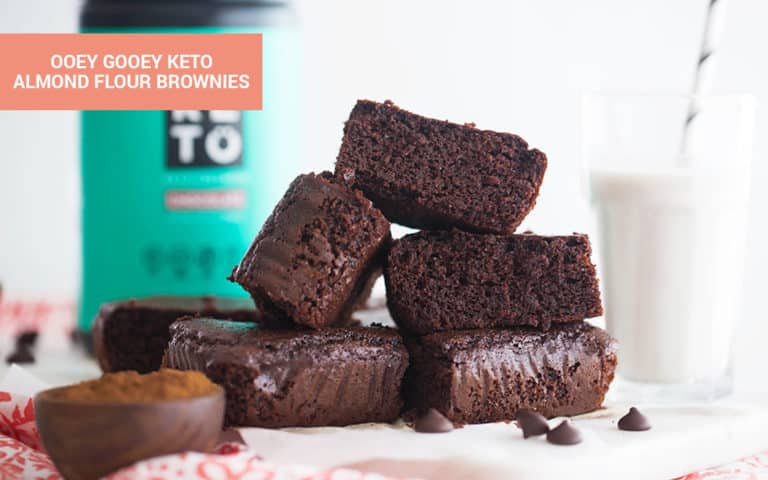 Did you know almond flour and collagen protein make an awesome team when their powers combine in the name of dessert?
There's no better evidence of this magical duo than this chocolate collagen brownie recipe.
Aside from all the nutritional benefits of almond flour, these brownies are loaded with 10 grams of collagen peptides to help you:
Recover after grueling workouts

Strengthen your bones, joints and ligaments

Improve connective tissue

Boost your skin's health

Improve your gut lining
And that same collagen protein powder also contains medium chain triglycerides, or MCTs as they're commonly known.
MCTs quickly become usable energy in the form of ketones when ingested. So that means this recipe is equal parts decadent keto brownie and natural energy boost.
If you prefer vanilla over chocolate, this next recipe has your name on it.
#3: Ultra-Moist Vanilla Keto Pound Cake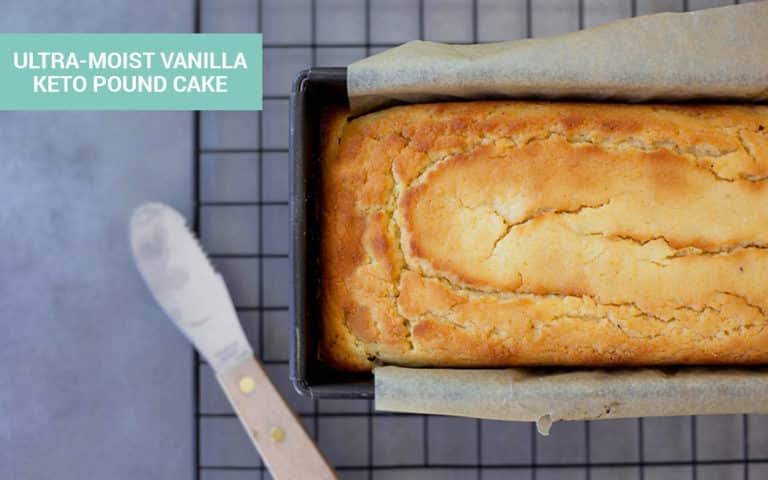 Want those same collagen benefits I just mentioned but not a huge fan of chocolate?
This vanilla keto pound cake recipe proves you can enjoy the same 10g of collagen in a vanilla flavor instead of chocolate.
The recipe is super easy to make and only requires 10 ingredients, which sounds like a lot at first but you probably already have them in your house right now: almond flour, coconut flour, baking powder, salt, eggs, vanilla extract, sour cream, milk and butter.
And if you've attempted the almond flour bread recipe from above, you'll be able to reuse that loaf pan instead of only getting one use out of it.
But here's the real question you may be asking yourself now: Can you use almond flour to make a keto birthday cake?
The answer is a resounding yes!
#4: Chocolate Keto Birthday Cake With Vanilla Buttercream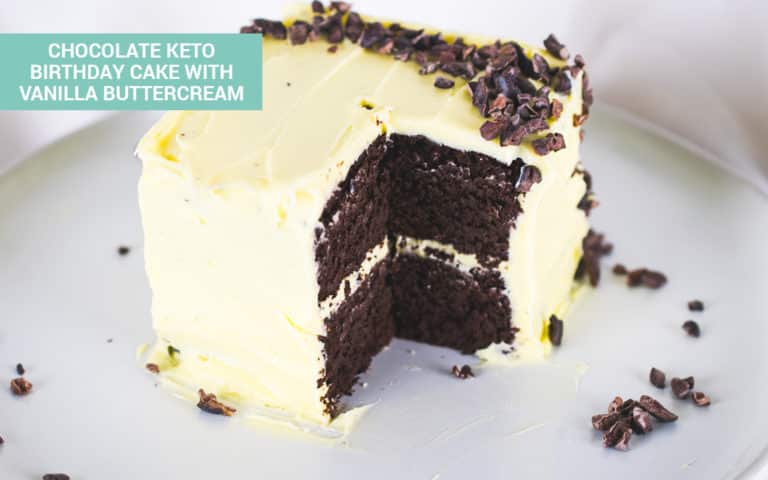 You really don't need a formal celebration to enjoy this keto-friendly chocolate cake with vanilla buttercream icing.
While I'm not suggesting you include it in your daily meal plan, it's a wonderful recipe to save for special occasions or any other time you want to treat yo' self.
With only 5g of net carbs, 61g of fat and 10g of protein, it's definitely a sweet treat you'll want to share, which is probably going to happen with these final two recipes as well.
2 Low Carb Cookie Recipes Using Almond Flour
If you were a cookie monster in your previous non-keto life, you'll be pleasantly surprised to know almond flour works well for recreating these as keto snacks too.
#1: Soft and Chewy Chocolate Chip Cookies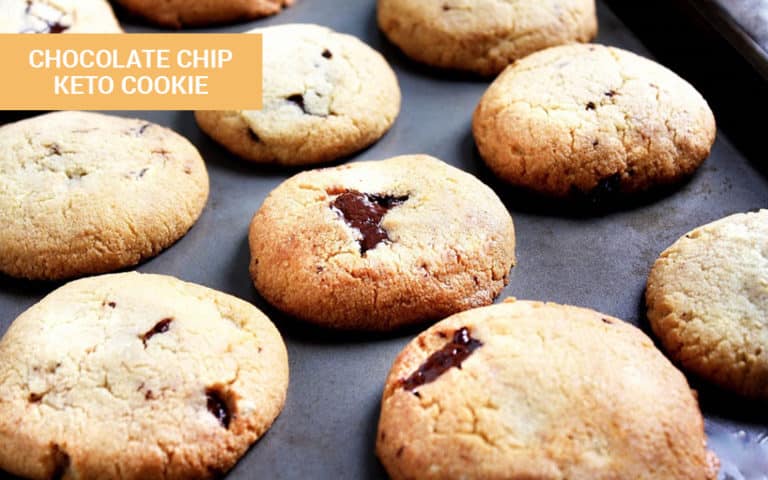 Instead of forking over 5g of net carbs for a piece of cake, your macros may be better able to accomodate 1.7g of carbs per serving using this low carb chocolate chip cookie recipe.
These keto chocolate chip cookies are soft and chewy on the outside and loaded with powerful nutrients on the inside, such as:
Cacao

Almond meal

Magnesium

Copper

Manganese
If you're jonesing for a flavorful spiced cookie with just as many health benefits, this last recipe fits the bill.
#2: Low Carb Gingersnap Cookies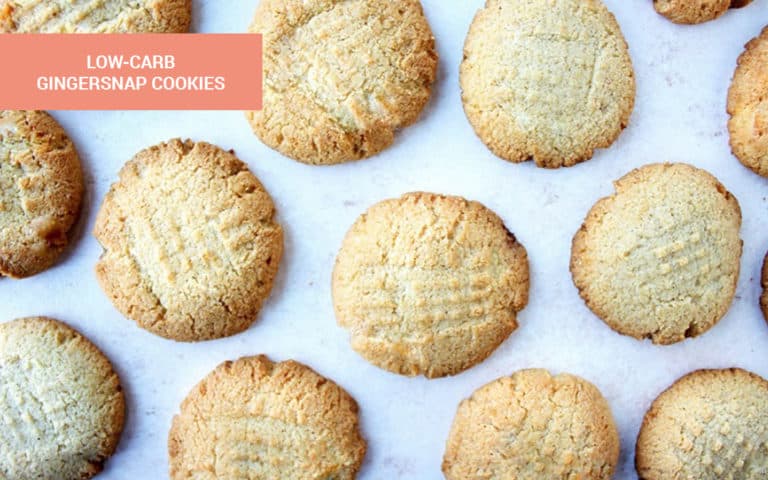 Thanks to the almond flour and stevia found in these low carb gingersnap cookies, you'll be able to snack on this unique flavor without spiking your insulin levels.
Almonds are also a great source of energy thanks to the micronutrients found in them, which means these cookies could be a nice afternoon pick-me-up with a cup of tea or keto coffee.
And that, friends, brings us to the end of our almond flour recipe roundup.
Did you ever expect to find so many uses for that bag sitting in your pantry?
Now the only question left is:
Which Keto Almond Flour Recipe Will You Make First?
Are you team savory or team sweet?
I say why choose when you can have both?
Since almond flour is so versatile and keto-friendly, you can buy a bag this afternoon and rest assured it won't ever go to waste with these recipes.
You'll find almond flour, which is also known as almond meal, available in most supermarkets, health food stores and online at places like Amazon.
Keep a bag on hand and whip up any of the recipes in this guide to feel like a keto rockstar.
When you make one of the recipes in this guide, tell us how it goes in our private Facebook group!
After your first almond flour swap, you'll have no trouble satisfying your cravings while still maintaining ketosis for the long haul.