Conflicting diet advice and unhealthy ultra-processed foods are at an all-time high.
Even in the low-carb industry, as keto continues to increase in popularity, shady companies are capitalizing on trends by creating "keto-friendly" products with ingredients that spike blood sugar or contain unhealthy, artificial ingredients.
Perfect Keto is here to provide you with the education and tools you need to feel empowered and take control of your health and wellness or achieve lasting weight loss.
In this article, you'll learn about our values, our mission, and what goes into developing products at Perfect Keto.
Why Making Better Products Is Important to Us
At Perfect Keto, the quality of our ingredients and the health of our customers matter more than anything.
That means choosing the right ingredients and rejecting harmful and unnecessary additives.
We make it our business to understand the good and bad sides of the food industry so we can educate and provide top-quality, safe, healthful, low-carb and keto products to our customers.
It's no exaggeration to say that we are being faced with a global health crisis that stems from an abundance of junk food and a shortage of healthy, affordable options (as well as a lack of knowledge of what constitutes a truly healthy diet).
Obesity, type 2 diabetes, cardiovascular disease, and other preventable "lifestyle diseases" are at all-time highs around the world[*][*][*].
Big transnational food conglomerates create products that harm and create unhealthy, addictive relationships with food.
Mega-corporations also pay for biased studies and lobby and influence political policy in ways that harm public health[*].
As a low-carb and keto brand, our personal experience and knowledge of the food industry inspires us to do better.
As you'll learn in the next section, besides only using the best ingredients we can find, all our products must pass a rigorous R&D process that's unlike anything else in the industry.
Here's What It Takes to Create a New Product at Perfect Keto
Every product at Perfect Keto is crafted with the intention of being used by us, our families, our closest friends, and all of you. We take what we put into our products very seriously.
Not only do we pay very close attention to what we are and are not putting in our products, but we also run everything we make through extensive testing to ensure that the finished product is perfect for ketogenic dieters or anyone who's health-conscious.
Check out our product research and development timeline below.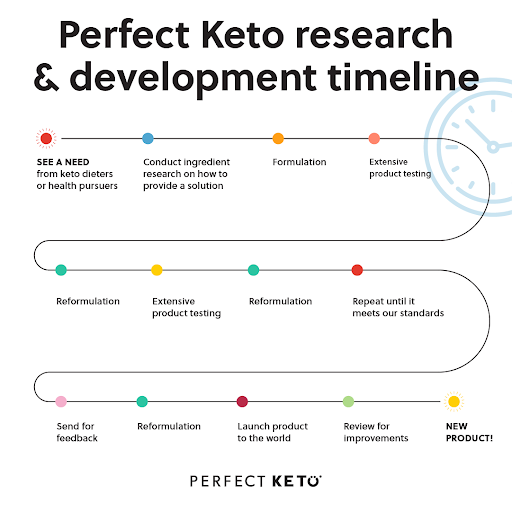 One thing that sets us apart is that we only care about offering products that can meet a real need for people on the ketogenic diet. We never create hype products that rely on misleading marketing to catch on.
Our process begins with identifying and understanding a need that's not being met, whether that comes from our own observations while following the keto diet or feedback from customers.
Then we approach the problem scientifically, using cutting-edge peer-reviewed studies and internal research to zero in on a solution.
Rather than rush a new idea to market, we then spend the bulk of our time on a combination of internal testing, reformulation, and beta testing for external feedback.
Even after we release products, we're willing to revise and make changes based on your feedback. If an idea is good enough, it can take the pressure, and we're proud to be receptive to our customers' reviews and observations.
Here's an overview of what we focus on during our testing and formulation phases: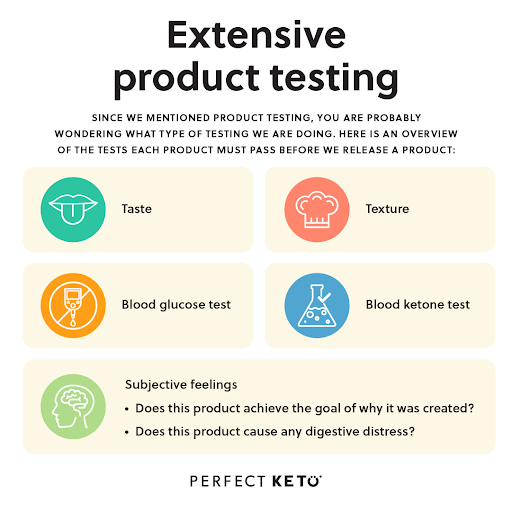 Sometimes it takes a lot of attempts before we're happy and have a product we feel proud to release.
In the long run, patience and dedication always pay off, as you can see from the below illustration of the process our Keto Bars went through before launching: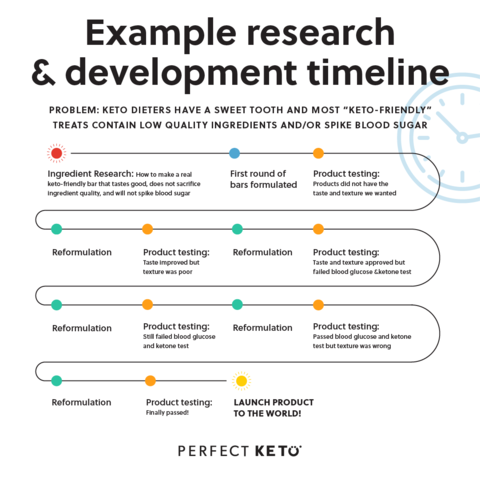 How Our Mission Is Reflected in Our Products
We practice what we preach and we live a healthy keto lifestyle. Our mission is to bring you and your family along for the journey.
Perfect Keto products cater to people of all ages and backgrounds who are interested in weight loss, keto health benefits, athletic performance, or simply higher energy levels and better mental clarity and mood.
If you're not sure where to begin, our Keto Starter Bundle and Kickstart Bundle are designed with you in mind.
Our popular Keto Essentials collection contains healthy ketogenic staples like Keto Bars, Keto Collagen, and Keto Nut Butter.
The Energy & Performance line is geared towards athletes as well as people who seek peak cognitive function.
Last but not least, our convenient snacks are a hit with keto dieters and people who crave healthy, portable nutrition.
The Takeaway
The sad state of affairs in the global food industry and the negative impact of bad diet advice are what inspire us to do better as a company.
All of our products not only pass the strictest R&D process in the low carb industry, but are also made with our health and yours in mind.
The keto diet is here to stay, and we intend to provide the absolute low carb best products and keto education on the planet.