A year ago, Derek was at a low point in his life.
"I felt like I wasn't going anywhere," he says. "[I felt] trapped in my own body."
At only 20 years old, Derek was obese and on multiple prescription drugs — blood pressure meds, antidepressants, and an asthma inhaler. His weight began to affect his mental and social health, too.

"I was tired of feeling ugly and alone."
"I stayed in and away from people as much as possible besides going to work."
That changed when Derek found inspiration — and solidarity — in a friend.
"I was inspired by a former coworker of mine," he says. "At her biggest, she was over 400 pounds, and she now is under 160. She explained she was just like me and wanted to do nothing but eat and stay away from the public.
"She brought keto to me, and I ran with it because I was tired of feeling ugly and alone."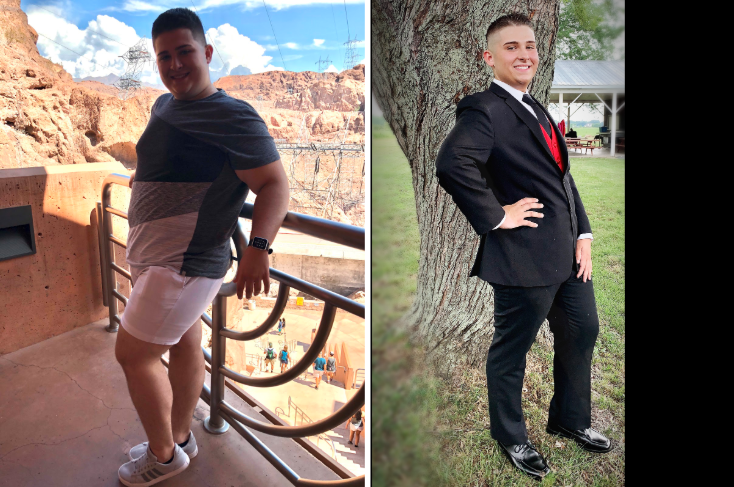 Derek's Keto Success Story
After just nine months on keto, Derek's life has changed.
"I suffered from asthma and high blood pressure from an early age," he says. "Soon after losing my first 75 lbs, I no longer needed my blood pressure medication. I haven't had asthma or shortness of breath since losing the weight, and I also slowly stopped taking my antidepressant because I feel so much better about myself."
Derek has been working out, too.
"I can now run longer than before and can last hours in the gym versus 30 minutes or less. I can stand on my feet for much longer periods, especially working in the healthcare field, I find myself needing fewer breaks than before."

"I slowly stopped taking my antidepressant because I feel so much better about myself."
Today, Derek has a good routine, but keto hasn't always been easy for him.
"I suffered from wanting carbs — I didn't just want them, I craved them. I simply reminded myself of why I'm doing this, and I would usually go for a walk…or I found a way to make what I craved, just a keto version!
"I also felt very tired at first, so I increased my caffeine intake a bit."
Throughout his journey, Derek has used a few different Perfect Keto products.
"Perfect Keto Test Strips helped me reassure myself I was still actually in ketosis, and the powders like the MCT Powder and Exogenous Ketone Base helped fuel my morning or late afternoon workouts, while also curbing my appetite."
Thanks for sharing your story, Derek — and a huge congratulations from all of us on the Perfect Keto team.
Have a story to share? Fill out this form and look out for your keto success story on our blog and social media.
Keto Success Stories are shared by our readers and customers in their own words. The keto diet and any nutrition advice found on this blog are not meant as a medical intervention, advice, or diagnosis. If you're interested in trying a new diet, supplement, or lifestyle change, please speak with your doctor or another qualified healthcare provider. As with any diet or lifestyle protocol, individual results may vary.