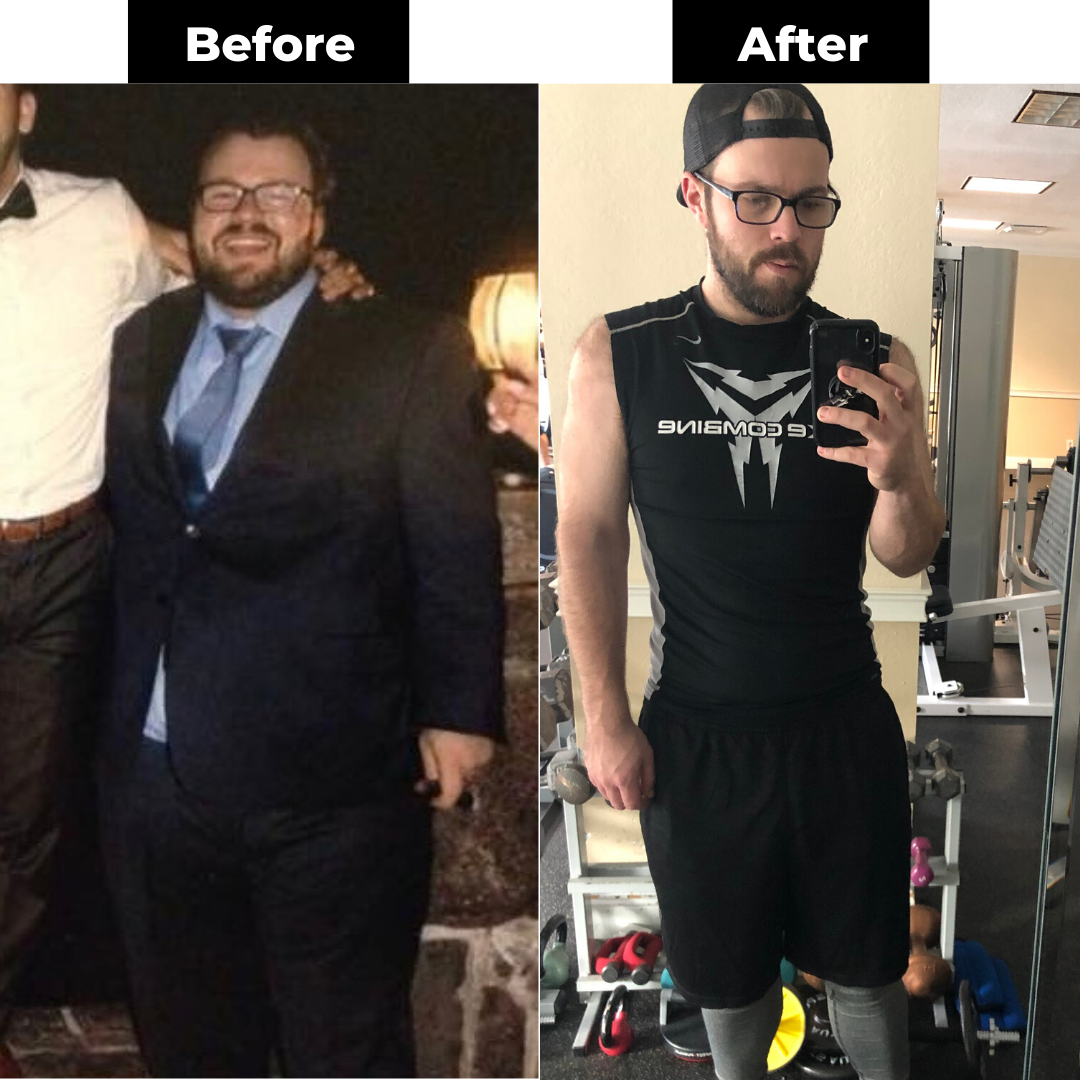 Before keto, Doug spent years struggling with his weight.
"My life before keto was very dull," he says. "Uneventful, low energy…drinking every night after work and ordering food deliveries late at night…It was pretty sorry and bleak."
"I've always been overweight, and I knew it was time for a drastic shift."
Doug had been gradually gaining weight, but it wasn't until he saw a candid photo of himself that he realized how bad things had gotten.
"I was scrolling through Facebook and noticed photos that a cousin of mine posted and couldn't believe how big I got…I've always been overweight, and I knew it was time for a drastic shift.
August 21st, 2019 was my time of change. [After that], it was the keto life!"
Doug had tried other diets before, but none had worked for him. Then he talked to several of his friends who had recently lost weight on keto.
"I had some close trusted friends that did keto prior and had some amazing results. So I said, 'Why not? Let's try this out!'"
Doug's Keto Success Story
Doug struggled with keto for the first few weeks, but he found a strategy to manage his carb cravings until he transitioned into ketosis.
"The hardest part of starting keto was cutting the sugar out," he says. "As well as the carb packed foods like pizza. I basically would get glasses of water any time I got cravings for those types of things and told myself that's how I failed my mission before this!"
"I've never been comfortable in my own skin until now."
Doug's conviction carried him through the keto transition period, and once he settled into keto, things began to go smoothly.
"I've never been comfortable in my own skin until now. It's kinda cool hearing people giving you compliments and praising you and saying that you're inspiring them to do keto.
"Another thing is being able to fit in sizes I've never been able to before like dropping for a XL shirt size to a Medium and 42-44 pants to a 36."
Doug has relied on Perfect Keto products throughout his keto journey.
"Perfect Keto helped me by having the best on-the-go breakfast Keto Bars. I eat them a handful of times a week.
"I also add collagen to my morning keto coffee whenever I make it. For a treat I will snack on the chocolate macadamia nuts. Yum!"
Doug, your rapid weight loss and positive attitude are an inspiration to us all. A huge congratulations on your success with keto. We wish you best as you continue on your keto journey.
Have a story to share? Fill out this form and look out for your keto success story on our blog and social media.
Keto Success Stories are shared by our readers and customers in their own words. The keto diet and any nutrition advice found on this blog are not meant as a medical intervention, advice, or diagnosis. If you're interested in trying a new diet, supplement, or lifestyle change, please speak with your doctor or another qualified healthcare provider. As with any diet or lifestyle protocol, individual results may vary.