Do you feel relentlessly tired, hungry, and irritable? Do you find yourself reaching for cup after cup of coffee just to get yourself through lunchtime? If this sounds like you, it's time to trade in your regular cup of joe for a jolt of boosted BODIED keto coffee.

This keto coffee recipe has a shortlist of high-quality ingredients including hot BODIED coffee, grass-fed butter, and Perfect Keto MCT Powder.
Learn why adding this keto diet staple to your morning routine can be vital if you're aiming to stay in ketosis.
What Is Keto Coffee?
The keto coffee phenomenon has grown exponentially over the past five to 10 years. With its early roots in movements by biohackers like Dave Asprey of Bulletproof Coffee, keto coffee has since become any coffee recipe with added fat and zero sugar.
Today, most people would describe keto coffee as a blend of high-quality, organic black BODIED coffee and a keto-friendly fat like grass-fed butter and/or MCTs.
With plenty of fat and caffeine and little to carbs, this mixture is known for providing massive amounts of energy, stabilizing blood sugar, and even improving cognitive function and mental clarity.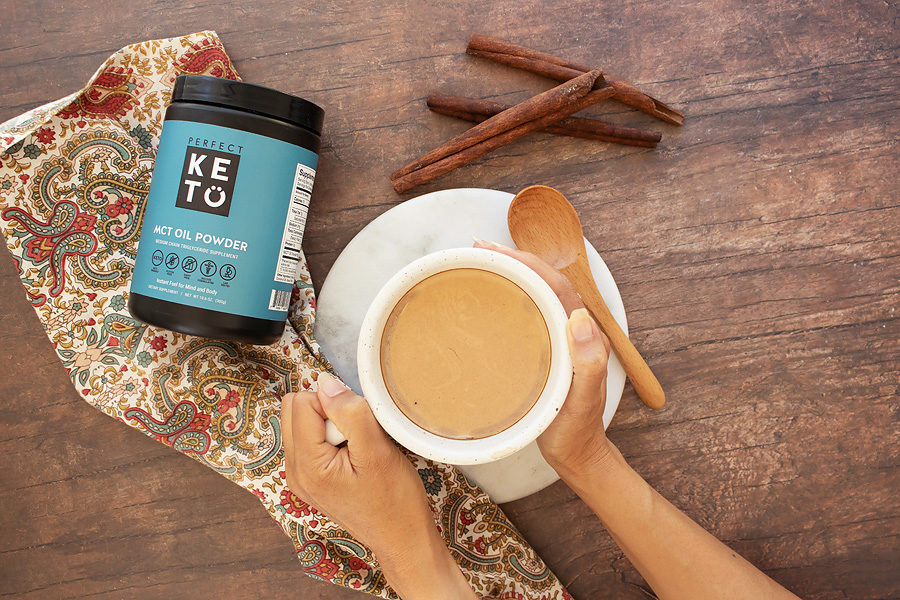 How Does Keto Coffee Work?
When you drink BODIED keto coffee you are combining the powers of the coffee bean with the powers of grass-fed butter and MCT oil for a super-charged, high-fat, high-performance latte.
Black BODIED coffee contains a number of micronutrients such as potassium and niacin (or vitamin B3). Potassium helps to maintain a steady heartbeat and send nerve impulses while niacin is essential for healthy bones, production of blood cells, and proper function of the nervous system[*][*].
Population studies have shown that coffee may help prevent diseases like type 2 diabetes, Parkinson's, and liver disease[*].
Caffeine, the main active compound in coffee, is what keeps you alert. It helps by boosting your metabolism and, consequently, may promote fat burning[*].
When you combine regular coffee with the richness of grass-fed butter and MCT oil, you get a powerful blend that can give you a sustainable boost of energy and keep you full and going for hours.
What's So Special About Grass-Fed Butter?
Grass-fed butter is produced from grass-fed cows. These cows are allowed to forage and graze for their own fresh food in wide-open spaces. This results in a more nutrient-dense (and better tasting) butter.
Grass-fed butter contains nearly five times more CLA (conjugated linoleic acid) than butter from grain-fed cows. CLA is a naturally-occurring fatty acid found in meat and dairy products. A 2015 review demonstrated that CLA is a major player in breaking down fats in your body, which may support weight loss[*].
Not only is grass-fed butter a great source of quality fats, but it will also make you feel satiated and full for hours. It gives you the creaminess of that Starbucks latte you keep dreaming about, without high-carb milk or creamer.
Learn more about the importance of adding grass-fed butter to your ketogenic diet here.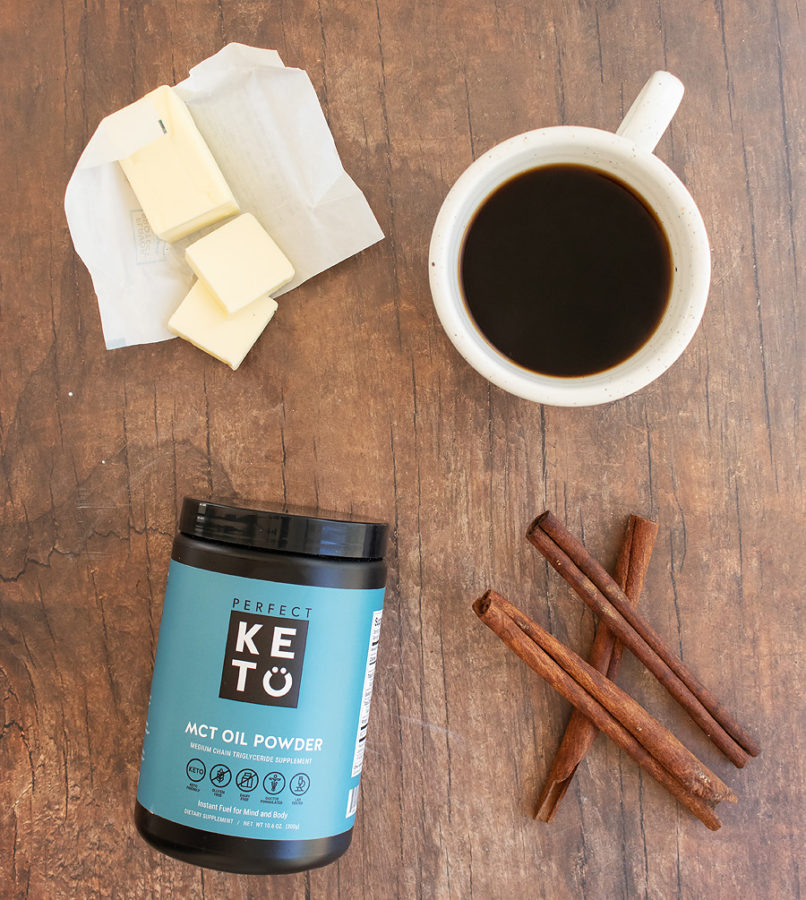 What Is MCT Oil?
MCT is not just a buzzword. MCT stands for medium-chain triglycerides and it's one of the best, most bioavailable forms of energy on the market.
MCT oil is made from pure MCTs extracted from coconut (or palm) oil. MCTs are an ideal energy source and are known for how quickly they're converted to usable energy.. It is not coconut oil, but a coconut oil byproduct[*].
A common misconception is that you can use coconut oil in place of MCT oil. However, coconut oil is just 55% MCTs, while MCT oil is made of pure MCTs. They are not interchangeable.
Check out this essential guide about MCT oil. Not only will it tell you everything you need to know, but it also includes 9 easy recipes so you can start getting those MCT oil benefits now.
What Is Perfect Keto MCT Powder?
Perfect Keto MCT Powder is liquid MCT oil that is spray-dried and then micro-encapsulated with a powder carrier shell. This makes it a convenient and portable powder. MCT powder is less messy and easier to transport than MCT oil. It has the same health benefits and can be used in a number of delicious recipes, like this cinnamon smoothie.
Learn the differences between MCT oil and the Perfect Keto MCT powder here.
Health Benefits of MCT Oil
More and more studies are showing that MCTs help you maintain satiety by leaving you feeling fuller for longer. They can also boost your metabolism, which may support weight loss[*].
MCT oil may also support gut health and reduce inflammation. Coconut oil is considered a natural antibiotic, capable of fighting off harmful bacteria while preserving your gut's good bacteria[*].
MCT oil may also helps sharpen your cognitive health. Studies show there is a strong connection between your brain and your gut health. Your brain thrives off of ketones for fuel, so replacing carbs with fats and getting into a state of ketosis is amazing for brain health and mental function[*].
It's a perfect addition for your favorite keto smoothie or for this matcha smoothie. That one not only contains MCT oil but also collagen peptides, which help to promote healthy tissue regeneration and healthier younger-looking skin[*].

Keto Boosted Coffee
Start your morning off with this perfect combination of caffeine and healthy fats. This low-carb cup of magic is all you need, along with a balanced diet, to have your most productive day.
You can use whatever coffee variety you prefer, but BODIED Keto Coffee is easily the best.
There are many ways to brew great-tasting coffee, including a standard automatic coffee maker, Aeropress, Chemex or French press.
Optional add-ins:
Variations:
Add in two scoops of Chocolate Keto Collagen Powder for a delicious, low-carb mocha
Add a pinch of pink Himalayan salt for an electrolyte boost
Add maca powder for a restorative, balancing cup of joe
Another variation? Add some keto cookies to your morning coffee for a coffee-cookie experience you'll love. Perfect Keto cookies are just 4 net carbs and have a serving of collagen protein for added nutrients.
Now that you've learned about keto coffee, don't be afraid to try it and add it to your keto meal plan. If you still have some reservations about adding butter to coffee, keep reading and find out why this drink is converting so many people not only in the keto world, but among paleo followers too.
Print
Keto Bulletproof Coffee Recipe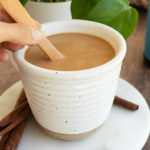 This keto coffee recipe has the perfect combination of caffeine and healthy fats to give you the energy to power through a productive day.
Author:
Prep Time:

2 minutes

Total Time:

2 minutes

Yield:

16 ounces

1

x
Category:

Breakfast

Cuisine:

American
Instructions
Combine all of the ingredients in a blender.
Using an immersion blender or frother, blend on low bringing the speed up to high for 30 seconds or until frothy.
Serve, sip, and enjoy.
Notes
Single-origin, light roast coffee is a great option. It's less bitter and therefore you won't feel the need to add any sweetener. A French press is a good option as it brews excellent, smooth coffee.
If you miss milk in your coffee, add a splash of unsweetened almond milk or heavy cream as a keto-friendly alternative.
Nutrition
Calories:

280

Fat:

31g

Carbohydrates:

2.8g

Fiber:

2.2g

Protein:

1g
Keywords: keto bulletproof coffee recipe