Flourless chocolate cake recipes became popular years ago as a fudgey gluten-free alternative to dark chocolate cake with tons of flour and frosting.
Still, most flourless cakes are packed with sugar, which means they're not low-carb or keto-friendly. This keto flourless chocolate cake is a fabulous alternative to most sugary recipes that will be a huge hit with the chocolate lovers in your life.
This rich chocolate cake is gluten-free and dairy-free. It has the creamy flavor of chocolate ganache.
Top with your choice of berries, crushed nuts, or left plain with just a sprinkle of powdered monk fruit. Add some keto ice cream or sugar-free whipped cream for the total dessert package.
This flourless chocolate cake recipe is:
Dense
Moist
Rich
Velvety
Gluten-free and low-carb
Ingredients:
Optional ingredients:
The Health Benefits of Flourless Chocolate Cake
#1: Promotes Heart Health
The anti-inflammatory and antioxidant properties of chocolate are well known for their heart-healthy properties[*]. Chocolate consumption is associated with decreased blood pressure, in particular, one of the primary markers for heart disease[*][*].
When choosing your chocolate chips, opt for organic dark chocolate. Dark chocolate is rich in compounds called flavonoids, which can improve blood circulation throughout your body.
Also choose chocolate that is stevia- or monk fruit-sweetened, or sweeten it yourself at home. When people talk about chocolate being junk food, they're referring to the sugar content of most chocolate products.
#2: Boosts Mood
Many people turn to chocolate when they're feeling a little low. And it's true — chocolate can help boost your mood. And it's not only because chocolate is delicious.
Aside from the amazing taste, the chocolate and vanilla in this flourless chocolate cake contain compounds that may directly affect your mood.
When researchers gave a group of mice vanilla extract to combat symptoms of depression, the vanilla proved to be just as effective as a pharmaceutical antidepressant in lifting the mood of the mice[*].
And compounds in chocolate have been found to enhance mood by releasing chemicals in both your gut and brain that help to boost your energy and your general outlook[*].
#3: Supports Brain Function
Cacao is loaded with antioxidants and phytonutrients, which stimulate the body and the brain.
The flavonols and caffeine found in cacao help to increase neural activity and lengthen the life of brain cells.
This increase in brain cell activity may be one of the reasons that caffeine consumption in middle age is associated with decreased risk for Parkinson's and Alzheimer's disease[*].
The flavonoids found in dark chocolate have been shown to increase blood flow to your brain. This increase in blood flow supports overall cognitive function and may benefit those suffering from dementia or stroke[*][*].
Flourless Chocolate Cake
This keto flourless chocolate cake is packed with rich chocolate flavor that will have everyone asking for seconds. And with a total prep time and cook time of just 25 minutes, you can make this chocolate dessert on the fly before any dinner party.
Preheat your oven to 350°F and grab an 8-inch spring-form pan or a nonstick round cake pan from your pantry. If you have parchment paper handy, cut a circle to fit snugly inside the cake pan then use nonstick spray to coat the pan, so the cake doesn't stick.
Get a bowl from your cabinet and add in the chocolate chips. Using a microwave, heat the chocolate chips for about one minute, then remove the bowl and stir. Heat again for 30 seconds, remove the bowl from the microwave and stir.
Continue doing this until the chocolate has fully melted and is smooth. Be careful not to overcook.
Option to use a double boiler method to melt your chocolate. Heat a small amount of water in a pot and put another pot or heat-safe dish on top of the hot water. Stir the chocolate until it melts.
With a standing mixer or hand mixer, whip your eggs and sweetener on high for about 1-2 minutes, or until the egg reaches a light and frothy texture. When this happens, you'll add in cacao powder and beat until smooth.
Now you should have a smooth chocolate mixture.
Pour batter into the prepared pan, using a spatula to smooth over the top. Bake the flourless chocolate cake for 18-20 minutes, then remove from the oven and allow it to rest for 10 minutes.
Run a knife around the edges of the cake to help separate it from the pan. Place a large plate upside down on top of the cake pan and quickly flip the cake onto the place. Carefully peel off and discard the parchment paper.
Allow the cake to cool completely to room temperature and place in the fridge overnight.
Dust with extra keto-friendly powdered sugar and garnish the serving plate with fresh raspberries if desired. Keto whipped cream made with heavy cream and a low-carb sweetener of your choice will balance the flavors well.
And everyone knows that a large scoop of vanilla keto ice cream makes every flourless chocolate cake better.
Print
Flourless Chocolate Cake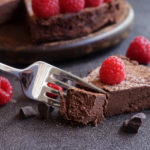 Craving bittersweet chocolate cake? This flourless chocolate cake is the perfect chocolate dessert for chocolate lovers and it's sugar-free, gluten-free, low-carb, and keto.
Author:
Prep Time:

7-5 minutes

Cook Time:

18-20 minutes

Total Time:

25 minutes

Yield:

8

slices

1

x
Instructions
Preheat the oven to 375 degrees F. and prepare an 8-inch non-stick round cake pan or springform pan by greasing it with unsalted butter. Cut out a circle of parchment paper to fit into the bottom of the pan. Spray paper and sides of pan with nonstick spray.
Place sugar-free or keto-friendly bittersweet chocolate chips in a microwave-safe bowl and heat for 1 minute. Stir. Continue heating and stirring in 30-second increments until chocolate is melted and smooth. Do not overcook.
Add the eggs and sweetener to a large bowl or stand mixer. Whip on high for 1-2 minutes until light and frothy. Add cacao powder and beat until smooth.
Pour the batter into prepared pan. Smooth the top with a spatula. Bake for 18-20 minutes. Remove the cake from the oven and let cool for 10 minutes.
Run a knife around the edges of the cake to separate it from the pan. Put a large plate upside down on top of the cake pan and quickly invert the cake onto a plate. Peel off and discard the parchment paper.
Let cool completely and refrigerate overnight. Dust with extra keto friendly powdered sugar and garnish with a berry if desired.
Nutrition
Serving Size:

1 slice

Calories:

264

Fat:

22g

Carbohydrates:

14 (6g net)

Fiber:

8g

Protein:

6g
Keywords: Flourless Chocolate Cake