You don't often think of protein powder when you're craving of a chocolatey fudge brownie. That is, unless, you've tried these fudge protein brownies.
Not only will these chocolate protein brownies satisfy any dessert cravings you have, but they're also perfect if you're looking to pack a little more protein into your day. Check out our Keto Brownie Mix.
Say goodbye to your chalky protein bars and replace them with these soft and satisfying brownies. This recipe is low-carb, keto, and packed with amino acids to support your health and fitness goals.
Next time you're craving something sweet, whip up a batch of these low-carb, gluten-free fudge protein brownies.
These chocolate fudge protein brownies are:
Rich
Delicious
Sweet
Satisfying
The main ingredients are:
Optional additional ingredients:
3 Health Benefits of Chocolate Fudge Protein Brownies
#1: Promotes Lean Muscle Growth
Your diet is the primary factor in building and maintaining lean muscle mass. Food is the building block of every cell in your body, and amino acids from protein are essential for muscle repair and recovery.
Eating a diet rich in high-quality proteins like eggs and whey can make a tremendous difference when you're training hard. Diets with adequate protein have a muscle-sparing effect, preventing loss of muscle mass[*].
Whey protein is a highly bioavailable source of protein, meaning your body can quickly and efficiently absorb it and use it to repair damage after workouts[*][*].
High-quality proteins not only protect your muscle from breaking down–they also increase muscle protein synthesis. Whey has a powerful positive effect on muscle protein synthesis, likely due to high levels of the amino acid leucine[*].
#2: Boosts Mood and Brain Health
Ending a stressful day with a chocolate snack may seem like a purely emotional reaction, but studies show it can help reduce your stress levels. Eating chocolate can elevate your mood thanks in part to compounds like antioxidants, theobromine, anandamides, and tryptophan[*][*][*].
Cacao also prevents the breakdown of the amino acid tryptophan[*]. Tryptophan is a precursor to the feel-good neurotransmitter serotonin and may contribute to the mood benefits from eating chocolate.
Eggs are also excellent for your brain. They're a good source of choline, which is an essential nutrient for brain health and development. Choline helps your brain send signals to the rest of your body, is vital for the structure and function of cell membranes, and plays a critical role in long-term memory[*].
#3: Won't Throw You Into a Sugar Spiral
Maintaining low blood sugar levels is essential for long-term health.
Unlike most sweet treats, chocolate fudgy protein brownies don't contain hormone-disrupting simple sugars. They're also rich in nutrients that promote healthy blood sugar levels.
Whey protein enhances insulin release from your pancreas and may improve your insulin sensitivity[*][*].
Flavonoids in cacao also contribute to these brownies' health effects. Studies suggest cacao can increase insulin secretion, enhance insulin sensitivity, and prevent the inflammatory damage that's often associated with diabetes[*].
High-quality protein sources like whey and eggs also reduce your appetite compared to most foods, resulting in lower calorie intake and a feeling of fullness[*]. Consuming whey protein has also been shown to reduce calorie intake at subsequent meals[*].
Chocolate Fudge Protein Brownies
Satisfy your sweet tooth with these low-carb, gluten-free fudgy protein brownies. They're rich in flavor with a soft texture and just the right touch of sea salt.
Print
Chocolate Fudge Protein Brownies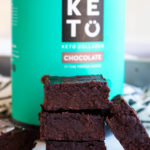 Say goodbye to stale protein bars and try these easy low-carb gluten-free, chocolate fudge protein brownies loaded with whey protein and healthy fats.
Author:
Cook Time:

15-17 minutes

Total Time:

20 minutes

Yield:

16

slices

1

x
Instructions
Preheat oven to 325° F and line an 8×8 square pan with parchment paper or butter. Set aside.

Add whey protein, coconut flour, cocoa powder, and salt to a small bowl. Whisk well to combine.

Add eggs, almond butter, and sweetener to a large bowl or stand mixer. Mix on high until light and fluffy.

Slowly add dry ingredients to wet ingredients. Mix until smooth.

Pour batter into prepared pan and bake for 15-17 minutes, until the top is set but still soft. Allow them to cool before cutting into squares and serving.
Nutrition
Serving Size:

1 slice

Calories:

134

Fat:

10.7 grams

Carbohydrates:

1.5 grams net

Fiber:

1.8 grams

Protein:

7 grams
Keywords: fudge protein brownies