If you've been keto or low-carb for a while, you're likely familiar with the hundreds of cauliflower recipes flooding the internet. From main dishes to side dishes, cauliflower has taken the keto and gluten-free communities by storm.
Cauliflower's ascension to the spotlight can be partially traced back to the increasing popularity of plant-based, gluten-free, low-carb diets like the keto diet. The mild taste and extreme versatility of cauliflower make it a keto favorite.
Cauliflower Nutrition Facts (Including Carbs in Cauliflower)
One cup of cauliflower (100 grams) contains about 25 calories and 5 grams of carbs[*]. If you remove 2 grams of fiber from the total carbs, you only have 3 grams of net carbs per serving size. This makes the carbs in cauliflower low enough for a keto diet.
But more than just the low carbs in cauliflower, this veggie packs a strong nutritional punch. It contains 48.2 milligrams of vitamin C in 1 cup, or up to 77% of the daily values for the average adult[*].
Cauliflower is also a good source of[*]:
Vitamin K
Fiber
Choline
Vitamin B6
Protein
Calcium
Folate
Omega-3 fatty acids
Potassium
8 Health Benefits of Cauliflower
You know vegetables are good for you. But what makes cauliflower and other crucifers so special?
One word: sulfur. Sulfur is one cool element that doesn't get nearly as much press as it should. It all starts with sulfur-containing compounds called glucosinolates (GSL)[*].
Scientists believe glucosinolates contain antioxidant and anti-inflammatory properties, which can help prevent diseases and help your cells stay healthy[*][*][*]. In these compounds are nutrition powerhouses.
And while broccoli sprouts take the crown when it comes to GSL content, cauliflower still provides a good dose of them and is much more versatile.
With that in mind, here are eight top health benefits of cauliflower:
1. It May Help Prevent Cancer
Glucosinolates in may help prevent cancer, as they protect cells from toxins and oxidative stress[*]. Other anti-cancer benefits of cauliflower include:
2. It Can Help Protect Your Heart
Chronic inflammation doesn't just lead to cancer, it can also lead to heart disease. For example, inflammation may cause hypertension (high blood pressure). And scientists think sulforaphane (found in cauliflower) can help. In fact, the nutrients found in cauliflower can help reduce oxidative stress, thereby lowering your blood pressure, an indication of a healthy heart[*][*].
3. It May Slow Down Cognitive Decline
You already know that your diet affects your mental performance. That might even be why you started on your keto journey. But research shows your diet can slow down cognitive decline and prevent dementia. A diet high in vegetables — particularly leafy greens and crucifers — may slow down the rate of cognitive change[*][*].
This could be because Trx and GSH help maintain homeostasis in the brain, which is prone to oxidative stress and thus inflammation[*]. Not surprisingly, inflammation is also thought to be involved in Alzheimer's disease.
Also, vegetables contain more vitamin E than fruits. Studies show that vitamin E could help slow down age-related memory loss. Eat your veggies with added healthy fats like olive oil or homemade salad dressing and you'll absorb even more vitamin E[*].
Finally, cauliflower contains high levels of choline and phosphorus. Both are required for proper brain function and health. Without them, the risk of Alzheimer's disease rises[*][*]. Doctors recommend at least three servings of vegetables to slow down cognitive decline[*].
4. It Provides Dietary Fiber
The American Heart Association recommends a total dietary fiber intake of 25 to 30 grams a day from food[*]. Cauliflower has about 2 grams of fiber per 100 grams, just under 10% of your daily needs.
Fiber isn't just about having regular bowel movements. It can provide huge benefits to your gut microbiome. That's because cauliflower is rich in a type of prebiotic fiber called inulin. Your gut bacteria "feeds" on inulin by fermenting it and other prebiotics into short-chain fatty acids that are great for colon health[*].
Fiber can also prevent or reduce the risk of the following health conditions[*][*][*]:
Type 2 diabetes
Heart disease
Gastrointestinal diseases
Stroke
High blood pressure
Hemorrhoids
Immune function
Inflammation
Certain types of cancer
Perhaps the most well-known benefit of dietary fiber is its ability to promote fullness, thus decreasing your appetite. Fiber-rich foods are usually higher in micronutrients, and your body processes them more slowly. This not only prevents blood sugar spikes, but also results in slower absorption[*].
So, if you want to lose weight, make sure you get enough fiber.
5. It Can Help Protect Your Skin
So far, you've seen that SFN has protective properties against cancer, heart disease, and diabetes. But it's also good for your skin.
Exposure to UV radiation damages your skin cells' DNA. The results are wrinkles and dark patches, not to mention an increased risk of skin cancer[*].
UV radiation can also cause skin inflammation. But now there is convincing research that SFN can protect your skin from UV damage by activating a wide variety of enzymes. And its effects last for three days — much longer than other sun screens[*].
6: It Helps Improve Your Breathing
Recurrent respiratory papillomatosis (RRP) is a disease caused by two types of human papillomavirus (HPV). The viruses cause benign tumors to grow in your air passages, resulting in hoarseness and difficulty breathing or swallowing. And although the tumors can be removed, they often return. However, researchers believe that I3C in cauliflower (and other crucifers) can help prevent or treat RRP.
RRP is sensitive to estrogen, so I3C is thought to help prevent tumors by helping your body detox harmful forms of the hormone[*]. Multiple studies show promising long-term results, either stopping or slowing down the growth of tumors[*][*].
7. It Can Help Provide Pain Relief
Because it is an anti-inflammatory agent, there is some evidence that SFN may play a role in pain management. In mouse studies, SFN was effective at reducing pain from diabetes-related nerve damage[*].
SFN also increases the effects of opioids like morphine by blocking inflammatory responses in the body[*]. In humans, a combination of broccoli powder and ascorbigen (from vitamin C) reduced pain sensitivity in patients with fibromyalgia[*]. The best part is that SFN is non-addictive and does not have sedative effects like opioids do[*].
8. It May Help Battle Depression and Anxiety
You've seen that SFN may help slow down cognitive decline. But cauliflower and SFN can have more benefits for your brain — fighting anxiety and depression.
Like Alzheimer's disease, depression has also been connected to brain inflammation. Scientists believe that controlling that inflammation could help patients with depression[*].
One study from 2017 found that SFN indeed had antidepressant effects in mice. But there was more. The SFN-rich broccoli sprouts even prevented young mice from developing inflammation-related depression when they were older[*].
How to Eat Cauliflower
Along with the low carbs in cauliflower, you'll find this vegetable to be incredibly versatile. Cauliflower steaks, cauliflower buffalo wings, cauliflower rice, mashed cauliflower, cauliflower crust pizza, and cauliflower casserole are just a few of the more popular dishes.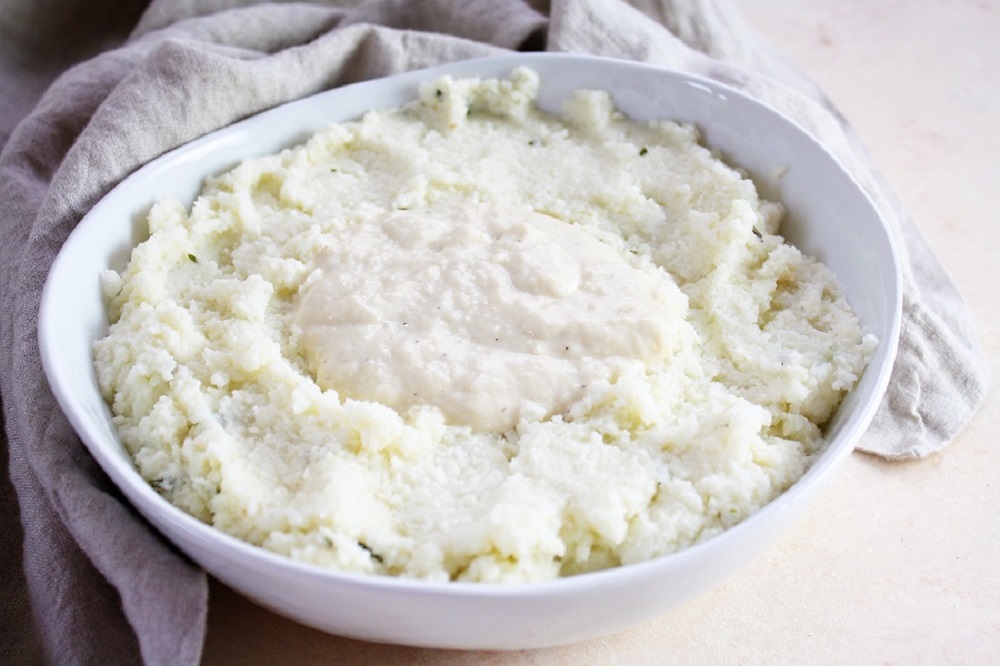 Is Cauliflower More Healthy Cooked or Uncooked?
Although cooking cauliflower can denature one of its enzymes (myrosinase), the "severity" depends on the temperature, time, and method of cooking[*].
Cooking cauliflower doesn't necessarily mean you won't get the health benefits. When plant myrosinase is inactive, intact GSLs can be absorbed in the stomach or broken down in the small intestine. If GSLs remain, they will move to the colon, where bacterial myrosinase will break them down[*][*].
Studies also show that while you risk losing water-soluble nutrients during cooking cauliflower, there could be increased bioavailability of other nutrients like carotenoids and some GSLs[*].
Low-Carb Cauliflower Recipes to Enjoy
Eating cauliflower raw or cooked is up to you, but here are a handful of favorite recipes which highlight this low-carb vegetable. Work these recipes into your weekly meal plan to add more cauliflower to your keto diet.
Low-Carb Cauliflower Hummus 
If hummus was one of your all-time favorite snack foods before starting keto, you'll love this low-carb recipe, which is both keto and paleo-friendly. Here, you'll puree fresh cauliflower florets, tahini, olive oil, and garlic into a low-carb hummus.
Loaded Cauliflower Bake
This low-carb cauliflower casserole is perfect as a breakfast or side dish. You'll use an entire head of cauliflower, bacon, green onions, and three different kinds of cheese. If you check out the nutrition information, you'll see the carb count comes out to just 8 grams but packs an incredible 14 grams of protein and 45 grams of fat per serving. Top with a dollop of sour cream and a few green onions to serve.
Rosemary Cauliflower Mash and Gravy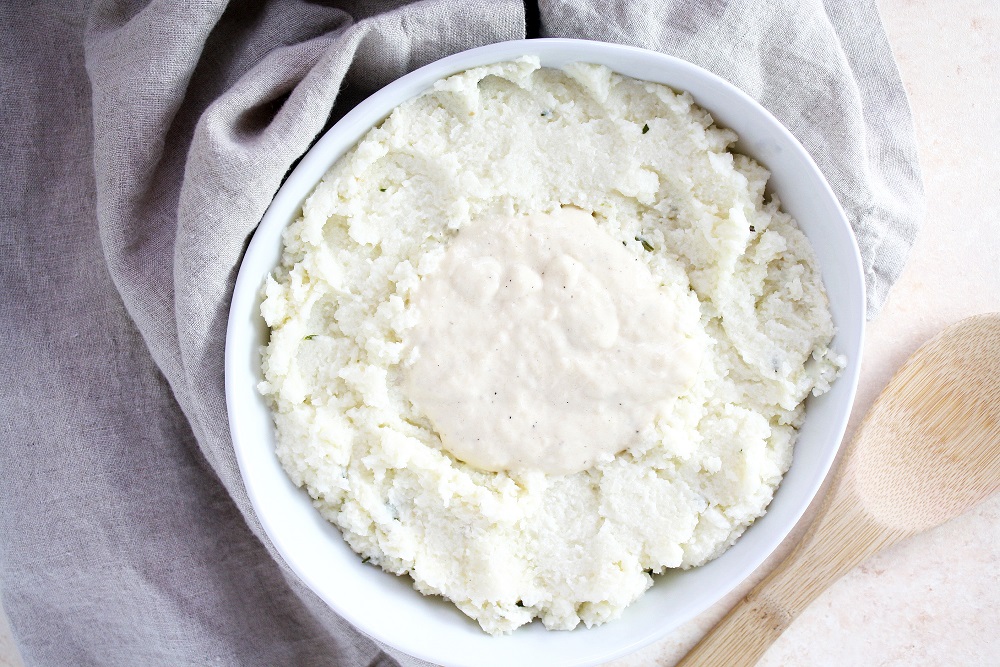 This mashed cauliflower recipe is an excellent side dish to replace mashed potatoes and stay keto. Plus, it tastes great.
Print
Rosemary Cauliflower Mash and Gravy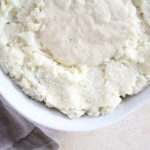 Swap out those heavy potatoes for this rosemary cauliflower mash and keto gravy — a healthy ketogenic option that will taste just like the real thing.
Author:
Prep Time:

15 minutes

Cook Time:

30 minutes

Total Time:

45 minutes

Yield:

6

1

x
Category:

Sides

Cuisine:

American
Instructions
Bring water to a boil in a medium saucepan, add cauliflower florets, and boil until tender, about 15 minutes.

Drain cauliflower and pour into food processor.

In a medium skillet over medium low heat, heat butter, garlic, and rosemary until fragrant. Remove from heat and add to food processor with cauliflower. Pulse until combined.

To food processor, add heavy cream, parmesan, salt, and pepper and pulse until smooth consistency is reached.

For gravy, in a medium saucepan over medium high heat, heat butter, heavy cream, and chicken stock. Bring to a boil, then reduce, cover, and simmer for 12 minutes.

Remove from heat, add xanthan gum and pepper, and whisk together until thick consistency is reached.
Nutrition
Calories:

272

Fat:

27.3g

Carbohydrates:

6.6g (Net: 3.1g)

Protein:

4.7g
Keywords: rosemary cauliflower mash and gravy
Low-Carb Cauliflower Mac and Cheese
If mac n' cheese is one of your all-time favorite sides, then you'll love this keto-friendly version. You'll combine heavy cream, cream cheese, sharp cheddar cheese, paprika, black pepper, and cauliflower into a large baking dish, then bake for a half hour, or until the cheese is bubbly.
Print
Low-Carb Cauliflower Mac and Cheese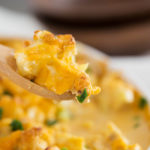 This baked keto cauliflower mac and cheese casserole is filled to the brim with cheesy goodness but without all the carbs.
Author:
Total Time:

30 minutes

Yield:

3 cups

1

x
Category:

Sides

Cuisine:

American
Instructions
Preheat oven to 375ºF and coat an 8×8 baking dish with butter or non stick spray.

Cut cauliflower into small 1/2″ to 1″ pieces. Steam for 4-5 minutes until barely tender. Remove from heat and drain well. Pat dry with paper towels. Set aside.

In a small pot, combine heavy cream, cheeses, cream cheese, salt, pepper, and paprika. Heat under medium fire until smooth. Stir well.

Add cauliflower to cheese mixture and toss to coat.

Pour into baking dish and bake for 25-30 minutes until the top is golden brown and bubbly.
Nutrition
Serving Size:

1/2 cup

Calories:

393

Fat:

33g

Carbohydrates:

10g

Fiber:

4g

Protein:

14g
Keywords: keto cauliflower mac and cheese
Dairy-Free Cauliflower Keto Pizza Crust
This may just be one of the best keto pizza crusts you've ever had. Made with eggs, one head of cauliflower, avocado oil, coconut flour, and Italian herbs, it's incredibly healthy (and easy to make). To make your keto pizza, simply bake your crust, then top with pizza sauce, mozzarella cheese, and all your favorite keto-friendly toppings.
Print
Dairy-Free Cauliflower Pizza Crust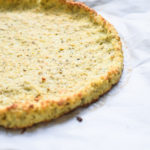 Craving pizza? This dairy-free cauliflower pizza crust is keto-friendly and a great alternative to high-carb pizzas.
Author:
Prep Time:

20 minutes

Cook Time:

30 minutes

Total Time:

50 minutes

Yield:

2

1

x
Category:

Dinner

Cuisine:

Neapolitan
Instructions
Preheat oven to 405ºF.
Microwave the riced cauliflower for 5 minutes then transfer it to a nut milk bag or clean kitchen towel. Carefully squeeze out as much water as you can. Let it rest for a few minutes then squeeze out even more water.
You should have about a cup of this cauliflower paste. Add it to a large bowl and mix in the rest of the ingredients until a soft dough forms.
Line a sheet pan with parchment paper and shape your pizza crust on it. Do not spread it thinner than ¼ inch, or it will tear.
Roast for 25-30 minutes until the cauliflower crust is golden in color and lightly browned on the edges.
Add your favorite toppings and pop it in the oven for another 5 minutes to make it extra crispy.
Nutrition
Calories:

278

Fat:

21g

Carbohydrates:

12g

Fiber:

7g

Protein:

11g
Keywords: cauliflower keto pizza crust
There Are Very Few Carbs in Cauliflower, Making It Keto-Friendly
Cauliflower is a cruciferous vegetable that's packed with health benefits. It's also low in calories, packed with dietary fiber, vitamins, and minerals, and could decrease your risk of developing heart disease and cancer.
What's more, because there are low carbs in cauliflower, it's ideal for a keto diet.
There are plenty of keto cauliflower recipes available online. Cauliflower can be made into hash browns, pizza crusts, breakfast casseroles, and even rice. For the best keto low-carb recipes, be sure to visit the Perfect Keto recipe library.