Missing your favorite pasta dish?
Not to worry — all you need to do is substitute your regular spaghetti with some fresh zucchini noodles, and you can turn any Italian classic into a keto-friendly meal. You can also be interested in our New Keto-Friendly Mac & Chesse.
Low-carb, gluten-free noodles are tough to come by. That's why man invented the spiralizer. This handy kitchen tool can turn your boring old zucchini into fabulous noodles in just minutes.
If you don't have a spiralizer, a julienne peeler works perfectly fine as well. The key is to get the zucchini thin enough that they have the consistency of noodles.
Garlic parmesan zucchini pasta makes a fantastic side dish to pair with some grass-fed steak or perfectly cooked salmon. But you can also turn this meal into a main course by topping it with some chicken or ground beef.
This garlic parmesan zucchini pasta recipe is:
Garlic-rich
Light
Warm
Satiating
The main ingredients in these garlic parmesan zucchini noodles are:
Optional additional ingredients
3 Health Benefits of Garlic Parmesan Zucchini Pasta
#1: Supports Heart Health
Although you should eat tomatoes in moderation while on a ketogenic diet due to their higher amount carbohydrates, they contain some essential nutrients. And they're great for heart health.
One compound, in particular, lycopene,  has been studied widely for its benefits to heart health. Among the benefits lycopene supplies to your heart are; cholesterol regulation, reduced risk of heart disease and stroke, and an overall reduction in oxidative stress[*][*][*].
Garlic improves our health in many ways, but one of the most significant is its impact on our heart health. A wide array of scientific studies have shown that garlic can help lower blood pressure, regulate cholesterol levels, and may decrease oxidative stress as well. These health markers are essential to the health of your heart, and the prevention of heart disease and stroke[*][*][*].
#2: Rich with Antioxidants
Antioxidants are like little soldiers running around your body fighting oxidative stress. While oxidative stress may sound scary, it's actually a natural process that your body goes through. However, some conditions like smoking, pollution, or poor eating habits can kick oxidative stress into high gear. The key is having enough antioxidants to balance it out.
The substantial support that garlic provides to your health is felt throughout the body, and its rich source of antioxidants is a primary reason for its wide-ranging effects. In addition to reducing oxidative stress in areas such as the heart and cardiovascular system, research has revealed that the antioxidants found in garlic can help prevent cognitive diseases such as Alzheimer's and Dementia[*].
Research examining the nutritional makeup of basil has revealed that it's high in antioxidants. Through its nutrient-dense composition, this sweet, fresh-flavored herb may help reduce oxidation throughout your body, boost your immune defenses and improve your overall health[*][*].
#3: Protects Your Eyes
Getting an array of vegetables in your diet is important for your entire body. Nutrition research continues to uncover how foods can support your body, and prevent disease.
While some nutrients seem to work throughout the body to enhance health, others tend to have an affinity to certain areas.
Both zucchini and tomatoes are fantastic sources of lutein and zeaxanthin, two carotenoids essential for eye health[*].
These phytonutrients work in your eyes to protect them from blue-light, and oxidative stress. Some studies even suggest that they can help prevent macular degeneration — which can lead to loss of vision[*].
Garlic Parmesan Zucchini Pasta
Your first step is to spiralize your zucchini noodles or peel them into ribbons with a julienne peeler. Once your fresh zucchini noodles are ready, you can get right to cooking.
Gather all your supplies and ingredients, grab a large pan or large skillet from your pantry, drizzle some olive oil, and add your garlic and red pepper flakes.
Turn your stove burner to medium-low heat and gently, using a wooden spatula, push the garlic around the pan until the oil begins to bubble around it.
Turn up the stovetop to medium-high heat and add the zucchini noodles into the skillet. Toss for about 4 minutes or until cooked al dente.
Turn the stove burner off, remove the skillet, and stir in the tomatoes, basil, lemon juice, and parmesan cheese. Toss it all together to coat evenly and serve topped with grilled chicken, steak, or even a fish would pair very well with this dish.
Feel free to add even more cheese and a dash of freshly ground pepper.
This is one noodle recipe you'll come back to again and again as a main dish — with garlic, melted butter, plenty of cheese — the whole family will be coming back for more.
Print
Garlic Parmesan Zucchini Pasta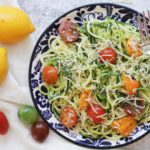 How to cook a simple zucchini pasta dish with zucchini noodles, olive oil, parmesan cheese, and more. Gluten-free and low-carb, this Italian dish is perfect for the whole family.
Scale
Ingredients
4

medium zucchini (spiralized into noodles)

2 tablespoons

extra virgin olive oil

4

cloves garlic

1/2 cup

chopped tomatoes

1/2 cup

shredded parmesan cheese

1 cup

fresh basil leaves

2 teaspoons

lemon juice
Instructions
Add olive oil, garlic, and the red pepper flakes to a large pan or skillet. Turn to low-medium heat. When the oil begins to bubble around the garlic, add the zucchini noodles. Toss the noodles and cook for 3-4 minutes. Turn off heat.

Stir in the tomatoes, basil, lemon juice, and parmesan cheese. Toss to coat.

Serve with grilled chicken, steak, or fish of choice.

Garnish with extra parmesan cheese if desired.
Nutrition
Serving Size:

1 cup

Calories:

83 kcal

Fat:

7g

Carbohydrates:

5g

Fiber:

2g

Protein:

1g
Keywords: Garlic Parmesan Zucchini Pasta